May 10th: The Biggest Music Headlines
Scroll down the page to see all the music headlines, stories and events for May 10 throughout music history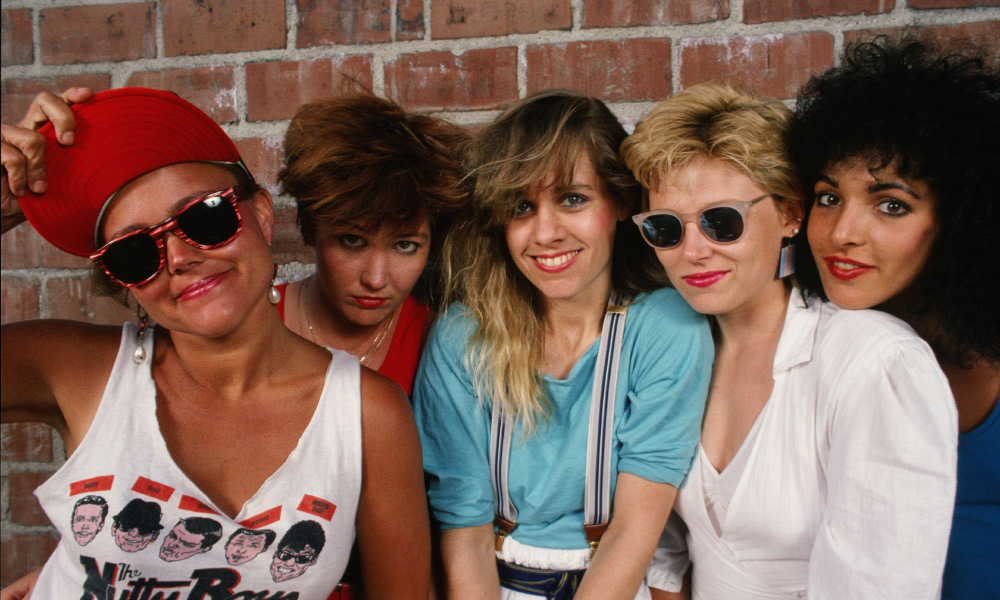 The Go-Go's Announce Disbandment
On this day in music, May 10, 1985, The Go-Go's announced their disbandment. Broadly considered to be the most successful all-female rock band ever, The Go-Go's formed in Los Angeles in 1978, rising from the city's underground punk scene. In 1981, they released their debut, Beauty and the Beat, which made chart history as the first album by an all-female band to hit No.1. The group, which has reunited several times over the decades, was inducted into the Rock and Roll Hall of Fame in 2021.
In 1963, The Rolling Stones recorded their debut single (a cover of Chuck Berry's "Come On") at Olympic Studios in London. Released that June, it offered a glimpse of the band's future success, landing in the UK Top 40. While the song's popularity created new opportunities, including gigs outside of London, the band refused to play it live. Decades later, Mick Jagger performed a few bars of the single during a June 2013 concert, the first time the song was played in any capacity at a Stones show since 1965.
In 1960, The Silver Beetles – comprised of John Lennon, Paul McCartney, George Harrison, Stuart Sutcliffe, and Tommy Moore – auditioned for promoter Larry Parnes to be a backing group for Billy Fury. Instead, Parnes selected the group to back singer Johnny Gentle on an upcoming Scotland tour. The group would soon change their name to the Silver Beatles and, later, The Beatles.
In 1986, synth-pop duo The Pet Shop Boys topped the Billboard Hot 100 with "West End Girls." The song, which was also a No.1 hit in the UK, would go on to win Best Single at the 1987 BRITs and Best International Hit at the Ivor Novello Awards.
In 1986, Falco made history as the first Austrian artist to score a US and UK No.1 single with "Rock Me Amadeus." The feat also made him the first German-speaking artist to achieve a chart-topping single on the Billboard Hot 100.
Looking for more things that happened on this day in music?
Keep scrolling for all of the headlines for May 10.
BORN ON MAY 10:
1936: Larry Williams
1944: Jackie Lomax
1947: Dave Mason (Traffic)
1952: Sly Dunbar (Sly and Robbie)
1957: Sid Vicious (Sex Pistols)
1960: Bono (U2)
1968: Richard Patrick (Filter)
Looking for more artists born on this day?
Keep scrolling for all of our May 10 birthdays.
---
What to find another day?
---
May 10th
10 May 2020
British bass guitarist John McKenzie died. He was a member of bands such as Global Village Trucking Company and Man and played on numerous singles, notably for Eurythmics, The Pretenders and Alison Moyet and was a touring musician with acts as diverse as Lionel Richie, Dr. John,
Bob Dylan
,
Peter Green
and the Royal Philharmonic Orchestra.
10 May 2018
Scottish singer, songwriter, guitarist Scott Hutchison from indie band Frightened Rabbit was found dead near South Queensferry, Scotland. Hutchison was last seen at 1am on the 9th May leaving a hotel in South Queensferry and later tweeted 'Be so good to everyone you love. It's not a given. I'm so annoyed that it's not. I didn't live by that standard and it kills me. Please, hug your loved ones', followed by 'I'm away now. Thanks' prior to his disappearance.
10 May 2013
A two-year degree in heavy metal music was branded an "easy option" by education campaigners. The foundation degree was being offered by New College Nottingham in the UK. The course, which was due to start later this year would include modules on the music business, the history of heavy metal and its role in films and video games and would show students how to compose and perform heavy metal songs.
10 May 2013
Two men were arrested in Dublin after the city centre statue of Phil Lynott was pushed over and seriously damaged. The memorial to the
Thin Lizzy
icon has been removed from its Harry Street location for repairs, and the men were later released without charge. The life-size bronze sculpture was unveiled in 2005 and had become a tourist destination and landmark since then.
10 May 2011
The ornate iron gates of a children's home which inspired
John Lennon
's psychedelic Beatles anthem Strawberry Fields Forever were removed after The Salvation Army, which owned the former home, decided to put the red Victorian gates into storage. Beatles fans who passed the Liverpool site on tours would now be met with 10ft (3m) high replicas. The original gates were being taken to a secret location for storage, and would eventually be auctioned off.
10 May 2010
New York City's Apollo Theatre began installing bronze plaques on the sidewalk outside the building of legends who had close ties to the theater. Among the first to be honored were
James Brown
,
Michael Jackson
,
Smokey Robinson
and Ella Fitzgerald.
10 May 2007
US hip-hop artist Akon apologised after footage of him dancing provocatively on stage with a teenage girl was posted on the internet. It led to telecommunications company Verizon pulling out as a sponsor of his US tour with Gwen Stefani. The incident took place on 12 April in Trinidad, where Akon was performing at a nightclub. It was later reported that the girl was just 14. In a statement Akon said he didn't know the girl was underage. He said: "I want to sincerely apologise for the embarrassment and any pain I've caused to the young woman who joined me on stage, her family and the Trinidad community for the events at my concert."
10 May 2000
Bobby Brown was arrested at Newark airport, New Jersey for breaking his probation order. He had been wanted in Florida since 1999 when his probation officer reported that a urine test proved positive for cocaine use.
10 May 2000
Michael Bolton lost his appeal against a court ruling that he stole part of his 1991 hit 'Love Is a Wonderful Thing' from an Isley Brothers song. Bolton had asked for a retrial following a 1994 jury verdict that he had plagiarised parts of The Isley Brothers song of the same name, but, an appeals court panel upheld the ruling which awarded the group $5.4m (£3.37m) from the profits of Bolton's single - one of his biggest hits.
10 May 1999
American singer, songwriter poet, cartoonist, screenwriter, and author of children's books Shel Silverstein died of a heart attack aged 57. Wrote, 'A Boy Named Sue' for
Johnny Cash
(which Silverstein won a Grammy for in 1970) and many songs for Dr Hook including 'Sylvia's Mother' and 'The Cover of the Rolling Stone.'
10 May 1991
Madonna
's 'warts and all' documentary film Truth Or Dare (known as In Bed with
Madonna
outside of North America), chronicling the life
Madonna
during her 1990 Blond Ambition World Tour, premiered in Los Angeles.
10 May 1986
Falco was at No.1 on the UK singles chart with 'Rock Me Amadeus.' Falco became the first-ever Austrian act to score a UK and US No.1 hit single and the first German speaking artist to achieve a No.1 on the US charts. Falco died of severe injuries received on 6 February 1998, when his Mitsubishi Pajero collided with a bus in the Dominican Republic. It was later determined that the bus driver was speeding, for which the driver served three years in prison. His estate claims he has sold 20 million albums and 15 million singles, which makes him the best selling Austrian singer of all time.
10 May 1986
The Pet Shop Boys went to No.1 on the US singles chart with 'West End Girls', the duo's first US No.1, also a No.1 in the UK.
10 May 1986
Motley Crue drummer
Tommy Lee
married TV star Heather Locklear in a courtyard in Santa Barbara California with five hundred guests. Tommy wore a white leather tuxedo.
10 May 1985
All girl group The Go-Go's announced they were breaking up. The members went on to enjoy solo success, (Belinda Carlisle and Jane Wiedlin) and the group reformed in the late 90s.
10 May 1970
David Bowie
was awarded an Ivor Novello Award for Best Original Song '
Space Oddity
' which he performed that night accompanied by the Les Reed Orchestra. The event was transmitted live via satellite to venues in America, France, Spain, Australia, Holland and Venezuela. Bowie would later revisit his Major Tom character in the songs 'Ashes to Ashes', 'Hallo Spaceboy' and 'Blackstar'.
10 May 1969
Led Zeppelin
made their first appearance on the UK album chart when the band's debut album charted at No. 6, going on to spend 71 weeks on the UK chart. It entered the US chart the following week at No. 10. Recorded in around 36 hours, the album is now considered one of the most important debuts in rock, creating an entirely new interpretation of the Rock And Roll genre, with groundbreaking musical styles and recording techniques.
10 May 1969
Frank Sinatra
's version of 'My Way' made the British Top ten for the first time. Over the next three years it re-entered the Top 50 singles chart on eight different occasions. Paul Anka re-wrote the original French song for Sinatra, after he told Anka he was quitting the music business. Anka changed the melodic structure and lyrics to the song with Sinatra in mind.
10 May 1969
The Moody Blues started a two-week run at No.1 on the UK album chart with 'On The Threshold Of A Dream' (their first No.1 album).
10 May 1969
The Turtles gave a special performance at the White House as guests of Tricia Nixon. Stories circulate concerning members of the group allegedly snorted cocaine on Abraham Lincoln's desk.
10 May 1967
Mick Jagger
and
Keith Richards
appeared at Chichester Crown Court, Sussex, charged with being in possession of drugs, they elect to go to trial pleading not guilty and were both granted £100 bail.
10 May 1965
10 May 1964
Bob Dylan
arrived in Britain for his first major UK tour including a show at London's Royal Festival Hall on the 17th of this month.
10 May 1963
The
Rolling Stones
recorded the
Chuck Berry
song 'Come On', at Olympic Studios, London. This the bands first release was issued on the 7th June 1963 by Decca Records.
10 May 1960
The Silver Beetles (
John Lennon
,
Paul McCartney
,
George Harrison
, Stuart Sutcliffe, and Tommy Moore) auditioned for promoter Larry Parnes and singer Billy Fury for a job as Fury's backing group. Parnes was also looking for backing groups for his lesser-known acts, and The Silver Beetles were selected as backing group for singer Johnny Gentle's upcoming tour of Scotland. The group had changed its name from 'The Beatals' to 'The Silver Beetles' after Brian Casser (of Cass and the Cassanovas) remarked that the name 'Beatals' was "ridiculous". He suggested they use the name 'Long John and the Silver Beetles', but
John Lennon
refused to be referred to as 'Long John'.
Born on this day in music
10 May 1991
American singer and songwriter Ray Dalton who had the 2013 US No.1 hit 'Can't Hold Us' with Macklemore & Ryan Lewis.
10 May 1968
American musician Richard Patrick, guitarist with Filter, Army of Anyone, and also worked with Nine Inch Nails.
10 May 1960
Irish singer-songwriter, Paul Hewson, (Bono),
U2
, who had the 1984 UK No.3 single 'Pride, In The Name Of Love' plus over 25 other UK Top singles. Their 1987 UK and worldwide No.1 album The
Joshua Tree
spent 156 weeks on the UK chart.
U2
are one of the world's best-selling music artists, having sold more than 170 million records worldwide. They have won 22 Grammy Awards.
10 May 1957
10 May 1957
Karl Hyde, from British electronic music group Underworld who had the 1996 UK No.2 single 'Born Slippy'. Hyde has also released a solo album, and made albums with Brian Eno.
10 May 1957
American singer and musician Carleen Anderson. She is known for her work with the Young Disciples and numerous collaborations incuding working with Paul Weller.
10 May 1952
English rhythm-and-blues singer Lee Brilleaux who with Dr Feelgood, had the 1979 UK No.9 single 'Milk And Alcohol' and the hits 'She Does It Right', 'Roxette', and 'Back in the Night'. He died of cancer on 7th April 1994.
10 May 1952
Sly Dunbar, session drummer, as Sly and Robbie worked with Peter Tosh, Robert Palmer, Jimmy Cliff, Grace Jones, Joe Cocker, (1987 UK No.12 single 'Boops Here To Go').
10 May 1950
Mick Bolton, the keyboardist best known for playing with
Mott the Hoople
and Dexys Midnight Runners. During the 80's Bolton found a notable gig offstage; giving keyboard lessons to
Paul McCartney
's wife and collaborator, Linda McCartney. He died on 1 Jan 2021 age 72.
10 May 1947
English singer-songwriter Dave Mason who with Traffic had the 1967 UK No.2 single 'Hole In My Shoe' and the solo, 1977 US No.12 single 'We Just Disagree'. Mason has worked with many notable musicians including
Eric Clapton
,
George Harrison
,
Jimi Hendrix
(twelve-string guitar on 'All Along the Watchtower' and
Fleetwood Mac
.
10 May 1947
Jay Ferguson, from American group Spirit who had the 1969 US No.25 single 'I Got A Line On You'. And with Jo Jo Gunne had the 1972 UK No.6 & US No. 27 single 'Run Run Run'.
10 May 1946
Donovan, Scottish singer, songwriter and guitarist, who scored the 1966 US No.1 & 1967 UK No.2 single 'Sunshine Superman'. 'Mellow Yellow' reached US No.2 the following year, with 'Hurdy Gurdy Man' reaching the Top 5 on both shores in 1968.
10 May 1946
Graham Gouldman, UK singer, songwriter, guitarist, who was a member of High Spots, The Crevattes and 10cc who had the 1975 UK No.1 & US No.2 single 'I'm Not In Love', plus 10 other UK Top 30 hits including 2 No.1's. As a member of Wax he had the 1987 UK No.12 single 'Bridge To Your Heart'. During the 60s Gouldman wrote hits for Herman's Hermits, The Hollies and the Yardbirds.
10 May 1944
Jackie Lomax, UK singer, who was the first act to be signed to
The Beatles
Apple Records.
George Harrison
wrote his single 'Sour Milk Sea'. Lomax died on 16th Sept 2013 aged 69.
10 May 1938
Henry Fambrough, from American rhythm and blues vocal group the Detroit Spinners who had the 1980 UK No.1 & US No.2 single 'Working My Way Back To You'.
10 May 1937
American jazz pianist, composer, and arranger Mike Melvoin who worked as a prolific studio musician, recording with
Frank Sinatra
,
John Lennon
, Tom Waits, Barbra Streisand, The
Jackson 5
, Natalie Cole, and The Beach Boys on
Pet Sounds
. He worked in the early 1970s as a music director on The Partridge Family recordings and also composed for film and television including contributing scores to Fame. Melvoin died in Burbank, California on February 22, 2012 of cancer, aged 74.
10 May 1935
American rhythm and blues and rock and roll singer Larry Williams.
The Beatles
and
The Jam
covered his songs. He scored the 1957 US No.5 hit single 'Short Fat Fannie' and a hit with 'Dizzy, Miss Lizzy'. Williams died from gunshot wounds on 2nd January 1980 aged 45.
10 May 1935
American musician and composer Julius Wechter. He composed the song 'Spanish Flea' for Herb Alpert and was leader of The Baja Marimba Band. As a session musician he worked for the likes of The Beach Boys, Sonny and Cher and various Phil Spector productions. His vibraphone solo work is featured on the Beach Boys' acclaimed album,
Pet Sounds
('Let's Go Away for Awhile'). He died of lung cancer on February 1 1999, a day after his song 'Spanish Flea' was used in the Simpsons episode Sunday, Cruddy Sunday.
10 May 1920