Dale Griffin & Pete Overend Watts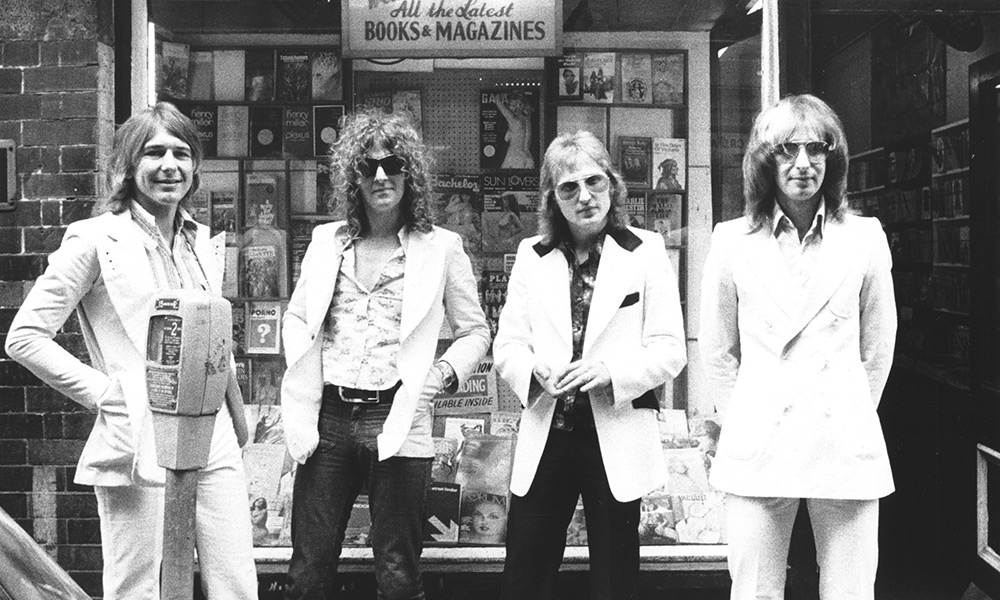 If you're one of those who believes that Mott The Hoople were just a band who got lucky with a David Bowie song (All The Young Dudes), then you're not only misinformed but missing out on a whole wealth of British hard rock.
The band relied on the song-writing insight of vocalist/pianist/guitarist Ian Hunter, and the tough guitar style of Mick Ralphs, along with Ralphs' original bandmates from 'Silence', Dale 'Buffin' Griffin on drums, Verden Allen on organ and Pete 'Overend' Watts on bass. It made for an energetic sound that sat somewhere between The Faces and the Stones, yet was also a proto-punk blueprint.
Originally conceived by producer Guy Stevens as a band that had the lyrical thrust of Bob Dylan allied to the rocking power of The Rolling Stones, the band, named after a cult novel by Willard Manus, had signed to Island Records in the UK and embarked on tour after tour of Britain's hinterlands. Always beloved of the UK's rock cognoscenti such as Pete Frame and Zigzag magazine, the band failed to make any real breakthrough on their four Island albums and announced to their friends that they were going to knock it on the head.
Enter David Bowie, a fan of the band, who in 1972, who not only gifted them their hit "All The Young Dudes" but also produced the album of the same title, on their new label CBS. It should be said, however, that Ian Hunter's performance on Dudes knocked into a cocked hat Bowie's own rendering, making it effectively a Mott anthem. However, despite the success of the All The Young Dudes album, it was the Mott album the next year that saw the band reach their zenith. In retrospect, the harsh cynicism and disillusionment here is something of a surprise, coming as it did so soon after their commercial breakthrough, but through songs such as "All The Way From Memphis" and "Honaloochie Boogie", the band expressed their realisation that there were never any winners in rock'n'roll – only losers.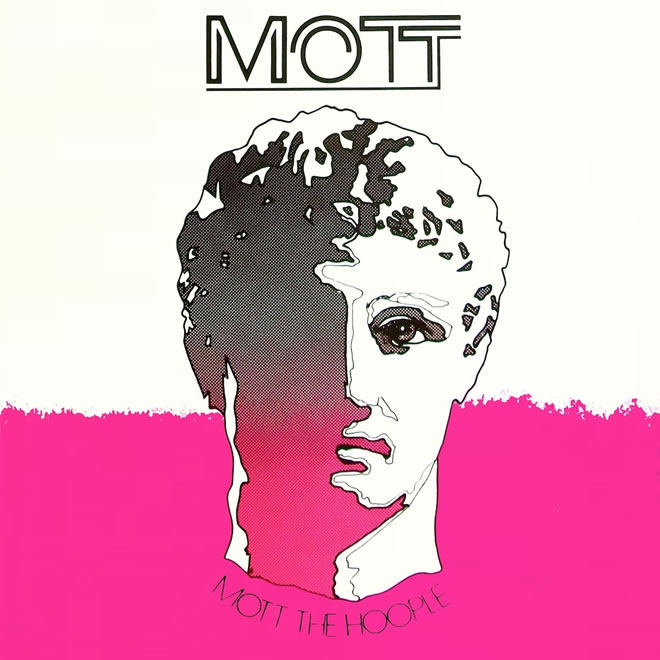 Despite the downbeat mentality, there's a joyous fulfilment here. It's as if Mott believed that their star would never again shine as brightly. So Hunter, Ralphs, Watts and Griffin (Allen having quit) poured their focus into one final burst of creativity. And has there ever been a better song than Ballad Of Mott The Hoople at capturing the essential emptiness of being in a band?
It was clear by the time Mott was released that Ian Hunter had become the dominant figure of the band. Aside from the lead track, the album includes introspective songs such as "Ballad Of Mott The Hoople", which exposes Mott's near break-up, and the peculiar "I Wish I Was Your Mother", featuring a multi-tracked mandolin, in which Hunter sings of his wish to see his love as a child.
Mott proved successful on both sides of the Atlantic, reaching number 7 in the UK and peaking at number 35 in the US, but, in many ways, it signalled the end. Ralphs soon quit to help form Bad Company, and Mott never again reached such heights. Yet, while Mott's career was pockmarked with disappointment, the Mott album is a remarkable triumph, not just of that time, but for all time. Its philosophy, inspirations and desperation remain as true today as they did over 30 years ago, with anyone who's experienced the feckless nature of being a working rock musician able to relate to this record's reactive frustrations.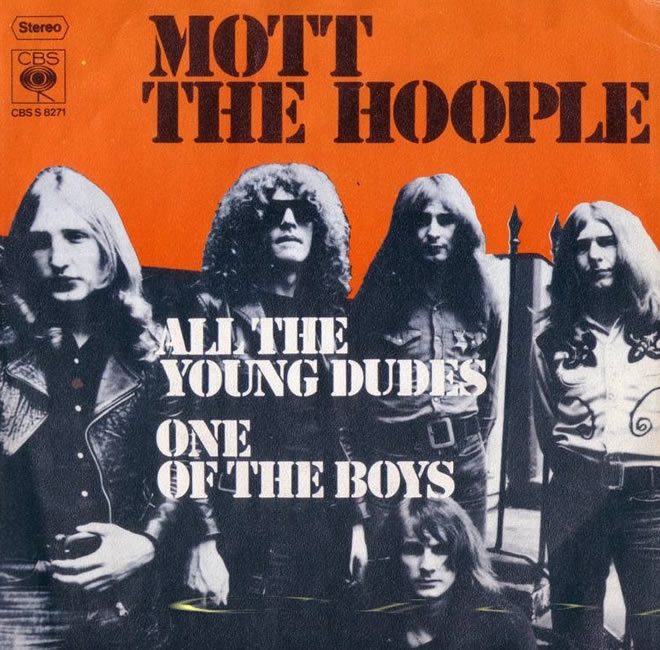 Except that the story didn't end there. In October 2009, without much warning, the band reformed for a series of sold-out dates at London's Hammersmith Odeon. With a headline reading 'YOU CAN TEACH OLD DUDES NEW TRICKS', the UK's Independent newspaper said this: 'Eyebrows were raised when Mott The Hoople's initial reunion shows at the Hammersmith Apollo sold out so fast that further dates had to be added, and then some more. One expects the likes of Led Zeppelin to inspire fond affection on a sizeable scale, but dear old Mott? Who knew there was such a collective yearning for the glam boogie monsters?'
'Well, everybody here tonight, for starters. I've seen a few reunion shows in recent years, including the Cream and Zep shows, and I can honestly say that none elicited quite the genuine waves of joy – as opposed to reverence or awe – as Mott did tonight. For the audience, this is a principle best realised on foot: unlike other reunion shows, Mott's audience stays stood up from the moment the band step onstage, causing Hunter to observe that it was the first time they'd had a standing ovation for the entirety of their set.'
And well-deserved it was, too.
Drummer and founding member Dale "Buffin" Griffin died in his sleep on 17 January 2016 at the age of 67. Peter "Pete" Overend Watts died from throat cancer at the age of 69 on 22 January 2017.
Important Dates In The Life Of Mott The Hoople:
1 Jan 2021
Mick Bolton, the keyboardist best known for playing with
Mott the Hoople
and Dexys Midnight Runners died age 72. During the 80's Bolton found a notable gig offstage; giving keyboard lessons to
Paul McCartney
's wife and collaborator, Linda McCartney.
22 Jan 2017
English bass guitar player Pete Overend Watts and founding member of the 1970s rock band, Mott the Hoople died from throat cancer aged 69. Watts helped start the Buddies with guitarist Mick Ralphs, a band that evolved into Mott the Hoople after periods in which it was known as the Doc Thomas Group, the Shakedown Sound, then Silence. They became Mott the Hoople after Ian Hunter joined in 1969. Watts continued with Dale Griffin, Morgan Fisher and Ray Major in the Mott successor British Lions. He later became a record producer, producing albums for artists including Hanoi Rocks and Dumb Blondes.
17 Jan 2016
English drummer Dale Griffin died aged 67. He was a founder member of Mott the Hoople best known for classic tracks 'Roll Away The Stone' and 'All The Young Dudes'. The band who made eight albums during their five-and-a-half year existence, reformed to mark their 40th anniversary in 2009 - but Griffin was too ill to take part. Griffin also produced numerous BBC
Radio 1
John Peel
sessions from 1981 to 1994 including the first professional recording session for Pulp in 1981.
28 Aug 1981
Producer Guy Stevens died at the age of 38 years old, having overdosed on prescription drugs he was taking to reduce his alcohol dependency. He worked with
Mott The Hoople
,
Free
and
The Clash
. He was the president of the
Chuck Berry
Appreciation Society and it was Stevens who brought Berry to the UK for his first tour. He gave
Procol Harum
and Mott the Hoople their distinctive names.
28 Sep 1974
Bad Company went to No.1 on the US album chart with their self-titled debut album. Paul Rodgers and Simon Kirke had come out of
Free
while Mick Ralphs had played guitar with
Mott The Hoople
and Boz Burrell was bass player for King Crimson before the group formed in 1973. They produced six albums together before disbanding in 1983.
18 Jan 1974
Former members from
Free
, (Paul Rodgers & Simon Kirke),
Mott The Hoople
(Mick Ralphs), and King Crimson, (Boz Burrell), formed Bad Company. The band went on to score a US No.1 album with their debut release.
11 Nov 1973
Thirty US radio stations broadcasted a 'live'
Mott The Hoople
concert. In reality it was the band recorded in the studio with the applause dubbed in.
26 May 1972
At the point of the band splitting up
David Bowie
offered
Mott The Hoople
two of his new songs, 'Suffragette City', which they turned down and 'All The Young Dudes', which they recorded. The song gave the group a No.3 UK and US Top 40 hit.
8 Jul 1971
Over-enthusiastic fans at a
Mott The Hoople
gig at the Royal Albert Hall, London, England, caused some injuries and two damaged boxes, prompting a temporary ban on rock gigs at the venue. The group paid £1,467 for damages to property.
4 Oct 1968
On the first night of a UK club tour
Led Zeppelin
(billed as The Yardbirds featuring
Jimmy Page
) appeared at the Mayfair Ballroom, Newcastle upon Tyne, England, supported by Terry Reid's Fantasia, tickets cost 10/6. The Mayfair was a regular venue for up and coming acts,
Pink Floyd
Mott the Hoople,
Def Leppard
and
AC/DC
had all appeared at the club which was demolished in 2000.