May 13th: The Biggest Music Headlines
Scroll down the page to see all the music headlines, stories and events for May 13 throughout music history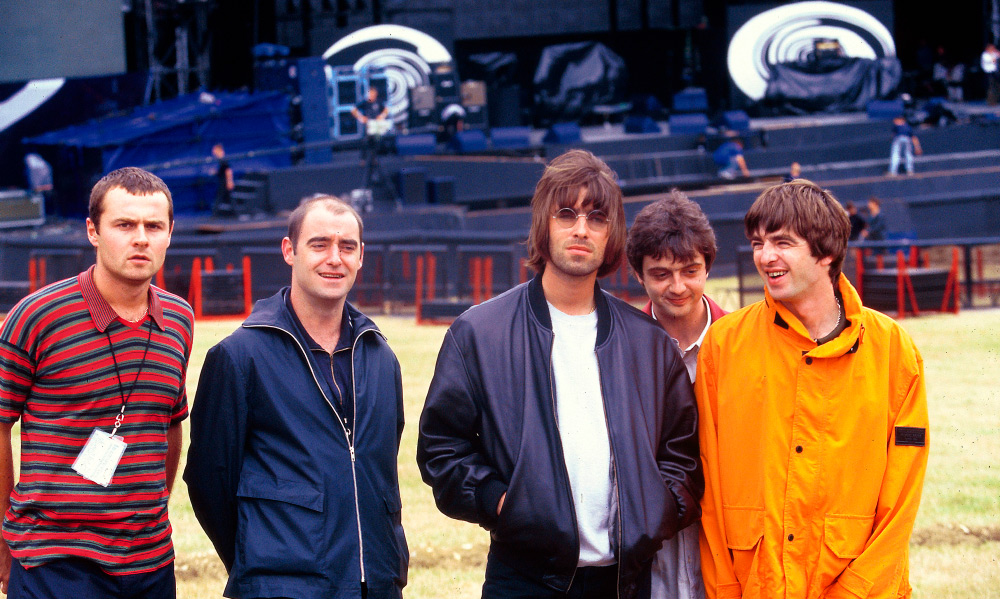 Oasis Draws Historic Ticket Numbers
On this day in music, May 13, 1996, Oasis became the fastest-selling group in UK history after selling out all 330,000 tickets for their summer concerts in just nine hours. Although 2.5 million people applied for spots to attend their Knebworth House shows on August 10 and 11, only 250,000 tickets were sold, setting records for the largest demand for a concert in British history. Tickets were sold for £22.50, and the backstage guest list had over 7,000 people.
In 1970, Beatles documentary Let It Be made its world premiere in New York City. Directed by Michael Lindsay-Hogg, the film followed the band's rehearsal and recording for their 12th and final album, Let It Be, including a segment of their historic rooftop performance. The film later earned the band an Academy Award for Original Song Score and a Grammy for Best Original Score. Although UK premieres were held the following week, none of The Beatles attended the shows.
In 1967, The Supremes scored their tenth No.1 single in the US with "The Happening," the theme song to the 1967 film of the same name. It was the final single under the name "The Supremes," as the group changed their name to "Diana Ross & The Supremes" before their next release.
In 1969, Led Zeppelin appeared at The Civic Auditorium in Honolulu, becoming one of the first major British rock groups to appear in Hawaii. The Honolulu Advertiser published a review about the performance, noting that "the showmanship exceeded any rock performance (with possible exception of Jimi Hendrix) here to date."
In 1967, The Monkees' second album, More of The Monkees, hit No.1 on the UK chart. Interestingly, there were only four albums that reached the top spot that year: The Sound of Music soundtrack, which spent 17 weeks at No.1, The Beatles' Sgt. Pepper's Lonely Hearts Club Band for 25 weeks, and The Monkees' first and second albums.
In 1971, on his 21st birthday, Stevie Wonder received his childhood earnings. Due to Wonder being signed at age 11, Motown's Tamla label created a rolling five-year contract to hold his royalties until he turned 21. However, he and his mother were paid a weekly stipend to cover their expenses.
Looking for more things that happened on this day in music?
Keep scrolling for all of the headlines for May 13.
BORN ON MAY 13:
1941: Ritchie Valens
1943: Mary Wells
1947: Pete Watts (Mott the Hoople)
1950: Stevie Wonder
1950: Danny Kirwan (Fleetwood Mac)
1966: Darius Rucker
1966: Alison Goldfrapp (Goldfrapp)
1969: Buckethead
Looking for more artists born on this day?
Keep scrolling for all of our May 13 birthdays.
---
What to find another day?
---
May 13th
13 May 2016
Tower of Power played a California prison with former lead singer Rick Stevens, who had served 36 years for a 1976 drug-related triple homicide. Stevens was in his 30s, four years out of Tower of Power and addicted to drugs, when he shot to death three men in a 1976 dealing dispute. A jury voted for his execution, but the California Supreme Court ruled not long afterward that the death penalty was unconstitutional. After the show Stevens talked to the audience about how he rebuilt his life.
13 May 2012
Donald Dunn, bassist with Booker T and the MG's died in his sleep after playing a show at the Blue Note night club in Tokyo the night before. He had been in the country as part of an ongoing tour with Steve Cropper and Eddie Floyd. Booker T and the MG's scored the 1962 US No.3 single 'Green Onions', and the 1969 UK No.4 single 'Time Is Tight'.
13 May 2011
'Like A Rolling Stone' was voted as
Bob Dylan
's best-ever song by Rolling Stone Magazine, who had asked the opinions of a panel of writers, academics and musicians to compile a poll to mark Dylan's 70th birthday on 24th May. 'Like A Rolling Stone', was described by
U2
's Bono as 'a black eye of a pop song', while
Mick Jagger
praised the simplicity of 'Desolation Row'.
Keith Richards
argued that the original 1963 solo version of 'Girl From The North Country', ranked 30th, was superior to Dylan's 1969 duet of the same song with
Johnny Cash
.
13 May 2008
The US Postal Service issued a 42-cent postage stamp in honour of
Frank Sinatra
. The design showed a 1950s-vintage image of Sinatra, wearing a hat.
13 May 2007
Brian May was under 24-hour security watch after a deranged man announced he was setting off to murder him - then disappeared. Police were hunting for a schizophrenic who left a letter behind at his home blaming the
Queen
guitarist for his illness. In it the man - said May was an "impostor" and that HE was the real rock star. He signed the letter "Brian May."
13 May 2003
Michael Jackson
launched a court case suing
Motown
Records. Jacko filed the lawsuit in LA, saying he hadn't been paid royalties due for the music he did with the Jackson Five in the 60s and 70s. The singer also claimed his music has been used in TV ads without his permission.
13 May 2002
Dionne Warwick was arrested at Miami International Airport for possession of marijuana after authorities found 11 joints in a lipstick case in the singer's hand luggage. The charges were dropped after she completed a drug program and made a contribution to charity.
13 May 2000
Shaun Ryder's Volkswagen Corrado was found abandoned after being used as the getaway car. The former Happy Mondays singer's car, was used in an armed robbery on Harry Ramsden's fish and chip restaurant in Manchester. £7,000 cash was taken in the robbery.
13 May 1996
Oasis
became the fastest selling group in UK history after all 330,000 tickets for their summer shows sold out in just nine hours, the tickets for shows at Knebworth and Loch Lomand were priced at £22.50.
13 May 1989
Kylie Minogue
was at No.1 on the UK singles chart with her second solo No.1 'Hand On Your Heart.' The song was written and produced by Stock, Aitken & Waterman.
13 May 1989
Simple Minds
went to No.1 on the UK album chart with 'Street Fighting Years', their fourth No.1 album. The album featured 'Mandela Day', 'Belfast Child' and 'Biko'.
13 May 1988
Scottish band Fairground Attraction were at No.1 on the UK singles with 'Perfect'. The group featured Eddi Reader who had previously worked as a backing singer with the Eurythmics and Sandie Shaw. 'Perfect' won the award for Best Single at the 1989 BRIT Awards.
13 May 1985
Bruce Springsteen
married Julianne Phillips at Lake Oswego, Oregon. Julianne filed for divorce on Aug 30th 1988.
13 May 1978
Boney M were at No.1 on the UK singles chart with 'Rivers of Babylon'. The single which stayed at the top of the charts for five weeks was originally by the Jamaican reggae group The Melodians, whose version of the song appeared in the sound track to the 1972 movie The Harder They Come.
13 May 1974
Forty-three people were arrested and more than fifty were injured after youths started throwing bottles outside a Jackson Five concert at RFK stadium in Washington DC.
13 May 1971
On his twenty-first birthday
Stevie Wonder
received all his childhood earnings. Despite having earned $30 million so far, he received only $1 million.
13 May 1970
The world premiere of
The Beatles
film 'Let It Be' took place in New York City. The film which was originally planned as a television documentary features an unannounced rooftop concert by the group, their last performance in public. Released just after the album, it was the final original Beatles release.
13 May 1969
Led Zeppelin
became one of the first major British rock group to appear in Hawaii, when they appeared at The Civic Auditorium, Honolulu. A review in the Honolulu Advertiser stated: 'The showmanship exceeded any rock performance here to date. I wondered before the concert if Led Zeppelin could sound as good as their Atlantic album – they sounded better'.
13 May 1967
The
Monkees
second album More Of The Monkees, went to No.1 on the UK charts. In 1967 only four albums reached No.1; The Sound Of Music which spent 17 weeks at No.1,
The Beatles
Sgt. Pepper
, 25 weeks at No.1 and The Monkees first and second albums spent 9 weeks at No.1.
13 May 1967
The
Supremes
scored their 10th US No.1 single with 'The Happening'; it made No.6 in the UK. It was the last single to be released as the
Supremes
, from now on they were known as Diana Ross and the
Supremes
.
Born on this day in music
13 May 1993
American country music singer and songwriter Morgan Wallen. His second album, Dangerous: The Double Album, released in January 2021, became the only country album in the 64-year history of the Billboard 200 to spend its first seven weeks at No. 1. It went on to spend a total of ten weeks at that spot, the first album to do so since Whitney Houston's Whitney in 1987.
13 May 1979
Michael Madden, bass, Maroon 5, who had the 2004 UK No.1 album 'Songs About Jane', the 2004 US No.1 & UK No.4 single 'She Will Be Loved' and the 2014 US No.1 album V.
13 May 1969
Brian Patrick Carroll known professionally as Buckethead, an American musician who has worked within many genres of music and was a member of Guns N' Roses from 2000 to 2004.
13 May 1967
American singer, songwriter, and guitarist Chuck Schuldiner. He founded the pioneering band Death in 1983 and is often referred to as "The Godfather of death metal". Death's best-selling album is the 1991 release Human. Schuldiner died of brain cancer on 13 December 2001. .
13 May 1966
American singer and songwriter Darius Rucker, from American rock band Hootie & the Blowfish who had the 1995 US No.1 album Cracked Rear View. As a country music singer, his first single, 'Don't Think I Don't Think About It', made him the first black artist to reach No.1 on the Hot Country Songs charts since Charley Pride in 1983.
13 May 1966
Alison Goldfrapp, English singer-songwriter, best known as the lead vocalist of the electronic music duo Goldfrapp who had the 2008 UK No.2 album Seventh Tree.
13 May 1964
Scottish singer Lorraine McIntosh from Deacon Blue who had the 1988 UK No.8 single 'Real Gone Kid' plus over 15 other UK Top singles. The name Deacon Blue comes from the title of the Steely Dan song 'Deacon Blues'. McIntosh is married to Deacon Blue lead singer Ricky Ross.
13 May 1963
Julian Brookhouse from British pop band, Curiosity Killed The Cat who had the 1989 UK No.14 single 'Name And Number' and the UK No.1 album Keep Your Distance.
13 May 1951
Paul Thompson, drummer who with Roxy Music scored the hit singles 'Street Life', 'Love is the Drug', 'Dance Away', 'Angel Eyes', 'Jealous Guy' and 'Avalon'.
13 May 1950
British musician Danny Kirwan, guitarist, singer and songwriter with the blues rock band
Fleetwood Mac
between 1968 and 1972 who had the 1969 UK No.1 single 'Albatross'.
13 May 1950
Australian-born Irish singer and composer Johnny Logan. He first won the Eurovision Song Contest in 1980, with the song 'What's Another Year'.
13 May 1950
American musician, singer, songwriter, record producer, and multi-instrumentalist
Stevie Wonder
. A child prodigy who developed into one of the most creative musical figures of the late 20th century. Wonder who has been blind from shortly after birth, signed with
Motown
's Tamla label at the age of eleven and continues to perform and record for
Motown
to this day. Wonder has scored over 40 US & UK Top 40 singles. Albums include Talking Book, Innervisions and Songs in the Key of Life.
13 May 1947
Pete Overend Watts, bassist with
Mott The Hoople
, who had the 1972 UK No.3 & US No.37 single 'All The Young Dudes' which was written for them by
David Bowie
. Other hits include, 'All the Way from Memphis' and 'Roll Away the Stone'. Watts continued with Dale Griffin, Morgan Fisher and Ray Major in the Mott successor British Lions. He later became a record producer, producing albums for artists including Hanoi Rocks and Dumb Blondes. Watts died on 22 January 2017 from throat cancer, aged was 69.
13 May 1945
Magic Dick, harmonica, with American rock band The J Geils Band, who had the 1982 US No.1 & UK No.3 single 'Centerfold' which was taken from their US No.1 1981 album Freeze Frame.
13 May 1943
American singer Mary Wells, who had the 1964 US No.1 & UK No.5 single 'My Guy', (written by
Smokey Robinson
). Other hits include, 'The One Who Really Loves You', 'Two Lovers' and the Grammy-nominated 'You Beat Me to the Punch'. Wells died of cancer on 26th July 1992 at the age of 59.
13 May 1941
English entertainer and rock and roll singer and guitarist Joe Brown, who had the 1962 UK No.2 single 'A Picture Of You'. He has made six films, and presented specialist radio series for BBC Radio 2.
13 May 1941
American singer, songwriter, Ritchie Valens, who had the 1958 US No.2 hit single 'Donna' and a hit with 'La Bamba'. On February 3, 1959, on what has become known as "the Day the Music Died", Valens died in a plane crash in Iowa, an accident that also claimed the lives of fellow musicians
Buddy Holly
and J. P. "The Big Bopper" Richardson.