May 18th: The Biggest Music Headlines
Scroll down the page to see all the music headlines, stories and events for May 18 throughout music history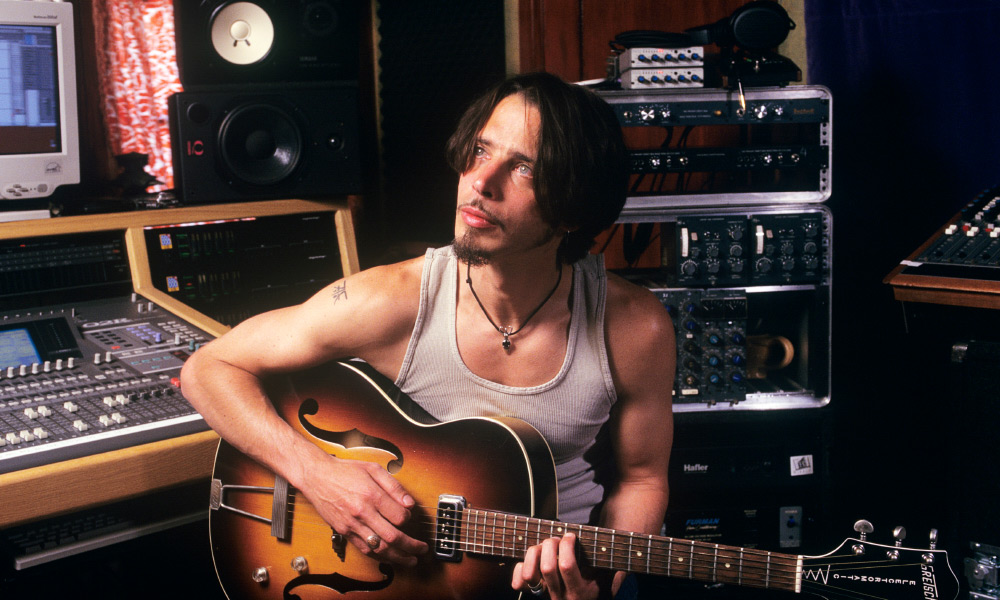 Grunge Icon Chris Cornell Dies at 52
On this day in music, May 18, 2017, 52-year-old singer, songwriter, and grunge icon Chris Cornell took his own life while on tour. Known best as the frontman for Soundgarden, the Seattle-born artist was a force in the local rock scene, beginning in the mid-80s. In 1994, Soundgarden rose to international fame with their fourth album, Superunknown, which featured their signature hit, "Black Hole Sun." Beyond Soundgarden, the three-time Grammy winner enjoyed a successful solo career, while he was also the frontman and founder of Temple of the Dog (with members of Pearl Jam) and served as the lead vocalist in the supergroup Audioslave.
In 1980, 23-year-old Joy Division frontman Ian Curtis took his own life, just one day before the Manchester band was set to embark on their first North American tour. While the group only released two albums, 1979's Unknown Pleasures and Closer, which arrived two months after Curtis' death, Joy Division's brand of danceable, gothic-tinged post-punk would influence several generations of musicians.
In 1993, Janet Jackson set new first-week sales records with her fifth studio album, janet. Her first LP to debut at the top of the Billboard 200, janet. sold 350,000 copies in its first week – more than any other title by a solo female artist at that time. The album, which produced a historic six Top 10 hits (including "That's the Way Love Goes," "Again," and "If") also topped the charts in Canada, Australia, and the UK, cementing Jackson's status as a global superstar.
In 1985, Simple Minds had the No.1 spot on the Billboard Hot 100 with "Don't You (Forget About Me)." The song – now a new wave classic – was featured prominently in John Hughes' blockbuster teen drama, The Breakfast Club.
In 1975, country star Tammy Wynette topped the UK pop chart with "Stand by Your Man." The enduring hit was originally recorded and released in the US in 1968, where it spent three weeks at the top of the Billboard country chart and peaked in Hot 100's Top 20. The song, which has since become a country standard, would go on to earn Wynette a Grammy Award.
In 2008 Manchester pop duo The Ting Tings scored their first UK No.1 single with "That's Not My Name." The breakout hit, which appeared on their debut album, was a global sensation, selling more than one million digital copies, landing in the Top 10 across Europe and Australia, and peaking in the US Top 40.
Looking for more things that happened on this day in music?
Keep scrolling for all of the headlines for May 18.
BORN ON MAY 18:
1911: Big Joe Turner
1912: Perry Como
1942: Albert Hammond
1950: Mark Mothersbaugh (Devo)
1952: George Strait
1953: Butch Tavares (Tavares)
1954: Wreckless Eric
1957: Enigma
1969: Martika
1975: Jack Johnson
Looking for more artists born on this day?
Keep scrolling for all of our May 18 birthdays.
---
What to find another day?
---
May 18th
18 May 2019
R&B singer Melvin Edmonds died at the age of 65. He was a member of the group After 7 and the brother of Kenny 'Babyface' Edmonds. After 7 scored the hits 'Can't Stop,' 'Ready or Not' and 'Heat of the Moment.'
18 May 2019
A sweater worn by
Kurt Cobain
during the singer's last photo-shoot with
Nirvana
sold for $75,000 at a New York auction. Also sold for $23,000 was Nirvana's handwritten set list from an April 1990 concert in Washington, D.C., which Cobain wrote with black marker on a paper plate. Cobain had eaten some pizza before the show and preceded to write the set list on the plate he had been eating his pizza on.
18 May 2017
American musician, singer and songwriter Chris Cornell died suddenly in Detroit after performing at a show with Soundgarden. Cornell was known for his role as one of the architects of the 1990s grunge movement, and for his near four octave vocal range as well as his powerful vocal belting technique. He released four solo studio albums as well as working with Audioslave and Temple of the Dog.
18 May 2017
It was announced that The Killers' 'Mr Brightside' was the most-streamed song released before 2010 in the UK. The 2004 single was streamed 26 million times last year, beating any other song released before 2010, according to music industry body the BPI.
18 May 2011
John Lennon
's handwritten lyrics for the 1967 Beatles song 'Lucy in the Sky with Diamonds' sold for $237,132 (£145,644) at an auction in the US. The sale of the sheet, which featured the song's third verse and the opening words to 'She's Leaving Home', took place at the Saban Theatre in Beverly Hills. Both songs feature on the 1967 album
Sgt Pepper
's Lonely Hearts Club Band. It was speculated the song was about the drug LSD, however,
The Beatles
denied this, with Lennon saying the inspiration had come from a picture his son Julian had drawn of a classmate named Lucy Vodden - who died of the immune system disease Lupus in 2009.
18 May 2008
Ting Tings scored their first UK No.1 single with 'That's Not My Name'. Taken from the Manchester duo's debut studio album 'We Started Nothing'.
18 May 2004
Clint Warwick the original bass player with The Moody Blues died from liver disease at the age of 63. Clint left the band in 1966 after playing on their only number one hit, 'Go Now'.
18 May 2000
Madonna
's boyfriend Guy Ritchie was arrested after attacking a fan outside the superstar's London home. Ritchie was said to have kicked and punched a male fan after the couple returned home from a night out.
18 May 1997
Blur won pop music's equivalent of the FA Cup, the Music Industry Soccer Six. The band's win at Fulham's FC's ground Craven Cottage saw them beating off competition from Robbie Williams, My Life Story and The Prodigy.
18 May 1996
American singer, songwriter, musician Kevin Gilbert died. The coroner listed the cause of death as "asphyxia due to partial suspension hanging" and concluded the death was accidental. He was a member of Giraffe, and worked with Sheryl Crow. He co-wrote the 1994 Crow UK No. 4 hit 'All I Want To Do.'
18 May 1993
Janet Jackson
released Janet. The album's first week sales of 350,000 was the highest for a female artist at that time. The album went on to sell over 14 million copies worldwide. It's one of only seven albums to have Six Top Ten Hits in the Billboard Hot 100 charts.
18 May 1985
Simple Minds
were at No.1 on the US singles chart with 'Don't You Forget About Me', (a No. 7 hit in the UK). Written by Keith Forsey (who won an Oscar for "Flashdance... What a Feeling") and Steve Schiff (guitarist and songwriter from the Nina Hagen band), the track was featured in the 1985 American teen drama film The Breakfast Club.
18 May 1980
23-year-old
Joy Division
singer and guitarist Ian Curtis took his own life at home in Macclesfield, England. The artist, who struggled with depression and epilepsy, left a note that said, 'At this very moment, I wish I were dead. I just can't cope anymore.' Joy Division released the critically acclaimed debut album Unknown Pleasures in 1979, and recorded their follow-up 'Closer' in 1980.
18 May 1975
Five times married US country singer,
Tammy Wynette
was at No.1 on the UK singles chart with 'Stand By Your Man.' Originally released as a single in 1968 in the USA. It proved to be the most successful record of Wynette's career and is one of the most covered songs in the history of country music.
18 May 1974
Ray Stevens started a three week run at No.1 on the US singles chart with the novelty song 'The Streak' which capitalized on the then popular craze of streaking. Also No.1 in the UK.
18 May 1968
The first Miami Pop event took place with an estimated 100,000 people attending the concert, which was promoted by Richard O'Barry & Michael Lang (later famous as the promoter of
Woodstock
). Bands featured at the festival included Steppenwolf, The
Jimi Hendrix Experience
, The Mothers of Invention, Blue Cheer,
Chuck Berry
, The Blues Image, Pacific Gas and Electric, Three Dog Night and the Crazy World of Arthur Brown.
18 May 1967
The Beatles
were selected to represent the UK for the first-ever global-wide satellite broadcast. The group agreed to be shown in the studio recording a song written especially for the occasion, scheduled for June 25.
John Lennon
wrote 'All You Need is Love' which was thought to sum up the 1967 'summer of love' and
The Beatles
' sympathies. With the satellite broadcast being broadcast to many non-English-speaking countries, the BBC asked
The Beatles
to 'keep it simple'.
18 May 1967
Pink Floyd
started recording their forthcoming single 'See Emily Play' at Sound Techniques Studios, Chelsea, London.
Syd Barrett
was inspired to write See Emily Play, by the 'looning about' of the early
Pink Floyd
fan Emily Young, (who is now a renowned sculptor). Guitarist David Gilmour, playing gigs in France with his own band in that period, visited Floyd in the studio during a trip to London.
18 May 1966
The Castiles (with
Bruce Springsteen
on vocals), made their first recordings at Mr Music Inc in Brick Town, New Jersey. They cut two Springsteen songs, 'Baby I' and 'That's What You Get'. The songs were cut directly to disc, of which seven or eight test pressings of the studio takes were made.
18 May 1966
During his 1966 world tour,
Bob Dylan
and Robbie Robertson from The Band were filmed singing several songs in a hotel room in Glasgow, Scotland, the footage turning up in the film Eat The Document. The film was originally commissioned for the ABC television series Stage '66, but after Dylan edited the film himself ABC rejected it as 'incomprehensible for a mainstream audience'.
18 May 1964
A riot broke out in Hamilton, Scotland during a
Rolling Stones
UK tour when over 4,000 fans with forged tickets gate-crashed the bands gig at the Chantingall Hotel.
Born on this day in music
18 May 1975
Jack Johnson, Hawaii born singer, songwriter, surfer who scored the 2006 UK No.1 album 'In Between Dreams', and the 2006 US & Australian No.1 album 'Sing-A-Longs and Lullabies for the Film Curious George'. He is also known for organizing an annual event, the Kōkua Festival.
18 May 1969
Martika, American singer-songwriter and actress. Her biggest hit was 'Toy Soldiers' which peaked at No.1 for two weeks in the US in mid 1989.
18 May 1967
English keyboardist Martin Duffy, who originally played in Felt and later joined Primal Scream. Duffy also played with The Charlatans following the death of founder-member Rob Collins. Duffy died on 18 December 2022, aged 55. The cause of death was given as a brain injury suffered after a fall at home in Brighton, England.
18 May 1961
Hugh Whittaker, from English alternative rock band The Housemartins. The group's a cappella cover version of 'Caravan of Love' (originally by Isley-Jasper-Isley) was a UK No.1 single in December 1986.
18 May 1961
Russell Senior, guitarist with English rock band Pulp, who had the 1995 UK No.2 single 'Common People'. He quit the band in January 1997. Pulp were regarded among the Britpop "big four", along with
Oasis
, Blur and Suede.
18 May 1958
Toyah, (Victoria Wilcox), English singer and actress, who scored the 80s hits 'It's a Mystery', 'Thunder in the Mountains' and 'I Want to Be Free'. Toyah has released over 20 albums, written two books, appeared in over forty stage plays and ten feature films. Willcox married Robert Fripp of King Crimson in 1986.
18 May 1957
Romanian-German musician and producer Michael Cretu who who as Enigma had the 1991 UK No.1 & US No.5 single 'Sadness Part 1'. Enigma has sold over 70 million worldwide.
18 May 1956
Jim Moginie founding member, guitarist, keyboardist and songwriter with Midnight Oil. Moginie has worked with many notable musicians from Australia and New Zealand, including Silverchair, Sarah Blasko, End of Fashion, Neil Murray, Kasey Chambers and Neil Finn.
18 May 1954
Wreckless Eric (Eric Goulden), English singer, songwriter and
Stiff Records
artist who had the 1978 UK airplay hit 'Whole Wide World'.
18 May 1953
Butch Tavares, from American R&B, funk, and soul group Tavares, who had the 1976 UK No.4 and US No.15 single 'Heaven Must Be Missing An Angel'.
18 May 1952
American country music singer, songwriter, actor George Strait. His 1992 album Pure Country spent 40 weeks on the US chart. He has the second most No.1 country hits among any artist in any musical genre in history, totalling 53 No.1 hit songs. Only Conway Twitty has more, with 55. Strait has sold more than 100 million records worldwide.
18 May 1950
American musician Mark Mothersbaugh, co-founder of the new wave band Devo. His other musical projects include work for television series, films, and video games. Devo had a No. 14 Billboard chart hit in 1980 with the single 'Whip It'.
18 May 1949
Rick Wakeman, English keyboardist, songwriter, television and radio presenter. As a session musician his early sessions included playing on "
Space Oddity
", for
David Bowie
and songs by Junior's Eyes,
T. Rex
,
Elton John
, and Cat Stevens. Wakeman became a member of Strawbs and then the classic line-up in Yes. As a solo artist he scored the 1974 UK No.1 album 'Journey To The Centre Of The Earth'.
18 May 1949
William Wallace from Canadian rock band Guess Who who had the 1970 US No.1 & UK No.19 single 'American Woman'.
18 May 1946
George Alexander, from American rock bandThe Flamin Groovies who had the 1976 album 'Shake Some Action. In addition to the band's role in the advancement of power pop, the Flamin' Groovies have also been called one of the forerunners of punk rock.
18 May 1942
Albert Hammond, Gibraltarian singer, songwriter, and record producer. In 1966 Hammond co-founded the British vocal group the Family Dogg, scoring a UK Top 10 hit with "A Way of Life" in 1969. As a solo artist he scored the 1972 US No.5 single 'It Never Rains In Southern California', and the 1973 UK No.19 single 'Free Electric Band'. Other hits Hammond has written with collaborator Mike Hazlewood include "Little Arrows" for Leapy Lee, "Gimme Dat Ding" for the Pipkins and "The Air That I Breathe" which was a hit for the Hollies.
18 May 1912
American singer and television personality Perry Como, who had the 1957 US No.1 single 'Round And Round' and the 1958 UK No.1 single 'Magic Moments'). Como has the distinction of having three stars on the Hollywood Walk of Fame for his work in radio, television, and music. He died on 12th May 2001 age 88.
18 May 1911
Joe Turner, (best known as Big Joe Turner), US blues songwriter. He wrote 'Sweet Sixteen' and was the first to record 'Shake, Rattle and Roll'. Turner died on 23rd November 1985 at the age of 74 of heart failure, having suffered the earlier effects of arthritis, a stroke and diabetes and was posthumously inducted into the Rock and Roll Hall of Fame in 1987.