May 19th: The Biggest Music Headlines
Scroll down the page to see all the music headlines, stories and events for May 19 throughout music history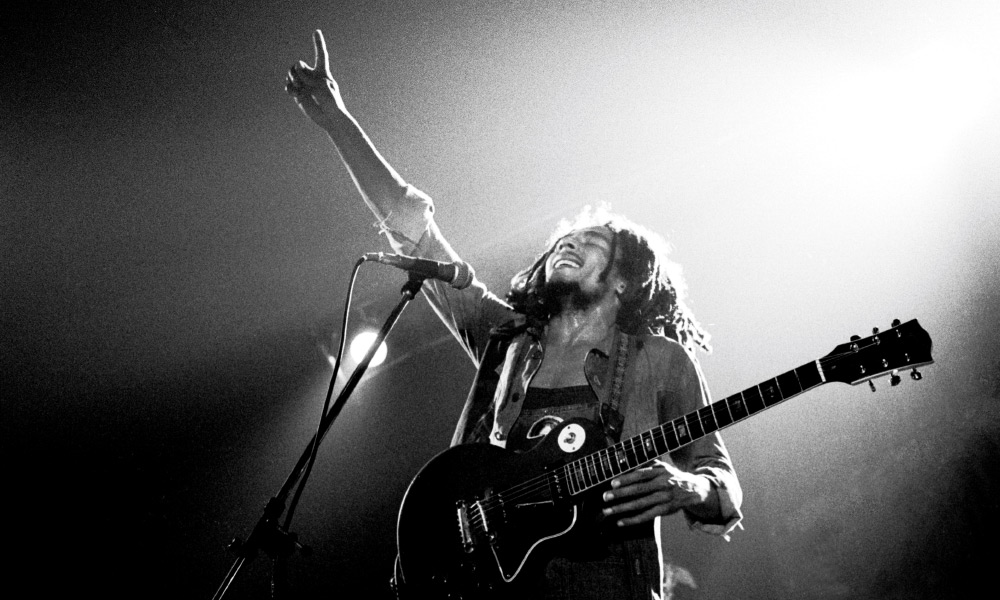 Bob Marley's 'Legend' Lives On
On this day in music, May 19, 1984, Legend, a compilation of hits from Bob Marley and the Wailers, began a 12-week run at the top of the British album chart. Released to mark the third anniversary of Marley's death, the collection featured the reggae pioneer's ten Top 40 UK singles, plus additional favorites, including "Get Up, Stand Up," "One Love/People Get Ready," and "I Shot the Sheriff." The LP quickly became one of the highest-selling albums ever in the UK, while it remains the world's best-selling reggae record.
In 1978, British rockers Dire Straits released their debut single, "Sultans of Swing." Initially recorded as a demo in the summer of 1977, the song gained traction on London radio stations and soon led to a record deal. Re-recorded for the band's self-titled album, "Sultans of Swing" became one of Dire Straits' signature hits, landing in the Top 5 in the US, South Africa, and Canada and the Top Ten in the UK and Australia.
In 1990, Madonna scored her eighth No.1 hit on the Billboard Hot 100 with "Vogue." Inspired by New York's underground "vogueing" dance scene, the song became an instant favorite with fans around the globe, as it topped the charts in more than 30 countries.
In 1973, Stevie Wonder topped the Billboard Hot 100 for the third time with "You Are the Sunshine of My Life." The now-classic ballad, which appeared on Wonder's 15th album, Talking Book, earned the soul star a Grammy for Best Male Pop Vocal Performance.
In 1979, Supertramp's Breakfast In America began a six-week run at the top of the Billboard 200. The British band's sixth album, which marked their sole chart-topper in the US, spawned several jaunty and enduring hits, including the Ivor Novello-winning "The Logical Song," "Take the Long Road Home," and "Goodbye Stranger."
Looking for more things that happened on this day in music?
Keep scrolling for all of the headlines for May 19.
BORN ON MAY 19:
1932: Alma Cogan
1945: Pete Townshend (The Who)
1948: Grace Jones
1949: Dusty Hill (ZZ Top)
1952: Joey Ramone (The Ramones)
1968: Paul Hartnoll (Orbital)
1972: Jenny Berggren (Ace of Base)
1992: Sam Smith
Looking for more artists born on this day?
Keep scrolling for all of our May 19 birthdays.
---
What to find another day?
---
May 19th
19 May 2023
Andy Rourke, the bassist for indie legends
The Smiths
, died from pancreatic cancer aged 59. Rourke played on the Smiths' classic back catalogue including hits such as 'This Charming Man' and 'There Is a Light That Never Goes Out' as well as featuring on solo singles for singer Morrissey after the group broke up in 1987. Later in his career, Rourke played as part of a supergroup called Freebass with two other Mancunian bass players, Gary "Mani" Mounfield, from the Stone Roses, and Peter Hook, from New Order.
19 May 2018
American musician, songwriter and record producer Reggie Lucas died aged 65. Lucas is best known for having produced the majority of
Madonna
's 1983 self-titled debut album, and for playing with Billy Paul and Miles Davis electric band of the first half of the 1970s.
19 May 2016
John Berry, a founding member of rap group Beastie Boys died at the age of 52. Berry originally formed the four-piece hardcore punk band, the Young Aborigines, in 1978 who later became the Beastie Boys and came up with the name for the group.
19 May 2015
Lee Ryan became the fourth and final member of Blue to declare himself bankrupt. Lee became the last member of the chart-topping boyband - who earned more than £80million after selling in excess of 15million records worldwide - to file for bankruptcy, following in the financial footsteps of his band mates Simon Webbe, Antony Costa and Duncan James.
19 May 2013
A guitar played by
John Lennon
and
George Harrison
sold for $408,000 (£269,000) at auction. The custom-made instrument, built in 1966 by VOX was bought by an unidentified US buyer in New York. Harrison played
'I Am The Walrus'
, on the guitar in a scene from Magical Mystery Tour in 1967. Lennon used it in a video for
Hello, Goodbye
later that year. After playing the guitar, Lennon gave it as a 25th birthday present to Alexis "Magic Alex" Mardas, a member of
The Beatles
' inner circle in the 1960s.
19 May 2010
'
Stairway To Heaven
' was named the UK's favourite rock song in a survey by listeners to radio station Absolute Classic Rock.
Led Zeppelin
had two other tracks in the top 10; 'Whole Lotta Love' was voted at No. 4 and 'Rock 'n' Roll', from the group's fourth album, was at No. 7.
19 May 2007
Lawyers for
Michael Jackson
dropped an effort to block an auction of the star's personal belongings and other Jackson family items. An agreement was reached with representatives of an auctioneer, who was the current owner of the materials, and a New Jersey man who claimed to own a warehouse full of Jackson memorabilia after a failed business venture wound up in bankruptcy court.
19 May 2001
Mike Sammes founder of The Mike Sammes Singers died aged 73. He worked with Tom Jones, Cliff Richard and featured on
The Beatles
,
'I Am The Walrus'
and 'The Long And Winding Road.'
19 May 1990
Madonna
started a three week run at No.1 on the US singles chart with 'Vogue'. Originally planned as a B-side, it became the singers eighth US No.1 and seventh UK No.1 hit.
19 May 1988
James Brown
was arrested for the fifth time in 12 months, following a car chase near his home, he was charged with assault, resisting arrest and being in charge of illegal weapons, he was given a 6 year jail sentence.
19 May 1984
Bob Marley
and the Wailers started a 12-week run at No.1 on the UK album chart with the compilation album 'Legend', released to commemorate the third anniversary of Marley's death.
19 May 1980
Ringo Starr
and his future wife were involved in a car crash less than half a mile from where
Marc Bolan
was killed, the car was a write-off but Starr and Bach were not seriously injured.
19 May 1979
ABBA
started a four week run at No.1 on the UK album chart with 'Voulez-Vous' the group's fourth No.1 album.
19 May 1979
19 May 1979
Supertramp went to No.1 on the US album chart with 'Breakfast In America', the group's only US No.1. It featured three US Billboard hit singles: 'The Logical Song', 'Goodbye Stranger' and 'Take the Long Way Home'.
19 May 1978
Dire Straits
released their first major label single 'Sultans Of Swing', recorded on a £120 budget. The song was first recorded as a demo at Pathway Studios, North London, in July 1977, and quickly acquired a following after it was put on rotation at Radio London.
19 May 1976
Rolling Stone
Keith Richards
crashed his car near Newport Pagnell, Bucks, after falling asleep at the wheel; marijuana and cocaine were found by the police resulting in another fine for the guitarist.
19 May 1973
Stevie Wonder
went to No.1 on the US singles chart with 'You Are The Sunshine Of My Life'. His third US No.1, won Wonder a Grammy Award for Best Male Pop Vocal Performance. This song was the second single released from the album 'Talking Book'.
19 May 1973
Paul Simon
released the single 'Kodachrome' named after the Kodak 35mm film Kodachrome which became a No.2 hit in the US. It was not released as a single in Britain, because the BBC would not play the trademarked name.
19 May 1967
The Beatles
held a press party at manager's Brian Epstein's house in London for the launch of the
Sgt. Pepper
album. Linda Eastman was hired as the press photographer for the event.
19 May 1960
American DJ Alan Freed was indicted along with seven others for accepting $30,650 in payola from six record companies. Two years later, he was convicted and given a suspended sentence and a $300 fine.
19 May 1949
English guitarist, songwriter and producer Larry Wallis best known as a member of the Pink Fairies and an early member of Motörhead. Wallis died on 19 September 2019 aged 70.
Born on this day in music
19 May 1992
Sam Smith, British singer-songwriter and four-time Grammy winner. They were featured on Naughty Boy's 'La La La' which was a UK No.1 in May 2013 and scored the 2014 UK No.1 single 'Stay with Me', among many subsequent global hits.
19 May 1972
Jenny Berggren, singer, songwriter, with Swedish pop group Ace Of Base who had the 1993 UK No.1 single 'All That She Wants' and the 1994 US No.1 single 'The Sign'. The group sold more than 30 million albums worldwide, making it the third-most successful Swedish band of all time, after
ABBA
and Roxette.
19 May 1970
Attrell Cordes, Prince Be, from American hip hop act PM Dawn who scored the 1991 US No.1 & UK No.3 single 'Set Adrift On Memory Bliss'. He died on June 17, 2016, of renal disease, caused by complications of diabetes, at the age of 46 at a hospital in Neptune City, New Jersey.
19 May 1970
Stuart Cable, drummer from Welsh rock band, Stereophonics, who had the 2001 UK No.5 single 'Have A Nice Day'. Cable left the band in 2003. Presented his own Cable TV show in Wales and worked for BBC Radio Wales. Cable was found dead at him home near Aberdare in Wales on 7th June 2010 aged 40.
19 May 1968
Paul Hartnoll, from English electronic dance music duo Orbital, who had the 1996 UK No.11 single 'The Box'. The band's name is taken from Greater London's orbital motorway, the M25.
19 May 1963
Ben Volperliere, singer from British pop band, Curiosity Killed The Cat who had the 1989 UK No.14 single 'Name And Number' and the UK No.1 album Keep Your Distance.
19 May 1962
Iain Harvie, guitarist, from Scottish alternative rock band Del Amitri who had the 1990 UK No.11 single 'Nothing Ever Happens'. The band have had five Top 10 albums in the UK.
19 May 1960
British pop singer, Yasmin Evans, (Yazz), who scored the 1988 UK No.1 dance track 'The Only Way Is Up'.
19 May 1956
English musician Martyn Ware who with Heaven 17 had the 1983 UK No.2 single 'Temptation'. He was also a member of the Human League. As a record producer he helped to revitalise Tina Turner's career in 1983 with 'Let's Stay Together', and also kick started Terence Trent D'Arby's career by co-producing his solo debut, Introducing the Hardline According to..
19 May 1954
Phil Rudd, drums,
AC/DC
, from 1975 through 1983, and again from 1994 to 2015. Thier 1980 UK No.1 & US No.14 album Back In Black has sold over 49 million copies). On 6 November 2014 Rudd was arrested and charged with attempting to procure a murder, threatening to kill, possession of methamphetamine and possession of cannabis, following a police raid on his home.
19 May 1952
Jeffrey Hyman, (Joey Ramone), from American punk rock band
Ramones
who had the 1977 hit single 'Sheena Is A Punk Rocker'. They are often cited as the first band to define the punk rock sound. He died on 15th April 2001 after losing a long battle with lymphatic cancer aged 49. On November 30, 2003, a block of East 2nd Street in New York City was officially renamed Joey Ramone Place.
19 May 1950
English bassist and singer Mike Wedgwood who with Curved Air had the 1971 UK No.4 single 'Back Street Luv'. He has also worked with Kiki Dee and Caravan.
19 May 1950
Romeo Challenger, from English revival group Showaddywaddy who had the 1976 UK No.1 single with their version of 'Under The Moon Of Love'. Showaddywaddy spent 209 weeks on the UK Singles Chart, and had 10 Top Ten singles.
19 May 1949
Dusty Hill, bass, keyboardist, and co-vocalist with ZZ Top, who had the 1984 US No.8 and 1985 UK No.16 single 'Legs'. ZZ Top has had global album sales in excess of 50 million as of 2014. Along with his brother Rocky Hill and future fellow ZZ Top member Frank Beard, Hill played in local Dallas bands the Warlocks, the Cellar Dwellers, and American Blues. He died on 28 July 2021 at his home in Houston, Texas, at the age of 72.
19 May 1948
Jamaican singer, songwriter, supermodel Grace Jones, who scored the 1985 UK No.12 single 'Slave To The Rhythm' and the hit 'Pull Up to the Bumper'.
19 May 1948
Tom Scott, saxophonist, the L.A. Express worked with
Joni Mitchell
,
Carole King
, Steely Dan. Composer of film soundtracks & TV shows.
19 May 1947
Greg Herbert, from jazz-rock American music group Blood Sweat & Tears. They scored the 1969 US No.2 single 'Spinning Wheel', and the 1969 US No.12 single 'You've Made Me So Very Happy'. They had a US No.1 with their second album Blood, Sweat & Tears in 1968. Herbert died of an accidental drug overdose 31st January 1977.
19 May 1947
Jerry Hyman, from jazz-rock American music group Blood Sweat & Tears. They scored the 1969 US No.2 single 'Spinning Wheel', and the 1969 US No.12 single 'You've Made Me So Very Happy'. They had a US No.1 with their second album Blood, Sweat & Tears in 1968.
19 May 1945
English musician, singer, songwriter Pete Townshend,
The Who
. Had the 1965 UK No.2 single '
My Generation
' and the 1967 US No.9 single 'I Can See For Miles' plus over 20 other UK Top 40 hit singles, 16 US Top 40 singles and rock opera albums 'Tommy' & 'Quadrophenia'. Townshend became known for his eccentric stage style swinging his right arm against the guitar strings in a windmill style, often smashing guitars on stage. Although known primarily as a guitarist, he also plays keyboards, banjo, accordion, harmonica, ukulele, mandolin, violin, synthesiser, bass guitar, and drums.
19 May 1932
Alma Cogan, English singer of traditional pop music who had the 1955 UK No.1 single 'Dreamboat', plus 20 other UK Top 40 hits. She was the youngest female to top the charts during the 50s and the highest paid British female entertainer of her era. Cogan died of stomach cancer on 26th October 1966 age 34.