What Happened on the 28th May in Music History
Scroll down the page to see all the music headlines, stories and events for May 28 throughout music history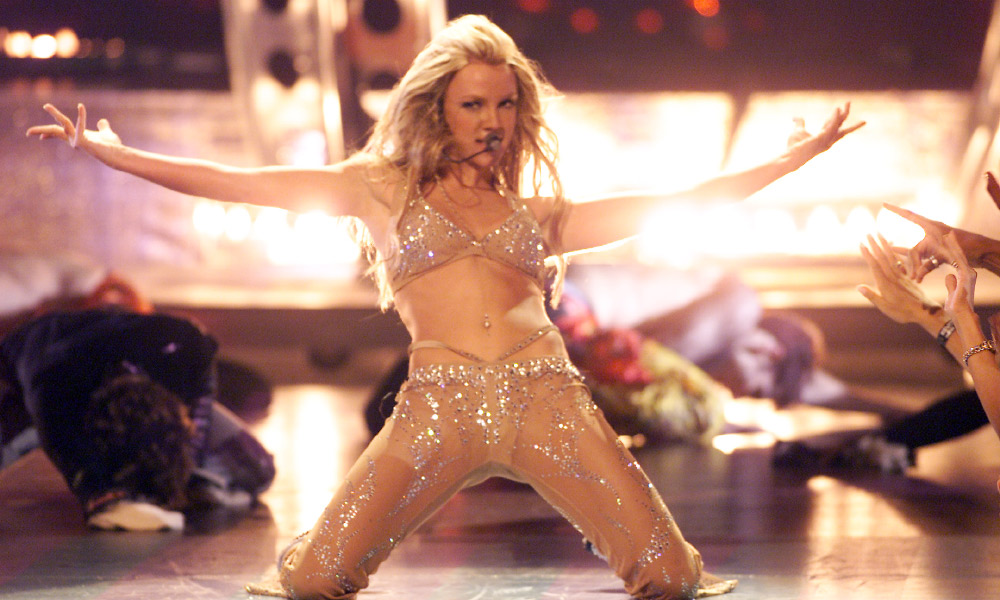 Britney Spears 'Did It Again' (And Broke Records)
On this day in music, May 28, 2000, Britney Spears proved her star power when her sophomore album, Oops!…I Did It Again debuted at the top of the Billboard 200 and quickly became the fastest-selling LP by a female solo artist in chart history. When it hit the ten million mark soon after, Oops!…I Did It Again also made Spears the youngest artist to earn multiple Diamond certifications by the RIAA (following the success of her debut, …Baby One More Time. The album, which also topped charts around the globe, featured the hits "Lucky," "Stronger," and the title track.
In 1983, singer, songwriter, and actress Irene Cara soared to the top of the Billboard Hot 100 with "Flashdance…What a Feeling." Written by Cara, Keith Forsey, and Giorgio Moroder for the blockbuster film, Flashdance, the single went on to spend six weeks at No.1 and topped charts in more than a dozen other countries, including Japan, Australia, South Africa, and Canada. The song later earned an Academy Award for Best Original Song, while Cara won a Grammy for her performance in 1984.
In 2021, 18-year-old Olivia Rodrigo became the youngest solo artist to top both the UK album and single charts with Sour and "Good 4 U," respectively. The feat marked one of many for Rodrigo, who smashed global chart, sales, and streaming records throughout the year.
In 1966, Percy Sledge began a two-week run at the top of the Billboard Hot 100 with "When a Man Loves a Woman." An enduring soul classic, the song also hit No.1 on the R&B chart and landed in the Top 10 around the globe, including in the UK, France, Canada, and Sweden. Recorded at Muscle Shoals, "When a Man Loves a Woman" marked the legendary Alabama studio's first of many No.1 hits.
In 1977, Sting, Stewart Copeland, and Andy Summers played together for the first time in Paris, as part of the band Strontium 90 (with Mike Howlett). The three musicians would go on to form The Police that summer.
In 1966, with the success of What Now My Love, Herb Alpert and the Tijuana Brass set a new record on the Billboard charts by having four albums in the Top Ten – more than any other act at the time. Their sixth studio album held the No.1 spot for nine weeks.
Looking for more things that happened on this day in music?
Keep scrolling for all of the headlines for May 28.
BORN ON MAY 28:
1910: T-Bone Walker
1944: Gladys Knight
1944: Billy Vera
1945: John Fogerty (Creedence Clearwater Revival)
1949: Wendy O. Williams (The Plasmatics)
1962: Roland Gift (Fine Young Cannibals)
1968: Kylie Minogue
1985: Colbie Caillat
Looking for more artists born on this day?
Keep scrolling for all of our May 28 birthdays.
---
What to find another day?
---
May 28th
28 May 2021
American singer Olivia Rodrigo became the youngest solo artist to achieve the coveted UK chart double at 18 years and 3 months old. Her single 'Good 4 U' climbed to No.1 in the UK Singles Chart after debuting at No.2 the previous week, while her debut album Sour entered the UK Albums Chart at No.1.
28 May 2019
Motorhead's 'Ace of Spades' was named Greatest Gambling Song of All Time with Lady Gaga's 'Poker Face' voted into second place. Online poker giant PokerStars asked 1,000 of its European customers to select their favorite poker-themed song from a list of choices.
28 May 2015
Michael Jackson
's former home, Neverland Ranch, was listed for sale for one hundred million dollars. The 2,700-acre ranch in Santa Ynez Valley, California included a train station, a six-bedroom house, a 50-seat movie theater and two lakes.
28 May 2008
American guitarist Jerry Cole died aged 68. He first entered the pop music scene as one of The Champs along with
Glen Campbell
. Cole and Campbell later formed the Gee Cee's and released one single called 'Buzzsaw Twist'. He backed up
Elvis Presley
in 1974 and also worked with Jerry Lee Lewis,
Roy Orbison
,
Aretha Franklin
, The
Righteous Brothers
,
Little Richard
, Ray Charles, Tony Orlando & Dawn, Lou Rawls,
Gregg Allman
, Lee Hazlewood, Blood Sweat & Tears, Kenny Rogers,
Neil Diamond
, Steely Dan,
The Beach Boys
and Isaac Hayes.
28 May 2007
Right Said Fred singer Richard Fairbrass and gay rights activist Peter Tatchell, were both attacked during a march in Moscow. Trouble broke out when demonstrators tried to appeal against a ban on a gay rights march through the Russian capital. The banned march was aimed at marking the 14th anniversary of Russia decriminalising homosexuality.
28 May 2000
Britney Spears
was at No.1 on the US album chart with 'Oops!... I Did It Again'. The singer's second album also reached No.1 in thirteen other countries and has now sold over 20m copies.
28 May 1996
Depeche Mode singer Dave Gahan was rushed to Cedars Sinai Hospital, Los Angeles after an apparent drug overdose. The singer was later arrested for possession of cocaine and heroin.
28 May 1990
Mitch Mitchell former drummer with The
Jimi Hendrix Experience
took out a High Court action against Private Eye magazine over an allegedly defamatory item.
28 May 1983
Rapidfire appeared at Gazzarri's On The Sunset Strip, in Los Angles. Rapidfire featured singer Axl Rose, who was seen for the first time by guitarist Slash, who was in the audience.
28 May 1983
Actress and singer Irene Cara started a six week run at No.1 on the US singles chart with 'Flashdance...What A Feeling'. Taken from the film 'Flashdance', a No.2 hit in the UK. Cara had also appeared in TV's 'Roots' and 'The Next Generation'.
28 May 1983
The four day US Festival '83' took place in California, featuring
The Clash
,
U2
,
David Bowie
, The Pretenders,
Van Halen
, Stray Cats, Men At Work, Judas Priest,
Stevie Nicks
, Willie Nelson.
INXS
, Joe Walsh, Motley Crue and
Ozzy Osbourne
. Over 750,000 fans attended the festival.
28 May 1977
Sting, Stewart Copeland and Andy Summers played together for the first time when they performed as part of Mike Howlett's band, Strontium 90 in Paris France.
28 May 1976
The Allman Brothers Band
temporarily disbanded after Greg Allman testified against Scooter Herring, his personal road manager, who was charged with drug trafficking. Herring was subsequently sentenced to 75 years in prison. An album of previously unreleased live material was issued later in the year under the title 'Wipe the Windows, Check the Oil, Dollar Gas'.
28 May 1973
Pink Floyd
's
The Dark Side Of The Moon
was on both the UK and US album charts. It remained in the US charts for 741 discontinuous weeks from 1973 to 1988, longer than any other album in history. (After moving to the Billboard Top Pop Catalog Chart, the album notched up a further 759 weeks, and had reached a total of over 1,500 weeks on the combined charts by May 2006).
28 May 1969
Rolling Stone
Mick Jagger
and Marianne Faithfull were arrested at their London home and charged with possession of cannabis, they were both later released on £50 ($85) bail.
28 May 1966
Herb Alpert and the Tijuana Brass went to No.1 on the US album chart with 'What Now My Love', setting a new American record with four albums in the US Top Ten. The other three were; 'South of the Border', 'Going Places' and 'Whipped
Cream
and Other Delights'.
28 May 1966
Percy Sledge started a two week run at No.1 on the US singles chart with 'When A Man Loves A Woman'. A No.4 hit on the UK chart and No.2 when re-issued in 1987. Before the recording session, the song had no title or lyrics. The session proceeded with the expectation that Sledge would produce them for the vocal takes. When it came time to record the vocals, Sledge improvised the lyrics with minimal pre-planning, using the melody as a guide for rhythm and phrasing. The performance was so convincing that others working on the session assumed Sledge had the lyrics written down.
28 May 1966
All four Beatles spent the day with
Bob Dylan
in his room at the Mayfair hotel in London, England, watching rushes of D.A. Pennebakers's forthcoming documentary film, Dont Look Back, which covered Dylan's 1965 concert tour of the United Kingdom.
28 May 1964
The BBC received over 8,000 postal applications for tickets for The
Rolling Stones
forthcoming appearance on the British TV show, Juke Box Jury.
Born on this day in music
28 May 1985
Colbie Caillat, American singer-songwriter. 2008 Australian No.1 single 'Bubbly'. 2009 US No.1 album 'Breakthrough'. (Her father, Ken Caillat, co-produced the Fleetwood Mac albums
Rumours
and Tusk).
28 May 1981
Mark Feehily, from Irish pop vocal group Westlife who scored 14 UK No.1 singles, and have sold over 50 million records worldwide. Despite their success worldwide, Westlife never managed to break into the US market, achieving only one hit single in 2000, 'Swear It Again'.
28 May 1970
Mark Richardson, drummer with British rock band Skunk Anansie who had the 1996 UK No.20 single 'Weak'. The band have spent a total of 141 weeks on both the singles and album charts.
28 May 1970
Jimi Goodwin, vocals, bass, guitar with Sub Sub who had the 1993 UK No.3 single 'Ain't No Love, (Ain't No Use'. And with Doves, the 2002 UK No.3 single 'There Goes The Fear' and 2002 UK No.1 album The Last Broadcast.
28 May 1968
Australian-born singer, songwriter, and actress
Kylie Minogue
who scored the 1988 UK No.1 single 'I Should Be So Lucky' plus over 40 other UK Top 40 hit singles). She achieved recognition by starring in the Australian soap opera Neighbours, where she played tomboy mechanic Charlene Robinson and as of 2013, Minogue had worldwide record sales of more than 70 million.
28 May 1963
Gavin Harrison, English drummer and percussionist best known for playing with the British progressive rock bands Porcupine Tree and King Crimson.
28 May 1962
British singer Roland Gift, who with the Fine Young Cannibals, had the 1989 US No.1 & UK No.5 single 'She Drives Me Crazy'.
28 May 1959
Welsh singer Steve Strange from Visage who had the 1980 UK No.8 single, 'Fade To Grey'. Strange appeared in the video for
David Bowie
's No.1 hit 'Ashes to Ashes'. He died on 12th Feb 2015 after suffering a heart attack in Sharm el-Sheikh, Egypt.
28 May 1955
John McGeoch, Scottish guitarist, who was a member of Magazine, who had the 1978 UK hit single 'Shot By Both Sides'. Also worked with Siouxsie And The Banshees, Armoury Show, Public Image Ltd. McGeoch died in his sleep 5th March 2004 aged 49.
28 May 1949
Wendy O. Williams singer with The Plasmatics, a New York punk band who had the 1980 UK No. 55 single 'Butcher Baby'. Williams took her own life in 1998.
28 May 1948
Ray Laidlaw, from English group Lindisfarne who had the 1970s hit singles 'Meet Me on the Corner', 'Lady Eleanor and 'Run For Home'. Their album Fog on the Tyne became the biggest selling UK album in 1972.
28 May 1945
American musician, singer, and songwriter John Fogerty from
Creedence Clearwater Revival
who had the 1969 UK No.1 and US No.2 single 'Bad Moon Rising', plus ten other US Top 30 hits and the 1970 US & UK No.1 album Cosmo's Factory. After CCR parted ways in 1972 Fogerty had a successful solo career.
28 May 1944
American singer, songwriter Billy Vera, who had the 1987 US No.1 single with The Beaters, 'At This Moment' featured in the US TV show, 'Family Ties'.
28 May 1944
American singer, songwriter
Gladys Knight
, who had the 1973 US No.1 single 'Midnight Train To Georgia', and the 1975 UK No.4 single 'The Way We Were' plus 20 other UK Top 40 singles. Best known for her work with her group
Gladys Knight
& the Pips.
28 May 1943
Tony Mansfield, from Billy J Kramer and the Dakotas who had the 1964 UK No.1 & US N0.7 single 'Little Children'.
28 May 1917
American blues violinist Papa John Creech, with Jefferson Airplane Jefferson Starship and Hot Tuna. He had also worked with Louis Armstrong, Fats Waller, Big Joe Turner, T-Bone Walker, Nat King Cole. He died in 1994 aged 76.
28 May 1910
American blues guitarist, singer, songwriter and multi-instrumentalist, T-Bone Walker who was a pioneer and innovator of the jump blues and electric blues sound. His most famous song, 'Call It Stormy Monday (But Tuesday Is Just as Bad)' was released in 1947. He died of bronchial pneumonia on 16 March 1975 at the age of 64.