May 29th: The Biggest Music Headlines
Scroll down the page to see all the music headlines, stories and events for May 29 throughout music history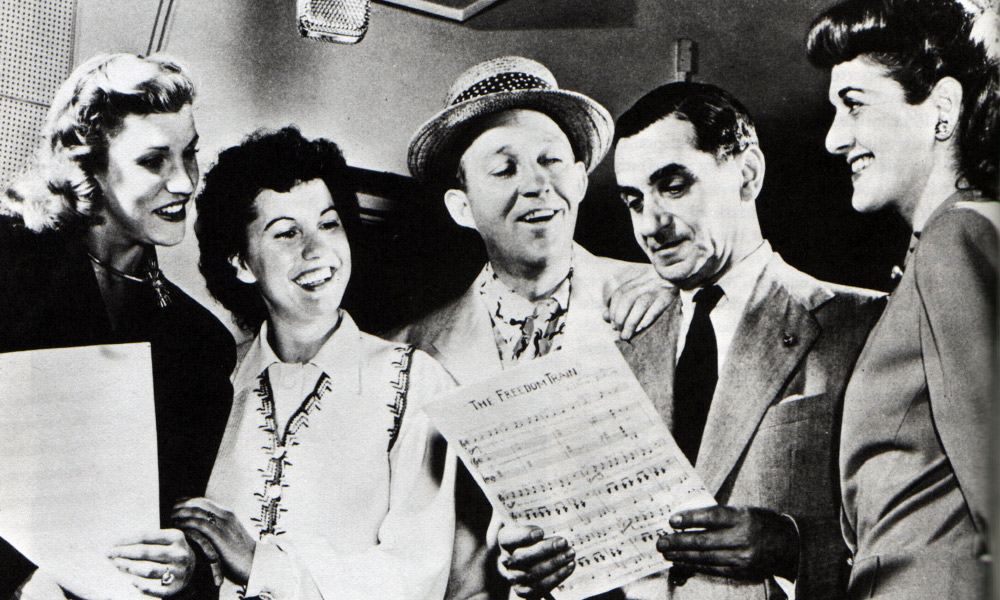 Bing Crosby Records a Holiday Classic
On this day in music, May 29, 1942, Bing Crosby recorded "White Christmas" with the John Scott Trotter Orchestra and the Ken Darby Singers. In under 20 minutes, the crooner made holiday magic – and music history. First performed by Crosby in 1941 on his radio show, The Kraft Music Hall, "White Christmas" was written by Irving Berlin for the film Holiday Inn. Steeped in nostalgia, the secular tune resonated deeply with the American public and topped the singles chart for 11 weeks (a spot it would return to for several years in a row). In addition to inspiring a new trend of pop-forward holiday hits, the song went on to win an Academy Award, spawn a 1954 musical film of the same name (also starring Crosby), and sell more than 50 million copies worldwide, becoming the world's best-selling physical single.
In 1969, supergroup Crosby, Stills & Nash released their self-titled debut. The album, which featured the Top 40 hits "Marrakesh Express" and "Suite: Judy Blue Eyes," was a commercial and critical success – peaking at No.6 on the Billboard 200 and garnering the band a win for Best New Artist at the 1970 Grammys. Released months before Neil Young joined the band, Crosby, Stills & Nash marked the band's only album without the Canadian singer-songwriter.
In 1983, New Edition topped the UK pop chart with their debut single, "Candy Girl." The song also marked their first of several hits to top the Billboard R&B chart. Formed as a "new edition" of the Jackson 5, the school-aged group featured Bobby Brown and Ralph Tresvant, plus future Bell Biv DeVoe members Ricky Bell, Michael Bivins, and Ronnie DeVoe.
In 1997, singer-songwriter Jeff Buckley disappeared while swimming in the Mississippi River. The body of the 30-year-old artist, who was in Memphis recording his sophomore album, would be recovered on June 4.
In 1977, Warsaw (which would soon be rechristened as Joy Division), played their first show at The Electric Circus in Manchester, UK. The influential band opened for The Buzzcocks, Penetration, and "punk poet" John Cooper Clarke.
Looking for more things that happened on this day in music?
Keep scrolling for all of the headlines for May 29.
BORN ON MAY 29:
1935: Sylvia Robinson (Mickey & Sylvia)
1945: Gary Brooker (Procol Harum)
1949: Francis Rossi (Status Quo)
1955: Mike Porcaro (Toto)
1956: LaToya Jackson
1967: Noel Gallagher (Oasis)
1975: Mel B (Spice Girls)
Looking for more artists born on this day?
Keep scrolling for all of our May 29 birthdays.
---
What to find another day?
---
May 29th
29 May 2021
American singer B. J. Thomas died of lung cancer age 78. He scored hits with 'Hooked on a Feeling' (1968), 'Raindrops Keep Fallin' on My Head' (1969), '(Hey Won't You Play) Another Somebody Done Somebody Wrong Song' (1975), 'Don't Worry Baby' (1977) and 'Whatever Happened to Old-Fashioned Love' (1983).
29 May 2019
Tony Glover, the influential blues harmonica player who was a longtime peer of Bob Dylan and helped teach
Mick Jagger
how to play, died of natural causes age 79. He also worked as a writer and critic, contributing to magazines Crawdaddy and Cream, while also writing extensively for Rolling Stone between 1968 and 1973.
29 May 2015
Michael Jackson
's Neverland ranch went up for sale with a price tag of $100m (£65m). Jackson bought the Santa Barbara development in 1987 for $19.5m but struggled to pay for it, until an investment company stepped in to help him save it from auction.
29 May 2010
Sabrosa Park (at the small town of Sabrosa, north of Portugal) was renamed B.B. King Park in honor of King and the free concert he had played before 20,000 people.
29 May 2009
Phil Spector was jailed for at least 19 years for murdering an actress in 2003. The producer, 69, famed for his Wall of Sound recording technique, was last month found guilty of shooting Lana Clarkson at his California home. Spector had pleaded not guilty to the second-degree murder during the five-month retrial in Los Angeles. His lawyers said he would appeal. Spector was given a sentence of 15 years to life for second-degree murder and an additional four years for personal use of a gun.
29 May 2007
A piano used by
John Lennon
on the night he died was put up for sale for $375,000 (£189,000) on The Moments in Time memorabilia website. The upright grand piano was part of the Record Plant Recording Studios in New York where the former Beatle recorded his 1971
Imagine
album. Lennon was said to be so fond of the instrument that he had it moved to whichever studio he was working in and had used the piano hours before being shot on 8 December 1980.
29 May 2005
Gorillaz scored their first UK No.1 album when 'Demon Days' went to the top of the charts.
29 May 2002
A 16ft by 6ft mosaic designed by
John Lennon
went on display at
The Beatles
Story museum in Liverpool. The mosaic had been built into Lennon's swimming pool at his Kenwood home in Surrey where he lived between 1964 and 1968.
29 May 2002
Australian actress and singer Natalie Imbruglia became the new face of L'Oreal when she signed a deal worth £100,000 ($170,000) with the French cosmetics manufacturer.
29 May 2001
The
Eagles
made their first ever visit to Russia when they appeared at SC Olymisky in Moscow.
29 May 1999
Skeletal remains were found by photographers looking for old car wrecks to shoot at the bottom of Decker Canyon near Malibu, California. Based on forensic evidence the remains were Philip Kramer former bassist with rock group
Iron Butterfly
, who had disappeared on his way home from work on February 12, 1995. His death was ruled as a probable suicide.
29 May 1997
Sharitha Knight filed a suit at LA, Superior Court claiming she was owed $1 million (£588,000) as Snoop Doggy Dogg's personal manger between 1993-6. The claim alleged that Snoop had withheld the 20 percent she was owed.
29 May 1997
Singer songwriter
Jeff Buckley
disappeared after talking a swim in the Mississippi River, his body was found on 4th June 1997 after being spotted by a passenger on a tourist riverboat.
29 May 1997
The Manic Street Preachers won the best song award for 'A Design For Life' at the 42nd Ivor Novello awards. Other winners included The
Spice Girls
for Hit of the year with 'Wannabe', Elvis Costello for Outstanding contribution to music,
George Michael
won Songwriter Of The Year and Most Performed work for 'Fastlove.'
29 May 1992
Concerned that some pupils were overly identifying with
Freddie Mercury
, the sacred heart School in Clifton New Jersey decided not to sing the
Queen
song 'We Are The Champions', at their Graduation Ceremony.
29 May 1992
The FBI recovered 44 nude photographs of
Madonna
which had been stolen in America from fashion photographer Steven Meisel.
29 May 1991
After just completing the recording of the '
Nevermind
' album,
Nirvana
played a last-minute show at the Jabberjaw in Los Angeles. In the audience was Iggy Pop, Dave Grohl's girlfriend and L7 bassist Jennifer Finch who brought along her best friend Courtney Love.
29 May 1983
US school boy band (which included Bobby Brown), New Edition were at No.1 on the UK singles chart with 'Candy Girl'. Songwriter & producer Maurice Starr discovered New Edition performing at a local talent show. Starr went on to produce and write for New Kids On The Block.
29 May 1977
Manchester band Warsaw, (later to become
Joy Division
) made their live debut supporting The
Buzzcocks
at The Electric Circus, Manchester, England.
29 May 1971
The
Rolling Stones
started a two week run at No.1 on the US singles chart with 'Brown Sugar', from
Sticky Fingers
. The first single released on Rolling Stones Records, it was the bands sixth US No.1, and a No.2 hit in the UK.
29 May 1971
Three dozen
Grateful Dead
fans were treated for hallucinations caused by LSD after they unwittingly drank spiked apple juice served at a gig at San Francisco's Winterland.
29 May 1969
Crosby, Stills & Nash released their self-titled debut on Atlantic Records label. It spawned two Top 40 hits: 'Marrakesh Express' and 'Suite: Judy Blue Eyes'.
29 May 1967
The Move,
Cream
, The
Jimi Hendrix Experience
,
Pink Floyd
, Zoot Money, Geno Washington and The Ram Jam Band all appeared at the Tulip Bulb Auction Hall in Spalding, Lincoln, England.
Pink Floyd
were only a support band and played in a corner of the shed with a white sheet behind them with the coloured oil shining onto it. Tickets cost £1 ($1.70). The poster advertising the show promised a 'Knockout Atmosphere'.
29 May 1965
Bob Dylan
's album Bringing It All Back Home was at No.1 on the UK charts, his second UK No.1 album. The black and white pamphlet lying across the Time magazine with President Lyndon B. Johnson on the cover is a publication of the Earth Society, who saw its mission as protecting earth from collisions with comets and planets.
29 May 1965
The Beach Boys
started a two week run at No.1 on the US singles chart with 'Help Me Rhonda', the group's second US No.1. The recording session was interrupted by the Wilson brothers' drunken father, Murry, who arrived at the studio to criticize the Boys enthusiasm. The recording reel continued to record the confrontation, which still circulates among fans.
29 May 1962
Chubby Checker won a Grammy Award for Best Rock and Roll Recording for 'Let's Twist Again' and Ray Charles won Best Rhythm & Blues Recording for 'Hit The Road Jack'.
29 May 1961
Ricky Nelson started a two week run at No.1 on the US singles chart with 'Travellin' Man'.
Sam Cooke
turned the song down, the B-side was the Gene Pitney song 'Hello Mary Lou' which became a double A side UK No.1.
29 May 1942
Bing Crosby recorded the Irving Berlin song 'White Christmas'. Crosby recorded the song with the John Scott Trotter Orchestra and the Ken Darby Singers in just 18 minutes. According to the Guinness Book of World Records, the version sung by Bing Crosby is the best-selling single of all time, with estimated sales in excess of 50 million copies worldwide.
Born on this day in music
29 May 1978
Daniel Pearce, from British boy band One True Voice, created on the ITV television series Popstars: The Rivals who had the 2002 UK No.2 single 'Sacred Trust / After You're Gone'.
29 May 1975
Melanie Brown, (Mel B), Scary Spice, The
Spice Girls
who scored the 1996 UK No.1 & 1997 US No.1 single 'Wannabe', plus eight other UK No.1 singles. She had the solo 1998 UK No.1 single 'I Want You Back' and has now become a television presenter, talent competition judge, and model.
29 May 1967
English singer, songwriter and guitarist Noel Gallagher,
Oasis
. First single was the 1994 UK No.31 single 'Supersonic', followed by the 1994 UK No.1 album
Definitely Maybe
which became the fastest selling UK debut album ever. Their third studio album, Be Here Now (1997), became the fastest-selling album in UK chart history. Gallagher now fronts Noel Gallagher's High Flying Birds.
29 May 1963
Blaze Bayley, lead vocalist with Wolfsbane and
Iron Maiden
from 1994 to 1999 after being chosen as Bruce Dickinson's replacement after hundreds of auditions.
29 May 1962
John Pedder, bassist from British indie band Babybird, who had the 996 UK No.3 single 'You're Gorgeous', and the 1996 UK No. 9 album Ugly Beautiful.
29 May 1961
David Palmer, from English pop band ABC who as part of the New Romantic movement had the 1982 UK No.4 & 1983 US No.18 'The Look Of Love'. Their 1982 debut album, The Lexicon of Love, was a UK No.1 and they achieved ten UK and five US Top 40 hit singles between 1981 and 1990.
29 May 1959
Mel Gaynor, drummer with Scottish rock band,
Simple Minds
, who had the 1985 US No.1 single 'Don't You, Forget About Me', and the 1989 UK No.1 single 'Belfast Child', plus over 20 other UK Top 40 singles. In 2016, they won the British Academy's Ivor Novello Award for Outstanding Song Collection.
29 May 1956
29 May 1955
Mike Porcaro, bassist with American rock band Toto who had the 1980s Top 5 hits 'Hold the Line', 'Rosanna', and 'Africa'. The band has released 17 studio albums, and has sold over 40 million records worldwide. Porcaro died on 15th March 2015 following a battle with amyotrophic lateral sclerosis (Lou Gehrig's Disease).
29 May 1949
Francis Rossi, guitarist, singer, songwriter with Status Quo. The group have had over 60 chart hits in the UK, more than any other rock band, including 'Pictures of Matchstick Men' in 1967, 'Whatever You Want' in 1979 and 'In the Army Now' in 2010. Twenty-two of these reached the Top 10 in the UK. In July 1985 the band opened
Live Aid
at Wembley Stadium with 'Rockin' All Over the World'.
29 May 1945
Gary Brooker, English singer, songwriter, pianist and founder and lead singer of the rock band
Procol Harum
who had the 1967 UK No.1 and US No.5 single A Whiter Shade Of Pale. (one of the few singles to have sold over 10 million copies) and scored the hits 'Homburg', 'Conquistador'. Brooker founded The Paramounts in 1962 with his guitarist friend Robin Trower and has also worked with
Eric Clapton
, Alan Parsons and
Ringo Starr
. He died from cancer on 19 February 2022 age 76.
29 May 1941
Roy Crewsdon, from the 1960s pop band Freddie and the Dreamers. They scored the 1963 UK No.3 single 'You Were made For Me', and the 1965 US No.1 single 'I'm Telling You Now'.
29 May 1935
Singer Sylvia Robinson who had the 1973 US No.3 & UK No. 14 single 'Pillow Talk' and as Mickey & Sylvia the 1957 US No.11 single 'Love Is Strange'. She later became known for her work as founder and CEO of the hip hop label Sugar Hill Records. Robinson died on 29 September 2011.