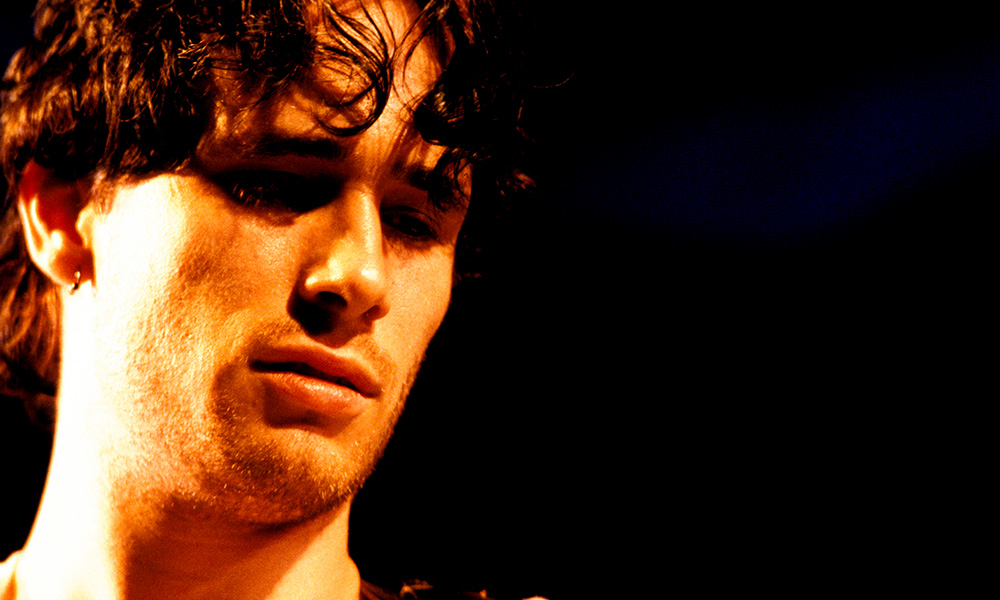 Born with a voice to die for, his audacious debut Grace made him one of the most popular alternative artists of the '90s, accentuated by his early and tragic death in 1997. Buckley's cover of Leonard Cohen's "Hallelujah" virtually redefined the song for a modern audience.
Jeff Buckley was born in California's Orange County on November 17, 1966, and spent a lonely, insecure childhood and adolescence being dragged from West Coast city to western village and farm by a mother filled with an insatiable wanderlust.
Like Julian Lennon and Dweezil Zappa, Buckley also had a famous father; the early-70s balladeer Tim Buckley who died of a drug overdose aged 28 in 1975. Talking about his father Jeff said; "I knew him for nine days. I met him for the first time when I was eight years old over Easter and he died two months later. He left my mother when I was six months old. So I never really knew him at all." Buckley was raised by his mother and stepfather, Ron Moorhead, in Southern California, and had a half-brother, Corey Moorhead.
Buckley was brought up around music. His mother was a classically trained pianist and cellist and his stepfather introduced him to Led Zeppelin, (Zeppelin's Physical Graffiti was the first album he ever owned), Queen, Jimi Hendrix, The Who, and Pink Floyd at an early age. Buckley began playing guitar at the age of five after discovering an acoustic guitar in his grandmother's closet.
After graduating from high school, he moved north to Hollywood to attend the Musicians Institute, completing the one-year course at the age of 19. Buckley later told Rolling Stone the school was "the biggest waste of time". Eventually, he struck out on his own and headed east, arriving in New York in 1991. Initially, he planned to become an actor.
Buckley spent time working in a hotel and playing guitar in various struggling bands playing in styles from jazz, reggae, and roots rock to heavy metal and he toured with the dancehall reggae artist Shinehead.
In 1991, Buckley made his public singing debut at a tribute concert for his father called "Greetings from Tim Buckley" performing "I Never Asked To Be Your Mountain," a song Tim Buckley wrote about an infant Jeff Buckley and his mother.
His first commercial recording, the four-song EP Live At Sin-é, was released in December 1993 on Columbia Records. The EP captured Buckley, accompanying himself on electric guitar, in a tiny coffeehouse in New York's East Village, the neighborhood he'd made his home.
Buckley first appeared at the Irish café Sin-é in April 1992 and quickly earned a regular Monday night slot there. His repertoire consisted of a diverse range of folk, rock, R&B, blues and jazz cover songs, much of it music he had newly learned. During this period, he discovered singers such as Nina Simone, Billie Holiday, Van Morrison, and Judy Garland.
His full-length full-band album, Grace, was released in the United States on August 23, 1994, the same day Buckley and band kicked off a European tour in Dublin, Ireland. In addition to seven original songs, the album included three covers: "Lilac Wine", based on the version by Nina Simone; "Corpus Christi Carol", from Benjamin Britten's A Boy was Born, Op.3, a composition that Buckley was introduced to in high school, based on a 15th-century hymn; and "Hallelujah" by Leonard Cohen, based on John Cale's recording from the Cohen tribute album, I'm Your Fan.
Within the simple constraints of guitar, bass, and drums (and some extraordinary string arrangements) he creates a dense but immediate emotional vessel that cannot be pinned down in any rock, soul, or folk category, or as mainstream or alternative.
Grace won appreciation from a host of revered musicians and artists, including members of Buckley's biggest influence, Led Zeppelin. Jimmy Page considered Grace close to being his "favorite album of the decade." The album launched Buckley to the world and for 3 years saw him touring across the US, Canada, Europe, Japan and Australia, making new fans wherever he played.
After completing touring in 1996, Buckley started to write for a new album to be called My Sweetheart the Drunk. Buckley worked with Patti Smith on her 1996 album Gone Again and met collaborator Tom Verlaine, the lead singer for the punk band Television. Buckley asked Verlaine to be producer on the new album and he agreed. In the middle of 1996, Buckley and his band began recording sessions in Manhattan with Verlaine.
On the night of May 29 1997, he and a friend traveled to the local Wolf River Harbor, where Buckley spontaneously decided to go swimming in the Mississippi River (Buckley had gone swimming there several times before). He waded into the water fully clothed, singing the chorus of "Whole Lotta Love" by Led Zeppelin. Keith Foti, a roadie in Buckley's band, remained on shore and after moving a radio and guitar out of reach of the wake from a passing tugboat, Foti looked up to see that Buckley had vanished. Despite a determined rescue effort that night, Buckley remained missing. On June 4, two locals spotted his body floating near the city's famed Beale Street area and he was brought to land. Buckley was 30 years old.
Buckley's autopsy showed no signs of drugs or alcohol in his system and the death was ruled as an accidental drowning.
In the years since Buckley's death, his legacy continues to grow. His fan base include rock legends, new artists, loyal followers, and an entirely new generation of music lovers. Jeff's only studio album in his lifetime, Grace, endures.
Important Dates In The Life Of Jeff Buckley:
28 Jan 2023
American singer, songwriter and guitarist Tom Verlaine from Television died in New York City age of 73. The group's debut album, Marquee Moon, is often considered one of the defining releases of the punk era. Verlaine was in discussion with Jeff Buckley to produce his second album before Buckley's death by drowning in 1997.
7 Nov 2016
Canadian singer, songwriter and poet Leonard Cohen died at the age of 82 at his home in Los Angeles. Cohen pursued a career as a poet and novelist during the 1950s and early 1960s, and did not launch a music career until 1967, at the age of 33. His first album, Songs of Leonard Cohen (1967), was followed by three more albums of folk music: Songs from a Room (1969), Songs of Love and Hate (1971) and New Skin for the Old Ceremony (1974). "Hallelujah" is a song written by Canadian singer Leonard Cohen, originally released on his album Various Positions (1984). His song 'Hallelujah' found greater popular acclaim through a recording by John Cale, which inspired a recording by
Jeff Buckley
.
27 Oct 2014
The Pet Shop Boys' 'Always On My Mind' was voted the top cover version of all time in a BBC Music vote. The song, written by John Christopher, Mark James and Wayne Carson, was first made famous by Brenda Lee and
Elvis Presley
in 1972.
Johnny Cash
's cover of Nine Inch Nails' 'Hurt' came in second place, followed by The Stranglers' version of Dionne Warwick's 'Walk On By'.
Jimi Hendrix
's take on
Bob Dylan
's 'All Along The Watchtower' came fourth and
Jeff Buckley
's cover of Leonard Cohen's 'Hallelujah' completed the top five.
2 Apr 2014
Recordings by
U2
, (The
Joshua Tree
), the Everly Brothers, ('Cathy's Clown'),
Jeff Buckley
, ('Hallelujah'), Linda Ronstadt, (Heart Like a Wheel) and
Creedence Clearwater Revival
's('Fortunate Son') were among those newly selected for induction into the Library of Congress National Recording Registry.
21 Dec 2008
The 2008 X-Factor winner Alexandra Burke started a three week run at No.1 on the UK singles chart with 'Hallelujah'. The song was written by Leonard Cohen, and his version charted at the same time, and
Jeff Buckley
's cover reached No 2, just being held off by Alexandra. Three versions of the same song were in the chart at once, something not seen since the 1950s.
4 Jun 1997
Jeff Buckley
's body was discovered floating in the Mississippi River. Buckley had disappeared when swimming on May 29th in Wolf River Harbor, while wearing boots, all of his clothing, and singing the chorus of 'Whole Lotta Love' by
Led Zeppelin
. A roadie in Buckley's band, had remained on shore. After moving a radio and guitar out of reach of the wake from a passing tugboat, he looked up to see that Buckley had vanished.
29 May 1997
Singer songwriter
Jeff Buckley
disappeared after talking a swim in the Mississippi River, his body was found on 4th June 1997 after being spotted by a passenger on a tourist riverboat.
29 Jun 1975
American singer songwriter Tim Buckley died of an overdose of heroin and morphine aged 28. Released nine albums including the 1972 release 'Greetings from L.A.' Buckley is the father of singer songwriter
Jeff Buckley
.