Led Zeppelin – Physical Graffiti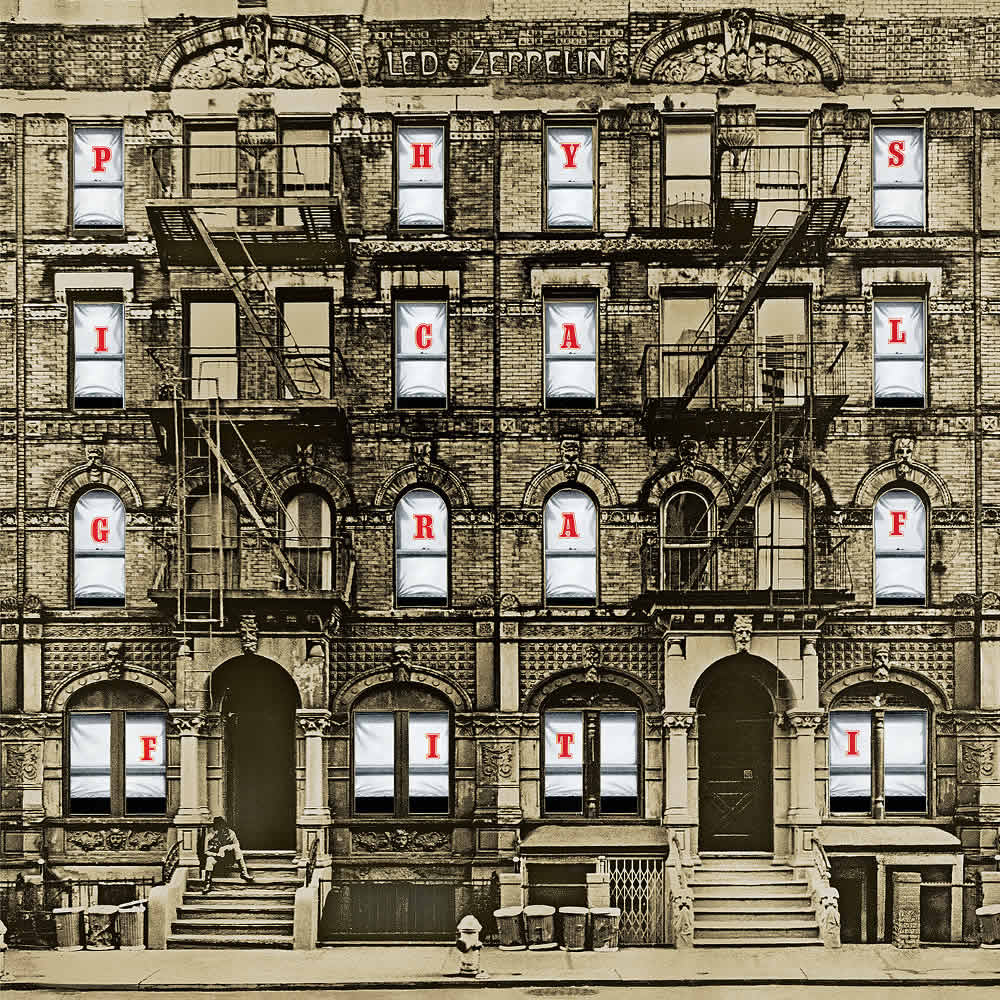 Physical Graffiti became the group's fourth US No.1 album. On its first day of release in the US, the album shipped a million copies – no other album in the history of Atlantic records had generated so many sales. Physical Graffiti has now been certified 16 times Platinum by the Recording Industry Association of America (RIAA) for US sales in excess of 16 million copies.
Recording sessions had been disrupted when bassist and keyboard player John Paul Jones had proposed quitting the band, supposedly to become choirmaster at Winchester Cathedral, England, although in reality he just needed time to rest after Zeppelin's demanding tour schedule.
The group decided on a double album so they could feature songs left over from their previous albums Led Zeppelin III, Led Zeppelin IV and Houses Of The Holy. Physical Graffiti was Led Zeppelin's sixth album – their first double, and the first on their own Swan Song Records label. The title was the idea of Jimmy Page to illustrate the sheer slapdash energy of the album.
After reuniting at Headley Grange, where the band had previously recorded songs from Led Zeppelin III onwards, Zeppelin wrote and recorded eight songs, the combined length of which stretched the album beyond the typical length of an LP. This prompted the band to make Physical Graffiti a double album by including previously unreleased tracks from earlier recording sessions.
It is the only Zeppelin album to feature John Paul Jones playing additional guitar on some tracks.
Graffiti received glowing reviews, Rolling Stone said the double album was "the band's Tommy, Beggar's Banquet and Sgt. Pepper rolled into one: Physical Graffiti is Led Zeppelin's bid for artistic respectability." Billboard magazine's 5-star review stated: "(Physical Graffiti) is a tour de force through a number of musical styles, from straight rock to blues to folky acoustic to orchestral sounds." In 1998 Q readers voted Physical Graffiti the 28th-greatest album of all time.
The Physical Graffiti sleeve design features a photograph of a New York City tenement block, two five-story buildings located at 96 and 98 St. Mark's Place in New York City. The images on the interchanging windows of the cover included a picture of drummer John Bonham wearing ladies tights (taken during a Roy Harper gig in London) and both Robert Plant and tour manager Richard Cole in drag – along with an array of legendary faces including: astronaut Neil Armstrong, The Virgin Mary, rock & roll singer Jerry Lee Lewis and German actress and singer Marlene Dietrich.
On its first day of release in the US, the album shipped a million copies – no other album in the history of Atlantic records had generated so many sales.
We have a new book Led Zeppelin – The Day I Was There available for pre order. This hardback edition is limited to 500 copies, each numbered 1-500 and signed by the author Richard Houghton.
Led Zeppelin – The Day I Was There is a collection of over 500 eyewitness accounts of seeing the band live, with fans recalling memories of the earliest Yardbirds and Zeppelin shows at UK and European clubs right through the record breaking US tours and the O2 Ahmet Ertegun Tribute Concert in 2007. With personal photographs, memorabilia, fascinating anecdotes, and fan stories that have never been published before. Published June 16 2019.