Led Zeppelin – Led Zeppelin III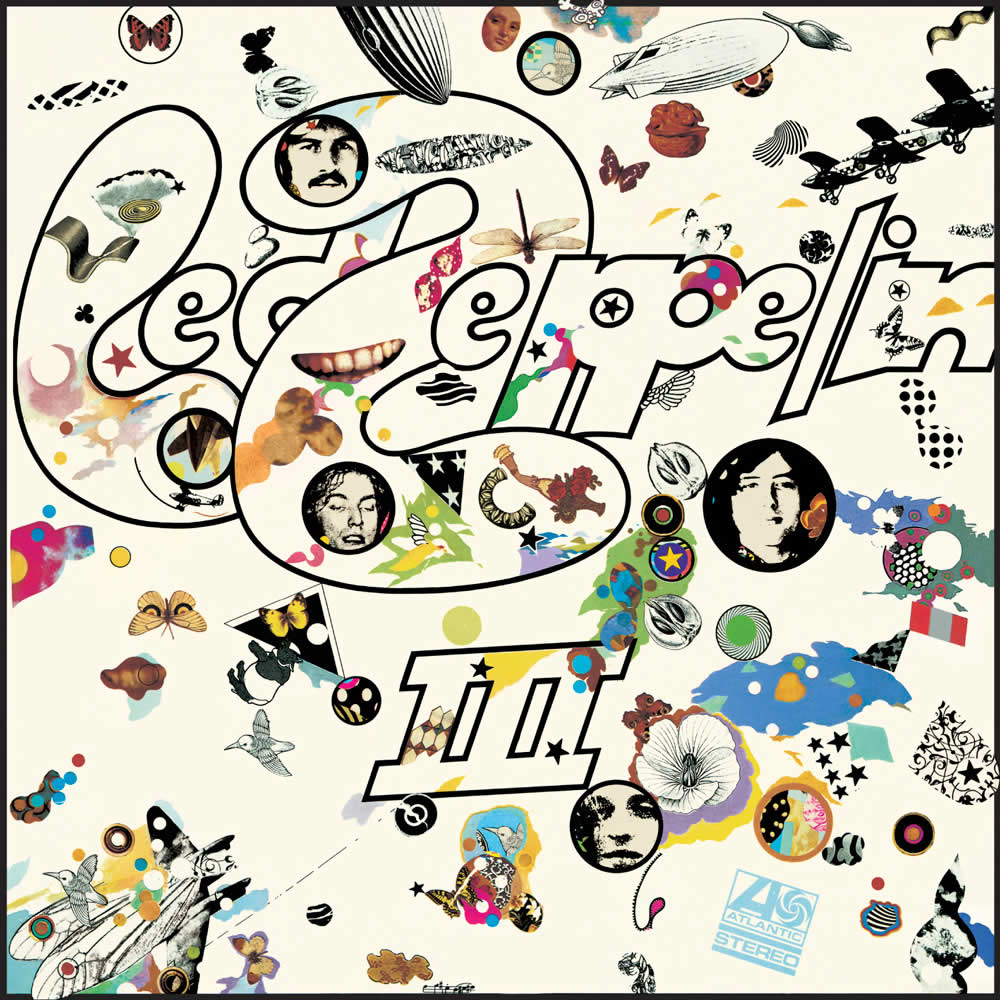 1969 had been a landmark year for Led Zeppelin, but exhausting: four US tours, five UK/European tours, two album releases and one huge single – Whole Lotta Love – which was Gold in the US and Number 1 in Germany.
1970 required an amount of time for recuperation and battery charging. Robert Plant had spent some childhood holidays in Wales and persuaded Jimmy Page and a couple of the road crew to spend some time in the Snowdonian mountains. The cottage known as Bron-Yr-Aur is situated three miles north of Machynlleth in Gwynedd, and had very basic facilities – no electricity, outside lavatory – so any creation would be strictly acoustic.
It wasn't intended to be a songwriting trip per se, but the experience proved to be a positive one for all concerned, and the influence of that time was to spread over a number of compositions.
Recorded between January and July 1970, Led Zeppelin III was released in October 1970. This album was regarded on release as representing a move towards a greater emphasis by the band on folk and acoustic sounds, and perhaps a step too far. However, this was not a correct analysis of Zeppelin's music to date, since at least a third of the content of Led Zeppelin and Led Zeppelin II could be said to be acoustic-based, and the album is now agreed to be one of Zeppelin's finest.
It is more likely that the huge success of Whole Lotta Love was felt to define the essence of the band, a misapprehension which Zeppelin was able to survive and disprove comprehensively from Led Zeppelin III onwards.
As significant was the introduction of an acoustic section into the band's live shows. Zeppelin annotator Dave Lewis notes that some 40 minutes into Zeppelin's Bath Festival show of 28th June 1970, Zeppelin performed acoustically onstage in the UK for the first time, and this was to become a standard feature of their shows, even though some audiences found it difficult to keep quiet for the duration.
Led Zeppelin III marked the introduction of another place that was to loom large in the Zeppelin creative process: Headley Grange in Hampshire, UK. According to Dave Lewis, it was the Zeppelin office secretary Carole Browne who suggest they check out Headley Grange, an 18th century former workhouse in Headley in Hampshire, which was then popular with rock bands for rehearsal and routining tracks prior to recording, mainly because it was far enough from neighbours to avoid noise complaints.
Zeppelin, with the attitude of capturing the band's collective strength live in the studio as much as possible, took it one stage further and decamped there with the Rolling Stones mobile studio. They laid down 6 of the album's tracks there, the balance being recorded at Olympic in Barnes and Island Studios in London's Basing Street, Notting Hill. Island (now owned by the SARM / ZTT empire), was a former church, and Zeppelin has the distinction of being the first artist to use the larger studio there. Engineer on the whole album was Andy Johns, younger brother of Glyn Johns, who had engineered the band's first album.
The elaborate sleeve for the original vinyl release included a cardboard wheel inside the front cover, which, when rotated, revealed various different photos of the group and other assorted designs. It was designed by Richard Drew, aka Zacron, a lecturer at Leeds Polytechnic, with photos of the band taken over a weekend by fellow young lecturer Martin Salisbury, who recalls he was paid 'about £20'. The full version of Robert Plant's photograph sees him positioned in front of the bonnet of a vintage car, while John Bonham is at the wheel of his Rolls Royce. Jimmy Page had known Drew from Kingston College of Art, 7 years previously, and had contacted him re: putting a sleeve design together. Page's original idea was based on a gardening catalogue, where the wheel would indicate what kind of soil or manure would be used with a particular plant. The sleeve was elaborate to manufacture and although Page was disappointed with the results, describing them as 'teeny-bopperish', the original vinyl sleeve complete with original wheel now sells for a good price on the collectors' market.
We have a new book Led Zeppelin – The Day I Was There available for pre order. This hardback edition is limited to 500 copies, each numbered 1-500 and signed by the author Richard Houghton.
Led Zeppelin – The Day I Was There is a collection of over 500 eyewitness accounts of seeing the band live, with fans recalling memories of the earliest Yardbirds and Zeppelin shows at UK and European clubs right through the record breaking US tours and the O2 Ahmet Ertegun Tribute Concert in 2007. With personal photographs, memorabilia, fascinating anecdotes, and fan stories that have never been published before. Published June 16 2019.