May 31st: The Biggest Music Headlines
Scroll down the page to see all the music headlines, stories and events for May 31 throughout music history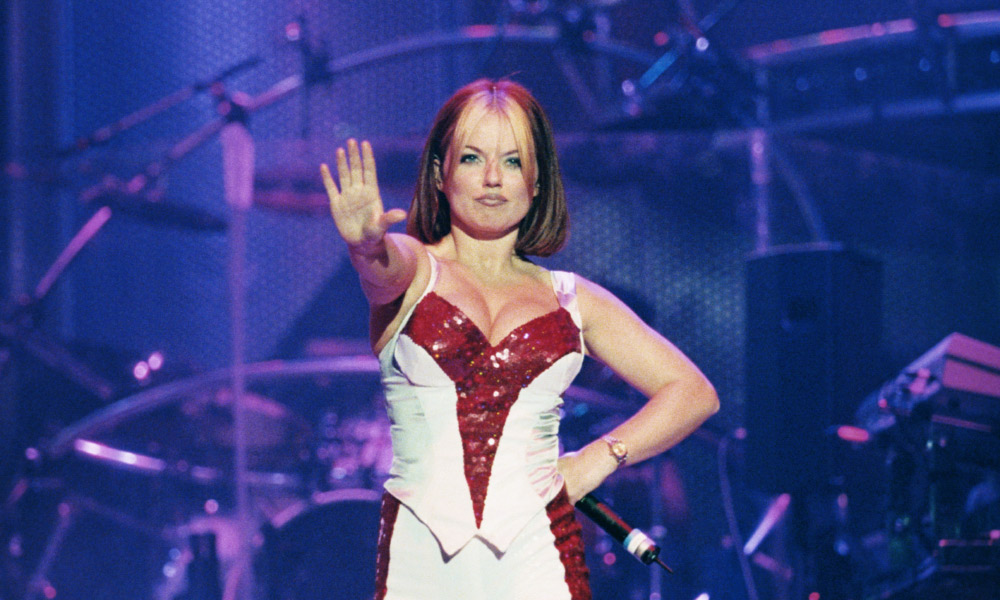 Geri Halliwell Leaves the Spice Girls
In 1998, Geri Halliwell (aka Ginger Spice) announced that she was leaving the Spice Girls, citing exhaustion. Despite days of scrutiny and speculation by the media, fans around the globe were left stunned by the news. The remaining four members commenced the North American leg of their Spiceworld Tour and released their final album, Forever, in 2000, before embarking on a nearly eight-year hiatus.
In 1982, R.E.M. signed their first label deal with I.R.S. Records. The Athens, GA band, who had recently recorded their debut EP, Chronic Town, turned down an offer from RCA, instead opting to go with the indie imprint. Founded just three years earlier, I.R.S. was home to some of the era's biggest alt-rock bands, including The Go-Go's, The Cramps, Dead Kennedys, and Fine Young Cannibals. They would release five albums with R.E.M.
In 1977, The Sex Pistols' new single, "God Save the Queen," was officially banned by the BBC, which declared the punk anthem to be "in bad taste." Britain's Independent Broadcasting Authority (IBA) also issued a warning to UK radio stations, as the song violated their rules and regulations.
In 1993, it was Oasis' lucky day when Creation Records exec Alan McGee missed a train in Glasgow. To kill time, he stopped by a local venue, King Tut's Wah Wah Hut, where he caught a set by the young Manchester band. Several months later, Oasis signed with Creation. The rest, as they say, is rock'n'roll history.
In 1976, The Who set a new record for the loudest performance by a rock band (120 decibels) during a concert at Charlton Athletic Football Ground.
Looking for more things that happened on this day in music?
Keep scrolling for all of the headlines for May 31.
BORN ON MAY 31:
1938: Peter Yarrow (Peter, Paul and Mary)
1948: John Bonham (Led Zeppelin)
1948: Paulinho da Costa (Percussionist)
1952: Karl Bartos (Kraftwerk)
1962: Corey Hart
1964: Darry (DMC)l McDaniels (Run-D.M.C.)
1980: Andy Hurley (Fall Out Boy)
Looking for more artists born on this day?
Keep scrolling for all of our May 31 birthdays.
---
What to find another day?
---
May 31st
31 May 2019
American singer, songwriter Roky Erickson died age 71. Erickson co-founded the 13th Floor Elevators in late 1965 who released their debut album The Psychedelic Sounds of the 13th Floor Elevators the following year. In 1968, while performing at HemisFair, Erickson began speaking gibberish. He was soon diagnosed with paranoid schizophrenia and sent to a Houston psychiatric hospital. Erickson released his eponymous debut as Roky Erickson and the Aliens in 1980. He recorded a steady stream of releases up until 2004.
31 May 2016
A report, from the Midwest Medical Examiner's Office in Minnesota said
Prince
died from an accidental overdose of the painkiller fentanyl. According to the autopsy report, Prince self-administered fentanyl, an opioid many times more powerful than heroin.
31 May 2014
A car and jewellery belonging to Miley Cyrus were stolen after her home in San Fernando Valley, Los Angeles was burgled. A Maserati and an unspecified amount of jewellery were taken in the raid.
31 May 2006
71 year-old songwriter Hal Bynum, (whose credits include Kenny Rogers "Lucille,") and his wife were arrested and charged with growing marijuana inside their Nashville home and possessing hallucinogenic mushrooms. After receiving a tip, police searched the couple's home and confiscated 256 marijuana plants, 7.5 pounds of harvested marijuana, 14 grams of hallucinogenic mushrooms, growing lamps and other drug paraphernalia. Bynum, and his wife were released on $73,500 bond each.
31 May 2005
Former East 17 singer Brian Harvey was in a critical condition in a London hospital after he fell under the wheels of his Mercedes convertible. The accident happened outside his home in Walthamstow when Harvey was reversing from an access road into the street. The singer suffered a broken leg, pelvis and a crushed abdomen and ribs.
31 May 2004
US guitarist Robert Quine was found dead of a heroin overdose in his New York City home. Worked with Richard Hell And The Voidoids, (1977 album 'Blank Generation' features the track 'Love Comes In Spurts') and Lou Reed, Brian Eno, Lloyd Cole, Marianne Faithfull, Tom Waits and They Might Be Giants.
31 May 2003
UK police announced that thousands of people at this year's pop festivals would be subjected to a computerised drug test. Fans would be asked to provide swab samples from their hands, which would be inserted into a drug detection machine. It was to be a voluntary test but Anti-drug officers could search anyone refusing.
31 May 2000
US soul singer Johnnie Taylor died of a heart attack in a Texas hospital shortly after his 62nd birthday. Taylor had been a member of The Highway QCs and The Five Echoes and in 1957 Taylor replaced
Sam Cooke
in The Soul Stirrers. He scored the 1976 US No.1 'Disco Lady'.
31 May 1998
Geri Halliwell announced she had quit The
Spice Girls
saying "This is because of differences between us. I am sure the group will continue to be successful and I wish them all the best."
31 May 1997
Eternal started a three-week run at No.1 on the UK singles chart with 'I Wanna Be The Only One' the girl soul trio's first - and only UK chart-topper.
31 May 1993
Sister Lovers, 18 Wheeler, Boyfriend and
Oasis
appeared at King Tuts in Glasgow, Scotland. Creation Records boss Alan McGee who was in the audience declared after seeing
Oasis
, 'I've found the greatest rock 'n' roll band since
The Beatles
'. McGee had missed a train at nearby Queen Street station, and decided to head to Tuts to kill time before the next one. He signed Oasis to his Creation label.
31 May 1989
David Bowie
's Tin Machine made their live debut at the International Music Awards, New York. Bowie stated that he and his band members joined up "to make the kind of music that we enjoyed listening to" and to rejuvenate himself artistically.
31 May 1986
Peter Gabriel scored his second solo UK No.1 album with 'So' featuring the singles 'Sledgehammer' and a duet with
Kate Bush
'Don't Give Up'. The song was inspired by the Depression-era photographs of Dorothea Lange, showing poverty-stricken Americans in Dust Bowl conditions.
31 May 1982
The
Rolling Stones
played at the 100 Club, Oxford St, London, to a sold out crowd of 400 people.
31 May 1982
R.E.M.
signed a five-album deal with I.R.S. Records, an independent label based in California.
31 May 1980
Lipps Inc went to No.1 on the US singles chart with 'Funkytown'. The disco hit was also a No.1 in Germany, Austria, Switzerland, Norway, Australia and The Netherlands. It reached No. 2 in the UK.
31 May 1980
The Theme From M*A*S*H* (Suicide Is Painless), by Mash was at No.1 on the UK singles chart, 10 years after it was first recorded after being championed by BBC
Radio 1
DJ Noel Edmonds. Mike Altman the son of the original film's director, Robert Altman, was 14 years old when he composed the song's lyrics.
31 May 1977
The BBC announced a ban on the new
Sex Pistols
single 'God Save The Queen' saying it's, "in gross bad taste". And the IBA issued a warning to all radio stations saying the playing the single would be in breach of Section 4:1:A of the Broadcasting act. The single reached No.2 on the UK chart.
31 May 1976
The Who
gave themselves a place in the Guinness book of Records as the loudest performance of a rock band at 120 decibels, when they played at Charlton Athletic Football ground.
31 May 1968
Working on what will become The
White Album
,
The Beatles
added overdubs of bass and vocals on 'Revolution'. After numerous overdubs have been added, the final six minutes of the song evolved into chaotic, jamming, with Lennon repeatedly shouting "alright" and Yoko Ono speaking random phrases. The jam becomes the basis for 'Revolution 9', and this session is the first that Yoko attends.
31 May 1966
Filming began on The
Monkees
first TV series. The
Monkees
' first single, 'Last Train to Clarksville' was released in August 1966, just weeks prior to the TV broadcast debut. In conjunction with the first broadcast of the television show on September 12, 1966 on the NBC television network, NBC and Columbia had a major hit on their hands.
31 May 1962
The Beatles
played the last night of a 7-week run at the Star-Club, Hamburg, West Germany. During their residency they would play for four-and-a-half hours on weekdays and six hours on Saturdays, with some songs lasting over 20 minutes to fill out the time.
31 May 1961
Chuck Berry
opened 'Berry Park', an amusement complex near St Louis. The park had its own zoo, golf course and ferris wheel.
Born on this day in music
31 May 1980
Andrew John Hurley, drummer, with American rock band Fall Out Boy, who had the 2007 US No.1 album Infinity on High. The group's sixth studio album, American Beauty/American Psycho (2015) peaked at No.1, making it the band's third No.1 album and the group's fifth consecutive top 10 album.
31 May 1965
Steve White, English drummer who has worked extensively with Paul Weller and The Style Council. In 2005, he took over drumming duties for
The Who
at Live 8.
31 May 1964
MC Darryl 'DMC' McDaniels, Run-D.M.C. who had the 1986 UK No.8 single with
Aerosmith
'Walk This Way', and the 1998 UK No.1 single 'It's Like That'. He is considered one of the pioneers of hip hop culture.
31 May 1963
Wendy Smith, guitar, vocals, from English English pop band Prefab Sprout who had the 1988 UK No.7 single 'The King Of Rock 'n' Roll'.
31 May 1962
Canadian singer Corey Hart best known for his hit singles 'Sunglasses at Night' and 'Never Surrender'. He has sold over 16 million records worldwide and scored nine US Billboard Top 40 hits.
31 May 1956
Fritz Hilpert from the German electronic music and pop band Kraftwerk who had the 1982 UK No.1 single 'Computer Love / The Model'.
31 May 1954
American steel guitarist Paul Franklin. He began his career in the 1970s as a member of Barbara Mandrell's road band and has since become a prolific session musician in Nashville, Tennessee, playing on more than 500 albums including albums by Sting, Peter Frampton, George Strait, Alan Jackson, Faith Hill, Shania Twain, Barbra Streisand, Reba McEntire, Patty Loveless.
31 May 1952
Canadian songwriter, arranger and producer Jim Vallance best known as the songwriting partner of
Bryan Adams
. Vallance has also written songs for many artists such as Bonnie Raitt, Aerosmith, Carly Simon, Rod Stewart, Roger Daltrey, Tina Turner, Alice Cooper,
Ozzy Osbourne
, Europe,
Kiss
, Scorpions, Anne Murray, and Joe Cocker.
31 May 1952
Karl Bartos, from the German electronic music and pop band Kraftwerk who had the 1982 UK No.1 single 'Computer Love / The Model'.
31 May 1948
English cellist Mike Edwards who was a member of Electric Light Orchestra from 1972 and played with the band from their first live gig in Croydon until he departed in January 1975. Edwards was killed in Devon, on 3 September 2010, when a cylindrical hay bale weighing 1,300 pounds (590 kg) rolled down a hillside and collided with the van he was driving.
31 May 1948
Brazilian percussionist Paulinho da Costa who played on
Michael Jackson
's albums Off
The Wall
and
Thriller
, and hit singles and movie soundtracks, including Saturday Night Fever, Dirty Dancing and Purple Rain. He has also worked with
Elton John
, Diana Krall,
Joni Mitchell
, Ray Charles,
Eric Clapton
,
Bob Dylan
, Miles Davis,
Whitney Houston
and others.
31 May 1948
English drummer
John Bonham
from
Led Zeppelin
who had the 1969 US No.4 single 'Whole Lotta Love'. The bands fourth album released in 1971 featuring the rock classic
Stairway To Heaven
, has sold over 37 million copies. He is regarded as the greatest and most influential rock drummer of all time. Bonham died on September 25th 1980 aged 32 after choking on his own vomit.
31 May 1947
Junior Campbell from Scottish pop rock band Marmalade They scored the 1969 UK No.1 single with their version of
The Beatles
song 'Ob-La-Di Ob-La-Da'. He co-wrote and produced some of their biggest hits including 'Reflections of My Life', 'I See The Rain' and 'Rainbow'. Campbell also co-wrote the music and lyrics for the internationally successful children's TV series Thomas the Tank Engine and Friends and TUGS.
31 May 1938
Peter Yarrow, singer-songwriter from American folk group Peter Paul and Mary, who had the 1969 US No.1 & 1970 UK No.2 single 'Leaving On A Jet Plane'. The
Bob Dylan
song 'Blowin' in the Wind' was one of their biggest hit singles. They also sang other Dylan songs, such as 'The Times They Are a-Changin'' and 'Don't Think Twice, It's All Right'.