May 4th: The Biggest Music Headlines
Scroll down the page to see all the music headlines, stories and events for May 4 throughout music history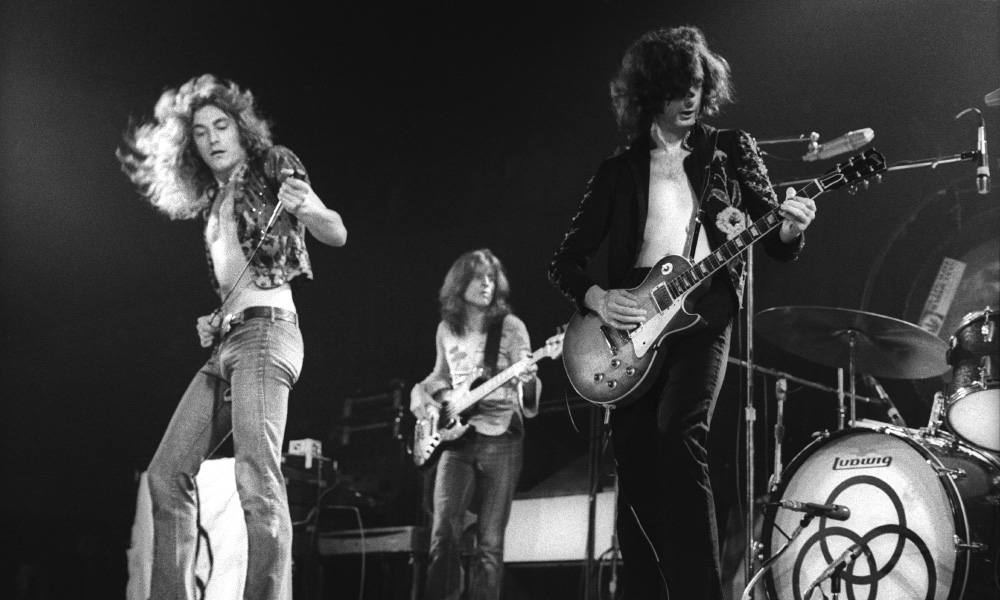 Led Zeppelin Begin Record-Breaking North American Tour
On this day in music, May 4, 1973, Led Zeppelin kicked off their 34-date North American tour in Atlanta. Billed as the "biggest and most profitable rock n' roll tour in the history of the United States," the English band grossed over $4 million. Their May 5th date at Tampa Stadium was attended by 56,800 fans, breaking The Beatles' previous record of 55,600 fans for their 1965 Shea Stadium date. The tour included the usage of dry ice, laser effects, Catherine wheel pyrotechnics, and more, while the band flew between gigs in The Starship, a former United States Airlines Boeing 720B jet.
In 2012, 47-year-old rapper and Beastie Boys' co-founder, Adam "MCA" Yauch, died of parotid cancer. With the Beastie Boys, MCA released seven platinum-selling albums between 1986 and 2004, while the trio became the third rap group to be inducted into the Rock and Roll Hall of Fame. Yauch directed many of the Beastie Boys' music videos, using the pseudonym Nathaniel Hörnblowér for his work. In 2008, he co-founded Oscilloscope Laboratories, an independent film company and distributor, alongside David Fenkel.
In 1974, ABBA's "Waterloo" topped the UK pop chart, marking their first of nine No.1 hits in the country. The single, which was initially named "Honey Pie," made the band the first Swedish winner of the Eurovision Song Contest and was later chosen as the best song in Eurovision's history during its 50th-anniversary celebration.
In 1996, Alanis Morissette began a six-week run at the top of the UK chart with her third album, Jagged Little Pill. In the US, the singer-songwriter's breakthrough LP spent 12 weeks at No.1 and earned five Grammys, including Album of the Year, making the 21-year-old artist the youngest recipient of the award. One of the best-selling albums of all time, Jagged Little Pill made Morissette the first Canadian act to achieve double diamond sales.
In 1989, Stevie Ray Vaughan set out on what would be his final tour. The influential blues musician completed 107 dates of the 110-show-run when tragedy struck. On August 27, 1990, the 35-year-old artist was killed in a helicopter accident. Regarded as one of the greatest guitarists of all time, Vaughn was posthumously inducted into the Rock and Roll Hall of Fame.
In 1991, a cover of "The Shoop Shoop Song," recorded by Cher for the film Mermaids, gave the singer her first solo No.1 in the UK. The song, which Betty Everett made a hit in 1964, marked Cher's first British chart-topper since her 1965 duet with Sonny Bono, "I Got You Babe."
Looking for more things that happened on this day in music?
Keep scrolling for all of the headlines for May 4.
BORN ON MAY 4:
1937: Dick Dale
1942: Nicholas Ashford (Ashford & Simpson)
1951: Mick Mars (Mötley Crüe)
1951: Jackie Jackson (Jackson Five)
1959: Randy Travis
1970: Gregg Alexander (New Radicals)
1972: Mike Dirnt (Green Day)
1979: Lance Bass (*NSYNC)
Looking for more artists born on this day?
Keep scrolling for all of our May 4 birthdays.
---
What to find another day?
---
May 4th
4 May 2021
English singer-songwriter, musician and model Nick Kamen died following a long battle with bone marrow cancer age 59. He was best known for the singles 'Each Time You Break My Heart' from 1986 and 'I Promised Myself' from 1990, as well as for appearing in a 1985 Levi's advert.
4 May 2016
After Donald Trump's campaign played 'Start Me Up' following his victory speech celebrating his path to the Republican nomination, The Rolling Stones asked him to stop using their music, joining several other artists in decrying his use of their songs.
4 May 2012
American rapper, musician, film director, and human rights activist Adam Yauch died of cancer aged 47. He was best known as a founding member of the hip hop group Beastie Boys, who sold over 40 million records worldwide.
4 May 2008
Madonna
's latest album Hard Candy went straight to No.1 in the UK, giving the singer a chart double, with her song 4 Minutes, featuring Justin Timberlake, on top of the singles chart for a third week. Hard Candy was
Madonna
's 10th number one album.
4 May 2008
Thieves broke into the childhood home of
Motown
star Martha Reeves and stole about $1 million worth of uninsured recording equipment, including speakers, microphones and karaoke machines. A suspect was arrested at his home later in the day after he tried to sell the goods to a pawnshop for $400.
4 May 2004
Producer Clement Seymour Dodd died aged 72. He was a major force in the development of ska and reggae, and made the first recordings of
Bob Marley
.
4 May 2000
Metallica
were demanding online music service Napster cut off 335,000 users who they claimed had been illegally trading their songs. The band had passed on the names of all those they considered to be "stealing" their material over the internet in the latest development in an ongoing battle over the protection of music copyrights on the web.
4 May 1997
Courtney Love placed an advert in The Seattle Times selling the house she had shared with
Kurt Cobain
. The five bedroom four bathroom house was on the market for $3m. The carriage house where
Kurt Cobain
died had been knocked down during refurbishment.
4 May 1996
Alanis Morissette
started a six-week run at No.1 on the UK album chart with Jagged Little Pill. The record produced six successful singles, including 'You Oughta Know', 'Ironic', 'You Learn', 'Hand in My Pocket', and 'Head over Feet'.
4 May 1996
George Michael
scored his seventh UK No.1 single as a solo artist when 'Fastlove' started a three-week run at the top of the chart. The second of six singles to be taken from George's comeback album Older.
4 May 1991
Cher scored her first solo UK No.1 single with 'The Shoop Shoop Song' from the film 'Mermaids'. The song had been a hit for Betty Everett on 1964, and gave Cher her first No.1 in the UK since 1965's 'I Got You Babe'.
4 May 1989
Stevie Ray Vaughan
set out on what would be his last ever tour at the Orpheum Theatre, Vancouver, British Columbia. The guitarist was killed in a helicopter crash on 27th Aug 1990 after a concert at Alpine Valley Music Theater in Wisconsin, after playing 107 of the 110 dates.
4 May 1987
American blues vocalist, harmonica player Paul Butterfield, who fronted The Paul Butterfield Blues Band, died at his home in North Hollywood, California, of drug-related heart failure, he was 44. Gained international recognition, as one of the early acts performing during the Summer of Love, at
Monterey Pop Festival
and
Woodstock
festival.
4 May 1985
Phyllis Nelson was at No.1 on the UK singles with 'Move Closer', her only UK hit making the American singer a
One Hit Wonders
.
4 May 1978
'Night Fever' by The
Bee Gees
was at No.1 on the UK singles chart. The group's third No.1 and the theme from the film 'Saturday Night Fever.' The song was a US No.1 for over two months.
4 May 1977
The Patti Smith Group, David Johansen, Dead Boys,
Blondie
, Suicide and Richard Hell & The Voidoids all appeared at a Punk Benefit at CBGB's in New York City.
4 May 1974
ABBA
were at No.1 on the UK singles chart with 'Waterloo', the group's first of nine UK No.1 singles was the 1974 Eurovision song contest winner for Sweden. The song was first called 'Honey Pie'.
4 May 1974
Grand Funk Railroad started a two week run at No.1 on the US singles chart with their version of the Little Eva hit 'The Loco-Motion.' It was only the second time that a cover version had been a No.1 as well as the original.
4 May 1973
Led Zeppelin
opened their 1973 North American tour, which was billed as the 'biggest and most profitable rock & roll tour in the history of the United States'. The group would gross over $4 million from the dates, flying between gigs in 'The Starship' a Boeing 720 passenger jet, complete with bar, shower room, TV and video in a 30' lounge and a white fur bedroom.
4 May 1970
Four students at Kent University were killed and eleven wounded by National Guard troops at a campus demonstration protesting the escalation of the Vietnam War. The incident inspired
Neil Young
to compose 'Ohio' which became a hit for
Crosby Stills Nash & Young
.
4 May 1968
Mary Hopkin won her heat on the ITV talent show 'Opportunity Knocks'. She later signed with
The Beatles
owned Apple Records,
Paul McCartney
produced her UK No.1 single 'Those Were The Days', which also made No. 2 in the US. Hopkin later married record producer Tony Visconti.
4 May 1967
The Young Rascals started a four week run at No.1 on the US singles chart with 'Groovin.' Atlantic Records head Jerry Wexler did not want to release the song. US disc jockey Murray the K heard the track and encouraged Atlantic to release it.
4 May 1967
4 May 1961
The Marcels were at No.1 on the UK singles chart with the Rodgers & Hart song from the 1930s 'Blue Moon', their only UK No.1.
4 May 1956
Gene Vincent recorded the classic rock 'n roll song 'Be Bop-A-Lula', at Owen Bradley's studio in Nashville, Tennessee. The song went on to be a US & UK Top 20 hit in this year. Vincent has said that he wrote the words to the song after being inspired by a comic strip called "Little Lulu".
Born on this day in music
4 May 1984
Ari Levine, producer and songwriter who is part of the Smeezingtons record producing team with Bruno Mars and Philip Lawrence. Worked with
Adele
, Snoop Dogg, Cee Lo Green, Justin Bieber, Flo Rida and many other artists.
4 May 1979
Lance Bass, singer from American boy band *NSYNC. Among the group's singles, 'Bye Bye Bye', 'This I Promise You', 'Girlfriend' and 'It's Gonna Be Me' reached the top 10 in several international charts. The group's second album, No Strings Attached, sold over one million copies in one day.
4 May 1972
American musician Mike Dirnt, bassist with
Green Day
who had the 1995 US No.2 album 'Dookie'.
Green Day
are one of the world's best-selling bands of all time, having sold more than 75 million records worldwide.
4 May 1970
Gregg Alexander, US singer, songwriter, New Radicals, (1999 UK No. 5 single 'You Get What You Give'). He has written hits for Ronan Keating, Sophie Ellis-Bextor, Enrique Iglesias and the 2003 Grammy award winning song 'The Game Of Love' by
Santana
and Michelle Branch.
4 May 1961
Jay Aston, singer with British pop group Bucks Fizz who had the UK hits 'Making Your Mind Up' (1981), 'The Land of Make Believe' (1981) and 'My Camera Never Lies' (1982) and became one of the top-selling groups of the 1980s.
4 May 1959
Randy Travis, Since 1985, he has recorded 20 studio albums and charted over 20 No.1 hits. Considered a pivotal figure in the history of country music, Travis broke through in the mid-1980s with the release of his album Storms of Life, which sold more than three million copies. The album established him as a major force in the Neotraditional country movement.
4 May 1951
Bruce Day, American bassist and vocalist for the California smooth rock band Pablo Cruise. He previously played in a San Francisco high school band with
Carlos Santana
. He died of unknown causes on 30 June 1999 at the age of 48.
4 May 1951
Jackie Jackson, from American family music group The
Jackson 5
. They were the first group to debut with four consecutive No.1 hits on the Hot 100 with the songs 'I Want You Back', 'ABC', 'The Love You Save', and 'I'll Be There'. And with The Jacksons, had the 1979 hit 'Shake Your Body (Down to the Ground)'.
4 May 1951
Mick Mars (Bob Deal), American musician and guitarist from American heavy metal band Motley Crue who had the 1989 US No.1 album Dr Feelgood. For most of his professional career, Mars has openly struggled with ankylosing spondylitis, a chronic, inflammatory form of arthritis that mainly affects the spine and pelvis.
4 May 1949
Scottish guitarist Zal Cleminson from the Sensational Alex Harvey Band who had the 1975 UK No.7 single 'Delilah, and the 1975 album Next. During the 1990s Cleminson played with The Party Boys, a casual band that at various times featured Marillion's Fish and Nazareth's Dan McCafferty and Billy Rankin as vocalists.
4 May 1945
George Wadenius, from jazz-rock American music group Blood Sweat & Tears. They scored the 1969 US No.2 single 'Spinning Wheel', and the 1969 US No.12 single 'You've Made Me So Very Happy'. They had a US No.1 with their second album Blood, Sweat & Tears in 1968.
4 May 1944
Peggy Santiglia, American singer-songwriter of the "girl group era". She is best known for her 1963 US No.1 hit 'My Boyfriend's Back' with The Angels, which she recorded at the age of 18.
4 May 1942
Nicholas Ashford, from husband-and-wife songwriting-production team Ashford and Simpson, who had the 1985 UK No. 3 single 'Solid'. They wrote hits such as: 'Ain't No Mountain High Enough', 'You're All I Need To Get By', 'Ain't Nothing Like the Real Thing', and 'Reach Out and Touch (Somebody's Hand)'. Ashford died August 22, 2011, of complications from throat cancer, in New York.
4 May 1942
Ronnie Bond, drummer with English garage rock band The
Troggs
, who had the 1966 US No.1 & UK No.2 single 'Wild Thing' and the hits 'With a Girl Like You' and 'Love Is All Around'. Bond died on 13th November 1992.
4 May 1937
American rock guitarist Dick Dale, known as 'The King of the Surf Guitar'. He pioneered and created what many call the surf music style. Dale worked closely with Fender to produce custom made amplifiers, including the first-ever 100-watt guitar amplifier. His song 'Misirlou' featured over the opening credits to Quentin Tarantino's Pulp Fiction. Dale died of heart failure on 16 March 2019, at the age of 81.
4 May 1923
Ed Cassidy, drummer, from American group Spirit who had the 1969 US No.25 single 'I Got A Line On You'. In 1964 he formed the Rising Sons with Taj Mahal and Ry Cooder. Cassidy died on 12th Dec 2012.