May 5th: The Biggest Music Headlines
Scroll down the page to see all the music headlines, stories and events for May 5 throughout music history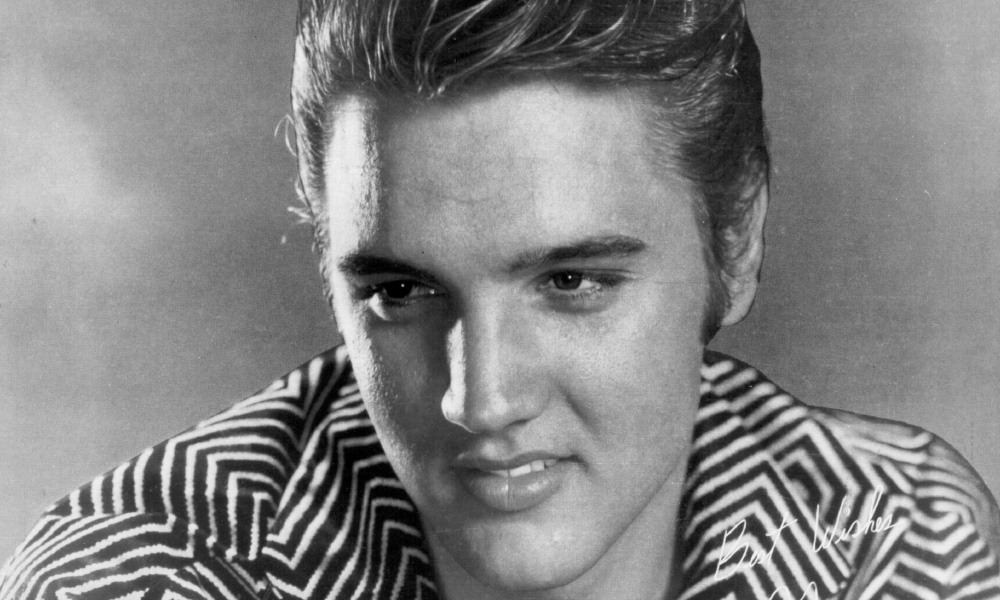 Elvis Scores His First No.1 Pop Hit
On this day in music, May 5, 1956, Elvis Presley concurrently scored his first US No.1 single and album with "Heartbreak Hotel" and his self-titled debut, respectively. Released as Presley's first single with label RCA Victor, "Heartbreak Hotel" was recorded in Nashville with his band The Blue Moon Boys, guitarist Chet Atkins, and pianist Floyd Cramer. It topped the Billboard Hot 100 for seven weeks, later becoming the rock'n'roll pioneer's first million-selling single, and reached the Top 5 of the Country and R&B charts simultaneously. It was inducted into the Grammy Hall of Fame in 1995.
In 1963, Dick Rowe, then the head of A&R at Decca Records, watched The Rolling Stones perform at London's Crawdaddy Club on the recommendation of George Harrison. Within a week, the band was signed to the label. Rowe was also known as being the man who turned away The Beatles, reportedly telling manager Brain Epstein that "guitar groups are on their way out."
In 1996, Rage Against the Machine topped the Billboard 200 for the first time with Evil Empire. Their sophomore album, which landed in the Top 10 in territories across the globe, featured the Grammy-nominated singles "People of the Sun" and "Bulls on Parade." Interestingly, the track "Tire Me," which had no music video or radio airplay, won a Grammy for Best Metal Performance.
In 1973, David Bowie scored his first chart-topping album in the UK with Aladdin Sane. His sixth LP and follow-up to The Rise and Fall of Ziggy Stardust and the Spiders from Mars, the record marked his final with the full Spiders lineup and featured such singles as "The Jean Genie" and "Drive-In Saturday." The album's title was a pun on "A Lad Insane," which Bowie described as "Ziggy Stardust goes to America." Aladdin Sane would soon become Bowie's most commercially successful record.
In 1992, Radiohead made their debut in UK record stores with The Drill. The four-song EP, which broke into the album chart, was recorded at Courtyard Studios in Oxon, England and produced by their manager, Chris Hufford. Their single, "Prove Yourself," saw airplay on BBC Radio 1, giving them their first national radio airplay, while three songs off the EP would be re-recorded for their debut album, Pablo Honey, released the following year.
Looking for more things that happened on this day in music?
Keep scrolling for all of the headlines for May 5.
BORN ON MAY 5:
1937: Johnnie Taylor
1942: Tammy Wynette
1948: Bill Ward (Black Sabbath)
1955: Roddy Radiation (The Specials)
1959: Steve Stevens
1959: Ian McCulloch (Echo & the Bunnymen)
1981: Craig David
1988: Adele
Looking for more artists born on this day?
Keep scrolling for all of our May 5 birthdays.
---
What to find another day?
---
May 5th
5 May 2020
Jamaican singer Millie Small died at the age of 72 after suffering a stroke. The star was most famous for her hit single 'My Boy Lollipop', which reached number two in both the US and the UK in 1964.It remains one of the biggest-selling ska songs of all time, with more than seven million sales.
5 May 2020
American R&B singer Sweet Pea Atkinson died from a heart attack in Los Angeles, aged 74. He was best known as one of the vocalists for the band Was (Not Was). Their highest charting hit, 'Walk the Dinosaur', released in 1987 became a world-wide top-40 hit and peaked at number 7 on the Billboard Hot 100 singles chart.
5 May 2016
The
Rolling Stones
told Donald Trump to stop playing their songs during his presidential campaign. The band issued a statement saying that the US presidential candidate did not have permission to use the band's music. Their 1969 hit 'You Can't Always Get What You Want' had been a particular favourite during his campaign.
5 May 2015
American rock bassist Craig Gruber died of prostate cancer in Florida aged 63. He is best known as the original bassist in Rainbow and also played in Elf with vocalist Ronnie James Dio and worked with guitarist Gary Moore.
5 May 2013
Led Zeppelin
frontman Robert Plant obtained a temporary restraining order against an overzealous female fan he alleged was a threat to his safety. Plant said that the woman had been harassing him for over three years and believed that they were in a relationship, even though Plant insisted the pair has never met.
5 May 2005
Justin Timberlake underwent an operation at Los Angeles' Cedars Sinai Hospital to remove nodules from his throat.
5 May 2003
UK Holiday camp operator Butlins introduced a new system of rhyming slang at bingo halls in an attempt to bring the game up-to-date. Pop stars Jennifer Lopez and Gareth Gates became new catchphrases for the callers, 'Gareth Gates' (8) and 'J-Lo's bum' (71). Other additions include 'stroppy teen' (15) and 'feng shui' (53).
5 May 2002
Two disc jockeys from Denver's KRFX-FM, Rick Lewis and Michael Floorwax, stopped a live radio interview with Detroit rocker Ted Nugent after he used derogatory racial terms for Asians and Blacks. The station received dozens of complaints.
5 May 2000
Rod Stewart
had a one-hour throat operation at Cedar Sinai Medical Centre in Los Angeles to remove a growth on his thyroid. The growth turns out to be benign.
5 May 1996
Cranberries singer Dolores O'Riordan received both a public apology and a donation of £7,500 ($12,750) to the Warchild charity from The Sport newspaper after they ran a story claiming she had performed a gig in Hamburg without wearing any underwear.
5 May 1996
Rage Against The Machine went to No.1 on the US album chart with 'Evil Empire'. The album's title is taken from the phrase "evil empire", which was used by former US President Ronald Reagan and many conservatives in describing the former Soviet Union. The album won the 1996 Grammy award for Best Metal Performance.
5 May 1995
Former Guns N' Roses drummer Steven Adler was arrested on a felony count of possession of heroin, as well as two misdemeanour drug charges.
5 May 1992
Radiohead
released 'The Drill EP', their first record in the UK. The band were still called "On a Friday" when the songs for this EP were recorded; they changed their name to
Radiohead
the following month.
5 May 1990
The
John Lennon
tribute concert was held at the Pier Head Arena in Merseyside, featuring Lenny Kravitz, Al Green, Joe Cocker, The Christians,
Kylie Minogue
,
Ringo Starr
, Jeff Lynne,
Tom Petty
, Deacon Blue, Lou Reed, Joe Walsh and Wet Wet Wet.
5 May 1984
Duran Duran
were at No.1 on the UK singles chart with 'The Reflex', the group's second and last No.1. The song which was taken from their third album Seven and the Ragged Tiger was also a US No.1.
5 May 1984
Simple Minds
singer Jim Kerr married Pretenders singer Chrissie Hynde in a horse drawn carriage in Central Park, New York City. The couple divorced in 1990.
5 May 1983
The Stranglers 'Golden Brown' was named most performed work of 1982 at the 28th Ivor Novello Awards. The single had become a UK hit after the comparatively conservative BBC Radio Two made it 'single of the week', a surprising step considering the band were almost as notorious as
Sex Pistols
only a few short years before.
5 May 1979
Peaches and Herb started a four week run at No.1 on the US singles chart with 'Reunited', it made No.4 in the UK.
5 May 1974
Television appeared at CBGB's in New York City, supported by the Stillettoes (later to become
Blondie
who were playing their first show at CBGB).
5 May 1973
David Bowie
scored his first UK No.1 album when 'Aladdin Sane' started a five-week run at the top, featuring the single 'Drive In Saturday'. The follow-up to his breakthrough The Rise and Fall of
Ziggy Stardust
and the Spiders from Mars, the name of the album is a pun on "A Lad Insane".
5 May 1972
Blind blues guitarist Reverend Gary Davis died of a heart attack aged 76. His unique finger-picking style influenced many other artists.
5 May 1972
The first day of the three day Bickershaw Festival, Wigan, England, with
Grateful Dead
, Dr John, Donovan,
The Kinks
, Captain Beefheart, Hawkwind, America, Family, Country Joe MacDonald, Wishbone Ash, New Riders Of The Purple Sage, Brinsley Schwarz and the Flamin Groovies.
5 May 1969
The Beatles
single 'Get Back' was released in the US.
John Lennon
claimed in 1980 that "there's some underlying thing about Yoko in there", claiming that
Paul McCartney
looked at Yoko Ono in the studio every time he sang "Get back to where you once belonged."
5 May 1968
Buffalo Springfield split up. Richie Furay formed Poco and Stephen Stills teamed up with David Crosby and Graham Nash in
Crosby Stills & Nash
.
5 May 1967
The Kinks
released 'Waterloo Sunset' as a single which went on to peak at No.2 on the UK chart. Songwriter and Kinks singer Ray Davies later stated that the song was originally entitled 'Liverpool Sunset', after his love for Liverpool and Merseybeat.
5 May 1966
Manfred Mann were at No.1 on the UK singles chart with 'Pretty Flamingo'. The recording features future
Cream
bassist
Jack Bruce
, who briefly joined the band in 1965. On their
Top Of The Pops
appearance, singer Paul Jones performed whilst standing on one leg.
5 May 1963
On a recommendation by
George Harrison
Dick Rowe Head of A&R at Decca records, (and the man who turned down
The Beatles
) went to see The
Rolling Stones
play at Crawdaddy Club, London. The band were signed to the label within a week.
5 May 1962
The soundtrack to West Side Story went to No.1 on the US album chart. It went on to spend a total of 54 weeks at the No.1 position.
5 May 1956
Elvis Presley
scored his first US No.1 single and album when '
Heartbreak Hotel
' went to the top of the charts. 'Heartbreak Hotel' became his first million-seller, and was the best-selling single of 1956. The lyrics were based on a newspaper article about the suicide of a lonely man who jumped from a hotel window.
Born on this day in music
5 May 1989
Chris Brown, American singer, songwriter, and actor who had the 2005 US No.1 with his debut release 'Run It' and the 2007 US No.1 'Kiss Kiss'. In 2009, Brown received media attention after pleading guilty to felony assault of his then girlfriend, singer
Rihanna
; he was sentenced to five years of probation and six months of community service.
5 May 1988
Adele
Laurie Blue Adkins, English soul and jazz singer, (2008 UK No.1 album '19', 2008 UK No.2 single 'Chasing Pavements'). In 2011 Adele became the first artist to achieve the feat of two top five hits in both the singles chart and the albums chart simultaneously since
The Beatles
in 1964. She is the first artist to sell more than 3 million copies of an album in a year in the UK, and Adele is the first female in the history of the Billboard Hot 100 to have three singles in the top 10 at the same time.
5 May 1981
English singer, songwriter, rapper Craig David, who had the 2000 UK No.1 singles, 'Fill Me In' and '7 Days'. His 2000 UK No.1 album 'Born To Do It' spent 50 weeks on the chart. David has been nominated for thirteen Brit Awards.
5 May 1962
Gary Daly, singer, with English pop/rock band China Crisis, who had the 1984 UK No.9 single 'Wishful Thinking'.
5 May 1962
Kevin Paul Mooney, bassist from English rock band Adam and the Ants who scored the 1981 UK No.1 single 'Stand And Deliver' and 15 other UK Top 40 singles.
5 May 1961
Sean McLuskey, with British new wave group Jo Boxers, who had the 1983 UK No.3 single 'Boxer Beat'.
5 May 1959
English singer-songwriter and musician Ian McCulloch, best known as the frontman for the rock group Echo & the Bunnymen who had the 1983 UK No.8 single 'The Cutter' and the single 'The Killing Moon'. McCulloch a member of the Crucial Three, one of many Liverpool bands that sprung up amongst the regulars who patronised a Liverpool club called Eric's in the late '70s. The other two members were Julian Cope and Pete Wylie who went on to form Wah!.
5 May 1959
American guitarist and songwriter Steve Stevens. Often referred to as "the fingers of rock", he is best known for being Billy Idol's guitarist, the lead guitar work on 'Top Gun Anthem', and for playing for other artists (most notably
Michael Jackson
and Vince Neil).
5 May 1957
Thereza Bazar, singer, from pop vocal duo Dollar who had the 1981 UK No.4 single 'Mirror Mirror'.
5 May 1955
Roddy Radiation, who played lead guitar for The Specials, as well as many rockabilly bands such as the Bonediggers and the Tearjerkers. Byers joined The Specials when the band was called The Coventry Automatics.
5 May 1954
Pete Erskine, percussion, with American jazz fusion band of the 1970s and early 1980s Weather Report who had the 1976 single 'Birdland' and the 1977 album Heavy Weather.
5 May 1951
Rex Goh, guitarist, for the Australian soft rock band Air Supply who scored the 1980 UK No.11 single 'All Out Of Love' and the 1981 US No.1 single 'The One That You Love'.
5 May 1950
Eddy Amoo, from British soul group The Real Thing, who had the 1976 UK No.1 single 'You To Me Are Everything'.
5 May 1948
Bill Ward, drummer with English rock band
Black Sabbath
who had the 1970 UK No.4 single '
Paranoid
'. The bands self-titled album was voted as the best British rock album ever by Kerrang! in 2005.
5 May 1942
Tammy Wynette
, US Country singer, 1968 US No.19 and 1975 UK No.1 single 'Stand By Your Man'. Known as the first lady of country music. Had the 1991 hit with The KLF 'Justified and Ancient' which became a No. 1 hit in eighteen countries. She died from cardiac arrhythmia aged 55, on 6th April 1998.
5 May 1942
Jim King, saxophone and harmonica with British rock band Family who scored the 1971 UK No.4 single 'In My Own Time' and the 1973 single 'My Friend The Sun'.
5 May 1942
American soul singer and actress Barbara Randolph who recorded for Motown Records in the 1960s. In 1964, she joined The Platters. She died on 15 July 2002 age 60.
5 May 1937
American singer and songwriter Johnnie Taylor, who had the 1976 US No.1 UK No.25 single 'Disco Lady' and was a three-time Grammy-nominated American recording artist. Taylor died of a heart attack in a Texas hospital, on 31st May 2000, shortly after his 62nd birthday.