May 6th: The Biggest Music Headlines
Scroll down the page to see all the music headlines, stories and events for May 6 throughout music history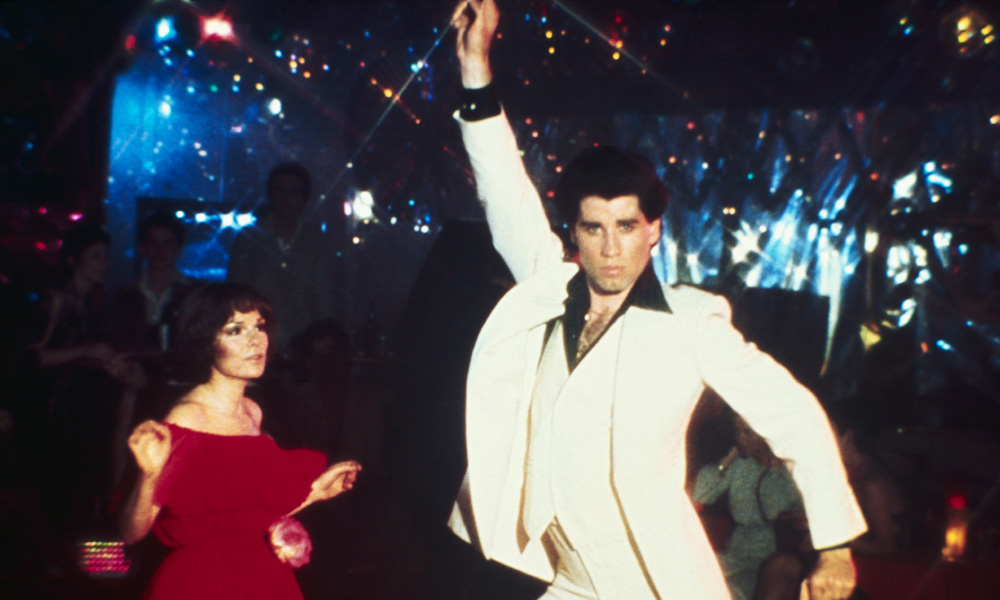 'Saturday Night Fever' Soundtrack Begins Epic UK Chart Run
On this day in music, May 6, 1978, the soundtrack to Saturday Night Fever began an astonishing 18-week straight run at the top of the UK album chart. Across the Atlantic, it spent an unbroken 24-week run atop the Billboard 200 and was well on its way to being certified 16x Platinum by the RIAA. Primarily featuring music by the Bee Gees, the soundtrack spawned a multitude of hit singles, including "Stayin' Alive," "How Deep Is Your Love," and "Night Fever" (all US No.1s). The film and album (which became one of the highest-selling soundtracks of all time) both played a major role in the disco phenomenon, while in 2014, the Library of Congress added Saturday Night Fever to its National Recording Registry.
In 2020, Kraftwerk co-founder and electronic music pioneer, Florian Schneider, died at age 73. The German band rose to fame with their 1974 album, Autobahn, and would go on to have a major influence on musicians in the 1970s and 1980s, including David Bowie. Schneider left the group in 2008.
In 1965, Mick Jagger and Keith Richards began working on the opening guitar riffs to "(I Can't Get No) Satisfaction" – now considered to be one of the greatest hooks of all time. Primarily composed in a hotel room in Clearwater, Florida, hours after Richards purchased a Gibson fuzz box, the song was recorded days later at Chicago's storied Chess Studios. Released in June 1965, "(I Can't Get No) Satisfaction" gave the Rolling Stones their first No.1 hit in the US.
In 1995, Oasis scored their first UK No.1 with "Some Might Say." The lead single off their second album, (What's the Story) Morning Glory?, it was the Manchester band's last song to feature all five original members of the band, as drummer Tony McCarroll left shortly after its release. Oasis' first performance of the song, on Top of the Pops, was also their final with McCarroll (drummer Alan White would soon step in). Inspired by Grant Lee Buffalo's "Fuzzy," it also reached the Top Ten in several countries across Europe.
In 1973, Paul Simon embarked on his first solo tour, following the disbandment of Simon & Garfunkel and the release of his third album, There Goes Rhymin' Simon. Featuring support by Urubamba and the Jessy Dixon Singers, the tour was captured on the live album, Paul Simon in Concert: Live Rhymin'.
Looking for more things that happened on this day in music?
Keep scrolling for all of the headlines for May 6.
BORN ON MAY 6:
1927: Ronnie Hilton (Radio Host)
1945: Bob Seger
1951: Davey Johnstone
1960: John Flansburgh (They Might Be Giants)
1967: Mark Bryan (Hootie & the Blowfish)
1971: Chris Shiflett (Foo Fighters)
1987: Meek Mill
Looking for more artists born on this day?
Keep scrolling for all of our May 6 birthdays.
---
What to find another day?
---
May 6th
6 May 2021
American gospel, soul, and R&B singer Pervis Staples died suddenly in his home in Dolton, Illinois, at the age of 85. The Staple Singers are best known for their 1970s hits 'Respect Yourself', 'I'll Take You There', 'If You're Ready (Come Go with Me)', and 'Let's Do It Again'.
6 May 2020
Florian Schneider, co-founder of the highly influential electronic pop group Kraftwerk, died at the age of 73. The German quartet set the template for synthesiser music in the 1970s and 80s with songs like 'Autobahn' and 'The Model'.
6 May 2020
English rock singer Brian Howe died of cardiac arrest age 66. He is best known for replacing
Paul Rodgers
as the lead vocalist of
Bad Company
. Howe's career was jump-started in 1983 when Ted Nugent recruited him to handle lead vocals for his Penetrator album and front its subsequent world tour.
6 May 2015
British-Jamaican singer and songwriter Errol Brown, best known as the frontman of the soul and funk band Hot Chocolate died of liver cancer at his home in the Bahamas. Their hits included 'You Sexy Thing', 'So You Win Again' and 'Brother Louie'. His break in music came in 1969 when he recorded a version of 'Give Peace a Chance' with some friends. Unable to change the lyrics without
John Lennon
's permission, he sent a copy to his record label, Apple, and the song was released with Lennon's approval.
6 May 2015
The results of the evolution of western pop music, spanning from 1960 to 2010, was published in The Royal Society Open Science Journal. The scientists who looked at more than 17,000 songs found three music revolutions - in 1964, 1983 and 1991. In 1964 the invasion of British bands introduced a radical new rocky sound. Synthesisers, samplers and drum machines, drove a second major style shift in 1983. The third, in 1991, came about when rap and hip-hop went mainstream. The team also refuted claims that pop music was starting to sound the same.
6 May 2013
Lauryn Hill was sentenced in the US state of New Jersey to three months in jail for tax evasion. The 37 year-old Grammy-winning singer had failed to pay taxes on about $1.8m (£1.2m) of earnings between 2005-07. In a statement to the judge, Hill said she had intended to pay the taxes but could not after withdrawing from public life and ending her music career to raise her children. Hill has six children, five of whom she had with Rohan Marley, the son of
Bob Marley
.
6 May 2009
A former publicist for
Michael Jackson
was suing the singer for $44m (£29m) for his alleged failure to pay her for her services. Raymone Bain said Mr Jackson had agreed to give her 10% of any business deals arranged with her assistance. Ms Bain acted as Mr Jackson's publicist during his 2005 trial for child abuse.
6 May 2008
Babyshambles frontman Pete Doherty was released from Wormwood Scrubs prison in west London after serving 29 days of a 14-week sentence for breaching the terms of his probation. The singer told reporters that he was glad to be out and was looking forward to having a drink and spending some time with his pet cats.
6 May 2006
The Go-Betweens singer, songwriter Grant McLennan died in his sleep at his home in Brisbane, Australia, aged 48. The Australasian Performing Right Association named his 1983 song 'Cattle and Cane' as one of the 30 greatest Australian songs of all time.
6 May 2006
During a UK tour, Morrissey played at The Apollo Manchester on the first of three nights at three different venues in his home city of Manchester. The singer then appeared at Manchester Opera House the following night and then at Manchester Bridgewater Hall on the 8th May.
6 May 2005
US coffee shop chain Starbucks banned the sale of
Bruce Springsteen
's latest album Devils and Dust over concerns about its adult content. The retailer - which stocked CDs at its branches in the US - said it would be promoting other albums instead.
6 May 2004
A sale at Christie's in London, England became the most successful pop auction in the company's history after Beatles memorabilia sold for a record £788,643. The auction included a leather collar worn by
John Lennon
which sold for £117,250. A signed copy of a management deal with
The Beatles
and manager Brian Epstein sold for £122,850. A Vox Kensington guitar used by Lennon and Harrison went for £100,000. Also sold - a coloured felt-pen drawing by Lennon (£10,000), a letter with his signature (£5,500), and a pen-and-ink drawing called Happy Fish (£9,500).
6 May 2004
American jazz guitarist Barney Kessel died of a brain tumor aged of 80. He was a member of the the Wrecking Crew and was also a member of the Oscar Peterson Trio and worked with Billie Holiday,
Sam Cooke
and many others. He appeared on The Beach Boys'
Pet Sounds
album.
6 May 2003
After the controversy regading Dixie Chicks member Natalie Maines' comments about President George W. Bush and the Iraq war, a Colorado radio station suspended two of its disc jockeys for playing music by Dixie Chicks.
6 May 2002
American songwriter and producer Otis Blackwell died from a heart attack. He wrote the classic songs 'All Shook Up', 'Return To Sender', 'Don't Be Cruel', 'Great Balls Of Fire' and 'Fever.' Over the years, Blackwell's songs have sold more than 185 million copies.
6 May 2002
6 May 1995
Oasis
scored their first UK No.1 single when 'Some Might Say' went to the top of the UK charts. It was the first single to be released from the Manchester bands second album '(What's the Story) Morning Glory?' And the last
Oasis
track to feature original drummer Tony McCarroll.
6 May 1989
Former Frankie goes To Hollywood singer Holly Johnson went to No.1 on the UK album chart with his debut solo album 'Blast'.
6 May 1982
Former manager of The Bay City Rollers Tam Paton, was convicted on a charge of gross indecency with boys and was sentenced to three years in jail.
6 May 1978
The soundtrack to Saturday Night Fever started an 18 week run at No.1 on the UK album chart, also No.1 in the US. The album, which features seven
Bee Gees
songs, went on to sell over 30 million copies worldwide.
6 May 1973
Paul Simon
set out on his first tour without partner Art Garfunkel, using The Jesse Dixon Singers as a back- up group on stage. Simon's tour of America and Europe was recorded and released as 'Live Rhymin'.
6 May 1972
The Tyrannosaurus Rex double album 'Prophets, Seers And Sages And The Angels Of The Ages / My People Were Fair And Had Sky In Their Hair But Now Their Content To Wear Stars On Their Brows' went to No.1 in the UK. The longest title of an album ever at the time!
6 May 1971
British pop singer Dickie Valentine who enjoyed great popularity in Britain during the 1950s (No.1 with 'Christmas Alphabet'), was killed outright in a car crash on a single lane bridge near Crickhowell, Wales at the age of 41, together with pianist Sidney Boatman and drummer Dave Pearson, aged 42. The coroner's inquest revealed the car in which the three were travelling to have been driven in excess of 90 mph at time of impact.
6 May 1967
Jimi Hendrix
, The Walker Brothers, Engelbert Humperdink and Cat Stevens all appeared at the Imperial Ballroom, Nelson, Lancashire, England.
6 May 1966
Working at Abbey Road studios in London,
The Beatles
recorded overdubs on 'I'm Only Sleeping' and worked on various mixes of the track. The song features the then-unique sound of a reversed guitar duet played by Harrison who perfected the part with the tape running backwards so that, when reversed, it would fit the dreamlike mood.
6 May 1965
In their Clearwater, Florida hotel room,
Mick Jagger
and
Keith Richards
worked out the opening guitar riff of
'(I Can't Get No) Satisfaction'
following Richard's purchase of a Gibson fuzz-box earlier that day. The song is considered to be one of the all-time greatest rock songs ever recorded. In 2004 Rolling Stone magazine placed 'Satisfaction' in the second spot on its list of The 500 Greatest Songs of All Time.
Born on this day in music
6 May 1987
American hip hop recording artist Meek Mill. His 2015 album Dreams Worth More Than Money peaked at No.1 on the US album chart.
6 May 1971
American guitarist Chris Shiflett who joined
Foo Fighters
in 1999. Shiflett was also a member of No Use for a Name and Me First and the Gimme Gimmes. Over the course of the Foo Fighters career, four of its albums have won Grammy Awards for Best Rock Album.
6 May 1968
Tony Wright, vocals, with English rock band Terrorvision who had the 1999 UK No.2 single 'Tequila'. Terrorvision were originally known as The Spoilt Bratz.
6 May 1967
Mark Bryan, guitarist with American rock band Hootie & the Blowfish who had the 1995 US No.1 album Cracked Rear View which sold over 15m copies.
6 May 1966
David Narcizo, drummer from alternative American rock band Throwing Muses and who has also worked with Tanya Donelly on her solo albums.
6 May 1962
Stan Cullimore, who with The Housemartins. The group's a cappella cover version of 'Caravan of Love' (originally by Isley-Jasper-Isley) was a UK No.1 single.
6 May 1960
John Flansburgh, guitar, vocals, from American alternative rock band They Might Be Giants, who scored the 1990 UK No.6 single, 'Birdhouse In Your Soul'. The band has won two Grammy Awards, one in 2002 for their song 'Boss of Me, and in 2009 for 'Here Come the 123s'.
6 May 1960
Larry Steinbachek, keyboardist, from English group Bronski Beat who had the 1984 UK No.3 single 'Smalltown Boy'. Steinbachek died in December 2016 aged 56.
6 May 1951
Scottish rock guitarist and vocalist Davey Johnstone best known for his work with
Elton John
. Johnstone's debut album with
Elton John
as a full-time member of his band was on the 1972 Honky Chateau. On 10 June 2009, Johnstone played a landmark 2,000th show as a member of the
Elton John
Band at the SECC in Glasgow, Scotland.
6 May 1950
Robbie McIntosh, drummer from Scottish funk and R&B group the Average White Band who scored the 1975 US No.1 and UK No.6 single 'Pick Up The Pieces'. He died on 23rd August 1974.
6 May 1948
American singe Mary MacGregor who scored the 1977 US No.1 and UK No.4 single 'Torn Between Two Lovers'.
6 May 1945
American singer-songwriter, guitarist and pianist Bob Seger, who scored the 1977 hit 'Night Moves', the 1987 US No.1 single 'Shakedown', taken from the film Beverly Hills Cop II, and the 1995 hit single 'We've Got Tonight'. Seger has sold more than 100 million records worldwide.
6 May 1942
Colin Earl, Mungo Jerry, who had the 1970 UK No.1 & US No.3 single 'In The Summertime' as well as the hits 'Baby Jump' and 'Lady Rose'.
6 May 1929
American singer Leon Hughes, The Coasters. The rhythm and blues/rock and roll vocal group scored the 1958 US No.1 single 'Yakety Yak', the 1959 US No.2 and UK No.6 single 'Charlie Brown', as well as 'Young Blood' and 'Poison Ivy'.
6 May 1927
English singer and radio presenter Ronnie Hilton, who had the 1956 UK No.1 single 'No Other Love' and 21 other Top 40 hits. He was the presenter on BBC Radio 2's Sounds of the Fifties series. Hilton died on 20th February 2001 aged 75.