May 9th: The Biggest Music Headlines
Scroll down the page to see all the music headlines, stories and events for May 9 throughout music history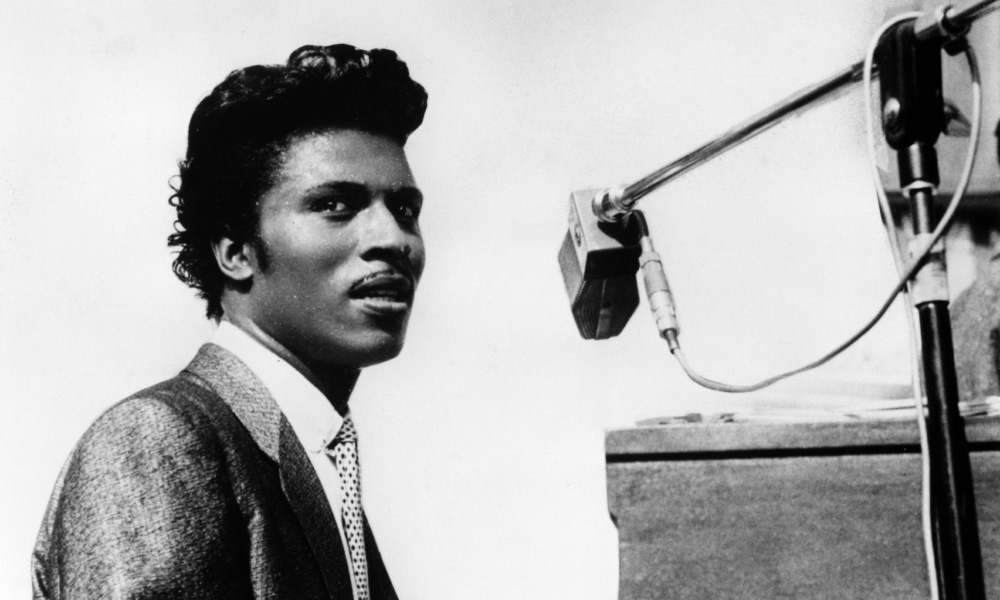 Rock'n'Roll Architect Little Richard Dies
On this day in music, May 9, 2020, pioneering artist Little Richard died at age 87, following a battle with bone cancer. Known as the "Architect of Rock and Roll," his work during the 1950s laid the foundations for modern music, while his music helped to integrate Black and white audiences, amid segregation. During his lengthy career, the flamboyant artist (born Richard Wayne Penniman) scored a variety of hits, including 1955's "Tutti Frutti," 1956's "Long Tall Sally," and 1958's "Good Golly, Miss Molly." The Rock and Roll Hall of Famer received numerous accolades for his accomplishments, including a Grammy Lifetime Achievement Award in 1993.
In 1974, Bruce Springsteen opened the first of two shows for Bonnie Raitt at the Harvard Square Theater in Cambridge, MA. Although Springsteen was a relative newcomer, one very important figure was in the audience: rock critic Jon Landau. Writing for Boston's The Real Paper, Landau gushed, "I have seen rock & roll's future and his name is Bruce Springsteen." Landau would later serve as Springsteen's manager, and is credited as the co-producer on many of his albums, beginning with Born To Run.
In 1964, 62-year-old Louis Armstrong made history as the oldest artist to hit No.1 on the US singles chart with "Hello, Dolly!" First sung by Carol Channing (who starred in the Broadway musical of the same name), the song was recorded by Armstrong to help promote the show. The renowned trumpeter and vocalist's rendition was certainly effective: in addition to becoming the highest-selling single of his career, it remained on the Billboard Hot 100 for 22 weeks – longer than any other release that year. In 1965, "Hello, Dolly!" won Grammy Awards for Song of the Year and Best Vocal Performance, Male.
In 1964, Chuck Berry kicked off his first-ever UK tour with a show at The Astoria Theatre in London. Accompanied by The Animals, The Swinging Blue Jeans, Karl Denver, and the Nashville Teens, the three-week-long run concluded at London's Hammersmith Odeon.
In 1970, the Guess Who's "American Woman" began a three-week run at the top of the Billboard Hot 100, marking their sixth Top 30 hit and sole No.1 single. The song was born when guitarist Randy Bachman improvised a heavy riff after breaking a string during a performance and the other band members joined in.
In 1966, The Doors auditioned for the position of house band for West Hollywood's Whisky A Go Go. It was there that Elektra Records president Jac Holzman and producer Paul A. Rothchild saw the band perform twice before signing them to the label in August 1966.
Looking for more things that happened on this day in music?
Keep scrolling for all of the headlines for May 9.
BORN ON MAY 9:
1914: Hank Snow
1944: Richie Furay (Buffalo Springfield, Poco)
1949: Billy Joel
1950: Tom Petersson (Cheap Trick)
1953: John Edwards (Status Quo)
1962: Dave Gahan (Depeche Mode)
1965: Charley Drayton
1971: Paul "Guigsy" McGuigan (Oasis)
Looking for more artists born on this day?
Keep scrolling for all of our May 9 birthdays.
---
What to find another day?
---
May 9th
9 May 2020
Little Richard
died of bone cancer at the age of 87. He had his biggest hits in the 1950s and was known for his exuberant performances and flamboyant outfits. With the likes of Chuck Berry and Elvis, he was one of the handful of US acts who mixed blues, R&B and gospel that led to the evolution of rock 'n' roll. He sold more than 30 million records worldwide with hits including 'Good Golly Miss Molly', 'Lucille', 'Tutti Frutti' and 'Long Tall Sally'.
9 May 2017
Swiss-born Italian record producer, composer, musician and DJ Robert Miles died in Ibiza, Spain at the age of 47 after a 9-month battle with stage 4 metastatic cancer. He was best known for his 1996 hit 'Children' which reached No.1 in more than 12 countries.
9 May 2013
David Bowie
's latest video, which starred Gary Oldman and Marion Cotillard, was temporarily pulled from YouTube over its graphic content. 'The Next Day' featured heavy religious imagery, including Cotillard bleeding from stigmata marks. The video sees Bowie performing in a basement bar, surrounded by religious figures, while Oldman, dressed as a priest, punches a beggar before dancing with a prostitute, played by Oscar-winner Cotillard. YouTube admitted making the "wrong call" in removing the video, and reinstated it with an adult content warning.
9 May 2008
Foxy Brown avoided a further spell in prison after pleading guilty in a New York court to menacing her neighbour with a BlackBerry phone. The 28-year-old rapper admitted hitting Arlene Raymond during an argument over the volume of her car stereo last July. The incident landed the star in prison for violating the terms of her probation on a separate assault charge.
9 May 1998
Jimmy Page
appeared on US TV's 'Saturday Night Live' with rapper Sean 'Puffy' Combs and performed 'Come With Me' from the 'Godzilla' movie soundtrack. The song sampled the guitar riff from
Led Zeppelin
's song 'Kashmir'.
9 May 1992
Bruce Springsteen
made his North American network television debut on Saturday Night Live with host Tom Hanks.
9 May 1987
Starship started a four-week run at No.1 on the UK singles chart with a song co-written by Albert Hammond and Diane Warren, 'Nothing's Gonna Stop Us Now.' At 48, it made lead singer Grace Slick the oldest female to reach No.1 on the UK chart, (later broken by Cher's 'Believe' in 1999).
9 May 1981
Adam and the Ants were at No.1 on the UK singles chart with 'Stand And Deliver.' The song enjoyed a five-week run at No.1.
9 May 1980
'I Don't Like Mondays' by The Boomtown Rats won the best pop song and outstanding British lyric categories at the 25th Ivor Novello Awards. And Supertramp's 'The Logical Song' won Best Song Musically and Lyrically. Boomtown Rats lead singer
Bob Geldof
f was inspired to write the song after reading about the tragic shooting spree when 16-year-old Brenda Spencer killed two people and wounded nine others when she fired from her house across the street onto the entrance of San Diego's Grover Cleveland Elementary School.
9 May 1978
Fee Waybill of
The Tube
s, broke a leg after falling from the stage at the Hammersmith Odeon, London whilst wielding a chainsaw during the bands set. See - Accidents Will Happen
9 May 1974
Bonnie Raitt played two shows at Harvard Square Theatre in Cambridge, Massachusetts; opening act was
Bruce Springsteen
and the E Street Band. Rolling Stone critic John Landau saw Springsteen and wrote 'I have seen rock & roll's future and his name is
Bruce Springsteen
'.
9 May 1973
Mick Jagger
added $150,000 of his own money to the $350,000 by The
Rolling Stones
January benefit concert for victims of the Nicaraguan earthquake.
9 May 1970
Guess Who started a three-week run at No.1 on the US singles chart with 'American Woman', it was the group's sixth Top 30 hit and only chart topper. The song was born by accident when guitarist Randy Bachman was playing a heavy riff on stage after he had broken a string, the other members joined in on the jam. A fan in the audience who had recorded the gig on tape presented it to the group after the show and they developed it into a full song.
9 May 1969
Beatles guitarist
George Harrison
's experimental album Electronic Sound was released on Zapple records.
9 May 1967
Sandie Shaw was at No.1 on the UK singles chart with 'Puppet On A String'. This week's two highest new entries were
Jimi Hendrix
with 'The Wind Cries Mary' and
The Kinks
'Waterloo Sunset'.
9 May 1966
The Doors
played at the Whisky A Go Go, West Hollywood, California auditioning for the position of the venue's house band.
9 May 1965
During a UK tour
Bob Dylan
played the first of two sold out nights at London's Royal Albert Hall. All four members of
The Beatles
were in the audience.
9 May 1964
Gene Vincent and the Shouts appeared at The Rhodes Centre, Bishop's Stortford, Hertfordshire, England. The poster advertised that the first 50 girls would be admitted free; tickets cost six shillings and sixpence, ($0.94).
9 May 1964
Chuck Berry
began his first ever UK tour at The Astoria Theatre, London, supported by The Animals, The Swinging Blue Jeans, Karl Denver and the Nashville Teens.
9 May 1964
Louis Armstrong went to No.1 on the US singles chart with 'Hello Dolly' making him the oldest artist to hit No.1 at the age of 62. The song, which marked Armstrong's biggest-selling single, remained on the Billboard Hot 100 for 22 weeks – the longest stint for any track that year.
9 May 1959
UK music paper Melody Maker introduced a Juke Box Top 20 Chart compiled from 200 Juke Boxes around the UK.
Born on this day in music
9 May 1975
Ryan 'Nik' Vikedal, drummer from Canadian rock band, Nickelback who had the 2002 US No.1 & UK No. 4 single 'How To Remind You', and the 2001 album Silver Side Up. Nickelback is one of the most commercially successful Canadian groups, having sold more than 50 million albums worldwide.
9 May 1971
English musician Paul 'Guigsy' McGuigan, one of the four founder members of
Oasis
. He was the group's bassist from 1991 to 1999. Their 1994 UK No.1 album
Definitely Maybe
became the fastest selling UK debut album ever.
9 May 1965
Charley Drayton American multi-instrumentalist known primarily as a drummer. Artists he has worked with include
Keith Richards
, The
Rolling Stones
,
Paul Simon
,
Neil Young
, Miles Davis, Herbie Hancock,
Johnny Cash
, Chaka Khan,
Mariah Carey
, Seal,
Bob Dylan
, Iggy Pop,
Janet Jackson
and Courtney Love. Drayton played with Australian rock band Divinyls from 1991–2008. He married Divinyls front woman Chrissy Amphlett who died on April 21, 2013 after a long battle with breast cancer.
9 May 1962
Dave Gahan, singer, songwriter with English electronic band Depeche Mode. The group have had 50 songs in the UK Singles Chart and seventeen top 10 albums in the UK chart and have sold over 100 million records worldwide.
9 May 1962
Singer, songwriter Paul Heaton from English alternative rock band The Housemartins. The group's a cappella cover version of 'Caravan of Love' (originally by Isley-Jasper-Isley) was a UK No.1 single in December 1986. And with The Beautiful South had the 1990 UK No.1 single 'A Little Time' plus over 15 other UK Top 40 singles.
9 May 1960
Marc Duncan, from British punk rock band The Vibrators who had the 1978 UK No.35 single 'Automatic Lover'.
9 May 1953
John Edwards, bassist with Status Quo. The group have had over 60 chart hits in the UK, more than any other rock band, including 'Pictures of Matchstick Men' in 1967, 'Whatever You Want' in 1979 and 'In the Army Now' in 2010. Twenty-two of these reached the Top 10 in the UK. In July 1985 the band opened
Live Aid
at Wembley Stadium with 'Rockin' All Over the World'.
9 May 1950
Tom Petersson, bassist from American rock band, Cheap Trick, who had the 1979 hit single 'I Want You To Want Me', and the 1988 US No.1 single 'The Flame'.
9 May 1949
American singer-songwriter
Billy Joel
who had the 1980 US No.1 single 'It's Still Rock And Roll To Me', the 1983 UK No.1 single 'Uptown Girl', plus over 20 other US & UK Top 40 singles and 4 US No.1 albums.
9 May 1945
Steve Katz, guitarist from jazz-rock American music group Blood Sweat & Tears. They scored the 1969 US No.2 single 'Spinning Wheel', and the 1969 US No.12 single 'You've Made Me So Very Happy'. They had a US No.1 with their second album Blood, Sweat & Tears in 1968.
9 May 1944
American singer, songwriter Richie Furay who with Buffalo Springfield had the 1967 US No.17 single 'For What It's Worth', with Poco the 1979 US No. 17 single 'Crazy Love', and with The Souther, Hillman, Furay Band the 1974 US No.27 single 'Fallin' In Love'.
9 May 1944
Don Dannemann, from American rock and roll band Cyrkle who had the 1966 US No.2 single 'Red Rubber Ball'. They were signed by Brian Epstein and supported
The Beatles
on their 1966 US tour.
9 May 1943
American pop singer, songwriter Tommy Roe, singer, who scored the 1962 hit 'Sheila' and the 1969 UK & US No.1 single 'Dizzy' as well as 10 other US Top 40 hits.
9 May 1942
Mike Millward, from English Merseybeat band The Fourmost who had the 1964 UK No.6 single 'A Little Loving'. He died on 7th April 1998.
9 May 1941
Danny Rapp, American musician and the frontman from doo-wop and rock and roll vocal group Danny and the Juniors famous for their 1958 US No.1 & UK No.3 single 'At The Hop'. Rapp shot himself dead in a hotel in Arizona on 5th April 1983 a few weeks short of his 42nd birthday.
9 May 1941
Pete Birrell, from the 1960s pop band Freddie and the Dreamers. They scored the 1963 UK No.3 single 'You Were made For Me', and the 1965 US No.1 single 'I'm Telling You Now'.
9 May 1937
American Southern soul and rhythm & blues singer Dave Prater, from Sam & Dave who had the 1967 US No.2 and UK No 24 & 1967 US No.2 single 'Soul Man'. Prater was killed on 9th April 1988 when his car left the road and hit a tree in Syracuse, Georgia.
9 May 1937
Sonny Curtis, from American rock and roll band
The Crickets
, who had the 1957 US No.1 single 'That'll Be The Day', the 1959 UK No.1 single 'It Doesn't Matter Anymore' plus over 15 other UK Top 40 singles. He wrote 'Walk Right Back', which was a 1960 hit for the Everly Brothers.
9 May 1935
American musician Nokie Edwards, from The Ventures, who had the 1960 UK No.4 single 'Perfidia', and the 1960 US No.2 'Walk Don't Run'.
9 May 1914
Canadian-American country music artist Hank Snow who scored more than 70 singles on the Billboard country charts from 1950 until 1980. Snow died on December 20, 1999.