November 11th: The Biggest Music Headlines
Scroll down the page to see all the music headlines, stories and events for November 11 throughout music history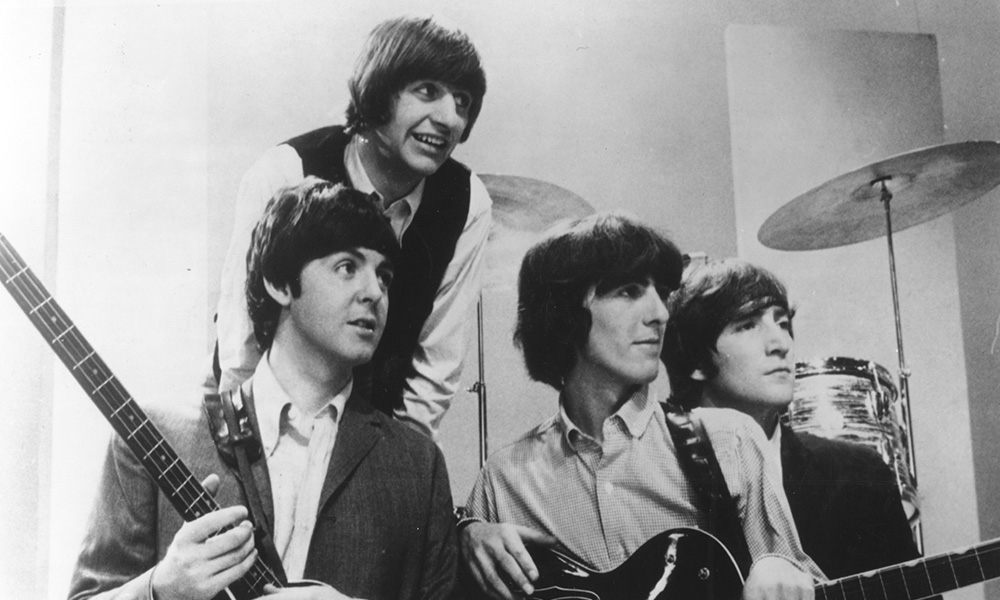 The Beatles Finish 'Rubber Soul'
On November 11, 1965, The Beatles wrapped recording for their sixth album, Rubber Soul. That final, whirlwind day in the studio found the band recording two new songs: "You Won't See Me" and "Girl," and revisiting an older track, which became "Wait." Hitting stores less than a month later, Rubber Soul was met with wide critical acclaim and record-breaking sales. Marking a creative turning point in the band's career, the highly influential album found the Fab Four maturing as artists – experimenting with complex melodies and arrangements and turning increasingly inward with their lyricism.
In 1978, David Bowie played his first show in Australia at the Adelaide Oval. The show kicked off an eight-date run (which also included stops in New Zealand) around Low and Heroes.
In 1972, 24-year-old bassist Berry Oakley, a founding member of The Allman Brothers Band, was killed in a motorcycle accident. In a horrific coincidence, the crash took place in the same intersection where bandmate Duane Allman was killed just one year earlier.
In 1978, The Cars' "My Best Friend's Girl" became the first commercially-released picture disc single. The song, which appeared on the group's self-titled debut, was a Top 40 hit in the US and a No.3 hit in the UK.
In 2011, Black Sabbath fans rejoiced when all four original band members announced a reunion album and extensive world tour. The resulting LP, 13 was released in 2013.
In 2004, the first UK Music Hall of Fame ceremony took place, with Robbie Williams, The Rolling Stones, Queen, Michael Jackson, and Cliff Richard as the inaugural inductees. Fans were asked to vote on artists who best represented each of the earlier five decades.
In 1954, Bill Haley & His Comets scored their first Top Ten single on the Billboard Hot 100 with "Shake Rattle and Roll." The song, penned by Jesse Stone (credited as "Charles Calhoun") was originally recorded earlier that year by bluesman Big Joe Turner (who topped the R&B chart).
Looking for more things that happened on this day in music?
Keep scrolling for all of the headlines for November 11.
BORN ON NOVEMBER 11:
1940: John Bahler (vocalist)
1945: Vince Martell (Vanilla Fudge)
1946: Cris Dreja (The Yardbirds)
1953: Andy Partridge (XTC)
1957: Mike Mesaros (The Smithereens)
1986: Jon Batiste
Looking for more artists born on this day?
Keep scrolling for all of our November 11 birthdays.
---
What to find another day?
---
November 11th
11 Nov 2021
English musician, songwriter, and poet Graeme Edge died of metastatic cancer age 80. Best known as the co-founder and drummer of the Moody Blues that scored the successful singles 'Go Now', 'Nights in White Satin', 'Tuesday Afternoon', 'Question', 'Gemini Dream', 'The Voice' and 'Your Wildest Dreams'.
11 Nov 2016
The first day of an auction of art owned by
David Bowie
took £24.3m ($30.7m), more than double the pre-sale estimate. The 47 artworks sold at Sotheby's in London, England had been valued at between £8.1m ($10.2m) and £11.7m ($14.8m). The most expensive lot was Jean-Michel Basquiat's Air Power, which went for £7.1m ($9m).
11 Nov 2015
Phil Taylor better known as "Philthy Animal" Taylor and drummer with
Motorhead
died aged 61. He was in the classic mark IV Motörhead line-up of Lemmy, Taylor, and Fast Eddie Clarke who recorded ten studio albums and the live album No Sleep 'til Hammersmith.
11 Nov 2014
Big Bank Hank (Henry Lee Jackson), from The Sugarhill Gang died aged 58 from kidney complications due to cancer. The Sugarhill Gang were the first hip hop act to have a hit with the cross-over single 'Rapper's Delight' in the pop charts in 1979.
11 Nov 2014
A collection of dresses and outfits worn by
Madonna
during her career in music and film helped a celebrity auction raise $3.2m (£2m). The highest lot was a jacket from Desperately Seeking Susan, which fetched $252,000, while a gown from her Material Girl video reached $73,125. Other lots which attracted the bidders were a pair of
John Lennon
's spectacles which sold for $25,000 (£15,751) and a ring worn by
Elvis Presley
for $57,600 (£36,291).
11 Nov 2011
In 2011,
Black Sabbath
fans rejoiced when all four original band members announced a reunion album and extensive world tour. The resulting LP, 13 was released in 2013.
11 Nov 2009
David Gilmour received an honorary doctorate from the Anglia Ruskin University, England. Gilmour had attended Cambridgeshire College of Arts and Technology, now part of Anglia Ruskin University, which has campuses in Cambridge, Cambridgeshire and Chelmsford, Essex.
11 Nov 2004
Coldplay
fan Sarah Sainsbury wrote to the band asking for their autographs so she could sell them to raise funds at her school charity.
Coldplay
sent her a triple platinum disc worth over £4,000.
11 Nov 2004
Liza Minnelli's former bodyguard accused the singer of forcing him to have sex with her in order to keep his job, court documents revealed. M'hammed Soumayah was suing Minnelli for $100m damages, saying she made "many repeated attempts" to compel him into sex and he "eventually succumbed".
11 Nov 2004
Robbie Williams, The
Rolling Stones
and
Queen
were inducted into the UK's first music Hall of Fame at a ceremony in London. One act had been chosen by TV viewers of a Channel 4 program to represent each decade since the 1950s. Williams represented the 1990s,
Michael Jackson
the 1980s,
Queen
the 1970s, the
Rolling Stones
the 1960s, and Cliff Richard the 1950s.
11 Nov 1999
Britney Spears
won four
MTV
Awards; Best Female Singer, Best Pop Act, Best Song, '...Baby One More Time', Best Breakthrough Artist. Best Rock Act went to The Offspring, Best Male Act, Will Smith and
Bono
won the Free Your Mind award.
11 Nov 1998
Irish singer Paddy Clancy of the Clancy Brothers died aged 76, he wrote the classic Irish songs 'Wild Mountain Thyme' and 'Carrickfergus.'
11 Nov 1990
Ted Albert the founder of Albert Productions died from a heart attack aged 53. His Australian based company helped launch the careers of The Easybeats, John Paul Young, The Angels, Rose Tattoo and
AC/DC
. In recognition of his contribution to the music industry, the Australasian Performing Right Association established the annual "Ted Albert Award for Outstanding Services to Australian Music".
11 Nov 1990
A 21 year-old
AC/DC
fan died after being attacked outside the Brendan Byrne Arena in New Jersey where the band were playing a gig that night.
11 Nov 1989
Chris Rea started a three-week run at No.1 on the UK album chart with 'The Road To Hell.' The iconic album cover features art by the English artist, Adrian Chesterman who was also responsible for creating cover art for, amongst others, Motörhead for their 1979 'Bomber' album.
11 Nov 1989
Lisa Stansfield was at No.1 on the UK singles chart with 'All Around The World'. The British singers debut solo single was a No.1 hit in 11 other countries and a No.3 hit in the US.
11 Nov 1986
Pink Floyd
issued a press statement stating that they intend to continue using the name without Roger Waters and were recording their next album.
11 Nov 1983
Mick Jagger
appeared on the UK TV show
The Tube
to defend the video to The
Rolling Stones
latest single 'Undercover Of The Night' which had been banned by the Independent Broadcasting Authority. The Tube aired the video, minus the scene where Mick was shot through the head. The single peaked at No.8 on the UK chart.
11 Nov 1982
Prince
kicked off his 87-date '1999' North American tour at the Soldiers and Sailors Memorial Auditorium in Chattanooga, Tennessee.
11 Nov 1978
David Bowie
played the first night of his 8-date Low / Heroes tour of Australia and New Zealand at The Oval in Adelaide. This was Bowies first ever show in Australia.
11 Nov 1978
Donna Summer started a three week run at No.1 on the US singles chart with her version of Jimmy Webb's 'MacArther Park', also a hit for actor Richard Harris in 1968, (made No.5 in the UK). Also on this day Summer went to No.1 on the US album chart with 'Live And More'.
11 Nov 1978
The Cars released 'My Best Friend's Girl', the first picture-disc single commercially available, which went on to be a No.3 hit on the UK charts and top 40 in the US.
11 Nov 1973
Thirty US radio stations broadcasted a 'live'
Mott The Hoople
concert. In reality it was the band recorded in the studio with the applause dubbed in.
11 Nov 1972
The Allman Brothers Band
bass player Berry Oakley was killed when his motorcycle hit a bus at the same intersection as former band member Duane Allman, who had died a year earlier. Oakley was 24 years old.
11 Nov 1972
Gilbert O'Sullivan was at No.1 on the UK singles chart with 'Clair', the singers first of two UK No.1's. The Irish singer songwriter would dress as a 1920s worker in flat cap, braces and baggy trousers.
11 Nov 1971
BBC TV's
Top Of The Pops
celebrated its 400th show. The UK chart show was presented by Tony Blackburn with guests; Tom Jones, Dana, John Kongos, Cher, Slade, Cilla Black, The Piglets, Clodagh Rodgers and The Newbeats.
11 Nov 1969
The FBI in Phoenix, Arizona arrested
Jim Morrison
for drunk and disorderly conduct aboard a plane.
The Doors
singer who was on his way to a
Rolling Stones
concert with actor Tom Baker had been drinking and annoying the stewardesses. The pair spent the night in jail and were released on $2,500 bail.
11 Nov 1965
The final recording session for
The Beatles
Rubber Soul
album took place, at Abbey Road, London. They needed three new songs to finish the album so an old song 'Wait' was pulled off the shelf and the group recorded two new songs from start to finish. Paul's 'You Won't See Me' and John's 'Girl', the basic tracks for both songs being completed in two takes.
Rubber Soul
was completed, and finished copies of the album were in the shops by December 3 in the UK and December 6 in the US.
11 Nov 1957
Elvis Presley
appeared at Schofield Barracks, Hawaii, this was Presley's last concert of the 50's. Presley served in the United States Army between March 1958 and March 1960 and at the time of his draft he was one of the most well-known names in the world of entertainment.
11 Nov 1954
Bill Haley
scored his first US Top ten single with 'Shake Rattle And Roll'. He had dropped his cowboy image about a year and a half earlier, while renaming The Saddlemen to
Bill Haley
and His Comets. The song became the theme song for the Springfield Indians of the American Hockey League. 'Shake, Rattle and Roll' was originally made popular by Big Joe Turner.
Born on this day in music
11 Nov 1986
American singer, songwriter, musician, Jon Batiste. He has recorded and performed with various artists including
Stevie Wonder
,
Prince
, Willie Nelson, Lenny Kravitz and
Ed Sheeran
. Batiste has garnered five Grammy Awards from 14 nominations, including an 2022 Album of the Year win for his album We Are.
11 Nov 1974
Stephen Garrett (Static Major), American R&B singer, rapper, songwriter and record producer Also a member of the R&B trio Playa. Static Major gained posthumous fame for appearing in Lil Wayne's 2008 No.1 hit Lollipop. Garrett died on Feb 25th 2008 at his home in Louisville, Kentucky.
11 Nov 1973
American musician Jason White, lead guitarist. He was a touring member of
Green Day
from 1999 until 2012 and played lead guitar in the majority of their live shows. During late 2012 he became an official member of the band, with
Green Day
becoming a four-piece group.
11 Nov 1969
Gary Powell, drummer, from English rock band The Libertines, who had the 2004 UK No.1 album The Libertines. Played with the New York Dolls for their 2004 reunion shows, and Dirty Pretty Things.
11 Nov 1957
Mike Mesaros, US group, The Smithereens, (1988 US No.41 album 'Smithereens 11).
11 Nov 1957
Tony Gad, Aswad, (1988 UK No.1 single 'Don't Turn Around').
11 Nov 1956
Ian Craig Marsh, keyboards with Heaven 17 who had the 1983 UK No.2 single 'Temptation'. And as a member of The Human League had the 1981 UK No.1 single 'Don't You Want Me'.
11 Nov 1953
Andy Partridge, singer, songwriter, guitarist, XTC, (1982 UK No.10 single 'Senses Working Overtime').
11 Nov 1952
Paul Cowsill, Tfrom American singing group The Cowsills, who had the 1967 US No.2 single 'The Rain, The Park & Other Things', and the 1969 US No.2 single the theme from 'Hair'. TV's Partridge Family was based on The Cowsills family.
11 Nov 1950
Jim Peterik, guitar, keyboards, vocals, Ides Of March, (1970 US No.2 single 'Vehicle), Survivor, (1982 US & UK No.1 single 'Eye Of The Tiger').
11 Nov 1947
Pat Daugherty from American Southern rock band Black Oak Arkansas, known for their 70s US No.1 radio hit single 'Jim Dandy To The Rescue'.
11 Nov 1946
Chip Hawkins, Tremeloes, (1963 UK No.1 single 'Do You Love Me', 1967 US No.11 single 'Silence Is Golden'). Father of singer & actor Chesney Hawkes.
11 Nov 1946
English musician Chris Dreja, guitarist with The Yardbirds who had the 1965 UK No.3 & US No.6 single 'For Your Love'. The Yardbirds spawned such noteworthy musicians as
Jeff Beck
,
Eric Clapton
and
Jimmy Page
.
11 Nov 1945
Vince Martell, guitar, vocals, Vanilla Fudge, (1968 US No.6 single 'You Keep Me Hangin' On').
11 Nov 1940
American singer, songwriter, arranger, producer, John Bahler, (the elder brother of singer, Tom Bahler). Bahler and his brother Tom were vocalists in the Ron Hicklin Singers. Together with the Wrecking Crew, they are two of the most recorded singers in history, having appeared on hundreds of television show themes, movie soundtracks and top-40 hits of the 1960s through the 1980s.
11 Nov 1938
Roger Lavern, keyboards, The Tornadoes, (1962 UK & US No.1 single 'Telstar'). The first major hit from a UK act on the American chart.
11 Nov 1929
Lavern Baker, R&B singer, (1958 US No.6 single 'I Cried A Tear'). Died 10th March 1997.
11 Nov 1927
American jazz and blues pianist, singer, and songwriter Mose Allison. His songs have been covered by
The Who
John Mayall, Elvis Costello, Georgie Fame and many others. His music influenced many blues and rock artists, including
Jimi Hendrix
, the
Rolling Stones
, Tom Waits, and the Yardbirds. Allison died on 15 November 2016 aged 89.