November 13th: The Biggest Music Headlines
Scroll down the page to see all the music headlines, stories and events for November 13 throughout music history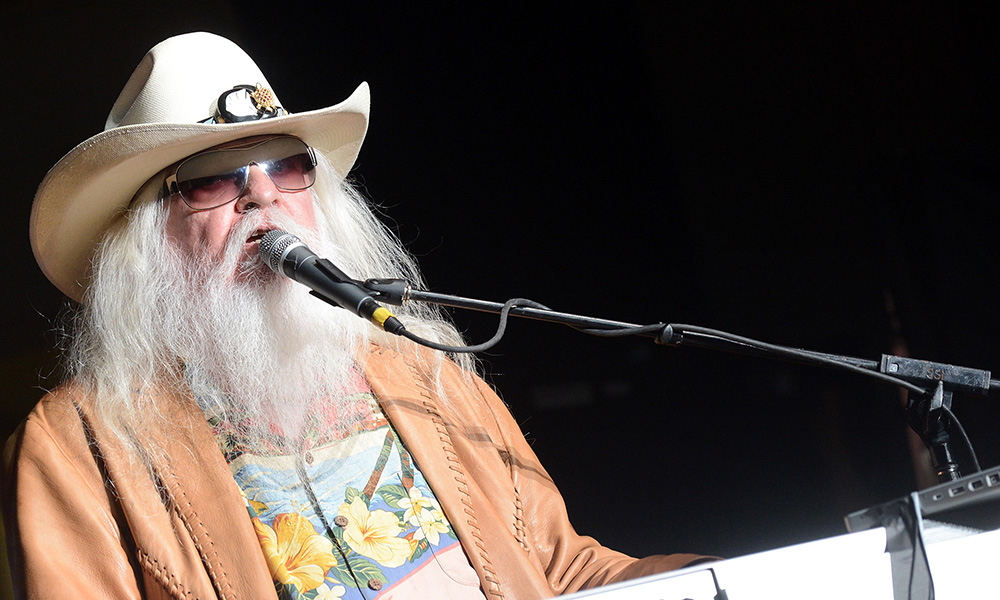 The Music Community Mourns Leon Russell
On November 13, 2016, singer and songwriter Leon Russell died at the age of 74. Over the course of his 60-year career, the prolific artist wrote or co-wrote countless hits, including "Superstar" (made famous by The Carpenters), "This Masquerade" (George Benson), and "Delta Lady" (Joe Cocker). One of his signature songs, "A Song for You," has been recorded by more than 200 artists, including Ray Charles, Willie Nelson, Amy Winehouse, and Whitney Houston. As a musician and producer, meanwhile, Russell collaborated with the likes of Bob Dylan, Frank Sinatra, Elton John, and the Beach Boys, playing a vital role in many of modern music's most important records. In addition to earning two Grammy Awards, Russell was inducted into the Rock and Roll Hall of Fame and the Songwriters Hall of Fame.
In 2015, terrorists attacked the Paris venue, Le Bataclan, during an Eagles of Death Metal concert. While band members were unharmed, 89 people were killed, including the group's merchandise manager.
In 2020, with the release of Disco, Kylie Minogue became the first female artist to top the UK album chart across five consecutive decades.
In 1976, Led Zeppelin topped the UK album charts for the seventh time with The Song Remains The Same. Recorded at Madison Square Garden, the live album served as the soundtrack to the concert film of the same name, which captured the band's 1973 three-night engagement at the New York City venue.
In 2004, rapper and Wu-Tang Clan co-founder Ol' Dirty Bastard died during a session at the studio of his bandmate, RZA. Known for his unique half-rap-half-singing style, the artist (born Russell Tyrone Jones) was just days short of his 36th birthday.
In 1977, UK dates were announced for what was touted to be the first major punk tour. The Sex Pistols and The Ramones were slated as co-headliners, with Talking Heads, The Vibrators, and Chris Spedding supporting the 14-date run. Unfortunately for fans, the tour never took place.
Looking for more things that happened on this day in music?
Keep scrolling for all of the headlines for November 13.
BORN ON NOVEMBER 13:
1947: Toy Caldwell (The Marshall Tucker Band)
1949: Roger Steen (The Tubes)
1951: Bill Gibson (Huey Lewis and the News)
1979: Nikolai Fraiture (The Strokes)
1993: Julia Michaels
2000: 24kGoldn
Looking for more artists born on this day?
Keep scrolling for all of our November 13 birthdays.
---
What to find another day?
---
November 13th
13 Nov 2021
American musician Philip Margo died age 79. He was a long time member of The Tokens, along with his brother Mitch, best known for their hit recording of 'The Lion Sleeps Tonight'.
13 Nov 2020
Kylie Minogue
went to No.1 on the UK album chart with Disco, making her the only woman to top the chart in five consecutive decades.
13 Nov 2019
Rod Stewart
was featured on the cover of Britain's Railway Modeller magazine. The singer had put the finishing touches to a 25-year project building a railway city, which was modelled on both New York and Chicago around 1945. The model railway which spans 1,500 square feet was housed in the attic of his Los Angeles home.
13 Nov 2016
Leon Russell died in Nashville, he was 74. He led Joe Cocker's band Mad Dogs & Englishmen, and appeared at
George Harrison
's 1971 Concert for Bangladesh. Many of his songs became hits for others, among them 'Superstar' (written with Bonnie Bramlett) for the
Carpenters
, 'Delta Lady' for Joe Cocker and 'This Masquerade' for George Benson. More than 100 acts have recorded 'A Song for You,' which Russell said he wrote in 10 minutes.
13 Nov 2015
Adele
's comeback single 'Hello' achieved platinum sales status in the UK, just three weeks after it was released after the chart-topping song sold more than 600,000 copies.
13 Nov 2015
The blues-rock band Eagles of Death Metal were in the midst of performing a sold-out show at Le Bataclan in Paris, France, when the venue was attacked by terrorists armed with automatic rifles, grenades and explosive suicide vests. The band escaped unharmed through a backstage door, but 89 audience members were killed, including the band's merchandise manager, Nick Alexander.
13 Nov 2012
The original collage that was reproduced and included in copies of
The Beatles
' 1967 classic
Sgt. Pepper's Lonely Hearts Club Band
record sold for $87,720. The piece, which was designed by Peter Blake, was sold to an unnamed bidder as part of an auction of modern British art at Sotheby's in London.
13 Nov 2005
Simon Cowell
was named Show Business personality of the year by the Variety Club at the show business charity's annual awards show in London. Katie Melua won recording artist of the year at the event, hosted by singer Myleene Klass.
13 Nov 2004
Rap artist Ol' Dirty Bastard, (real name Russell Jones), collapsed and died at a Manhattan recording studio in New York aged 35. A spokesman for his record company, said the rapper, had complained of chest pains, was dead by the time paramedics reached him. ODB was a founding member of the Wu-Tang Clan in the early 1990s.
13 Nov 2000
The Beatles
launched their first official website www.thebeatles.com. The site went live on the same day as the release of their retrospective 'Compilation 1' album.
13 Nov 1999
A report showed that The
Spice Girls
were the highest earners in pop during the 90s with their debut album 'Spice' selling over 20 million copies.
Elton John
was second with 14 million sales from 'The Lion King'.
13 Nov 1992
Ronnie Bond drummer with The
Troggs
died. Scored the 1966 US No.1 & UK No.2 single 'Wild Thing' and 1966 UK No.1 'With A Girl Like You.'
13 Nov 1990
Patricia Boughton filed a lawsuit against
Rod Stewart
claiming that a football he kicked into the crowd during a concert at Pine Knob Music Theatre had ruptured a tendon in her middle finger. And as a result the injury had made sex between her and her husband difficult.
13 Nov 1982
Men At Work started a 15-week run at No.1 on the US album chart with their debut album 'Business As Usual', which went on to sell over five million copies in the US.
13 Nov 1981
U2
kicked off a 23 date North American 'October' tour at JB Scott's in Albany, New York.
13 Nov 1976
Led Zeppelin
scored their seventh UK No.1 with the film soundtrack double album The Song Remains The Same, peaking at No.2 on the US chart. The tracks were recorded at Madison Square Garden, New York City in 1973.
13 Nov 1976
Rod Stewart
started an 8 week run at No.1 on the US singles chart with 'Tonight's The Night'. It was Rod's second US No.1; it made No.5 in the UK after being banned by many radio stations due to song being about the seduction of a virgin. The song features whispers from actress Britt Ekland who was Stewart's girlfriend at the time.
13 Nov 1976
The Melody Maker announced UK dates for the first major punk tour with The
Sex Pistols
and the
Ramones
co-headlining along with Talking Heads, The Vibrators and Chris Spedding. The 14-date tour which was due to start at Newcastle City Hall on Nov 29th never took place.
13 Nov 1970
Syd Barrett
released his second solo album Barrett only 10 months after his debut The Madcap Laughs. David Gilmour produced the whole album, which also featured performances by
Pink Floyd
's
Richard Wright
on keyboards. The album has since been reissued in remastered form with extra tracks from the sessions.
13 Nov 1968
Rolling Stone
Brian Jones
bought 'Cotchford Farm' in Sussex. The author AA Milne who wrote Winnie The Pooh had owned the house.
13 Nov 1968
Hugo Montenegro was at No.1 in the UK singles chart with 'The Good The Bad And The Ugly', the soundtrack from a Clint Eastwood spaghetti western film. The first instrumental No.1 since 1963.
13 Nov 1965
The Castiles, which featured a young singer called
Bruce Springsteen
appeared at The Fire House, Hazlet, New Jersey. The night was billed as a Teenage Go, Go Dance.
13 Nov 1964
Decca Records released The
Rolling Stones
' 'Little Red Rooster'. Written by Willie Dixon (as The Red Rooster), and previously recorded by Howlin' Wolf and
Sam Cooke
, the single was recorded at Chess Studios in Chicago. The single was a No.1 hit in the UK and remains the only time a blues song has ever topped the UK pop chart.
13 Nov 1963
The Beatles
recorded a television interview at Westward Television Studios in Plymouth, Devon, for a local teen program "Move Over, Dad". Due to a large crowd of excited fans outside,
The Beatles
had to be smuggled from their dressing-room at the ABC Cinema, where they were scheduled to appear that night, into an adjacent building, then through a tunnel, to get to Westward Studios for the interview taping.
Born on this day in music
13 Nov 2000
American rapper, singer, songwriter 24kGoldn. His single 'Mood', featuring Puerto Rican-American rapper Iann Dior, topped the Billboard Hot 100.
13 Nov 1993
American singer and songwriter Julia Michaels. Her debut solo single in 2017, 'Issues', peaked at No.11 on the Billboard Hot 100 in the United States. As a songwriter, Michaels has written songs for artists including Selena Gomez, Demi Lovato, Fifth Harmony, Shawn Mendes, Britney Spears, Justin Bieber and Gwen Stefani. She has earned two Billboard Hot 100 No.1 songs with Bieber's 'Sorry' and Gomez's 'Lose You to Love Me'.
13 Nov 1980
Monique Adrienne Coleman, American actress and singer from High School Musical, as part of the cast had the 2006 US No.1 'High School Musical' album and 2007, US No.1 'High School Musical 2' album. Over 17 million viewers in the United States watched the TV premier of High School Musical; making it the highest rated basic cable broadcast in U.S. history.
13 Nov 1979
Nikolai Fraiture, bassist from American rock band The Strokes who had the 2001 UK No.14 single 'Last Nite' and the 2001 UK No.2 album Is This It.
13 Nov 1960
Wayne Parker, Glass Tiger, (1986 UK No.29 single 'Don't Forget Me, When I'm Gone').
13 Nov 1953
Andrew Ranken, drummer from Irish-British Celtic punk band The Pogues who scored the 1987 UK No.8 single 'The Irish Rover'.
13 Nov 1951
Bill Gibson from Huey Lewis and the News who had the 1985 UK No.11 & US No.1 single 'The Power Of Love'. Their third, and best-selling, album was the 1983 Sports, and they contributed to the soundtrack of the 1985 feature film Back to the Future.
13 Nov 1949
Roger Steen, guitar, with American band
The Tube
s known for their 1977 hit single 'White Punks On Dope' and the 1983 US No.10 single 'She's A Beauty'.
13 Nov 1949
Terry Reid, UK singer, member of Peter Jay's Jaywalkers. Reid turned down the job as lead singer with
Led Zeppelin
.
13 Nov 1947
American musician J.C. Crowley best known as a member of 1970s soft rock group Player, which scored a US No. 1 hit in 1977 with 'Baby Come Back'.
13 Nov 1947
Toy Caldwell, lead guitarist and main songwriter of the 1970s Southern Rock group The Marshall Tucker Band. He died on 25 February 1993 age 45.
13 Nov 1942
John Hammond Jr, American singer and musician, the son of record producer John H. Hammond. He has worked with many artists including Jimi Hendrix, Eric Clapton, Mike Bloomfield, Dr. John, and Duane Allman.
13 Nov 1934
Timmy Thomas, US singer, (1972 US No.3 & 1973 UK No.12 single 'Why Can't We Live Together').