November 20th: The Biggest Music Headlines
Scroll down the page to see all the music headlines, stories and events for November 20 throughout music history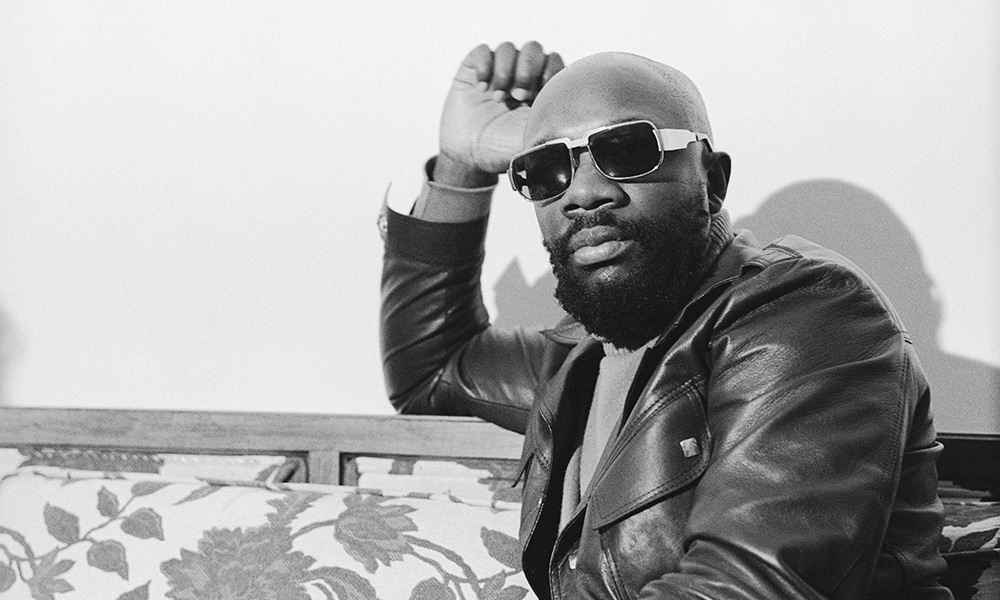 Isaac Hayes Tops The Charts With 'Shaft'
On November 20, 1971, Isaac Hayes topped the Billboard Hot 100 with "Theme From Shaft." A highly-influential work in funk music, as well as in the emerging world of Black film, the largely instrumental track was written by Hayes for the film Shaft. "Theme From Shaft" went on to win multiple Grammys, as well as an Academy Award for Best Original Song, making Hayes the first Black artist to receive the honor, as well as the first Black recipient of an Oscar in a non-acting category. The film's soundtrack, meanwhile, also went to No.1 and was later added to the Library of Congress's National Recording Registry.
In 1961, Bob Dylan began recording his self-titled debut at New York City's Columbia Recording Studios. In just two sessions, the singer-songwriter laid down all 13 tracks, including two originals ("Talkin' New York" and "Song to Woody," written for Woody Guthrie). While Bob Dylan didn't have initial success, it would rise up the charts after the release of the artist's breakthrough sophomore album, The Freewheelin' Bob Dylan.
In 2015, with the success of his single "Sorry," Justin Bieber broke two UK pop chart records. With three songs simultaneously in the Top 5 ("Sorry," "Love Yourself," and "What Do You Mean?"), Bieber broke a record previously held by John Lennon. Additionally, with eight songs simultaneously in the Top 40, the Canadian artist broke a record previously set by Elvis Presley.
In 1955, Bill Haley & His Comets began a two-month run atop the Billboard Hot 100 with "Rock Around the Clock." The energetic song would soon become the first rock'n'roll record to hit No.1 in both the US and the UK.
In 2005, Robbie Williams set a Guinness World Record for selling the most tickets in one day when his 2006 world tour went on sale. Fans purchased 1.6 million tickets, totaling an estimated £80 million.
In 1976, Paul Simon was the host and musical guest on Saturday Night Live. During the episode, he performed "Homeward Bound," plus a cover of "Here Comes the Sun" with its songwriter, George Harrison.
Looking for more things that happened on this day in music?
Keep scrolling for all of the headlines for November 20.
BORN ON NOVEMBER 20:
1941: Dr. John
1946: Duane Allman
1947: Joe Walsh
1965: Mike D (Beastie Boys)
1983: Future
1986: Jared Followill (Kings of Leon)
1995: Michael Clifford (5 Seconds to Summer)
Looking for more artists born on this day?
Keep scrolling for all of our November 20 birthdays.
---
What to find another day?
---
November 20th
20 Nov 2016
Craig Gill, drummer of the Inspiral Carpets, died at the age of 44. Gill was one of the founding members of the group who scored the hits 'Joe', 'This Is How It Feels', 'She Comes In The Fall', 'Dragging Me Down' and 'Saturn 5'. Gill, who was a DJ at The Hacienda nightclub in Manchester, England, was also a music historian and ran music-themed tours around Greater Manchester.
20 Nov 2015
Associated Newspapers lost its challenge to a High Court decision to award £10,000 ($15,000), privacy damages to Paul Weller. The singer and his wife won the damages in 2014 after pictures of his three youngest children were featured on The Mail Online in 2012.
20 Nov 2015
Justin Bieber topped the UK singles chart with 'Sorry' breaking a chart record for the most tracks inside the top 40. The chart featured eight songs from Bieber's new album Purpose, the first time a living artist had so many simultaneous entries. His eight entries saw him break a record set by
Elvis Presley
in 1957, when he had seven songs in the top 40 singles chart.
20 Nov 2012
Mick Dunford lead guitarist with British group The Nashville Teens died of a cerebral hemorrhage. The Nashville Teens are best known for their 1964 hit single 'Tobacco Road', a top 10 UK hit and a top 20 hit in the United States.
20 Nov 2007
Radiohead
frontman Thom Yorke admitted he was among the thousands of people who paid nothing to download the band's latest album In Rainbows. Speaking to BBC 6 Music's Steve Lamacq, Yorke said: "There wasn't any point. I just move some money from one pocket to the other." According to one survey, three in five people paid nothing at all for it. Yorke added that no one was allowed to have copies of the master recording in case it was leaked beforehand.
20 Nov 2005
Robbie Williams smashed a Guinness World Record by selling more than 1.6 million tickets for his 2006 World Tour in one day. The tickets, snapped up on the first day of sale, were valued at an estimated £80 million.
20 Nov 2004
Oasis
singer
Liam Gallagher
was fined £40,000 after a fight in a German hotel. Gallagher was arrested along with drummer Alan White and three other members of the band's entourage after the brawl in Munich in December 2002. Gallagher lost two front teeth in the fight, which led to the band abandoning their German tour.
20 Nov 2003
Michael Jackson
flew to Santa Barbara to be arrested by police. He was seen in handcuffs being taken into the police station. The singer had his mug shot and fingerprints taken before being freed on $3m bail.
20 Nov 2002
Former Ultravox member Midge Ure was fined £500 and ordered to pay £35 costs by magistrates in King's Lynn, Norfolk, after he admitted driving without due care and attention. The court heard that Ure was involved in a minor accident in Norfolk while driving his Chrysler people carrier to a concert near Fakenham where he was performing.
20 Nov 2001
Madonna
's childhood home in Oakland County Michigan, sold at an auction in just 12 minutes. The house, along with a few items of Rock memorabilia was purchased for $331,000.
20 Nov 1998
A study comparing noise levels of rock music, found that older people rated rock music much higher on a loudness scale than younger people. The researchers carried out by Ohio University tested people age 18 to 21 and people ranging in age from 51 to 58. The study asked participants to rate the loudness of rock music played at nine intensities, ranging from 10 decibels to 90 decibels. Participants listened to 'Heartbreaker' by
Led Zeppelin
for 10 seconds at different intensities. At each intensity, the older subjects gave the music higher numerical ratings based on loudness than the younger subjects.
20 Nov 1995
20 Nov 1991
The
Rolling Stones
announced they'd signed a £20 million deal with Virgin Records, to make three albums over six years.
20 Nov 1984
A large crowd of fans watched the unveiling of a Hollywood Walk of Fame Star for
Michael Jackson
in front of Mann's Chinese Theatre in Los Angeles. Jackson became star number 1,793 on the famed walk.
20 Nov 1976
20 Nov 1975
The Bay City Rollers' Les McKeown was found not guilty of causing the death of a 76 year old woman that he had hit with his car the previous May. Witnesses said that Euphemia Clunie was walking across the road and had changed directions four times. McKeown was convicted of driving recklessly and fined £150 pounds and banned from driving for a year.
20 Nov 1975
The Who
kicked off a month-long North American tour at The Summit in Houston. At a party afterwards drummer
Keith Moon
was arrested for disorderly conduct and spent the night in jail.
20 Nov 1974
Drummer with
The Who
,
Keith Moon
collapsed during a concert after his drink was spiked with horse tranquilliser. 19 year-old Scott Halpin who was in the audience, volunteered to replace him on drums for the remaining three numbers.
20 Nov 1973
American musician, parodist, satirist Allan Sherman died of emphysema ten days before his 49th birthday. Had the 1963 US No.2 & UK No.14 single 'Hello Muddah, Hello Faddah'.
20 Nov 1971
Isaac Hayes started a two week run at No.1 on the US singles chart with 'Theme From Shaft', it made No.4 in the UK. Hayes won a Grammy award for Best Original Film Score with 'Theme From Shaft'.
20 Nov 1968
The
Monkees
film 'Head' opened in six US cities. Reviews were harsh and the picture was a box office disaster.
20 Nov 1967
Los Angeles-based psychedelic rock band Strawberry Alarm Clock were at No.1 on the US singles chart with 'Incense And Peppermints'. When recording the track the band expressed a dislike for the song's lyrics so the lead vocals were sung by a friend of the band, Greg Munford, who was attending the recording session as a visitor.
20 Nov 1966
The
Supremes
were at No.1 on the US singles chart with 'You Keep Me Hanging On', the group's seventh US No.1 spent two weeks at the top of the charts was also a No.8 hit in the UK.
20 Nov 1965
The
Supremes
had their sixth US No.1 single with the
Motown
production team, Holland–Dozier–Holland's, 'I Hear A Symphony'.
20 Nov 1961
Bob Dylan
started recording his debut album over two days at Columbia Recording Studios in New York City
20 Nov 1955
The song that changed popular music history 'Rock Around the Clock' by
Bill Haley
& His Comets went to No.1 on the UK singles chart. The song was used under the opening credits of the film Blackboard Jungle. The song entered the charts a further six times until 1974.
20 Nov 1955
Bo Diddley
appeared on US The Ed Sullivan Show television show. The show had requested that he sang his version of 'Sixteen Tons', but, when he appeared on stage, he sang his own song '
Bo Diddley
' resulting in him being banned from further appearances on the show.
Born on this day in music
20 Nov 1995
Michael Clifford from 5 Seconds Of Summer who had a No.1 UK hit with 'She Looks So Perfect', and their debut album was a US No.1 and UK No.2. 5 Seconds of Summer were also the first Australian act to achieve a US No.1 album with their debut album.
20 Nov 1986
Jared Followill, bassist, from American rock band Kings of Leon who had the 2007 UK No.1 album Because Of The Times, and the 2008 UK No.1 single 'Sex on Fire'. The band has sold over 21 million albums worldwide and 38 million singles.
20 Nov 1983
American rapper, singer, songwriter, and record producer Future, (Nayvadius DeMun Wilburn). In collaboration with
Drake
, Evol (2016), Future (2017) and Hndrxx (2017) all debuted at No.1 on the US Billboard 200.
20 Nov 1981
Kimberley Walsh, from English-Irish pop girl group Girls Aloud, which was created through the ITV talent show Popstars: The Rivals in 2002. They scored the 2002 UK No.1 single 'Sound Of The Underground' and over 20 UK Top 20 singles. They hold the record for "Most Consecutive Top Ten Entries in the UK by a Female Group.
20 Nov 1975
David Marchand, (Davey Havok), lead vocalist of the American rock band AFI.
20 Nov 1966
American singer, songwriter, musician Kevin Gilbert. He was a member of Giraffe, and worked with Sheryl Crow. He co-wrote the 1994 Crow UK No. 4 hit 'All I Want To Do.' Gilbert died on 18 May 1996. The coroner listed the cause of death as "asphyxia due to partial suspension hanging" and concluded the death was accidental.
20 Nov 1965
Mike Diamond, The Beastie Boys, (1987 US No.7 & UK No.11 single 'You Gotta Fight For Your Right To Party', 1987 US No.1 and UK No.7 album 'Licence To Ill', plus 3 other US No.1 albums).
20 Nov 1965
Senen Reyes, Sen Dog, from Cypress Hill, who had the 1993 UK No.15 single 'I Ain't Goin' Out Like That', and the 1993 US No.1 album 'Black Sunday'.
20 Nov 1962
Steve Alexander, Brother Beyond, (1988 UK No.2 single 'The Harder I Try').
20 Nov 1962
Gail Ann Dorsey, American bass guitarist and vocalist. Worked with
David Bowie
from 1993-96, recorded and toured with Tears for Fears and has also worked with Bryan Ferry, Boy George, Gwen Stefani and Seal.
20 Nov 1961
Paul King, vocals, King, (1985 UK No.2 single 'Love And Pride') & VH 1 TV presenter.
20 Nov 1961
American songwriter, pianist and radio host Jim Brickman. He has earned two Grammy nominations for his albums Peace (2003) for Best Instrumental, and Faith (2009) for Best New Age Album and has collaborated with Lady A, Johnny Mathis, Kenny Rogers, Donny Osmond, Olivia Newton-John, Carly Simon, John Oates and Michael Bolton.
20 Nov 1957
Jim Brown, drums, with UB40, who had the 1983 UK No.1 & 1988 US No.1 single 'Red Red Wine' and over 30 other top 40 hits.
20 Nov 1947
Joe Walsh, guitarist, singer, songwriter, who led The James Gang. He joined the
Eagles
in 1975 who scored the 1977 US No.1 & UK No.8 single 'Hotel California', plus 5 US No.1 albums. As a solo artist under the name Barnstorm he had the 1973 breakthrough album The Smoker You Drink, the Player You Get featuring the single, 'Rocky Mountain Way' and had the 1978 UK No.14 single 'Life's Been Good'.
20 Nov 1946
Duane Allman, guitarist, and co-founder and leader of
The Allman Brothers Band
who released the classic album Eat a Peach in 1972 and had the 1973 US No.12 single 'Ramblin Man'. Allman was killed in a motorcycle accident on 29th October 1971 in Macon, Georgia, when he collided with the rear of a flatbed truck that had turned in front of him.
20 Nov 1946
Ray Stiles, from English glam rock band Mud who had the 1974 UK No.1 single 'Tiger Feet' which was the UK's best-selling single of 1974 plus 14 other UK Top 40 singles.
20 Nov 1942
Norman Greenbaum, singer, songwriter, guitarist, and One Hit Wonder with the 1970 UK No.1 & US No.3 single 'Spirit In The Sky'.
20 Nov 1941
Dr John, (Malcolm John Rebennack), US R&B pianist, guitarist, singer. He wrote 'I Walk On Guilded Splinters.' Active as a session musician from the late 1950s until his death, he gained a following in the late 1960s after the release of his album Gris-Gris and his appearance at the Bath Festival of Blues and Progressive Music. He died of a heart attack on 6 June 2019 age 77.
20 Nov 1940
American saxophonist, woodwind player, and session musician Jim Horn. He played on solo albums by three members of the Beatles, forming a long association with
George Harrison
after appearing at the latter's Concert for Bangladesh benefit in 1971. Horn also played flute and saxophone on
The Beach Boys
album
Pet Sounds
and also played flute on the
Rolling Stones
' album Goats Head Soup.