November 22nd: The Biggest Music Headlines
Scroll down the page to see all the music headlines, stories and events for November 22 throughout music history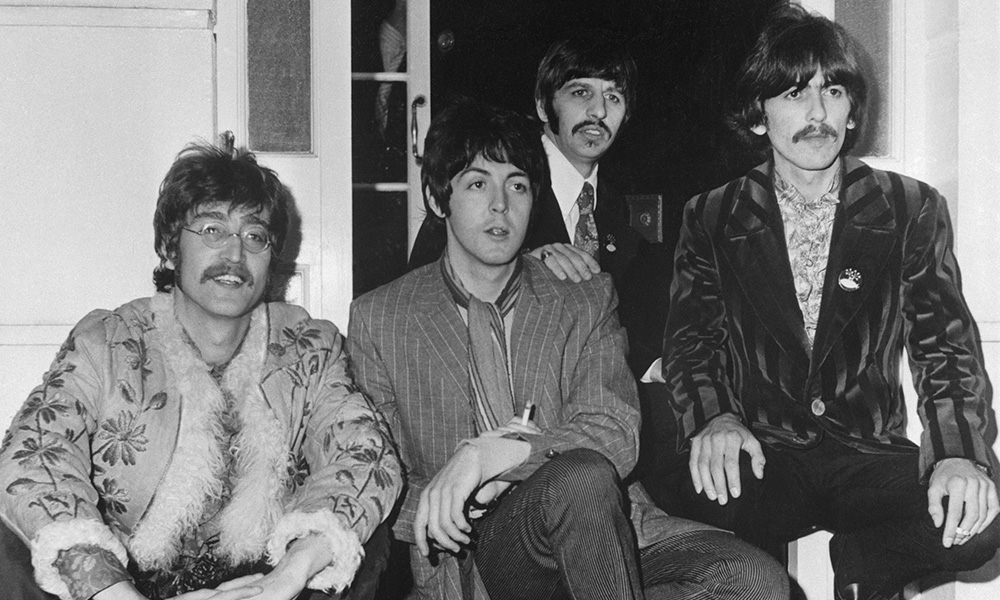 The Beatles Release 'The White Album'
On November 22, 1968, The Beatles released their double self-titled masterpiece (known colloquially as The White Album). Considered to be among the greatest albums of all time, the ambitious 30-track LP spans a range of styles, including avant-garde, folk, blues, ska, and pre-heavy-metal. Many of the songs were written in India, when the band was studying Transcendental Meditation. Featuring such enduring favorites as "Back in the U.S.S.R.," "While My Guitar Gently Weeps,"Ob-La-Di, Ob-La-Da," and "Dear Prudence," The White Album topped charts across the globe, spending eight non-consecutive weeks at No.1 in the UK and nine in the US, where it became the band's highest-certified album, with a 24x Platinum certification from the RIAA.
In 1997, Michael Hutchence, the 37-year-old frontman of INXS, took his own life. During his career, the magnetic singer, songwriter, and actor captivated audiences with hits like "Need You Tonight," "Never Tear Us Apart," and "New Sensation." The best-selling Australian band, which earned multiple ARIAs during Hutchence's lifetime, was inducted into the ARIA Hall of Fame in 2001.
In 1994, Pearl Jam released their third studio album, Vitalogy. Featuring such hits as "Better Man" and "Spin the Black Circle," Vitalogy became one of the fastest-selling albums ever at the time, second only to the band's own Vs. (1993). The multi-platinum-selling title topped the US album chart and peaked at No.4 in the UK.
In 1963, the Beatles released their second studio album, With The Beatles. Boasting an engaging mix of originals ("All My Loving," "It Won't Be Long," among them) and covers (Chuck Berry's "Roll Over Beethoven," Smokey Robinson's "You Really Got a Hold on Me"), With The Beatles was a No.1 hit in Germany as well as in the UK, where it became the second album ever to sell one million copies (following 1958's South Pacific soundtrack).
In 1957, Paul Simon and Art Garfunkel appeared as Tom and Jerry on American Bandstand, where they performed their first single, "Hey Schoolgirl" (a Top 50 US hit). The future folk stars were juniors in high school at the time.
Looking for more things that happened on this day in music?
Keep scrolling for all of the headlines for November 22.
BORN ON NOVEMBER 22:
1946: Aston Barrett (The Upsetters, Bob Marley and the Wailers)
1950: "Little Steven" Van Zandt
1950: Tina Weymouth (Talking Heads)
1968: Rasa Don (Arrested Development)
1970: Chris Fryar (Zac Brown Band)
1978: Karen O (Yeah Yeah Yeahs)
Looking for more artists born on this day?
Keep scrolling for all of our November 22 birthdays.
---
What to find another day?
---
November 22nd
22 Nov 2019
Pollstar published their list of the top touring artists of the 2010s in North America.
U2
came in first with a gross of $1,038,104,132, followed by The
The Rolling Stones
($929,196,083),
Ed Sheeran
($922,361,663),
Taylor Swift
($899,627,048) and
Bon Jovi
($868,715,392).
22 Nov 2016
The Hendersonville, Tennessee property where
Johnny Cash
and his wife June Carter Cash lived for most of their thirty five years of marriage was put up for sale by the current owner. The house was destroyed in a fire in 2007, but a one-bedroom apartment building, a tennis court, a swimming pool and a covered boat dock remained standing. The couple made their home there until their deaths in 2003.
22 Nov 2010
After just one week of availability on the iTunes store,
The Beatles
music sold more than 450,000 albums and 2 million individual songs. The Fab Four's debut on iTunes was accompanied by an extensive world-wide marketing campaign.
22 Nov 2005
Poems written by
Bob Dylan
in his college days sold for $78,000 (£45,000) at a New York City auction. The 16 pages of poems were the first known time Robert Zimmerman used the Dylan name and came from his studies at the University of Minnesota during 1959-60.
22 Nov 2005
A gig by former Stone Roses front man Ian Brown was abandoned after 20 minutes because the floor at the venue began to sag. 2,000 people were told to leave Newcastle's Carling Academy, which had only been open for a month. Organisers said it was simply a safety precaution after joists under the main dance floor came out of their springs.
22 Nov 2004
U2
shot the video for 'All Because Of You' from a moving flat bed truck on the streets of Brooklyn in New York City. Later in the day, they performed a brief concert under the Brooklyn Bridge, which was taped by
MTV
for a later showing.
22 Nov 2004
Ozzy Osbourne
struggled with a burglar who escaped with jewellery worth about £2m from his Buckinghamshire mansion. Osbourne told reporters that he had the masked raider in a headlock as he tried to stop him. The burglar broke free and jumped 30 ft from a first floor window. A large amount of jewellery was stolen in the raid in which two burglars were involved.
22 Nov 2002
The surviving members of
The Doors
Ray Manzarek and Robby Krieger, announced they would record and tour again with a new line up including ex- Cult singer Ian Astbury and former Police drummer Stewart Copeland. Original drummer John Densmore was not able to take part because he was suffering from severe tinnitus.
22 Nov 1998
Alanis Morissette
was at No.1 on the US album chart with her fourth album 'Supposed Former Infatuation Junkie.' The first single from album 'Thank You' received a Grammy Award nomination for "Best Female Pop Vocal Performance".
22 Nov 1997
INXS frontman
Michael Hutchence
was found dead in his Sydney hotel suite, having taken his own life. The 37 year old, who co-founded the best-selling Australian band in 1977, was beloved for his emotive vocals and captivating live performances.
22 Nov 1994
Pearl Jam
released their third studio album Vitalogy, which was first released on vinyl and became the first vinyl album to appear on the US chart, since the domination of the compact disc format. They followed the release in other formats two weeks later, whereupon it became the second-fastest-selling CD in history, behind only the band's previous release Vs.
22 Nov 1991
Alice Cooper came to the rescue of two fans; Patrick and Dee Ann Kelly, whose California home was about to be re-possessed. Patrick had painted Coopers face on the house to help sell the property. Mr Cooper signed autographs to help raise money for the couple.
22 Nov 1990
Bill Wyman announced that his 17-month marriage to model Mandy Smith was over. With the consent of her mother, Smith had started dating the 47-year-old
Rolling Stones
bassist when she was aged 13.
22 Nov 1987
Jesus and Mary Chain singer Jim Reid was arrested in Canada after being accused of assaulting members of the audience with his microphone stand, he was released on $2,000 bail.
22 Nov 1986
Stevie Ray Vaughan
and Double Trouble kicked off a 149-date North American and European tour at the Towson Center in Towson, Maryland.
22 Nov 1980
ABBA
scored their sixth UK No.1 album when Super Trouper started a nine week run at the top of the charts. The album which features the No.1 singles 'The Winner Takes It All' and 'Super Trouper', became the biggest-selling of 1980 in the UK.
22 Nov 1975
Scottish comedian Billy Connolly was at No.1 on the UK singles chart with a parody of the
Tammy Wynette
song D.I.V.O.R.C.E. Connolly's early career as a singer led to him forming a folk-pop duo called The Humblebums in the late 60s, with future rock star Gerry Rafferty.
22 Nov 1975
KC and the Sunshine Band started a two week run at No.1 on the US singles chart with 'That's The Way (I Like It)', the group's second US No.1 of the year, it made No.4 in the UK.
22 Nov 1969
Iron Butterfly
supported by Steel Mill, (featuring
Bruce Springsteen
) appeared at the Randolph-Macon College in Ashland, Virginia. The gig was held in the school's 3,500- seat Crenshaw Gymnasium.
22 Nov 1968
The Beatles
double
White Album
was released in the UK. Featuring 'Ob-La-Di, Ob-La-Da', 'Dear Prudence', 'Helter Skelter', 'Blackbird' 'Back In The USSR' and
George Harrison
's 'While My Guitar Gently Weeps'. Priced at £3.13 shillings, ($8.76), it spent eight weeks as the UK No.1 album.
22 Nov 1965
Bob Dylan
married Sara Lowndes in a secret ceremony during a break in his tour. The marriage took place under an oak tree on a judge's lawn on Mineola, Long Island, New York. Sara who is the mother of singer Jakob Dylan filed for divorce on March 1st 1977.
22 Nov 1963
The Beatles
released their second album With The Beatles which went on to spend 51 weeks on the UK charts. The LP had advance orders of a half million and sold another half million by September 1965, making it the second album to sell a million copies in the UK, (after the soundtrack to the 1958 film South Pacific).
22 Nov 1957
Paul Simon
and Art Garfunkel appeared as Tom and Jerry on ABC-TV's American Bandstand. Close friends through childhood, the first time they appeared on stage together was in a school play, Alice in Wonderland (Simon as the White Rabbit, Garfunkel as the Cheshire Cat). They later began performing together in their junior year as Tom and Jerry, with Simon as Jerry Landis and Garfunkel as Tom Graph.
Born on this day in music
22 Nov 1981
Ben Adams, vocals, A1, (2000 UK No.1 single, 'Same Old Brand New You').
22 Nov 1979
Scott Robinson, vocals, Five, with English boy band Five who had the 1998 UK No.2 single 'Everybody Get Up' and the 1999 UK No.1 single 'Keep On Movin'.
22 Nov 1978
Karen O, singer, Yeah Yeah Yeahs, (2006 UK No. 18 single 'Gold Lion').
22 Nov 1970
Chris Fryar American drummer with the Grammy Award winning country music group, Zac Brown Band. Their 2015 album Jekyll + Hyde which debuted at No.1 on the US chart featured the single 'Heavy Is the Head' with vocals from Chris Cornell.
22 Nov 1968
Rasa Don, from American alternative hip hop group Arrested Development who scored the 1992 UK No.2 and US No. 8 single 'People Everyday'. The group won two Grammy Awards in 1993 for Best New Artist and Best Rap Performance and were also named Band of the Year by Rolling Stone magazine.
22 Nov 1966
Francis Anthony 'Eg' White, songwriter and producer. Member of Brother Beyond in the late 1980s, Will Young, Natalie Imbruglia, James Morrison,
Kylie Minogue
,
Adele
and Duffy have all recorded his songs.
22 Nov 1960
James Morrison, (Jim Bob), Carter The Unstoppable Sex Machine, 1992 UK No.7 single 'The Only Living Boy In New Cross').
22 Nov 1957
Sharon Bailey, Amazulu, (1986 UK No.5 single 'Too Good To Be Forgotten')
22 Nov 1950
American musician Tina Weymouth, bassist with Talking Heads, who had the 1983 US No.9 single 'Burning Down The House', 1985 UK No.6 single 'Road To Nowhere'. Also a member of Tom Tom Club, who had the 1981 UK No.7 single 'Wordy Rappinghood'.
22 Nov 1950
American musician and actor Steven Van Zandt, (Little Steven or Miami Steve), guitarist with South Side Johnny, then
Bruce Springsteen
's E Street Band and Little Steven and The Disciples of Soul. Created music-industry activist group Artists United Against Apartheid as an action against the Sun City resort in South Africa, Springsteen,
U2
,
Bob Dylan
and Run DMC, collaborated on 'Sun City'. He starred as Silvio Dante in the TV Series The Sopranos.
22 Nov 1946
Aston Barrett, The Upsetters,
Bob Marley
and the Wailers, (1981 UK No.8 single 'No Woman No Cry', plus over Ten other UK Top 40 singles).
22 Nov 1943
Floyd Sneed, drummer with Three Dog Night, who had the 1970 UK No.3 & US No.1 single with a cover of the Randy Newman song 'Mama Told Me Not To Come'. The band scored 21 Billboard Top 40 hits (with three hitting No.1) between 1969 and 1975.
22 Nov 1941
Jesse Colin Young, The Youngbloods, (1969 US No.5 single 'Get Together').
22 Nov 1936
Opal Courtney Jr, singer with Fifties doo-wop group The Spaniels. Their 1954 hit 'Goodnite, Sweetheart, Goodnite' was featured in such films as Three Men and a Baby and American Graffiti. The Spaniels became one of the first artists to sign with Vee-Jay Records, the first large, independent Afro-American owned record label. He died on 18 September 2008.