November 27th: The Biggest Music Headlines
Scroll down the page to see all the music headlines, stories and events for November 27 throughout music history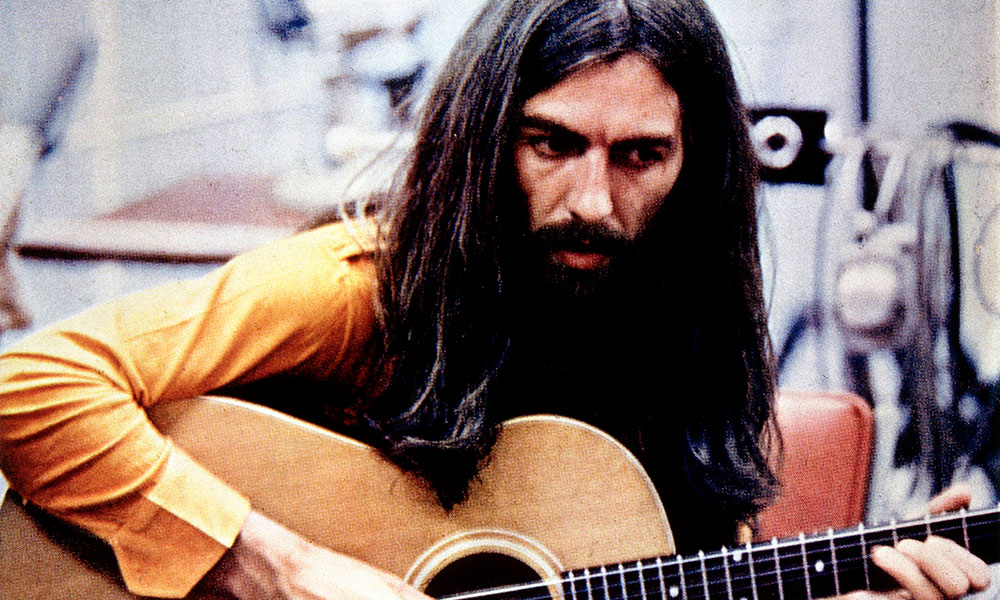 George Harrison Releases A Solo Masterpiece
On November 27, 1970, George Harrison released his broadly revered triple LP, All Things Must Pass. The album, which marked his third solo release and first full-length following the Beatles' break-up, was co-produced with Phil Spector and featured an all-star cast of musicians, including Eric Clapton, Billy Preston, Klaus Voormann, and Harrison's former bandmate, Ringo Starr. The songs, meanwhile – many of which were older compositions by the guitarist – documented Harrison's relationships (including those with the Beatles) and his spiritual awakening. Featuring such enduring hits as "My Sweet Lord," "What Is Life," and the title track, All Things Must Pass topped album charts around the world upon its release, including in the US and UK, and received a nod for Album of the Year at the Grammys. The influential title has since been inducted into the Grammy Hall of Fame.
In 1986, Bon Jovi scored their first No.1 hit in the US with "You Give Love a Bad Name." The anthemic track was the lead single off the New Jersey band's multi-platinum-selling third album, Slippery When Wet.
In 1982, Lionel Richie topped the Billboard Hot 100 for the first time as a solo artist with "Truly." The song marked the lead single off Richie's self-titled debut, initially released as a side project while he was still a member of the Commodores. A year later, the song earned Richie a Grammy Award for Best Male Pop Performance and cemented his power as a solo act.
In 1991, Queen frontman Freddie Mercury was laid to rest in a Zoroastrian service. Mercury's bandmates and friend Elton John were among those in attendance.
In 1962, The Beatles recorded their first BBC radio session in London, performing "Twist and Shout," "Love Me Do," and "P.S. I Love You."
Looking for more things that happened on this day in music?
Keep scrolling for all of the headlines for November 27.
BORN ON NOVEMBER 27:
1962: Mike Bordin (Faith No More)
1959: Charlie Burchill (Simple Minds)
1945: Randy Brecker (Blood, Sweat & Tears)
1942: Jimi Hendrix
1941: Eddie Rabbitt
1935: Al Jackson, Jr. (Booker T. & The M.G.'s)
1962: Charlie Benante (Anthrax)
1978: Mike Skinner (The Streets)
Looking for more artists born on this day?
Keep scrolling for all of our November 27 birthdays.
---
What to find another day?
---
November 27th
27 Nov 2014
Taylor Swift
was at No.1 on the US album chart with her fifth studio album 1989. The total US sales figure from the debut week of 1989 was the highest of any album since 2002 and 1989 became the best-selling album of 2014 in the US. The album has now sold over 9 million copies worldwide.
27 Nov 2006
Sir Cliff Richard lost a battle to extend the number of years that musicians could receive royalties for their records. Richard wanted copyright to last 95 years, rather than the present 50 years, but an independent review recommend the terms would not change. Sir Cliff's earliest big hit 'Move It', recorded in 1958 would start to come out of copyright in 2008.
27 Nov 2005
Multimillionaire defence contractor David H. Brooks booked New York's Rainbow Rooms and his daughter Elizabeth's favourite acts for her 'bat mitzvah' coming-of-age celebration. The stars who appeared included 50 Cent,
Tom Petty
,
Aerosmith
, Don Henley,
Joe Walsh
and
Stevie Nicks
. 50 Cent who was paid $500,000 to appear performed only four songs but he did manage to work in the lyric, "Go shorty, it's your bat miztvah, we gonna party like it's your bat mitzvah". The party cost an estimated $10 million, including the price of corporate jets to ferry the performers to and from the venue.
27 Nov 2005
Tony Meehan drummer with The Shadows died aged 62 from head injuries sustained in a fall at his London flat in Maida Vale. Had the 1963 UK No.1 single 'Foot Tapper' plus 28 other UK Top 40 singles. Left The Shadows in 1961 to work as a session drummer with Joe Meek. Also had the UK No.1 hit 'Diamonds' with Jet Harris.
27 Nov 2003
Figures released by The
Rolling Stones
showed that the band had grossed £175m from their 2002 '40 Licks World Tour.' The report also showed they had made over $1billion from 1989-2002 from royalties, album sales and tour revenue.
27 Nov 1997
A fan brought the funeral of INXS singer
Michael Hutchence
to a standstill when he tried to launch himself from a 20 ft high balcony with a cord around his neck. He was removed by police and taken away to a psychiatric unit.
27 Nov 1996
Former Stones Roses guitarist John Squires new band The Seahorses made their live debut, when they played at The Buckley Tivoli, England in front of 200 fans.
27 Nov 1991
Freddie Mercury
's funeral service was conducted by a Zoroastrian priest, for 35 of his close friends and family, with
Elton John
and the remaining members of
Queen
among those in attendance. Mercury was cremated at Kensal Green Cemetery, West London, England.
27 Nov 1986
Bon Jovi
were at No.1 on the US singles chart with 'You Give Love A Bad Name', it peaked at No.14 in the UK. Released as the first single from the album Slippery When Wet, in 2009 it was named the 20th-greatest hard rock song of all time by VH1.
27 Nov 1982
Lionel Richie was No.1 in the US with 'Truly'. Richie achieved a No.1 each year from 78-86 as a writer, 'Three Times A Lady', 'Still', 'Lady (Kenny Rodgers), 'Endless Love', (Diana Ross), 'All Night Long', 'Hello' 'Say 'You Say Me and as co-writer of 'We Are The World'.
27 Nov 1981
The British Phonographic industry placed advertisements in the press claiming that 'home taping was wiping out music'. The Boomtown Rats, 10cc,
Elton John
and Cliff Richard all backed the campaign.
27 Nov 1976
20 Golden Greats by
Glen Campbell
started a six-week run at No.1 on the UK album chart. During his 50 years in show business, Campbell released more than 70 albums and has sold over 45 million records.
27 Nov 1970
Black Sabbath
, Cactus and Steel Mill, (featuring
Bruce Springsteen
) all appeared at the Sunshine In, Asbury Park in New Jersey. All three acts played two shows, tickets cost $5.00.
27 Nov 1970
George Harrison
released
All Things Must Pass
which includes the hit singles '
My Sweet Lord
' and 'What Is Life', as well as songs such as 'Isn't It a Pity' and the title track that had been turned down for inclusion on releases by the Beatles. The triple album would go on to be certified 6x Platinum by the RIAA, making it the best selling album by a solo Beatle.
27 Nov 1969
During a North American tour The
Rolling Stones
played the first of four shows at Madison Square Garden, New York City. The group played to 55,000 fans over the four nights grossing over $100,000.
27 Nov 1967
The 16-date UK
package tour
with
Jimi Hendrix
,
Pink Floyd
, The Move, The Nice, The Outer Limits, The Eire Apparent and Amen Corner travelled to Belfast to appear for two shows at the Whitla Hall, Queens College. It was Jimi's 25th birthday and before the shows the guitarist was given a birthday cake by the promoters This was to be the only concert that The Jimi Hendrix Experience ever played in Ireland.
27 Nov 1964
Mick Jagger
was fined £16 for driving offences by a court in Tettenhall, Staffs. His solicitor told the court: "The Duke of Marlborough had longer hair than my client and he won some famous battles. His hair was powdered, I think because of fleas. My client has no fleas."
27 Nov 1962
The Beatles
recorded their first BBC radio session at the BBC Paris studio on Regent Street in London. They played 'Twist and Shout', '
Love Me Do
' and 'P.S. I Love You', the tracks were aired on the BBC Light Program 'Talent Spot.'
27 Nov 1961
Neil Christian and the Crusaders, featuring a young
Jimmy Page
on guitar, played a concert at Holloway Women's Prison in London, England. The inmates were all dressed in washed out yellow, green, blue and red faded floral print dresses and wore homemade mascara, using the charcoal from burnt matches.
Born on this day in music
27 Nov 1978
Mike Skinner, singer, songwriter, aka The Streets, (2004 UK No.1 album 'A Grand Don't Come For Free').
27 Nov 1973
Twista, (a.k.a Tung Twista, born Carl Terrell Mitchell), US rapper known for being the fastest in the world at rap delivery at one time. (2004 US No.1 album 'Kamikaze' 2004, US No.1 single 'Slow Jamz').
27 Nov 1965
Fiachna O'Braonain from Irish rock group Hothouse Flowers who scored the 1988 UK No.11 single 'Don't Go'. Their first album, People, released in 1988 became the most successful debut album in Irish history. It reached the No.1 slot in Ireland within a week and eventually reached No.2 in the UK Albums Chart.
27 Nov 1965
Wallis Buchannan, from Jamiroquai who had the 1993 UK No.1 album Emergency on Planet Earth and the 1998 UK No.1 single 'Deeper Underground'. Jamiroquai have sold more than 26 million albums worldwide and won a Grammy Award in 1998.
27 Nov 1962
Calvin Hayes from British band Johnny Hates Jazz who had the 1987 UK No.5 single and international success with 'Shattered Dreams'.
27 Nov 1962
Charlie Benante, Anthrax, (1991 UK No.16 single 'Got The Time').
27 Nov 1962
Mike Bordin, drummer, from American rock band, Faith No More who had the 1993 UK No.3 and US No.4 hit single with their version of The Commodores 'I'm Easy'. They had the best-selling albums The Real Thing (1989) and Angel Dust (1992).
27 Nov 1960
Ashley Ingram, from English three piece band Imagination, who had the 1982 UK No.2 single 'Just An Illusion'.
27 Nov 1959
Charlie Burchill, guitarist with Scottish rock band,
Simple Minds
, who had the 1985 US No.1 single 'Don't You, Forget About Me', and the 1989 UK No.1 single 'Belfast Child', plus over 20 other UK Top 40 singles. In 2016, they won the British Academy's Ivor Novello Award for Outstanding Song Collection.
27 Nov 1945
Randy Brecker, from jazz-rock American music group Blood Sweat & Tears. They scored the 1969 US No.2 single 'Spinning Wheel', and the 1969 US No.12 single 'You've Made Me So Very Happy'. They had a US No.1 with their second album Blood, Sweat & Tears in 1968.
27 Nov 1944
Trevor Davis, from British pop/rock group, Dave Dee, Dozy, Beaky, Mick and Tich, who scored the 1968 UK No.1 single 'Legend Of Xanadu'. Davis died in hospital on 13th January 2015 following a short illness.
27 Nov 1942
Jimi Hendrix
, guitarist, singer, songwriter who had the 1967 UK No.6 single 'Hey Joe', the 1970 UK No.1 single 'Voodoo Chile', and the 1968 US No.1 and UK No.6 album 'Electric Ladyland'. Hendrix who is widely considered to be the greatest guitarist in musical history made appearances at the 1967
Monterey Pop Festival
, the iconic 1969
Woodstock
Festival and the 1970 Isle Of Wight Festival. Hendrix died on 18th September 1970 after choking on his own vomit.
27 Nov 1941
Eddie Rabbitt, singer, songwriter who had the 1981 US No.1 hit 'I Love A Rainy Night'.
Elvis Presley
, Dr Hook and Tom Jones all recorded his songs. He died of cancer on 7th May 1998.
27 Nov 1936
French music producer and songwriter Henri Belolo. He was the creator along with Jacques Morali of acts like The Ritchie Family and Village People. He died on 3 August 2019 in Paris, France age 82.
27 Nov 1935
Al Jackson, drummer, Booker T and the MG's. (1962 US No.3 single 'Green Onions', 1969 UK No.4 single 'Time Is Tight'. Shot dead by burglars at his home 1st October 1975.