November 7th: The Biggest Music Headlines
Scroll down the page to see all the music headlines, stories and events for November 7 throughout music history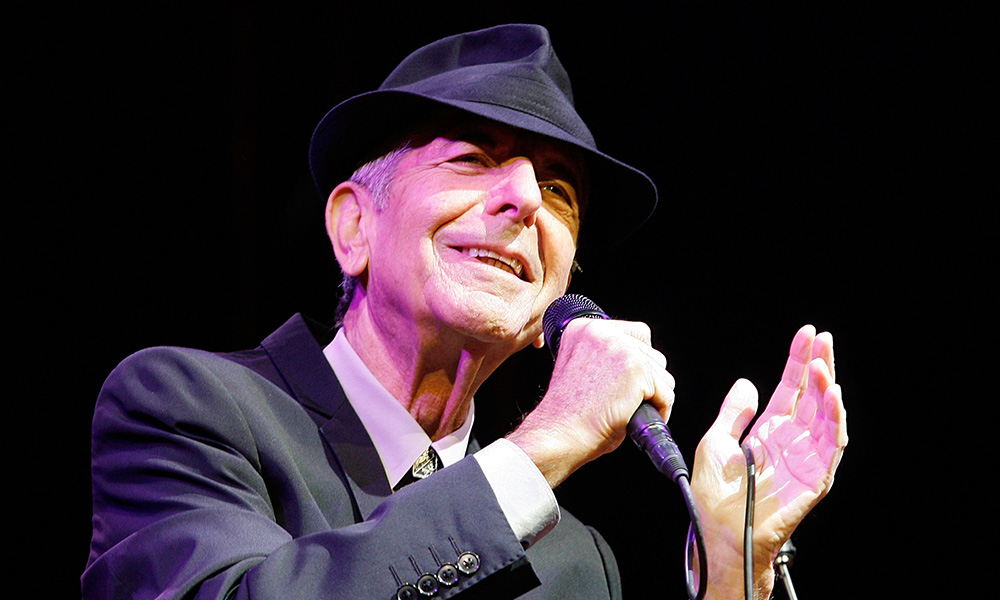 Fans Mourn The Loss Of Leonard Cohen
On November 7, 2016, singer, songwriter, novelist, and poet, Leonard Cohen, died at the age of 82. A highly-influential figure, Cohen built his name as a writer in the mid-50s, eventually launching a prolific music career in the late 60s, penning such classic songs as "Suzanne," "So Long, Marianne," "Bird on a Wire," "Dance Me to the End of Love," and "Hallelujah." A Rock and Roll Hall of Fame inductee, Cohen was celebrated throughout his life with a myriad of awards, including multiple Junos, Grammys, a BRIT, and a 2010 Grammy Lifetime Achievement Award. In 2011, the Canadian-born artist was invested as a Companion of the Order of Canada (the country's highest civilian honor).
In 1987, 15-year-old singer Tiffany became the youngest artist to top the Billboard Hot 100 with her cover of "I Think We're Alone Now" (originally recorded by Tommy James and the Shondells in 1967). The mononymous artist broke a record previously held by Michael Jackson (with 1972's "Ben").
In 1967, Elton John and Bernie Taupin signed to Dick James' DJM Records as in-house songwriters. Because both men were under 21 (Elton was 20 and Taupin was 17), their parents were present as witnesses.
In 1991, guitarist Izzy Stradlin, a founding member of Guns N' Roses, quit the band after six years. Gilby Clarke stepped in as his replacement.
In 1963, The Beatles made their first of only two appearances in Ireland, playing a two-night engagement at Dublin's Adelphi Cinema.
Looking for more things that happened on this day in music?
Keep scrolling for all of the headlines for November 7.
BORN ON NOVEMBER 7:
1937: Mary Travers (Peter, Paul, and Mary)
1942: Johnny Rivers
1943: Joni Mitchell
1967: Sharleen Spiteri (Texas)
1967: David Guetta
1988: Tinie Tempah
1996: Lorde
Looking for more artists born on this day?
Keep scrolling for all of our November 7 birthdays.
---
What to find another day?
---
November 7th
7 Nov 2020
Bones Hillman best known as the bass guitarist for the Australian alternative rock band Midnight Oil died from cancer age 62. Midnight Oil scored the 1987 world wide hit 'Beds Are Burning' and Hillman had also worked with Sheryl Crow.
7 Nov 2017
Finnish rock drummer Pentti Glan died of lung cancer at the age of 71. He is best known for his work with Alice Cooper and Lou Reed. He also appeared in the movie The Rose as the drummer of The Rose Band.
7 Nov 2016
Canadian singer, songwriter and poet Leonard Cohen died at the age of 82 at his home in Los Angeles. Cohen pursued a career as a poet and novelist during the 1950s and early 1960s, and did not launch a music career until 1967, at the age of 33. His first album, Songs of Leonard Cohen (1967), was followed by three more albums of folk music: Songs from a Room (1969), Songs of Love and Hate (1971) and New Skin for the Old Ceremony (1974). "Hallelujah" is a song written by Canadian singer Leonard Cohen, originally released on his album Various Positions (1984). His song 'Hallelujah' found greater popular acclaim through a recording by John Cale, which inspired a recording by
Jeff Buckley
.
7 Nov 2014
Two wealthy fans paid $300,000 to eat lasagne with
Bruce Springsteen
at his house. Springsteen started off the annual Stand Up For Heroes event by playing an acoustic set, then offering the instrument to the highest bidder. When bidding reached $60,000, he threw in a guitar lesson, which someone offered $250,000 for. At this point, he offered up a lasagne dinner at his house, a ride around the block in the sidecar of his motorbike and the shirt off of his back. All the money went to the Bob Woodruff Foundation, which helps injured servicemen and their families when they return home.
7 Nov 2014
Australian drummer of
AC/DC
, Phil Rudd, had a charge of attempting to arrange a murder dropped in New Zealand, but he will still facing charges of drugs possession and making threats to kill. The U-turn by authorities, announced less than 24 hours after Mr Rudd appeared in court, was because of a lack of evidence, his lawyer said.
7 Nov 2012
A woman died, and 19 others were injured, after scaffolding collapsed outside a
Linkin Park
concert in Cape Town, South Africa. The temporary scaffolding outside Green Point stadium came down in high winds just before the concert. The concert went ahead, with the band only learning of the death afterwards.
7 Nov 2004
Elton John
turned the air blue live on BBC
Radio 1
using the words; f****ing, w**k, and t**s. The singer was a guest on the Chris Moyles
Radio 1
breakfast show in the UK.
7 Nov 2002
12 Guns N' Roses fans were arrested during a riot after a gig in Vancouver was cancelled. Promoters pulled the gig after Axl Rose's flight from Los Angeles was delayed.
7 Nov 2002
Whitney Houston
's husband, Bobby Brown was arrested and charged with possession of marijuana, speeding, driving without a licence and having no proof of insurance after he was stopped by police in Atlanta City.
7 Nov 1999
Geri Halliwell went to No.1 on the UK singles chart with 'Lift Me Up', beating former colleague Emma Bunton's single which entered the chart at No.2. Sales of Geri's single were helped by front-page press reports about her dating Chris Evans.
7 Nov 1991
Rhythm guitarist Izzy Stradlin quit
Guns N' Roses
and was replaced by guitarist Gilby Clarke. Stradlin citied a combination of Axl Rose's personal behaviour and the difficulties of being around Slash, Matt Sorum, and Duff McKagan, due to his new-found sobriety.
7 Nov 1987
Bruce Springsteen
went to No.1 on the US album chart with 'Tunnel Of Love.' His eighth studio album went triple platinum in the US, with 'Brilliant Disguise' being one of his biggest hit singles, peaking at No.5 on the Billboard Hot 100.
7 Nov 1987
Tiffany became the youngest act to score a US No.1 since
Michael Jackson
('Ben', in 1972) with 'I Think we're Alone Now'. The song written by Ritchie Cordell was initially a 1967 hit for Tommy James & the Shondells.
7 Nov 1981
Hall and Oates
started a two week run at No.1 on the US singles chart with 'Private Eyes', the duo's third US No.1, a No.32 hit in the UK.
7 Nov 1975
A new world record was set for continuous guitar string plucking by Steve Anderson who played for 114 hours 17 minutes.
7 Nov 1975
Elton John
started a three week run at No.1 on the US album chart with 'Rock Of The Westies', the singers tenth studio album and seventh US No.1 contained the US No.1 and No.14 UK single, 'Island Girl', which was released prior to the album.
7 Nov 1974
Ted Nugent won a National Squirrel-shooting contest after picking off a squirrel at 150 yards. The heavy metal guitarist also shot dead 27 other mammals during the three day event.
7 Nov 1969
The
Rolling Stones
kicked off their 6th North American tour at Fort Collins state University, Colorado. Also on the bill was Ike and Tina Turner,
Chuck Berry
and B.B. King.
7 Nov 1967
Reg Dwight (
Elton John
) and his song writing partner Bernie Taupin signed to DJM publishing, their signatures had to be witnessed by their parents because they were both under 21 years of age. Taupin answered an advertisement for a lyric writer placed in the New Musical Express, the pair have since collaborated on over 30 albums.
7 Nov 1967
The Beatles
finished recording 'Blue Jay Way', 'Flying' and 'Magical Mystery Tour.'
The Beatles
have only six songs, not enough for an album so decided to issue a double-EP. Capitol Records didn't think the double-EP format would be acceptable for the US market, so they decide to put out an album instead. The six "Magical Mystery Tour" songs with five of the six songs from
The Beatles
' 1967 singles went on side two.
7 Nov 1963
The Beatles
went to Ireland to make their only two appearances ever in the country playing two shows at the Adelphi Cinema, Dublin. The group hooked up with screenwriter Alun Owen, who had been appointed to write the screenplay for
The Beatles
' first (as yet untitled) motion picture. Owen spent three days with
The Beatles
observing their hectic lifestyle.
7 Nov 1958
Eddie Cochran made his UK chart debut with 'Summertime Blues'. It reached No.18 in the UK & No.8 in the US. The song has been covered by many artists, including being a No.1 hit for country music artist, Alan Jackson, and a notable hit for the English rock band,
The Who
.
7 Nov 1951
Frank Sinatra
married his second wife actress Ava Gardner, the couple split up in 1953 and divorced in 1957. Sinatra was married three other times, to his first wife Nancy Barbato, to the actress Mia Farrow and finally to Barbara Marx, to whom he was married at his death.
Born on this day in music
7 Nov 1996
New Zealand singer-songwriter, Ella Yelich-O'Connor, known by her stage name Lorde who had the 2013 worldwide hit 'Royals', making her the first New Zealand solo artist to have a No.1 song in the United States. Her second studio album Melodrama topped charts in New Zealand, Australia, the United States and Canada.
7 Nov 1988
English rapper, Tinie Tempah, (born Patrick Chukwuemeka Okogwu). Scored the 2010 UK No.1 'Pass Out', and 'Written in the Stars'.
7 Nov 1978
Mark Daniel Read, vocals, A1, (2000 UK No.1 single, 'Same Old Brand New You').
7 Nov 1971
Robin Finck, American guitarist with Nine Inch Nails and Guns N' Roses.
7 Nov 1970
Neil Hannon, singer, Divine Comedy, (1999 UK No. 8 single 'National Express').
7 Nov 1967
French DJ and producer David Guetta. He produced the Black Eyed Peas song 'I Gotta Feeling', and scored the 2009 Australian No.1 single 'Sexy Bitch' featuring Akon. In 2013, Billboard crowned his hit 'When Love Takes Over' (with Kelly Rowland) as the No.1 dance-pop collaboration of all time. His 2022 single with Bebe Rexha 'I'm Good (Blue)' topped the charts in 22 countries.
7 Nov 1967
Sharleen Spiteri, singer, songwriter from Scottish pop rock band Texas who had the 1997 UK No.3 single 'Say What You Want', and the 1997 UK No.1 album White On Blonde which has been certified six-times platinum in the UK.
7 Nov 1964
Liam O'Maonlai, vocals, guitar, piano, from Irish rock group Hothouse Flowers who scored the 1988 UK No.11 single 'Don't Go'. Their first album, People, released in 1988 became the most successful debut album in Irish history. It reached the No.1 slot in Ireland within a week and eventually reached No.2 in the UK Albums Chart.
7 Nov 1963
Clint Mansell, guitarist, from English alternative rock band, Pop Will Eat Itself who scored the 1991 UK No.15 single 'X Y & Zee' and the 1993 top ten hit, 'Get The Girl! Kill The Baddies!'
7 Nov 1960
Tommy Thayer, lead guitarist, took over from Ace Frehley in American hard rock band
Kiss
. Thayer became the lead guitarist for Kiss in 2002.
7 Nov 1957
John "Jellybean" Benitez, producer, club DJ and remixer, who had the 1987 UK No.10 single 'Who Found Who'. He has also produced and remixed artists such as
Madonna
,
Whitney Houston
,
Michael Jackson
and the Pointer Sisters
7 Nov 1954
Robin Beck, singer, (1988 UK No.1 single 'First Time'). The song was taken from a TV advertisement for Coca-Cola. As a backing singer Beck worked with Melissa Manchester, Chaka Khan and Leo Sayer.
7 Nov 1951
Kevin Scott MacDonald, guitarist, with English rock band Cutting Crew, who scored the 1987 US No.1 & 1986 UK No.4 single 'I Just Died In Your Arms Tonight'.
7 Nov 1948
American musician Stephen Bruton. He worked with such artists and musicians as T Bone Burnett, Bonnie Raitt, Christine McVie, Elvis Costello and Carly Simon. He was also a member of Kris Kristofferson's band. Bruton died of complications of throat cancer in Los Angeles on 9 May 2009, aged 60.
7 Nov 1944
English bass guitarist Ray Randall. He was a member of The Tornados, their instrumental the 1962 'Telstar', reached No.1 all over the world and was the first British rock song to be a No.1 single in the United States.
7 Nov 1943
Joni Mitchell
(Roberta Anderson), Canadian singer, songwriter, 1970 UK No.11 single 'Big Yellow Taxi', 1974 US No.7 single 'Help Me'. She wrote 'Both Sides Now' a hit for Judy Collins and '
Woodstock
' a hit for
Crosby, Stills Nash & Young
and Matthews Southern Comfort. Mitchell's work is highly respected by critics, and she has deeply influenced fellow musicians in a diverse range of genres.
7 Nov 1942
Johnny Rivers, US singer, songwriter, (1966 US No.1 single 'Poor Side Of Town' plus over 15 other US Top 40 hits).
7 Nov 1937
Mary Travers, singer-songwriter from American folk group Peter Paul and Mary, who had the 1969 US No.1 & 1970 UK No.2 single 'Leaving On A Jet Plane'. The
Bob Dylan
song 'Blowin' in the Wind' was one of their biggest hit singles. They also sang other Dylan songs, such as 'The Times They Are a-Changin'' and 'Don't Think Twice, It's All Right'. She died on 16th Sept 2009 aged 72.