November 9th: The Biggest Music Headlines
Scroll down the page to see all the music headlines, stories and events for November 9 throughout music history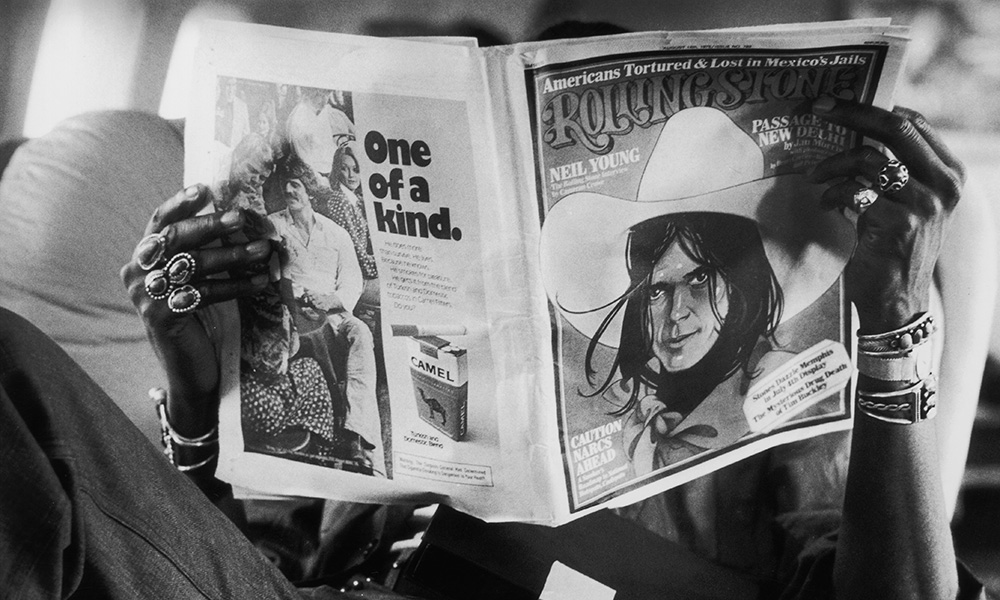 'Rolling Stone' Publishes Its Inaugural Issue
On November 9, 1967, the very first issue of Rolling Stone was published. Founded by Jann Wenner and music writer Ralph J. Gleason, the then-San Francisco-based magazine focused its reporting on music and politics. Wenner and Gleason explained the inspiration behind the publication's name in their inaugural issue, which featured John Lennon on the cover, wearing his costume for the film How I Won the War. "[It] comes from an old saying, 'A rolling stone gathers no moss,' they wrote. "Muddy Waters used the name for a song he wrote. The Rolling Stones took their name from Muddy's song. Like a Rolling Stone was the title of Bob Dylan's first rock and roll record. We have begun a new publication reflecting what we see are the changes in rock and roll and the changes related to rock and roll."
In 1969 Simon and Garfunkel recorded one of their most famous songs, "Bridge Over Troubled Water." Featuring lead vocals by Art Garfunkel, the lush ballad was a global smash, topping the charts in the UK, Canada, Indonesia, France, and the US, where it remained at No.1 for six weeks. The following year, it won five Grammy Awards. Over the decades, it has become one of history's most-covered songs, with recordings by Aretha Franklin, Elvis Presley, and Johnny Cash, among dozens of others.
In 1968, Led Zeppelin played their first show in London at The Roundhouse, sharing the bill with John Lee Hooker, Deviants, John James, and Tyres. The show also served as the reception to frontman Robert Plant's wedding, which took place earlier in the day.
In 1966, John Lennon and Yoko Ono met for the first time at London's Indica Gallery, which was hosting the Japanese artist's exhibit, Unfinished Paintings and Objects.
In 1993, Dave Matthews Band released their debut, Remember Two Things. The album, which marks the group's only title to feature a "the" in front of their name, was primarily made up of live recordings. It was reissued in 1997, after the band signed to RCA, and certified platinum in 2002.
In 1955, The Everly Brothers made their first recordings, cutting four songs in just over 20 minutes at Nashville's Old Tulane Hotel studios.
Looking for more things that happened on this day in music?
Keep scrolling for all of the headlines for November 9.
BORN ON NOVEMBER 9:
1941: Tom Fogerty (Creedence Clearwater Revival)
1948: Alan Gratzer (REO Speedwagon)
1954: Dennis Stratton (Iron Maiden)
1960: Demetra Plakas (L7)
1969: Sandra "Pepa" Denton (Salt-N-Pepa)
1977: Sisqo
1994: MNEK
Looking for more artists born on this day?
Keep scrolling for all of our November 9 birthdays.
---
What to find another day?
---
November 9th
9 Nov 2016
David Bowie
's retrospective show at the Victoria & Albert Museum had enjoyed so much foot traffic it was now officially the most successful touring exhibition in the cultural institution's 164-year history. According to the V&A's over half a million people had visited
David Bowie
Is in sites across the globe, including the 312,000 visitors who saw the exhibition in London back in 2013.
9 Nov 2015
Scottish session drummer Andy White died aged 82. He was affectionately christened "the fifth Beatle" as he was best known for replacing
Ringo Starr
on drums on the
The Beatles
' first single, '
Love Me Do
'. White was featured on the American 7" single release of the song, which also appeared on the band's debut British album, Please Please Me. He also played on 'P.S. I Love You', which was the B-side of '
Love Me Do
'. White also worked with
Chuck Berry
, Billy Fury, Herman's Hermits and Tom Jones.
9 Nov 2014
Cheryl Fernandez-Versini become the first British female solo artist to have five No.1 singles in the UK after her latest song, 'I Don't Care', entered the Official Charts in pole position. The 31-year-old overtook
Spice Girl
Geri Halliwell and Rita Ora, who both had four chart-toppers.
9 Nov 2014
One Direction were the big winners at the 2014
MTV
Europe Music Awards, held in Glasgow, Scotland, picking up three awards including best pop act. They also won best live and biggest fans. Ariana Grande picked up her first EMA's for best female and best song for 'Problem'. 5 Seconds Of Summer won the Best New Act award.
9 Nov 2008
Miriam Makeba, the South African singer who reached No.12 on the Billboard chart in 1967 with 'Pata Pata', suffered a fatal heart attack at the age of 76. Among her many notable achievements was becoming the first African woman to win a Grammy, for Best Folk Recording in 1966 with Harry Belafonte for 'An Evening With Belafonte / Makeba'.
9 Nov 2004
A Dutch man was jailed for nine months for harassing former
Spice Girl
Melanie Chisholm. The unnamed 39-year-old sent the singer parcels, letters and tapes during 2001. Dutch police searched the man's home after he tried to hand-deliver a parcel to Ms Chisholm's London home.
9 Nov 2002
It was announced that
Madonna
's latest movie 'Swept Away' would not be released in the UK because it had been such a box office flop in the US. The Washington Post said the film was "as awful as you've heard and as bad as you've imagined."
9 Nov 2002
Viewers of the UK music channel VH1 voted 'I Will Always Love You' by
Whitney Houston
as the number 1 most romantic song ever. In second place
Elvis Presley
'You Were Always On My Mind' and third place went to 'My Heart Will Go On' by
Celine Dion
.
9 Nov 1999
American producer, songwriter and co-founder of Atlantic records Herb Abramson died age 82. He produced Tommy Tucker's 1964 hit 'High Heeled Sneakers.' He was the owner of A-1 Sound studios and clients included Barry Manilow, Bette Midler, The
Supremes
, Patti Smith, and Muddy Waters.
9 Nov 1997
Paul Weller was arrested and spent the night in a French jail after smashing up his hotel room. His record company paid £4,000 to cover the damage; Weller was released the following day.
9 Nov 1996
Oasis
singer
Liam Gallagher
was arrested after being stopped by police in London's Oxford Street and charged with possession of a class A controlled substance.
9 Nov 1993
The Dave Matthews Band released their first album, 'Remember Two Things' on the Bama Rags label.
9 Nov 1991
Prince
and the New Power Generation started a two week run at No.1 on the US singles chart with '
Cream
', a No.15 hit in the UK.
9 Nov 1991
Richard Marx played in five cities in 1 day during a 'Rush-n Rush Out, Street Tour'. Marx appeared in Baltimore, New York City, Cleveland, Chicago and Burbank Airport.
9 Nov 1990
The internal revenue seized all of US country singers Willie Nelson's bank accounts and real estate holdings in connection with a $16million tax debt.
9 Nov 1985
Jan Hammer went to No.1 on the US singles chart with the 'Miami Vice Theme', a No.5 hit in the UK.
9 Nov 1974
Bachman Turner Overdrive went to No.1 on the US singles chart with 'You Ain't Seen Nothin' Yet'. Randy Bachman stuttered through the lyrics of the demo recording as a private joke about his brother Gary, who had a speech impediment. The record company liked that take better than the non-stammering version and released it.
9 Nov 1969
Simon and Garfunkel record what would become their signature tune, '
Bridge Over Troubled Water
' with future member of Bread, Larry Knechtel on piano. Art wanted Paul to sing the song, but Paul insisted that Art's voice was better suited for it. It was a decision that Paul would later say he regretted. The song won five awards at the 13th Annual Grammy Awards in 1971, including Grammy Award for Record of the Year and Song of the Year.
9 Nov 1968
Led Zeppelin
played their first ever London show when they appeared at The Roundhouse, Chalk Farm on the same bill as John Lee Hooker, Deviants, John James and Tyres. Zeppelin singer Robert Plant married his girlfriend Maureen in London on this day and held the reception at the gig.
9 Nov 1967
The first issue of Rolling Stone Magazine was published in San Francisco. It featured a photo of
John Lennon
on the cover, dressed in army fatigues while acting in his recent film, How I Won the War and the first issue had a free roach clip to hold a marijuana joint. The name of the magazine was compiled from three significant sources: the Muddy Waters song, the first rock 'n' roll record by
Bob Dylan
and The
Rolling Stones
.
9 Nov 1966
John Lennon
met Yoko Ono for the first time when he visited her art exhibition 'Unfinished Paintings and Objects' at the Indica Gallery in London.
9 Nov 1961
Brian Epstein saw
The Beatles
playing live for the first time during a lunchtime session at The Cavern Liverpool. Epstein went on to be the group's manager. That night they appeared at Litherland Town Hall in Liverpool.
9 Nov 1958
Elvis Presley
's 'Hound Dog', exceeded three million copies sold in the USA, becoming only the third single to do so. Bing Crosby's 'White Christmas' & 'Rudolph The Red Nose Reindeer' by Gene Autry being the other two.
9 Nov 1955
The Everly Brothers made their first studio recordings cutting four tracks in 22 minutes, at Nashville's Old Tulane Hotel studios. Family friend Chet Atkins engineered a chance for The Everly Brothers to record for Columbia Records in early 1956. However, their first and only single for the label, 'Keep A' Lovin' Me', was a flop, and they were quickly dropped from Columbia.
Born on this day in music
9 Nov 1994
British recording artist, musician, singer, songwriter and record producer MNEK. His writing and production credits include Little Mix, Dua Lipa, The Saturdays, Clean Bandit, Craig David, Christina Aguilera,
Kylie Minogue
, Beyoncé and
Madonna
.
9 Nov 1984
Delta Goodrem, Australian singer, actress, (Nina Tucker in TV soap opera Neighbours). 2002 Australian No.1 and 2003 UK No. 3 single 'Born To Try' plus six other Australian No.1 singles. 2003 UK No.2 album 'Innocent Eyes'.
9 Nov 1977
Sisqo, (a.k.a. Mark Andrews), 2000 US & UK No.3 single 'Thong Song').
9 Nov 1970
Scarface, (Brad Terrance Jordan), American rapper, (1997 US No.1 album 'The Untouchable').
9 Nov 1969
Sandra Denton (Pepa) from American hip-hop/rap trio from New York City Salt-N-Pepa who had the 1991 hit single 'Let's Talk About Sex'.
9 Nov 1960
Demetra Plakas, drummer with American rock band L7 who were associated with the grunge movement of the late 1980s and early 1990s. L7 influenced many of the riot grrrl bands of the 1990s.
9 Nov 1954
Dennis Stratton, guitar,
Iron Maiden
, (1982 UK No.1 album The Number Of The Beast, 1991 UK No.1 single 'Bring Your Daughter To The Slaughter').
9 Nov 1950
David Ebo, American singer from Philadelphia. He repelaced Teddy Pendergrass in Harold Melvin & the Blue Notes in 1976. He died of bone cancer age 43 on 30 November 1993.
9 Nov 1948
Alan Gratzer, from American rock band REO Speedwagon, who had the 1981 US No.1's 'Keep On Loving You' and 'Can't Fight This Feeling'. They named the band REO Speedwagon, from the REO Speed Wagon, a flatbed truck.
9 Nov 1948
Joe Bouchard, bassist from American hard rock band Blue Oyster Cult who scored the 1976 US No.12 & 1978 UK No.16 single '(Don't Fear) The Reaper'. Blue Oyster Cult have sold over 24 million records worldwide.
9 Nov 1944
Phil May, singer with the Pretty Things. He played on all of their charting singles, which included 'Rosalyn', (covered by
David Bowie
on his Pinups album) 'Don't Bring Me Down', 'Road Runner', and 'Cry to Me'. They took their name from Willie Dixon's 1955 song 'Pretty Thing'. He died on 15 May 2020 age 75 after suffering complications from emergency hip surgery.
9 Nov 1943
Lee Graziano from American rock band American Breed who scored the 1967 US No.5 single 'Bend Me, Shape Me', (a hit on the British charts for the British group Amen Corner).
9 Nov 1941
American musician Tom Fogerty, best known as the rhythm guitarist for
Creedence Clearwater Revival
who scored the 1969 US No.2 & UK No.1 single 'Bad Moon Rising', and the 1970 US & UK No.1 album Cosmo's Factory. The band has sold 26 million albums in the United States alone. Fogerty died on 6 September 1990.
9 Nov 1937
Roger McGough, The Scaffold, (1968 UK Christmas No.1 single 'Lily The Pink').