October 11th: The Biggest Music Headlines
Scroll down the page to see all the music headlines, stories and events for October 11 throughout music history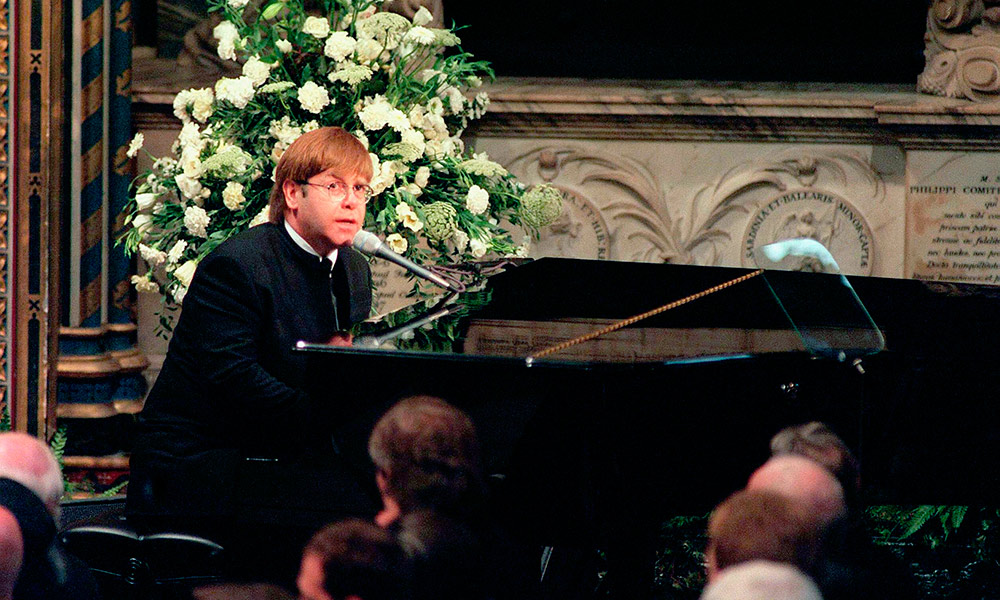 Elton John's Tribute To Princess Diana Tops The Charts
On October 11, 1997, Elton John topped the Billboard Hot 100 with "Candle in the Wind 97," a reimagining of his 1974 hit. While the original song was written about Marilyn Monroe, this version (also known as "Goodbye England's Rose") was a tribute to his late friend, Princess Diana, and performed at her funeral weeks earlier, following her tragic death. Immediately after the service, the singer-songwriter recorded the song and released it days later to raise funds for the Diana, Princess of Wales fund. The public's response to the song was overwhelming. Around the globe, it topped the charts in more than 20 countries, including the UK, Japan, Australia, and the US. The Grammy-winning track became the first single to receive a Diamond certification by the RIAA (marking 10 million units sold) and was named the best-selling single in UK chart history. The song also became the world's second-highest single ever sold, trailing Bing Crosby's "White Christmas."
In 2016, British artist Rod Stewart became Sir Rod Stewart when he was knighted by the Duke of Cambridge (aka Prince William) at Buckingham Palace. Recognized for his work as a singer and songwriter, Stewart was on the Queen's Birthday Honours list, which is part of Her Majesty's annual birthday celebrations.
In 2009, with LP Love Is the Answer, Barbra Streisand became the first artist in America to have a No.1 album in five different decades.
In 1962, The Beatles made their debut on the UK charts with the single "Love Me Do." The song would peak at No.4.
In 1990, drummer Dave Grohl played his first show with Nirvana at Olympia's North Shore Surf Club.
In 1986, Janet Jackson scored her first of many No.1 hits in the US with "When I Think of You."
Looking for more things that happened on this day in music?
Keep scrolling for all of the headlines for October 11.
BORN ON OCTOBER 11:
1946: Daryl Hall (Hall & Oates)
1950: Andrew Woolfolk (Earth, Wind & Fire)
1962: Scott Johnson (Gin Blossoms)
1973: Brendan Brown (Wheatus)
1992: Cardi B
Looking for more artists born on this day?
Keep scrolling for all of our October 11 birthdays.
---
What to find another day?
---
October 11th
11 Oct 2021
American musician and singer Deon Estus died at the age of 65. He is best known as the bass player of Wham! and as the bassist on
George Michael
's first two solo projects. Estus' single 'Heaven Help Me', with additional vocals by George Michael, reached No.5 on the Billboard Hot 100 chart in 1989.
11 Oct 2016
Sir
Rod Stewart
said he was "on cloud nine" after being knighted by the Duke of Cambridge at Buckingham Palace. The singer was honoured in the Queen's birthday honours list in recognition of his services to music and charity.
11 Oct 2015
Camera Obscura keyboardist Carey Lander died from osteosarcoma, a rare form of blood cancer aged 33. The Scottish indie pop band's first album, Biggest Bluest Hi Fi, was released in 2001.
11 Oct 2012
The
Rolling Stones
new single, 'Doom And Gloom', was released, the first new studio recordings since 2005's A Bigger Bang. Doom And Gloom was the lead single from the band's most recent greatest hits collection, GRRR!
11 Oct 2010
George Michael
was released from Highpoint Prison in Suffolk, England after serving four of an eight week sentence for driving under the influence of drugs. The singer had been arrested after crashing his car into the front of a Snappy Snaps store in Hampstead, North London in July of this year.
11 Oct 2009
Barbra Streisand went to No.1 on the US album charts with 'Love Is the Answer'. Streisand's ninth No.1 album, making her the only artist to have a number one album in America in five different decades.
11 Oct 2009
54-year-old Jo Wood, wife of The
Rolling Stones
Ronnie Wood
was granted a divorce after 24 years of marriage on the grounds of adultery. The couple split in 2008 after the guitarist, 64, began a relationship with a 20-year-old woman.
11 Oct 2006
Madonna
adopted a one-year-old boy in Malawi, Africa, the boy's father, Yohane Banda, told reporters "I know he will be very happy in America." The boy's mother had died a week after he was born.
11 Oct 2005
Freddie Mercury
's 1974 Rolls Royce Silver Shadow was offered for auction on eBay by his sister, Kashmira Cooke, who had inherited the car from him. The luxury vehicle had not appeared in public since 2002, when it had been used to transport the Bulsara family to the premiere of the
Queen
stage musical We Will Rock You. It came with a box of Kleenex Mansize tissues left in the car by Freddie.
11 Oct 2003
Mojo magazine readers voted the studio session for
Elvis Presley
's debut single 'That's All Right' the most pivotal moment in rock history.
Bob Dylan
's switch from acoustic to electric guitars in 1965 came second, and 'White Riot, the debut single by
The Clash
released in 1977 was voted third.
11 Oct 1999
Motley Crue drummer
Tommy Lee
was released on $5000 bail after facing charges relating to a riot at a gig in North Carolina in 1997. Lee allegedly incited the crowd to attack a guard and had also poured a drink over his head.
11 Oct 1997
Elton John
went to No.1 on the US singles chart with 'Candle In The Wind 97' A re-write of his 1974 hit about Marilyn Monroe. This version was raising funds for the Diana, Princess of Wales charity, following her death in Paris. It went on to become the biggest selling single in the world ever.
11 Oct 1997
The Verve started a four-week run at No.1 on the UK album chart with their third album Urban Hymns. The band's best-selling release features 'Bitter Sweet Symphony', and 'The Drugs Don't Work'. It is currently ranked the 15th best-selling album in UK.
11 Oct 1995
Tupac Shakur
was released from Clinton Correctional Prison on $1.4 Million bail which was posted by Suge Knight. In return 2Pac signed a three album deal with Knight's Death Row Records.
11 Oct 1991
Apple Computers settled a lawsuit launched by
The Beatles
record company, Apple Corporation, over name and logo rights. The computer company reportedly paid $29 million to settle the suit.
11 Oct 1990
Drummer Dave Grohl played his first gig with
Nirvana
when they appeared at the North Shore Surf Club in Olympia.
11 Oct 1989
Michael Jackson
attended the opening ceremony of the
Michael Jackson
Auditorium at his former school, Gardner Street Elementary in Hollywood, California. In November, 2003, school officials covered over Jackson's name with painted plywood, leaving only the word "Auditorium" showing, after receiving requests from angry parents when Jackson was booked on suspicion of child molestation.
11 Oct 1986
Janet Jackson
started a two week run at No.1 on the US singles chart with 'When I Think Of You', her first US No.1, a No.10 hit in the UK.
11 Oct 1986
Madonna
was at No.1 on the UK singles chart with the title track from her album. 'True Blue' her third UK No.1. The title came from a favorite expression of her then husband Sean Penn and was a direct tribute to him.
11 Oct 1981
The
Rolling Stones
performed at the Memorial Coliseum, Los Angeles, California, USA, as part of a 50-date North American tour. 95 fans were arrested after trouble broke out at the venue. The tour became the largest grossing of 1981, with $50 million in ticket sales.
11 Oct 1980
The Police
scored their second UK No.1 album with their third studio release 'Zenyatta Mondatta', which featured, 'Don't Stand So Close to Me', 'Canary in a Coalmine and 'De Do Do Do, De Da Da Da.'
11 Oct 1976
Pussycat started a four week run at No.1 on the UK singles chart with 'Mississippi' making them the first Dutch act to top the UK chart.
11 Oct 1974
John Denver was at No.1 on the UK singles chart with 'Annie's Song.' The song was a tribute to his wife and was written in 10 minutes while he was on a ski lift.
11 Oct 1969
One Hit Wonders
Jane Birkin and Serge Gainsbourg were at No.1 on the UK singles chart with 'Je t'aime... Moi non plus.' Banned by many radio stations for its sexual content and sounds and for first time in the history of the show, the BBC's
Top Of The Pops
producers refused to air the No. 1 song.
11 Oct 1968
During a Beatles recording session at Abbey Road six saxophonists recorded parts for 'Savoy Truffle' for the forthcoming
White Album
.
George Harrison
distorted the saxophones to get the desired sound.
11 Oct 1967
The Doors
appeared at Danbury High School, Danbury, Connecticut. Before the group came on stage an announcer told the audience not to leave their seats during the performance or they would be escorted out of the venue. There was also a beauty pageant just prior to
The Doors
coming on stage.
11 Oct 1962
The Beatles
made their first appearance on the UK singles chart with '
Love Me Do
' which peaked at No. 4 on the chart.
11 Oct 1961
The Highwaymen were at No.1 on the UK singles chart with 'Michael'. The US group's only UK Top 40 hit. The Highwaymen were US college students who broke up when they graduated.
11 Oct 1955
Born on this day in music
11 Oct 1992
American rapper, songwriter, and actress, Cardi B. Her debut studio album, Invasion of Privacy (2018), debuted at No.1 on the Billboard 200 and broke several streaming records.
11 Oct 1973
Brendan Brown, guitarist and singer from American rock band Wheatus who had the 2001 UK No 2 single 'Teenage Dirtbag' which appeared in the movie Loser.
11 Oct 1971
MC Lyte, US female rapper, (1997 UK No.15 single, 'Cold Rock A Party').
11 Oct 1962
Scott Johnson, from American rock band Gin Blossoms, who had the 1994 UK top 30 hit single 'Hey Jealousy', from their first major label album, New Miserable Experience (1992).
11 Oct 1957
Blair Cunningham, drums, Haircut 100. The band had four UK Top 10 hit singles between 1981 and 1982, including 'Favourite Shirts (Boy Meets Girl)', 'Love Plus One' and 'Fantastic Day'.
11 Oct 1957
Jon Langford, guitar, vocals, The Mekons.
11 Oct 1950
Andrew Woolfolk, saxophonist with Earth, Wind & Fire, who had the 1975 US No.1 single 'Shining Star', and the 1981 UK No.3 single 'Let's Groove'. The band has received 20 Grammy nominations and were the first African-American act to sell out Madison Square Garden.
11 Oct 1946
American rock, R&B, and soul singer,
Daryl Hall
, from Hall and Oates, who had the 1982 US No.1 & UK No.6 single 'Maneater', plus five other US No.1 hits. Hall scored the solo 1986 UK No.28 single 'Dreamtime'. Since late 2007, he has hosted the web television series, Live from Daryl's House, which is now aired on
MTV
. He was inducted into the Songwriters Hall of Fame in 2004. Hall and Oates have sold an estimated 40 million records, making them the third-bestselling music duo of all time
11 Oct 1946
Gary Mallaber, drums, Steve Miller Band, (1974 US No.1 & 1990 UK No.1 single 'The Joker').