October 12th: The Biggest Music Headlines
Scroll down the page to see all the music headlines, stories and events for October 12 throughout music history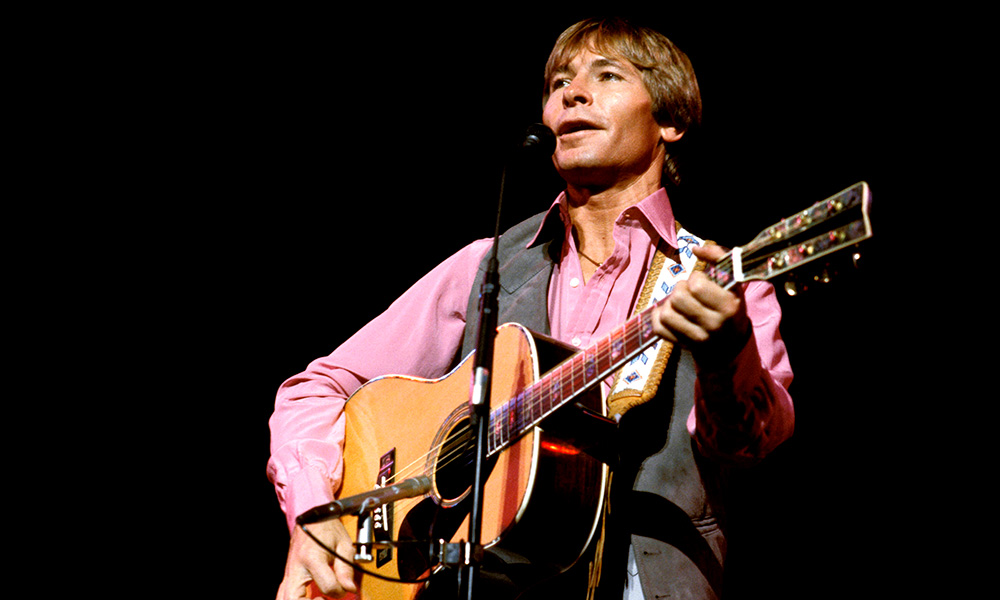 John Denver Dies In A Plane Crash
On October 12, 1997, best-selling singer-songwriter John Denver died at the age of 53. The artist, who was an avid pilot, was killed while flying a handmade airplane in Monterey Bay, CA. One of the most popular singer-songwriters of the 70s, Denver was known for his love of the outdoors and his joyful, acoustic melodies. He released hundreds of songs during his lengthy career, including such signature hits as "Rocky Mountain High," "Take Me Home, Country Roads," and "Sunshine on My Shoulders." A longtime resident of Colorado, Denver was named the state's poet laureate, while "Rocky Mountain High" was adopted as one of the state's two official songs.
In 1978, Sex Pistols bassist and co-vocalist Sid Vicious was arrested for killing his girlfriend, Nancy Spungen. After a night of partying, Spungen was found stabbed to death at New York's Hotel Chelsea, where the couple had been living. Before the case could go to trial, Vicious died of a heroin overdose, while on bail.
In 2021, Paddy Maloney, co-founder and frontman of The Chieftains, died at the age of 83. The Irish musician led the internationally-renowned group for nearly 60 years, appearing on 44 albums, winning six Grammys alongside his bandmates, and popularizing traditional Irish folk music around the globe.
In 1996, 28 years after it took place, the Rolling Stones' Rock and Roll Circus concert film was officially released. The show took place on December 11-12, 1968 on a makeshift circus stage, and featured an all-star line-up of talent, including The Who, Taj Mahal, Jethro Tull, Marianne Faithful, and the Stones. The concert also included a performance by Dirty Mac: a one-off supergroup led by John Lennon and Yoko Ono, featuring Eric Clapton, Keith Richards, Mitch Mitchell, and Ivry Gitlis. While the concert was initially slated to air on the BBC, the Stones chose not to broadcast it, as they were unhappy with their performance. Luckily for fans, they changed their minds decades later, when the film premiered at the New York Film Festival.
In 1974, Debbie Harry, Fred Smith, Billy O'Connor, and Chris Stein played their first show as Blondie at CBGBs. The newly-formed group had played several dates in August under the moniker of Angel and the Snake. The inspiration for the band name was inspired by the catcalls of truck drivers, who frequently yelled "Hey, Blondie" to the group's platinum-haired lead singer.
In 1957, Little Richard declared that he would give up rock'n'roll for the gospel. The "Tutti Frutti" and "Long Tall Sally" singer was in the middle of an Australian tour, flying between shows when he saw a fireball flash across the sky (likely the launch of the first Sputnik satellite). The shaken star believed it was a sign from god, and renounced his secular career, moving to Alabama to study theology.
Looking for more things that happened on this day in music?
Keep scrolling for all of the headlines for October 12.
BORN ON OCTOBER 12:
1935: Sam Moore (Sam & Dave)
1935: Luciano Pavarotti
1948: Rick Parfitt (Status Quo)
1955: Pat Dinizio (The Smithereens)
1956: David Letts (The Damned)
1969: Martie Maguire (The Chicks)
Looking for more artists born on this day?
Keep scrolling for all of our October 12 birthdays.
---
What to find another day?
---
October 12th
12 Oct 2021
Irish musician, composer, and record producer Paddy Moloney died suddenly at a hospital in Dublin at the age of 83. He co-founded and led the Irish musical group the Chieftains, playing on all of their 44 albums. Moloney aslo did session work for Mike Oldfield,
Mick Jagger
, Gary Moore,
Paul McCartney
,
Sting
,
Don Henley
and
Stevie Wonder
.
12 Oct 2016
American soul music singer, songwriter, arranger, and record producer Sonny Sanders died age 77. He formed the Satintones in Detroit in 1957 becoming the first vocal group signed to
Motown
, and released their first record, 'Going to the Hop' / 'Motor City' in 1960. He later arranged strings on may hits including Jackie Wilson's 'Higher and Higher' and 'I Get the Sweetest Feeling'.
12 Oct 2016
David Bowie
and
Prince
were both new entries in the latest list of top-earning dead celebrities compiled by Forbes.
Prince
's pre-tax income from 1 October 2015 to 1 October 2016 was estimated at $25m (£20.5m) by the business magazine, putting him fifth in the list. Bowie, meanwhile, was ranked at 11th for an estimated income of $10.5m (£8.5m). Both, however, are dwarfed by
Michael Jackson
who topped the list once again with a record-breaking estimated income of $825m (£672.8m).
12 Oct 2014
British singer-songwriter George Ezra was at No.1 on the UK album chart with his debut studio album Wanted on Voyage which became the third best-selling album of 2014 in the UK. The album's title is a reference to the sticker used on the suitcase of Paddington Bear, who was Ezra's hero when he was a child.
12 Oct 2008
Oasis
went to No.1 on the UK album chart with 'Dig Out Your Soul' the band's seventh and final studio album.
12 Oct 2005
Motley Crue drummer
Tommy Lee
suffered minor burns at a concert in Casper, Wyoming during a pyrotechnics explosion. Lee was treated at a local hospital for the injuries to his arm and face, which occurred while he was suspended from a wire 30 feet above the stage.
12 Oct 2005
Singer and
Live Aid
co-founder Midge Ure received an honorary degree from Dundee's University of Abertay. He said: "Having left school at the age of 15, I never expected to receive such an accolade."
12 Oct 1999
The island of their birth, The Isle Of Man, issued six stamps honouring The
Bee Gees
. Their mother had run a local post office on the island.
12 Oct 1997
John Denver was killed when the handmade, experimental airplane he was flying ran out of gas and crashed off the coast of Monterey Bay, California. The 53 year old star had scored 15 songs on Billboard's Top 40 Pop chart, ten of which reached number one on either Billboard's Adult Contemporary or Country chart.
12 Oct 1994
Pink Floyd
played the first of a 15-night run at Earls Court, London, England. Less than a minute after the band had started playing 'Shine On You Crazy Diamond', a scaffolding stand holding 1200 fans, collapsed, throwing hundreds of people 20 feet to the ground. It took over an hour to free everyone from the twisted wreckage, ninety-six people were injured, with 36 needing hospital treatment. Six were detained overnight with back, neck and rib injuries.
Pink Floyd
sent a free T-shirt and a note of apology to all the fans who had been seated in the stand that collapsed. The show was immediately cancelled and re-scheduled.
12 Oct 1991
Simply Reds fourth album 'Stars' went to No.1 on the UK chart for the first of five times, featuring the singles 'Thrill Me', 'For Your Babies' and the title track 'Stars.' The album became the biggest seller of 1991 and 1992 in the UK spending 134 week's on the chart.
12 Oct 1985
Ricky Wilson of the B-52's died of complications from aids. The B-52's, had the 1990 UK No.2 & US No.3 single 'Love Shack'.
12 Oct 1985
Jennifer Rush was at No.1 on the UK singles chart with 'The Power Of Love'. The song stayed at No.1 for five weeks and became the biggest selling single of the year and the biggest single ever for a woman in the UK.
Celine Dion
enjoyed a No.1 US hit with her version in 1993.
12 Oct 1979
Fleetwood Mac
released their twelfth album Tusk, an experimental set of songs that cost the band over $1 million to record. The double album peaked at No.4 in the US and achieved sales in excess of two million copies, spawning two Top Ten singles, 'Sara' and the title track. It reached No.1 in the UK and achieved Platinum status.
12 Oct 1978
Whilst living at the Chelsea Hotel in New York City, Sex Pistol Sid Vicious called the police to say that someone had stabbed his girlfriend Nancy Spungen. He was arrested and charged with murder and placed in the detox unit of a New York prison. Vicious died of a heroin overdose before the case went to trial.
12 Oct 1975
Rod Stewart
and the
Faces
made their final live appearance when they played at Nassau Coliseum, Long Island. The group produced four studio albums: First Step (1970), Long Player (1971), A Nod Is As Good As a Wink... to a Blind Horse (1971) and Ooh La La (1973).
12 Oct 1974
The Bay City Rollers went to No.1 on the UK album chart with their debut album 'Rollin.' The album included three British chart hits 'Remember', 'Shang-a-Lang', 'Summerlove Sensation') and the debut of 'Saturday Night', never a British hit yet a No.1 smash in America.
12 Oct 1974
Blondie
appeared at CBGB's in New York City, under the name Blondie for the first time. The name is derived from comments made by truck drivers who catcalled "Hey, Blondie" to Harry as they drove by.
12 Oct 1971
Gene Vincent (Vincent Eugene Craddock), died from a perforated ulcer, aged 36. Had the 1956 US No.7 & UK No.16 single 'Be Bop A Lula'. Appeared in the film, The Girl Can't Help It with Jayne Mansfield. In 1960, while on tour in the UK, Vincent and songwriter Sharon Sheeley were seriously injured the car crash that killed Eddie Cochran.
12 Oct 1969
A DJ on Detroit's WKNR radio station received a phone call telling him that if you play
The Beatles
'Strawberry Fields Forever' backwards, you hear
John Lennon
say the words "I buried Paul." This started a worldwide rumour that
Paul McCartney
was dead.
12 Oct 1968
Big Brother And The Holding Company went to No.1 on the US album chart with 'Cheap Thrills'. The cover, drawn by underground cartoonist Robert Crumb, replaced the band's original idea, a picture of the group naked in bed together. Crumb had originally intended his art to be the LP's back cover, but Joplin demanded that Columbia Records use it for the front cover. Initially the album title was to have been Sex, Dope and Cheap Thrills, but this didn't go down too well at Columbia Records.
12 Oct 1966
28 years after its creation, The
Rolling Stones
' Rock & Roll Circus was finally released. The 1968 event put together by The Stones comprised two concerts on a circus stage and included performaces by
The Who
, Taj Mahal, Marianne Faithfull and Jethro Tull.
John Lennon
and Yoko Ono performed as part of a supergroup called The Dirty Mac, along with
Eric Clapton
, Mitch Mitchell and
Keith Richards
. It was originally planned to be aired on BBC TV.
12 Oct 1965
The Beatles began recording their sixth UK album,
Rubber Soul
recording takes of new songs 'Run For Your Life' and 'Norwegian Wood (This Bird Has Flown)'.
12 Oct 1957
During an Australian tour,
Little Richard
publicly renounced rock 'n' roll and embraced God, telling a story of dreaming of his own damnation after praying to God when one of the engines on a plane he was on caught fire. The singer threw four diamond rings, valued at $8,000, into Sydney's Hunter River and soon after launched a Gospel career. Five years later, he would switch back to Rock.
12 Oct 1955
The Chrysler Corporation launched high fidelity record players for their 1956 line-up of cars. The unit measured about four inches high and less than a foot wide and was mounted under the instrument panel. The seven inch discs spun at 16 2/3 rpm and required almost three times the number of grooves per inch as an LP. The players were discontinued in 1961.
Born on this day in music
12 Oct 1969
Martie Maguire, multi-instrumentalist with The Chicks. With sales of 27.2 million albums in the US alone, they have become the top selling all-female band and biggest selling country group in the US during the Nielsen SoundScan era (1991–present). Maguire formed Court Yard Hounds with her sister and fellow Dixie Chick Emily Robison.
12 Oct 1966
Brian Kennedy, Irish singer, songwriter, worked with Van Morrison band & solo, (1996 UK No.27 single 'Life, Love and Happiness', 1996 UK No.19 album 'A Better Man'). Appeared on Broadway in The River Dance.
12 Oct 1956
David Letts, from English punk rock band The Damned, who had the 1983 UK No.3 single 'Eloise'.
12 Oct 1955
American singer, songwriter Pat Dinizio, founder member of The Smithereens. Dinizio also released a number of solo albums. In 2000, DiNizio made an unsuccessful run for the New Jersey seat of the United States Senate, running on the Reform Party ticket. He finished 4th. He died on December 12, 2017.
12 Oct 1955
Jane Siberry, Canadian singer, songwriter, (1989 album 'Bound By The Beauty').
12 Oct 1948
Rick Parfitt, singer, guitarist with Status Quo. The group have had over 60 chart hits in the UK, more than any other rock band, including 'Pictures of Matchstick Men' in 1967, 'Whatever You Want' in 1979 and 'In the Army Now' in 2010. Twenty-two of these reached the Top 10 in the UK. In July 1985 the band opened
Live Aid
at Wembley Stadium with 'Rockin' All Over the World'. Parfitt died on 24th Dec 2016 in hospital in Marbella, Spain aged 68.
12 Oct 1942
Melvin Franklin, vocals, The
Temptations
, (1971 US No.1 & UK No.8 single 'Just My Imagination' and re-issued 'My Girl' UK No.2 in 1992). He died on 23rd February 1995.
12 Oct 1935
Luciano Pavarotti, Italian singer, (1990 UK No.2 single 'Nessun Dorma', 1990 UK No.1 album 'The Essential Pavorotti', spent 72 weeks on the UK chart). He died on 6 September 2007.
12 Oct 1935
Sam Moore, singer, (Sam & Dave, 1964 UK No.24 & 1967 US No.2 single 'Soul Man').