October 14th: The Biggest Music Headlines
Scroll down the page to see all the music headlines, stories and events for October 14 throughout music history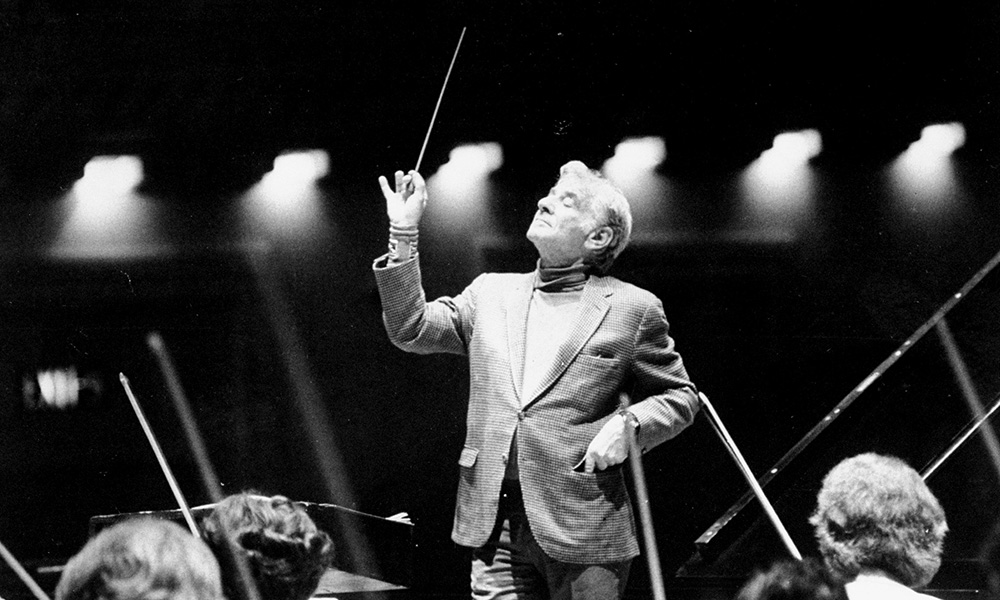 Legendary Conductor Leinard Bernstein Dies At 72
In 1990, legendary conductor, composer, and pianist Leonard Bernstein died at the age of 72. The Kennedy Center Honoree and multiple Tony, Emmy, and Grammy winner was considered to be one of the most important figures in 20th-century music and was the first American conductor to find success internationally. In addition to serving as the long-running music director of the New York Philharmonic, Bernstein composed a multitude of works, including operas and symphonies, and scored some of the era's biggest Broadway musicals and films, including West Side Story, Candide, On the Waterfront, and On the Town. He also brought classical music to children around the world as the host of the highly-influential TV show, Young People's Concerts.
In 1988, Def Leppard became the first band in chart history to sell seven million copies of two consecutive albums (1983's Pyromania and 1987's Hysteria). The latter title, which includes six hit singles, remains their best-selling album to date, with more than 20 million sales worldwide.
In 1972, Michael Jackson (then a member of The Jackson 5 with his brothers) topped the Billboard Hot 100 with his first solo single, "Ben."
In 1977, David Bowie released Heroes, his 12th studio album and the second chapter in his experimental "Berlin Trilogy" with Brian Eno. Produced by Bowie's longtime collaborator, Tony Visconti, the album also featured contributions from King Crimson guitarist Robert Fripp.
In 1957, the Everly Brothers scored their first No.1 on the Billboard pop chart with "Wake Up Little Susie." The song, which peaked at No.2 in the UK, was banned by some American radio stations for its suggestive lyrics.
In 1968, the Jackson 5 made their national TV debut in the US on The Hollywood Palace.
Looking for more things that happened on this day in music?
Keep scrolling for all of the headlines for October 14.
BORN ON OCTOBER 14:
1940: Cliff Richard
1945: Colin Hodgkinson (Whitesnake)
1946: Justin Hayward (The Moody Blues)
1948: Marcia Barrett (Boney M)
1974: Natalie Maines (The Chicks)
1975: Shaznay Lewis (All Saints)
1978: Usher
Looking for more artists born on this day?
Keep scrolling for all of our October 14 birthdays.
---
What to find another day?
---
October 14th
14 Oct 2020
Post Malone won nine awards including top artist at the 2020 Billboard Music Awards held at the Dolby Theater in Los Angeles. While many artists performed in person, there was no live audience. Due to the delay, the show mostly celebrated hits from last year, with Lil Nas X taking home four prizes for his hit single 'Old Town Road'. There were also victories for the likes of Billie Eilish and Cardi B.
14 Oct 2014
Isaiah "Ikey" Owens the American keyboardist known for his work with The Mars Volta, Jack White and an array of bands from the Long Beach music scene died aged 39. Owens was found dead due to a heart attack in his hotel room in Puebla, Mexico.
14 Oct 2009
Paul McCartney
was named Songwriter of The Year at the 29th Annual ASCAP Awards in London, England. The awards presentation honored songwriters and publishers of the most performed works in the US during 2008.
14 Oct 2008
Illustrator and rock cartoonist Ray Lowry died. He contributed illustrations for NME, Punch, Private Eye and The Guardian and designed the artwork for
The Clash
album London Calling.
14 Oct 2007
US rapper TI was arrested and charged with weapons offences just hours before he was due to perform and collect two awards at the BET Hip-Hop gala in Atlanta. The 27-year-old was arrested in a car park on suspicion of collecting machine guns and silencers bought for him by his bodyguard. His award for CD of the Year was accepted by rapper Common, who jointly won the prize with TI.
14 Oct 2006
Freddy Fender, the Tex-Mex singer died of complications from lung cancer at the age of 69. Known for standards as 'Before the Next Teardrop Falls' (US No.1 in 1975) and 'Wasted Days and Wasted Nights'.
14 Oct 2004
Eric Clapton
was suspended from driving in France after being caught speeding at 134mph in his Porsche 911 Turbo near Merceuil. He was given a 750 euro (£515) fine and his UK licence was confiscated. After paying his fine Clapton posed for photographs with French police and then left the scene in his Porsche - with his secretary behind the wheel.
14 Oct 1990
Multi-Emmy and Grammy award-winning American composer, pianist and conductor, Leonard Bernstein died of pneumonia. Composed music for the 1957 musical 'West Side Story', and 'On The Waterfront'. Bernstein conducted the New York Philharmonic aged 25 and wrote three symphonies, two operas, five musicals, and numerous other pieces.
14 Oct 1988
Def Leppard
became first act in chart history to sell seven million copies of two consecutive LPs, with Pyromania (their third studio album released in 1983) and Hysteria, (which became the band's best-selling album to date, selling over 20 million copies worldwide, and spawning six hit singles).
14 Oct 1977
David Bowie
released his twelfth studio album Heroes, the second installment of his Berlin Trilogy with Brian Eno (the other releases being Low and Lodger). Heroes continued the ambient experiments of Bowie's previous album Low (released earlier that year) and featured the contributions of guitarist Robert Fripp. The album was later named NME Album of the Year.
14 Oct 1972
Michael Jackson
went to No.1 on the US singles chart with 'Ben', his first solo No.1. which was also a a No.7 hit in the UK.
14 Oct 1971
Music publishing firm, Arco Industries filed a $500,000 dollar lawsuit against
Creedence Clearwater Revival
singer John Fogerty, claiming that Fogerty's song Travelin' Band "contained substantial material copied from
Little Richard
's Good Golly, Miss Molly". The suit was eventually dropped.
14 Oct 1969
Police in New Jersey issued a warrant for the arrest of
Frank Sinatra
in relation to his connections with the Mafia.
14 Oct 1968
The Jackson Five make their national TV debut on 'ABC TV's Hollywood Palace.
14 Oct 1967
The second series of The
Monkees
TV show started on BBC TV in the UK. Plans for the shows to be screened in colour were dropped, so it was aired in black & white.
14 Oct 1966
Pink Floyd
played their first ever "underground" set when they appeared at All Saints Hall, Notting Hill, London, UK.
14 Oct 1965
The
Rolling Stones
, The Spencer Davis Group, Unit 4 Plus 2, The Checkmates, The Habit, The End and Charlie Dickins all appeared at The Odeon, Birmingham during a UK tour.
14 Oct 1959
Bobby Darin was at No.1 on the UK singles chart with 'Mack The Knife'. From Kurt Weill's Threepenny Opera, the song won the Grammy Award for Record of the Year in 1960.
14 Oct 1957
Although it was banned by some US radio stations for its suggestive lyrics, The Everly Brothers had their first No.1 on the US singles chart with 'Wake Up Little Susie', (a No.2 hit in the UK).
Born on this day in music
14 Oct 1978
Usher, singer, (1998 UK No.1 single 'You Make Me Wanna', 1998 US No.1 single, 'Nice & Slow'. His 2004 album Confessions sold over a million copies in the US in its first week of release, selling the greatest amount of records in one week for any R&B artist). To date, his worldwide sales stand at 43 million albums and 75 million records overall, making him one of the best-selling music artists of all time
14 Oct 1975
Shaznay Lewis, singer from British girl group All Saints, who had the 1998 UK No.1 and US No.4 single 'Never Ever'. The group's debut album, All Saints (1997), went on to become the third best-selling girl group album of all time in the UK.
14 Oct 1974
Natalie Maines, singer, songwriter, The Chicks. With sales of 27.2 million albums in the US alone, they have become the top selling all-female band and biggest selling country group in the US during the Nielsen SoundScan era (1991–present).
14 Oct 1972
English bassist Nick Fyffe, who has worked with with Jamiroquai, The Shapeshifters, Robert Plant,
Deep Purple
and Bruce Dickinson
14 Oct 1965
Karyn White, singer, (1991 US No.1 single 'Romantic', a No.23 hit in the UK).
14 Oct 1959
Anthony Jude Pero, drummer, Twisted Sister, (1983 UK No.18 single 'I Am, I'm Me', 1984 album 'Stay Hungry'). Pero died from an apparent heart attack on March 20th 2015.
14 Oct 1958
Thomas Dolby, solo, (1984 UK No.17 single 'Hyperactive'), Also member of Camera Club, Lene Lovich band, as a producer worked with
Joni Mitchell
and Prefab Sprout.
14 Oct 1952
Chris Amoo, from British soul group The Real Thing, who had the 1976 UK No.1 single 'You To Me Are Everything'.
14 Oct 1948
Ivory Tilmon, Detroit Emeralds, (1973 UK No.7 single 'Feel The Need In Me').
14 Oct 1948
Marcia Barrett, from German vocal group Boney M, who had the 1978 UK No.1 & US No.30 single 'Rivers Of Babylon' and with more than 150 million records sold, they are one of the best-selling artists of all time.
14 Oct 1946
Dan McCafferty, from Scottish hard rock band Nazareth, who had the 1973 UK No.9 single 'Broken Down Angel', and the 1976 US No.8 single, 'Love Hurts'.
14 Oct 1946
Justin Hayward, songwriter, lead singer, and guitarist with English rock band The Moody Blues who had the 1965 UK No.1 & US No.10 single 'Go Now' and the hits singles including 'Go Now', 'Nights in White Satin' and 'Question'.
14 Oct 1945
Colin Hodgkinson, bass, Whitesnake, (1987 US No.1 & UK No.9 single 'Here I Go Again').
14 Oct 1942
Billy Harrison, guitarist with the Northern Irish band Them who had the 1965 UK hits 'Baby, Please Don't Go' and 'Here Comes The Night' with Van Morrison on lead vocals. Morrison quit the band in 1966 and went on to a successful career as a solo artist.
14 Oct 1940
Cliff Richard, (Harry Webb). Britain's most successful solo artist, his first hit was in 1958 the UK No.2 single 'Move It', then 1959 UK No.1 single 'Living Doll' and 1979 UK No.1 single 'We Don't talk Anymore', plus over 100 UK Top 40 hits). He once worked as a clerk at Fergusons TV factory.
14 Oct 1930
American R&B singer and musician Robert Parker. He was best known for his 1966 hit, 'Barefootin'' He played with most of New Orleans' musicians, including Fats Domino, Irma Thomas, and Huey "Piano" Smith. Parker died on 19 Jan 2020 ahe 89.