October 15th: The Biggest Music Headlines
Scroll down the page to see all the music headlines, stories and events for October 15 throughout music history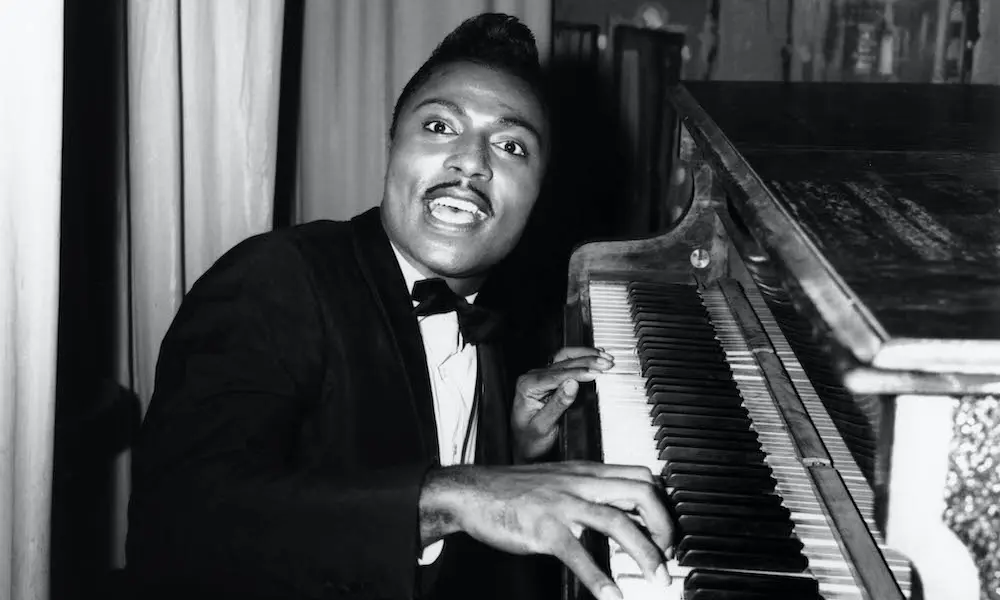 Little Richard Records A Rock'N'Roll Standard
In 1956, Little Richard recorded "Good Golly, Miss Molly" at New Orleans' J&M Studio. Released in January 1958 on Specialty, and featured on Richard's sophomore album, Here's Little Richard, the song was written by John Marascalco and producer Robert "Bumps" Blackwell. While the high-energy tune was initially recorded by Richard, Blackwell also gave the song to a group called The Valiants, who released the track in 1957. With his over-the-top vocals and charismatic performance, however, Richard made the song a rock'n'roll standard. It would later be covered by such artists as Jerry Lee Lewis, Credence Clearwater Revival, and Mitch Ryder and the Detroit Wheels, among others.
In 1955, Buddy Holly had his big break, opening for Elvis Presley at the Cotton Club's "Big D Jamboree" in Lubbock, Texas. The Nashville-based talent scout, Eddie Crandall, was in the audience and was blown away by the artist. After the show, he invited Holly to record some demos for Decca Records.
In 1960, The Beatles (minus Pete Best) and Rory Storm's Hurricanes (which included drummer Ringo Starr) entered a Hamburg recording studio to cut a version of the Gershwin classic "Summertime." The song, which was cut onto a 78-rpm single, marked the first session attended by John Lennon, Paul McCartney, George Harrison, and Ringo.
In 2006, The Sugababes were named the most successful UK all-female act of the 21st century, beating out the likes of Madonna and Britney Spears with 16 hits. Four years earlier, they busted records for becoming the youngest female group to top the UK pop chart with "Freak Like Me."
In 1988, Bon Jovi began a four-week run at the top of the Billboard 200 with New Jersey. Their fourth studio album also produced five Top 10 singles, breaking the records for the most Top Ten hits from a single glam metal album.
In 1977, Debbie Boone began a record-breaking 10-week run at the top of the Billboard Hot 100 with "You Light Up My Life." At the time, it marked the longest stay at the top of the pop chart, breaking a record previously held by Guy Mitchell's 1956 hit, "Singing the Blues."
Looking for more things that happened on this day in music?
Keep scrolling for all of the headlines for October 15.
BORN ON OCTOBER 15:
1984: Shayne Ward
1975: Ginuwine
1953: Tito Jackson (The Jackson 5)
1946: Richard Carpenter (The Carpenters)
1942: Don Stevenson (Moby Grape)
1917: Paul Tanner (Glenn Miller Orchestra, Electro-Theramin pioneer)
Looking for more artists born on this day?
Keep scrolling for all of our October 15 birthdays.
---
What to find another day?
---
October 15th
15 Oct 2021
Elton John
achieved his first UK No.1 single in sixteen years when his collaboration with Dua Lipa, 'Cold Heart (Pnau remix)', rose to the top of the UK Singles Chart during its fifth week in the top-ten.
15 Oct 2020
English musician and songwriter Gordon Haskell died from cancer age 74. Haskell first gained recognition as bass player for the British cult band The Fleur de Lys, and subsequently spent a short period in King Crimson. Haskell also shared a London flat in the 60's with
Jimi Hendrix Experience
when the guitarist first arrived in the UK. In 2001 he gained international recognition with his hit song 'How Wonderful You Are', followed by his platinum-selling album Harry's Bar.
15 Oct 2018
A study by guitar-maker Fender showed that women accounted for 50 percent of all beginner and aspirational players. They said guitar sales were rising with artists such as Taylor Swift encouraging more young women to pick up an "axe". Fender's study also found that 72 percent of guitar players pick up a guitar for the first time to gain a life skill or improve themselves.
15 Oct 2014
U2
frontman Bono said he was sorry after their latest album was automatically added to the libraries of all iTunes users around the world, saying the move was a "drop of megalomania, a touch of generosity". iTunes users complained that the 11-track Songs of Innocence had been added to their music library without permission and that it was not clear how to delete it.
15 Oct 2013
Madonna
was banned from a US cinema chain after being accused of texting during a film. Attending the New York Film Festival screening of 12 Years a Slave, the 55-year-old was reportedly asked to stop texting by an audience member. Tim League, CEO of the Alamo Drafthouse chain, tweeted: "Until she apologizes to movie fans,
Madonna
is banned from watching movies at Alamo."
15 Oct 2008
Jon
Bon Jovi
became the latest musician to disapprove of the use of his songs in John McCain's US presidential campaign. The
Bon Jovi
song, 'Who Says You Can't Go Home', was used during rallies held by Republican vice presidential candidate Sarah Palin.
Foo Fighters
, Heart and Jackson Browne had all asked Mr McCain to stop using their tracks in his presidential bid.
Bon Jovi
, a Democrat supporter, threw a $30,000 (£17,000) per person, fund-raising dinner for Democratic candidate Barack Obama at his New Jersey home in September.
15 Oct 2007
Britney Spears
visited a Los Angeles police station to be photographed and fingerprinted ahead of her hit-and-run court case. The 25-year-old singer spent about 30 minutes at the station after a judge ordered her to submit to the procedures. Ms Spears was charged last month for allegedly crashing into a parked car while driving without a valid licence.
15 Oct 2006
The Sugababes were the most successful UK all-female act of the 21st century, according to new figures. Since their chart debut in 2000, they had scored 16 hits, beating the likes of
Madonna
and
Britney Spears
. The trio first made UK chart history in 2002 when, with 'Freak Like Me', made them the youngest female group to top the chart.
15 Oct 2004
Bill Eyden, the session drummer hired to play on Procol Harum's
'A Whiter Shade Of Pale'
died after a lengthy illness at the age of 74. Eyden also worked with Georgie Fame and the Blue Flames, Charlie Watts and was a member of the resident trio, led by Stan Tracey, at Ronnie Scott's club in London, England until the late 60s.
15 Oct 2003
Mike Smith, the former lead singer of The Dave Clark Five suffered a fall at his home in Spain that left him paralyzed from the waist down. Smith died of pneumonia on February 28th, 2008, less than two weeks before the band was to be inducted into the Rock and Roll Hall of Fame.
15 Oct 2000
Radiohead
went to No.1 on the US album chart with 'Kid A', the group's fourth album became the first
Radiohead
release to debut at No.1 in the US.
15 Oct 2000
U2
went to No.1 on the UK singles chart with 'Beautiful Day', the group's fourth UK No.1 single and taken from their album 'All That You Can't Leave Behind'.
15 Oct 1997
Michael Jackson
played the last date on the HIStory Tour at King's Park Rugby Stadium, Durban, South Africa. During the tour, Jackson performed 82 concerts in 58 cities to over 4.5 million fans, visiting 5 continents and 35 countries.
15 Oct 1996
Motley Crue drummer
Tommy Lee
was charged with assault for attacking a cameraman who was trying to take pictures of Lee and his wife Pamela Anderson Lee outside an L.A. club. After pleading no contest, Lee was sentenced to four months in prison.
15 Oct 1995
Paul and Linda McCartney were the guest voices on Fox-TV's The Simpsons in an episode called "Lisa the Vegetarian". Macca's stipulation for appearing was that Lisa's decision to become a vegetarian would be a permanent character change, to which producer David Mirkin agreed.
15 Oct 1988
Bon Jovi
started a four-week run at No.1 on the US album chart with their fourth release, 'New Jersey.' The album produced five Billboard Hot 100 Top 10 singles, the most top ten hits to date for a hard rock album.
15 Oct 1988
UB40 went to No.1 on the US singles chart with their version of the
Neil Diamond
song 'Red Red Wine', also a No.1 hit in the UK.
15 Oct 1977
Debby Boone started a 10 week run at No.1 on the US singles chart with 'You Light Up My Life', the longest stay at the top since Guy Mitchell's 'Singing The Blues. A No.48 hit in the UK.
15 Oct 1973
Keith Richards
was found guilty of trafficking cannabis by a Court in Nice, France. The Rolling Stone was given a one-year suspended sentence and a 5,000 franc fine. He was also banned from entering France for two years.
15 Oct 1972
Lieutenant Pigeon were at No.1 on the UK singles chart with 'Mouldy Old Dough.' Keyboard player Rob Woodward had his mum play piano on the single, making them the only mother and son act to score a UK No.1. The song was recorded in the front room of their semi-detached house.
15 Oct 1966
Pink Floyd
(who were paid £15 for the gig), The Move, Denny Laine, Soft Machine, Yoko Ono and a West Indian steel band all appeared at the launch for the International Times (which became the first and longest running British hippy paper), at London's Roundhouse. Beatle
Paul McCartney
attended the event in Arabian dress. The flyers for the evening stated: 'Bring your own poison, bring flowers & gass (sic), filled balloons'. Admission was 10 shillings (50p) on the door.
15 Oct 1966
The
Four Tops
started a two week run at No.1 on the US singles chart with 'Reach Out, I'll Be There'. The group's second US No.1 and their first No.1 in the UK, (and becoming
Motown
's second UK chart-topper after The
Supremes
No. 1 hit 'Baby Love' in late 1964).
15 Oct 1960
The Beatles
(minus Pete Best) and two members of Rory Storm's Hurricanes (
Ringo Starr
and Lou Walters) recorded a version of George Gershwin's 'Summertime' in a Hamburg recording studio. The track which was cut onto a 78-rpm disc marked the first session that included
John Lennon
,
Paul McCartney
,
George Harrison
and Ringo together.
15 Oct 1956
Little Richard
recored 'Good Golly, Miss Molly' at J&M Studio, New Orleans, Louisiana. Little Richard first heard the phrase "Good golly, Miss Molly" from a Southern DJ named Jimmy Pennick. He modified the lyrics into the more suggestive "Good golly, Miss Molly/You sure like to ball."
15 Oct 1955
Buddy & Bob (
Buddy Holly
) opened for
Elvis Presley
at the 'Big D Jamboree', held at Lubbock's Cotton Club, Texas. Nashville talent scout Eddie Crandall was in audience and arranged for Holly to audition and record demos for the Decca US label.
Born on this day in music
15 Oct 1984
English singer and actor Shayne Ward, winner of the 2005 UK TV series The
X Factor
. His 2005 UK No.1 single 'That's My Goal' became the Christmas No.1, selling a record-breaking 313,000 copies on its first day of sales, making it the third fastest selling single of all time, (behind
Elton John
'Candle in the Wind' and Will Young's 'Evergreen', which sold 685,000 and 400,000 copies in their first days of sale respectively.
15 Oct 1975
Ginuwine, (Elgin Lumpkin) US rapper, (1997 UK No.10 single 'When Doves Cry').
15 Oct 1966
Dave Stead, with The Beautiful South, who had the 1990 UK No.1 single 'A Little Time' plus over 15 other UK Top 40 singles.
15 Oct 1966
Dougie Vipond, Scottish broadcaster and drummer with Deacon Blue, who had the 1988 UK No.8 single 'Real Gone Kid', plus over 15 other UK Top 40 singles.
15 Oct 1956
Chris Lacklison from English pop and glam rock band Kenny who had several hit singles in the UK in the mid-1970s, including 'The Bump' and 'Fancy Pants'.
15 Oct 1953
Tito Jackson, from American family music group The
Jackson 5
. They were the first group to debut with four consecutive No.1 hits on the Hot 100 with the songs 'I Want You Back', 'ABC', 'The Love You Save', and 'I'll Be There'. And with The Jacksons, had the 1979 hit 'Shake Your Body (Down to the Ground)'.
15 Oct 1947
British-Irish singer-songwriter Chris De Burgh best known for his 1986 UK No.1 and US No. 3 single 'The Lady In Red', (the song has been repeatedly voted one of the public's most disliked songs). De Burgh has sold over 45 million albums worldwide.
15 Oct 1946
American record producer, arranger, pianist and composer Richard Carpenter The
Carpenters
who had the 1973 UK No.2 single 'Yesterday Once More' and the 1970 US No.1 & UK No.6 single 'Close To You'. The
Carpenters
1972 hit 'Goodbye to Love' was one of the first pop ballads to have a fuzz guitar solo and influenced the development of the power ballad.
15 Oct 1943
American drummer and session musician Larrie Londin. He played on more hit records during his career than any other drummer, with the possible exception of the legendary session drummer
Hal Blaine
. Londin moved to Nashville in 1969, and grew to be regarded as Nashville's top session drummer and played with a wide range of artists, including Emmylou Harris, Charley Pride, Randy Travis, Porter Wagoner,
Dolly Parton
, Albert Lee, Merle Haggard, Hank Snow, Jerry Reed, Rosanne Cash, Reba McEntire, KT Oslin, Vince Gill, Ricky Skaggs,
Hank Williams
, Jr., Chet Atkins, Ronnie Milsap, and many others. He died on August 24, 1992.
15 Oct 1942
English singer-songwriter Chris Andrews. By his mid teens he had formed his own group, Chris Ravel and the Ravers. Andrews later had the 1965 UK No.3 single and German at No. 1 hit 'Yesterday Man'.
15 Oct 1942
American drummer and singer, songwriter Don Stevenson with Moby Grape. Three Dog Night, Robert Plant and The Move have all covered songs written by Stevenson.
15 Oct 1938
Marv Johnson, US singer, (1960 US No.9 single 'I Love The Way You Love', 1969 UK No.10 single 'I'll Pick A Rose For My Rose'). Johnson's recording of
Berry Gordy
's song 'Come To Me' became
Motown
Records first ever-single release in May 1959. Johnson died on 16th May 1993.
15 Oct 1935
American singer-songwriter Barry McGuire who had the 1965 US No.1 & UK No.3 single with the protest song 'Eve Of Destruction'. Top LA session players: P. F. Sloan on guitar,
Hal Blaine
(of Phil Spector's "Wrecking Crew") on drums, and Larry Knechtel on bass played on the track. The vocal by McGuire was thrown on as a rough mix and was not intended to be the final version, but a copy of the recording "leaked" out to a DJ, who began playing it. The song was an instant hit and as a result the more polished vocal track that was at first envisioned was never recorded.
15 Oct 1922
American singer and songwrite Tommy Edwards, who had the 1958 US & UK No.1 single with 'Its All In The Game'. The song was written by US Vice President Charles Dawes. Edwards died on 23 October 1968, aged 47.
15 Oct 1917
American musician Paul Tanner who was a a member of the Glenn Miller Orchestra. Tanner developed and played the Electro-Theremin, an electronic musical instrument that mimics the sound of the theremin. He can be heard performing on the opening title theme music of the 1963-66 CBS-TV comedy series My Favorite Martian. His Theremin playing is featured on several recordings by
The Beach Boys
, most notably on 'Good Vibrations', 'Wild Honey', and 'I Just Wasn't Made For These Times'. Tanner died of pneumonia on February 5, 2013 at the age of 95.