October 16th: The Biggest Music Headlines
Scroll down the page to see all the music headlines, stories and events for October 16 throughout music history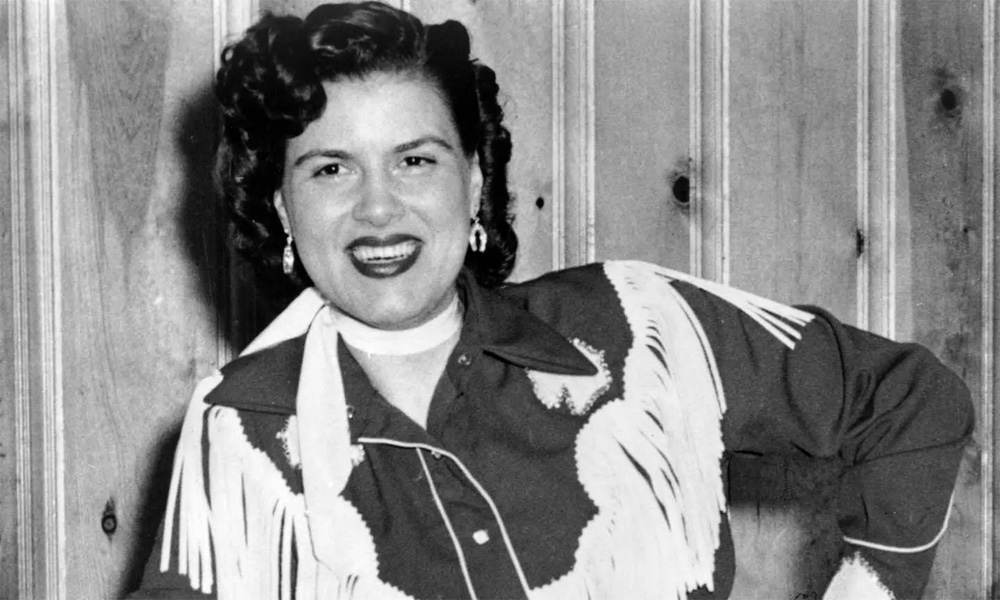 Patsy Cline Releases Hit Single 'Crazy'
On October 16, 1961, Patsy Cline released her cover of the Willie Nelson-penned song, "Crazy." Nelson wrote the song while living in Houston, working for Pappy Daily's famed record company, D Records. Eventually, the song made its way to country star Hank Cochran, who passed it along to Cline. Her recording was an instant hit, peaking at No.2 on Billboard's country chart and No.9 on the pop chart. While the song has been frequently covered over the decades, Cline's rendition remains the best-known version and has endured as a country standard. More than 30 years after its release, the recording was named the most-played jukebox tune of all time, while in 2003, the Library of Congress added the song to its National Recording Registry.
In 2006, the legendary New York venue CBGBs closed its doors after 33 years. While the club was first intended to be a hub for country, bluegrass, and blues artists, it eventually became synonymous with the underground punk and new wave scene and served as a platform for such seminal artists as Blondie, Television, and The Ramones. The evening before the venue shuttered permanently, Patti Smith performed a memorable show with a variety of special guests, including Flea of the Red Hot Chili Peppers and Richard Lloyd of Television.
In 1972, Creedence Clearwater Revival officially disbanded, months after the release of their seventh and final studio album, Mardi Gras, and a year after the departure of founding member, Tom Fogerty.
In 1951, 18-year-old Richard Penniman, who was already using the stage name Little Richard, made his first recordings for RCA Camden at the studios of Atlanta radio station WGST.
In 1976, Stevie Wonder's Songs In The Key Of Life went to No.1 on the US album chart. The seminal title, which features such songs as "Isn't She Lovely," "I Wish," and "Sir Duke," became the artist's best-selling album and won Album of the Year at the 1977 Grammys. The broadly acclaimed title, which was later inducted into the National Recording Registry, is also considered the final release of Wonder's "classic period."
In 1982, Culture Club made a buzzworthy TV appearance on the UK's Top of the Pops, performing "Do You Really Want to Hurt Me." After the performance, frontman Boy George became a fixture on magazine covers, while the song quickly rose up the pop charts.
In 1962, a two-month-long Motown Records tour (dubbed the "Motortown Revue") kicked off in Washington, D.C. On the bill were Marvin Gaye, the Supremes, Mary Wells, the Miracles, and 12-year-old Stevie Wonder.
Looking for more things that happened on this day in music?
Keep scrolling for all of the headlines for October 16.
BORN ON OCTOBER 16:
1938: Nico
1947: Bob Weir (Grateful Dead)
1959: Gary Kemp (Spandau Ballet)
1960: Bob Mould (Hüsker Du)
1962: Flea (Red Hot Chili Peppers)
1969: Wendy Wilson (Wilson Phillips)
1977: John Mayer
Looking for more artists born on this day?
Keep scrolling for all of our October 16 birthdays.
---
What to find another day?
---
October 16th
16 Oct 2017
Ed Sheeran
broke his wrist and elbow in a biking accident, forcing him to cancel dates on his tour of Asia. He called his time off "the most depressing six weeks of my life."
16 Oct 2015
Patti Smith was said to be moved to tears after a fan returned a bag of stolen goods to the singer, 36 years after they went missing. They included a shirt worn for a 1978 Rolling Stone cover shot and a bandana given to her by her late brother. The items went missing in June 1979 when a truck, which was carrying $40,000 in amplifiers, guitars and other musical equipment, was stolen from outside a hotel after Smith and her band played a show at the Aragon Ballroom in Chicago.
16 Oct 2010
Auburn University graduate student Justin Havird named a new species of fish, Lepidocephalichthys zeppelini, because the fish's pectoral fin reminded him of the double-neck guitar used by
Jimmy Page
. 'I'm a big
Led Zeppelin
fan, and I was listening to them while I was working on the fish,' Havird said. 'The structure that makes this species unique just reminded me of the guitar that
Jimmy Page
played'.
16 Oct 2007
French rock star Bertrand Cantat was freed from jail after serving half of an eight-year sentence for killing his actress girlfriend. Cantat, singer with Noir Desir, was jailed for the manslaughter of Marie Trintignant after a violent row in a Lithuanian hotel in July 2003. She died after spending days in a coma.
16 Oct 2007
Madonna
signed a ground-breaking recording and touring contract with concert promoter Live Nation becoming the first major star to choose an all-in-one agreement with a tour company over a traditional record contract. The deal reported to be worth $120m (£59m) over 10 years, would give Live Nation rights to all her music-related projects - including new albums, tours, merchandise, websites, DVDs, sponsorship, TV shows and films.
16 Oct 2006
CBGB, the legendary New York punk club credited with discovering Patti Smith and
Ramones
, closed after a final gig by Smith herself.
Blondie
and Talking Heads also found fame after performing at the club, which helped launch US punk music. The venue first opened in December 1973, its full name CBGB OMFUG standing for "country, bluegrass, blues and other music for uplifting gormandizers".
16 Oct 2001
Two security guards were sacked after refusing to allow
Bob Dylan
into his own concert. Dylan who had demanded that security on his 'Love and Theft' tour should be tighter than ever didn't have a pass when he arrived backstage.
16 Oct 1992
16 Oct 1988
Whitney Houston
had her third UK No.1 single with 'One Moment In Time.' The song was recorded to celebrate the Seoul Olympic Games of 1988.
16 Oct 1986
16 Oct 1982
Culture Club appeared on UK TV's
Top Of The Pops
performing 'Do You Really Want To Hurt Me'. They were booked on the show thanks to Shakin' Stevens being ill and not able to appear. The song became a major hit after their memorable performance on the music TV show.
16 Oct 1976
One Hit Wonders
Rick Dees and his Cast Of Idiots went to No.1 on the US singles chart with 'Disco Duck, (part one)'. Dees was a US TV and radio presenter, the song became a No.6 hit in the UK.
16 Oct 1976
Stevie Wonder
's 'Songs In The Key Of Life', went to No.1 on the US album chart, (the working title was Let's See Life the Way It Is). Featuring the tracks 'Sir Duke', 'I Wish', 'Pastime Paradise' and 'Isn't She Lovely', it was Wonder's third US No.1 and became the best-selling and most critically acclaimed album of Wonder's career.
16 Oct 1972
Creedence Clearwater Revival
split up following the failure of their most recent album, 'Mardi Gras'. After limited success as a solo act and some legal hassles with Fantasy Records, John Fogarty would have two big hits in 1985, 'Center Field' and 'Rock and Roll Girls'. John's brother Tom Fogarty died in September, 1990 and the surviving members have been touring as Creedence Clearwater Revisited.
16 Oct 1969
Bobbie Gentry was at No.1 on the UK singles chart with the Burt Bacharach and Hal David song 'I'll Never Fall In Love Again,' the singers only UK No.1.
16 Oct 1969
Record company executive and founder of the Chess record label Leonard Chess died of a heart attack aged 52. Home to John Lee Hooker,
Chuck Berry
,
Bo Diddley
Little Walter, The Moonglows, The Flamingos, Jimmy Reed and Sonny Boy Williamson.
16 Oct 1967
Folk singer Joan Baez was arrested, along with 123 others, for blocking the entrance to an Armed Forces Induction Center in Oakland, California.
16 Oct 1965
The Beatles
recorded 'Day Tripper' at Abbey Road studio's London in three takes, they then added vocals and other overdubs, completing the song before the end of the day.
16 Oct 1962
16 Oct 1961
Decca records released 'Crazy' by
Patsy Cline
. The ballad, composed by Willie Nelson gave Cline a No.2 country hit in 1962. Nelson originally wrote the song for country singer Billy Walker, but Walker turned it down. The song's eventual success helped launch Nelson as a performer as well as a songwriter. It spent 21 weeks on the chart for Cline, and eventually became one of her signature tunes.
16 Oct 1956
Frankie Laine was at No.1 on the UK singles chart with 'A Woman In Love', the singers fourth and final UK No.1. Laine had the nicknames Mr. Rhythm and Old Leather Lungs.
16 Oct 1951
18 year old Richard Penniman, who was already using the stage name
Little Richard
made his first recordings for RCA Camden at the studios of Atlanta radio station WGST.
Born on this day in music
16 Oct 1977
John Mayer, US singer, songwriter 2003 Grammy award winner for 'Our Body Is A Wonderland', and the 2004 US No.1 single 'Daughters'.
16 Oct 1969
Wendy Wilson, vocals, Wilson Phillips, daughter of Beach Boy
Brian Wilson
, (1990 US No.1 & UK No.6 single 'Hold On').
16 Oct 1965
Simon Bartholomew from English group The Brand New Heavies, who had the 1994 UK No.13 single with their version of 'Midnight At The
Oasis
'.
16 Oct 1962
Michael Balzary, (Flea), bass, vocals,
Red Hot Chili Peppers
(1994 UK No.9 single 'Give It Away' and 1992 UK No.26 single 'Under The Bridge', 2002 UK No.1 album By The Way).
16 Oct 1960
American musician Bob Mould, principally known for his work as guitarist, vocalist and songwriter for alternative rock bands Husker Du in the 1980s and Sugar in the 1990s.
16 Oct 1959
British musician, songwriter and actor Gary Kemp from Spandau Ballet. They became one of the most successful groups to emerge during the New Romantic era and produced a number of international hits during the 80s including 'True', 'Gold' and 'Through the Barricades.' He starred with his brother Martin in the 1990 British drama film The Krays. Kemp also plays as part of Nick Mason's Saucerful of Secrets, who perform a selection of early
Pink Floyd
material.
16 Oct 1953
Tony Carey, keyboardist with Rainbow. Carey recorded one studio album with Rainbow, 'Rising' (1976).
16 Oct 1952
Cordell Mosson, American bassist who was a member of Parliament-Funkadelic. Mosson died of liver failure on April 18, 2013.
16 Oct 1947
American musician and songwriter Bob Weir, best known as a founding member of the
Grateful Dead
. The group released more than 140 albums during their career, the majority of them recorded live in concert.
16 Oct 1945
American drummer Roger Hawkins. He was best known for playing as part of the studio band known as the Muscle Shoals Rhythm Section. His drumming can be heard on dozens of hit singles, including tracks by Percy Sledge ('When a Man Loves a Woman'),
Aretha Franklin
('Respect'), Wilson Pickett ('Mustang Sally'. Hawkins also worked with
Duane Allman
, Joe Cocker,
Paul Simon
, Bob Seger, Bonnie Bramlett, Boz Scaggs, Albert King, Traffic,
Rod Stewart
,
Eric Clapton
and Willie Nelson. He died on May 2021 age 75.
16 Oct 1943
Fred Turner, bass, vocals, Bachman Turner Overdrive, (1974 US No.1 & UK No.2 single 'You Ain't Seen Nothing Yet').
16 Oct 1942
Dave Loveday, from English Merseybeat band The Fourmost who had the 1964 UK No.6 single 'A Little Loving'.
16 Oct 1938
German singer, songwriter, musician, model, and actress Nico (Christa Paffgen), with The Velvet Underground, whose first album, the only one to feature her, was one of the most influential of all time on aspiring musicians. She had roles in several films, including Federico Fellini's La Dolce Vita (1960) and Andy Warhol's Chelsea Girls (1966). Nico died on 18 July 1988 from a brain haemorrhage, while on holiday in Ibiza. She had hit her head after falling off her bicycle as a result of a minor heart attack.
16 Oct 1937
Emile Ford, US singer, who had the 1959 UK No.1 single with The Checkmates, 'What Do You Want To Make Those Eyes At Me For?' He was also a pioneering sound engineer. Ford died age 78 on 11 April 2016.
16 Oct 1923
Bert Kaempfert, songwriter, producer, (1961 US No.1 single 'Wonderland By Night'), Presley and Sinatra covered his songs, produced the first recorded Beatles session. He died on 21st June 1980.