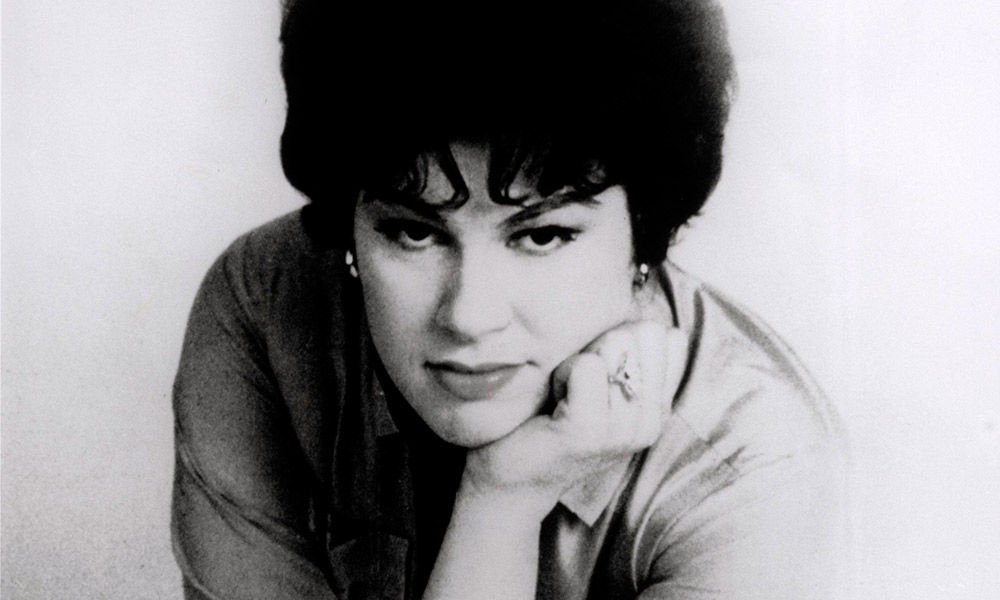 One of the greatest singers in the history of country music, Patsy Cline also helped blaze a trail for female singers to assert themselves as an integral part of the Nashville-dominated country music industry. She was not alone in this regard; Kitty Wells had become a star several years before Cline's big hits in the early '60s. Brenda Lee, who shared Cline's producer, did just as much to create a country-pop crossover during the same era; Skeeter Davis briefly enjoyed similar success. Cline has the most legendary aura of any female country singer, however, perhaps due to an early death that cut her off just after she had entered her prime.
Cline began recording in the mid-'50s, and although she recorded material between 1955 and 1960 (17 singles in all), only one of them was a hit. That song, "Walkin' After Midnight", was both a classic and a Top 20 pop smash. Those who are accustomed to Cline's famous early-'60s hits are in for a bit of a shock when surveying her '50s sessions (which have been reissued on several Rhino compilations). At times she sang flat-out rockabilly; she also tried some churchy tear-weepers. She couldn't follow up "Walkin' After Midnight", however, in part because of an exploitative deal that limited her to songs from one publishing company.
Circumstances were not wholly to blame for Cline's commercial failures. She would have never made it as a rockabilly singer, lacking the conviction of Wanda Jackson or the spunk of Brenda Lee. In fact, in comparison with her best work, she sounds rather stiff and ill-at-ease on most of her early singles. Things took a radical turn for the better on all fronts in 1960, when her initial contract expired. With the help of producer Owen Bradley (who had worked on her sessions all along), Cline began selecting material that was both more suitable and of a higher quality than her previous outings.
"I Fall to Pieces", cut at the very first session where Cline was at liberty to record what she wanted, was the turning point in her career. Reaching #1 in the country charts and #12 pop, it was the first of several country-pop crossovers she was to enjoy over the next couple of years. More important, it set a prototype for commercial Nashville country at its best. Owen Bradley crafted lush orchestral arrangements, with weeping strings and backup vocals by the Jordanaires, that owed more to pop (in the best sense) than country.
The country elements were provided by the cream of Nashville's session musicians, including guitarist Hank Garland, pianist Floyd Cramer, and drummer Buddy Harmon. Cline's voice sounded richer, more confident, and more mature, with ageless wise and vulnerable qualities that have enabled her records to maintain their appeal with subsequent generations. When k.d. lang recorded her 1988 album Shadowland with Owen Bradley, it was this phase of Cline's career that she was specifically attempting to emulate.
It's arguable that too much has been made of Cline's crossover appeal to the pop market. Brenda Lee, whose records were graced with similar Bradley productions, was actually more successful in this area (although her records were likely targeted toward a younger audience). Cline's appeal was undeniably more adult, but she was always more successful with country listeners. Her final four Top Ten country singles, in fact, didn't make the pop Top 40.
Despite a severe auto accident in 1961, Cline remained hot through 1961 and 1962, with "Crazy" and "She's Got You" both becoming big country and pop hits. Much of her achingly romantic material was supplied by fresh talent like Hank Cochran, Harlan Howard, and Willie Nelson (who penned "Crazy"). Although her commercial momentum had faded slightly, she was still at the top of her game when she died in a plane crash in March of 1963, at the age of 30.
She was only a big star for a couple of years, but her influence was and remains huge. While the standards of professionalism on her recordings have been emulated ever since, they've rarely been complemented by as much palpable, at times heartbreaking emotion in the performances. For those who could do without some of more elaborate arrangements of her later years, many of her relatively unadorned appearances on radio broadcasts have been thankfully preserved and issued.
Important Dates In The Life Of Patsy Cline:
22 Sep 2021
American session musician, orchestra leader, and double bassist Bob Moore died age 88. He was a member of the Nashville A-Team during the 1950s and 1960s and performed on over 17,000 documented recording sessions, backing acts such as
Elvis Presley
,
Patsy Cline
,
Bob Dylan
and
Roy Orbison
.
31 Jan 2019
Harold Bradley the American country and pop guitarist died age 93. As a session musician into the 1970s, he performed on hundreds of albums by country stars such as Patsy Cline, Willie Nelson, Roy Orbison, Elvis Presley and Slim Whitman. Bradley, who was inducted into the Country Music Hall of Fame in 2006, is believed to be one of the most recorded instrumentalist in history.
21 Aug 2008
Drummer Buddy Harman died of congestive heart failure, aged 79. Worked with
Elvis Presley
('Little Sister'),
Patsy Cline
('Crazy'),
Roy Orbison
('Pretty Woman'),
Johnny Cash
('Ring Of Fire'),
Tammy Wynette
('Stand By Your Man'). Harman was the first house drummer for The Grand Ole Opry and can be heard on over 18,000 recordings.
11 Aug 2008
Don Helms a steel guitarist best known as the steel guitar player of Hank Williams' Drifting Cowboys died aged 81. Helms was a featured musician on over 100 Hank Williams recordings and went on to play on many classic country hits, including Patsy Cline's 'Walking After Midnight,' Stonewall Jackson's 'Waterloo,' the Louvin Brothers' 'Cash on the Barrelhead,' Lefty Frizzell's 'Long Black Veil' and Loretta Lynn's 'Blue Kentucky Girl.'
3 Dec 2001
American session guitarist Grady Martin died aged 72. He was a member of the legendary Nashville A-Team, playing guitar on hits ranging from
Roy Orbison
's 'Oh, Pretty Woman', Marty Robbins' 'El Paso' and Loretta Lynn's 'Coal Miner's Daughter'. During a 50-year career, Martin backed such names as
Elvis Presley
,
Buddy Holly
, Woody Guthrie, Arlo Guthrie,
Johnny Cash
,
Patsy Cline
, Joan Baez and J. J. Cale.
21 Apr 2000
Neal Matthews of The Jordanaires died of a heart attack. Sang on Presley's 'Don't Be Cruel' and 'Hound Dog.' Also worked with Ricky Nelson,
Patsy Cline
, Red Foley, Johnny Horton, Jim Reeves, George Jones, Marie Osmond, Tom Jones and Merle Haggard.
3 Aug 1999
Patsy Cline received a star on the Hollywood Walk of Fame. Prior to her death at the age of 30 in a private plane crash, she was at the height of her career. She is considered to be one of the most influential, successful, and acclaimed female vocalists of the 20th century. Some of the more notable hits she had during her lifetime began in 1957 with Donn Hecht's 'Walkin' After Midnight' Harlan Howard's 'I Fall to Pieces', Hank Cochran's 'She's Got You', Willie Nelson's 'Crazy', and ended in 1963 with Don Gibson's 'Sweet Dreams'.
7 Jan 1998
American record producer Owen Bradley died aged 82. Along with Chet Atkins and Bob Ferguson, he was one of the chief architects of the 1950s and 1960s Nashville sound in country music and rockabilly. Bradley produced artists such as
Patsy Cline
, Brenda Lee, Loretta Lynn, Lenny Dee, and Conway Twitty.
19 Aug 1988
'Crazy' by
Patsy Cline
and
Elvis Presley
's 'Hound Dog' were announced as the most played jukebox songs of the first hundred years. The jukebox had been around since 1906, but earlier models had been first seen in 1889.
5 Mar 1963
Country singers
Patsy Cline
, Cowboy Copas and Hawkshaw Hawkins were killed in a plane crash near Camden, Tennessee. They were travelling to Nashville after appearing at a benefit concert for the widow of Kansas City disc jockey 'Cactus' Jack Call, who had died in a car crash. On 7 March, country singer Jack Anglin was killed in a car crash on his way to Cline's funeral. Cline was the first country singer to cross over as a pop artist.
28 Feb 1963
Patsy Cline
made the final television appearance of her career when she appeared on The Glenn Reeves Show singing "San Antonio Rose" and "I Fall To Pieces". She died tragically in a plane crash just five days later at the age of 30.
16 Oct 1961
Decca records released 'Crazy' by
Patsy Cline
. The ballad, composed by Willie Nelson gave Cline a No.2 country hit in 1962. Nelson originally wrote the song for country singer Billy Walker, but Walker turned it down. The song's eventual success helped launch Nelson as a performer as well as a songwriter. It spent 21 weeks on the chart for Cline, and eventually became one of her signature tunes.
21 Aug 1961
Patsy Cline
recorded the classic Willie Nelson song, 'Crazy'. Cline was still on crutches after going through a car windshield in a head-on collision two months earlier and had difficulty reaching the high notes of the song at first due to her broken ribs. 'Crazy' spent 21 weeks on the chart and eventually became one of her signature tunes.
16 Aug 1961
Patsy Cline
recorded 'Crazy'. The ballad composed by Willie Nelson became one of her signature tunes and gave Cline a No.2 country hit in 1962. Nelson originally wrote the song for country singer Billy Walker, but Walker turned it down. The song's eventual success helped launch Nelson as a performer as well as a songwriter.
14 Jun 1961
Patsy Cline
was seriously injured in a car accident. During her two month hospital stay, her song "I Fall to Pieces" gave the singer her first Country No.1 and also became a huge country-pop crossover hit.
16 Nov 1960
Patsy Cline
recorded 'I Fall to Pieces' which the following year became Cline's first No.1 hit on the Country charts, and her second hit single to cross over onto the Pop charts. It was the first of a string of songs that would be written by Hank Cochran and Harlan Howard. The song was ranked at No.7 on CMT's television special of the 100 Greatest Songs in Country Music.