October 19th: The Biggest Music Headlines
Scroll down the page to see all the music headlines, stories and events for October 19 throughout music history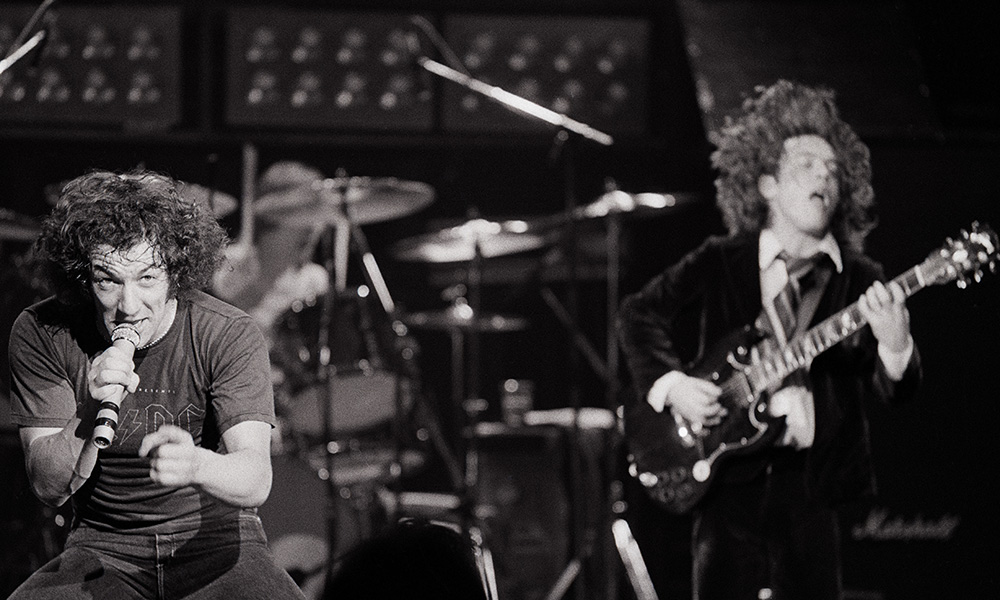 AC/DC Returns After Tragic Death Of Bon Scott
In 1980, AC/DC returned to the stage after the tragic death of frontman, Bon Scott, kicking off a 20-date UK tour at Bristol Colston Hall. Following Scott's death, the band considered quitting, but various people in their lives – including the singer's parents – insisted that the artist would have wanted the band to continue. As such, they went about finding a new lead vocalist, eventually landing on Brian Johnson, who Bon Scott himself had once hailed as "a great rock and roll singer in the style of Little Richard."
In 1966, The Yardbirds arrived in New York City for their first US tour, with Jeff Beck and Jimmy Page on lead guitars. Ahead of the run, the band put together two albums to help promote their music, For Your Love and Having a Rave Up. The records featured songs from their Five Live Yardbirds album, plus additional cuts that the band recorded with Sam Phillips at the famed Sun Studios in Memphis.
In 1985, A-Ha went to No.1 on the Billboard Hot 100 with "Take On Me," making them the first Norwegian group to score a No.1 single in the US.
In 1995, American jazz trumpeter Don Cherry died at the age of 58. He was a pioneer of jazz fusion and worked with jazz icons such as John Coltrane, Charlie Haden, Sun Ra, Ed Blackwell, and Albert Ayler.
In 2020, Spencer Davis, one of the key figures of the 60s beat scene, died at the age of 81. He gained notoriety with his band The Spencer Davis Group, and later enjoyed a successful career as an A&R executive with Island Records.
In 1991, Oasis played The Boardwalk in their hometown Manchester, the group's first gig with Noel Gallagher in the group. The band was at the bottom of the bill, performing before The Catchmen and Sweet Jesus.
Looking for more things that happened on this day in music?
Keep scrolling for all of the headlines for October 19.
BORN ON OCTOBER 19:
1944: Peter Tosh (The Wailers)
1946: Keith Reid (Procol Harum)
1947: Wilbert Hart (The Delfonics)
1948: Pat Simmons (The Doobie Brothers)
1960: Daniel Woodgate (Madness)
1960: Jennifer Holiday
1972: Pras (The Fugees)
1992: Lil Durk
Looking for more artists born on this day?
Keep scrolling for all of our October 19 birthdays.
---
What to find another day?
---
October 19th
19 Oct 2020
Spencer Davis, one of the key figures of the 60s beat scene, died at the age of 81. The Welsh guitarist was the driving force behind The Spencer Davis Group, who scored transatlantic hits with 'Keep On Running' and 'Somebody Help Me'. The band, which also featured a teenage Stevie Winwood, toured with
The Who
and
The Rolling Stones
in the 60s.
19 Oct 2014
Raphael Ravenscroft who played the sax riff on the Gerry Rafferty hit 'Baker Street' died aged 60 of a suspected heart attack. He was only paid £27.50 for the 'Baker Street' session, and it has been reported that the cheque bounced and that it was kept on the wall of Ravenscroft's solicitors; by contrast the song is said to have earned Rafferty £80,000 a year in royalties.
19 Oct 2011
At the involuntary manslaughter trial of Dr Conrad Murray, Dr Steven Shafer testified that it would have been impossible for
Michael Jackson
to have self-administered a lethal dose of the sedative propofol. He later said of Dr Murray's delay in calling 911: "I almost don't know what to say. That is so completely and utterly inexcusable."
19 Oct 2011
Coldplay
released their fifth studio album 'Mylo Xyloto' which charted at No.1 in thirty-four countries. In the UK 'Mylo Xyloto' became
Coldplay
's fifth album to debut at No.1 and became the group's third to debut at No.1 on the US Billboard 200.
19 Oct 2010
Elton John
described today's songwriters as "pretty awful", Pop music as "uninspiring" and talent shows like American Idol as "boring" in an interview with UK Radio Times magazine.
19 Oct 2009
A clump of hair believed to have been trimmed from
Elvis Presley
's head when he joined the US Army in 1958 sold for $15,000 (£9,200) at an auction in Chicago, America. Other items sold belonging to Presley included a shirt which sold for $52,000 (£32,000), a set of concert-used handkerchiefs, $732 (£450) and photos from the reception of Presley's 1967 wedding to Priscilla, sold for nearly $6,000 (£3,700).
19 Oct 2007
Johnny Marr was made a visiting professor of music at the University of Salford in Manchester. The former
Smiths
guitarist was set to deliver a series of workshops and masterclasses to students on the BA Popular Music and Recording degree.
19 Oct 2005
A survey concluded that the average person spent around £21,000 ($42,000) on music during their lives, the figure included the amount spent on Hi-Fi equipment, concerts and CDs. Music enthusiasts were likely to spend more than double that, parting with just over £44,000 ($89,000), in a lifetime, according to the survey conducted by UK company Prudential.
19 Oct 2000
A judge ruled that Robbie Williams had substantially copied lyrics on his song 'Jesus In A Camper Van' from the 1961 Woody Guthrie song 'I Am The Way' and also used parts of a parody by Loudon Wainwright III. EMI Records had offered 25% royalties but the publishers Ludlow Music were demanding 50%.
19 Oct 1998
Oasis
guitarist Noel Gallagher made a surprise appearance at the launch party of the new London venue Sound Republic. He jammed onstage with Pete Townshend and members from Ocean Colour Scene and Boo Radleys.
19 Oct 1997
Original Alice Cooper band guitarist Glen Buxton died from pneumonia, aged 49. Born in Akron, Ohio, he attended High School in Phoenix, Arizona, where he met Dennis Dunaway and Vincent Furnier, later to call himself the titular Alice Cooper. Buxton co-wrote several classic Alice Cooper hits, including 'School's Out', 'I'm Eighteen' and 'Elected.'
19 Oct 1995
African-American jazz trumpeter Don Cherry died of liver failure aged 58. Developed the genre of world fusion music, incorporating influences of Middle Eastern, traditional African, and Indian music into his playing. Is the stepfather to singer's musicians Neneh Cherry and Eagle-Eye Cherry.
19 Oct 1991
Oasis
played The Boardwalk in their hometown Manchester, the group's first gig with Noel Gallagher in the group.
19 Oct 1989
Alan Murphy guitarist with English band Level 42 died of pneumonia related to aids. Murphy also worked with
Kate Bush
, Go West and Mike & the Mechanics.
19 Oct 1985
A-Ha
went to No.1 on the US singles chart with 'Take On Me', making them the first Norwegian group to score a US No.1. The video for the song featured the band in a pencil-sketch animation method called rotoscoping, combined with live action which won six awards and was nominated for two others at the 1986
MTV
Video Music Awards.
19 Oct 1980
AC/DC
kicked off a 20-date UK tour at Bristol Colston Hall. The bands first gigs since the death of singer
Bon Scott
.
19 Oct 1973
David Bowie
released his seventh album Pin Ups. The album, which features supermodel Twiggy on the front cover, is a collection of cover versions of some of the singer's favourite songs, including tracks by
Pink Floyd
, The Pretty Things,
The Who
, The Yardbirds and
The Kinks
.
19 Oct 1968
On their farewell tour
Cream
appeared at The Forum in Los Angeles, California, where live recordings were made which were included on the 'Goodbye
Cream
' album which was released the following year.
19 Oct 1968
18 year old Peter Frampton meet Steve Marriott at a
Small Faces
show in London. After striking up a friendship, the two started planning a new group which emerged as Humble Pie next April.
19 Oct 1966
The Yardbirds arrived in New York for their first US tour with
Jeff Beck
and
Jimmy Page
on lead guitars. After two dates of the tour, Beck developed acute tonsillitis and quit the group. He would go on to form The Jeff Beck Group, that gave
Rod Stewart
his first major exposure.
19 Oct 1961
Helen Shapiro was at No.1 on the UK singles chart with 'Walkin' Back To Happiness.' The singers second and final UK No.1.
Born on this day in music
19 Oct 1992
Durk Banks, known professionally as Lil Durk, American rapper and singer, and the lead member and founder of the collective and record label Only the Family. The Voice of the Heroes (2021), became his first release to debut atop the US Billboard album chart.
19 Oct 1976
Pete Loeffler lead guitarist and lead singer, Chevelle.
19 Oct 1972
American rapper, record producer, songwriter Pras, who with The Fugees had the 1996 UK No.1 single 'Killing Me Softly'. Solo, hits include 'Getto Supastar, That's Is What You Are', with Ol' Dirty Bastard.
19 Oct 1966
Sinitta, singer, (1986 UK No.2 single 'So Macho').
19 Oct 1960
Daniel Woodgate, drummer from English ska band Madness. They have had 15 singles reach the UK top ten, hits include 'One Step Beyond', 'Baggy Trousers', 'Our House' and 'It Must Be Love'.
19 Oct 1960
Jennifer Holliday, US singer, (1982 US No.22 & UK No.32 single 'And I Am Telling You I'm Not Going').
19 Oct 1957
Karl Wallinger, keyboardist with The Waterboys, (1985 album 'This Is The Sea'). Wallinger quit the band in 1986. He went on to be singer and guitarist with World Party, (1993 UK No.19 single with 'Is It Like Today'). The Wallinger penned song 'She's The One' gave Robbie Williams a UK No.1 hit in 1999.
19 Oct 1956
Nino DeFranco, from family pop group The DeFranco Family, who scored the 1973 US No.3 single 'Heartbeat-It's A Lovebeat', the biggest selling US single of 1973. Based on The
Osmonds
, the group featured 10 year old Tony DeFranco.
19 Oct 1948
Pat Simmons, guitarist, singer with The Doobie Brothers who had the 1979, US No.1 single 'What A Fool Believes' and the 1993 UK No.7 single 'Long Train Runnin'.
19 Oct 1947
Wilbert Hart, singer from American R&B/soul vocal group The Delfonics who had the 1968 US No.4 single 'La-La Means I Love You', and the hits 'Didn't I (Blow Your Mind This Time)', and 'Ready or Not Here I Come (Can't Hide from Love)'.
19 Oct 1946
Keith Reid,
Procol Harum
, 1967 UK No.1 & US No.5 single 'A Whiter Shade Of Pale' (one of the few singles to have sold over 10 million copies) and scored the hits 'Homburg', 'Conquistador'.
19 Oct 1945
Jeannie C Riley, singer, (1968 US No.1 & UK No.12 'Harper Valley PTA'. Jeannie won a Grammy for the best female country singer of 1968).
19 Oct 1944
George McCrae, (1974 UK & US No.1 single 'Rock Your Baby').
19 Oct 1944
Peter Tosh, guitar, vocals, The Wailers, left in 1974, (1978 UK No.43 single 'You Gotta Walk, Don't Look Back'). Tosh was murdered by burglars at his home on 11th September 1987