October 22nd: The Biggest Music Headlines
Scroll down the page to see all the music headlines, stories and events for October 22 throughout music history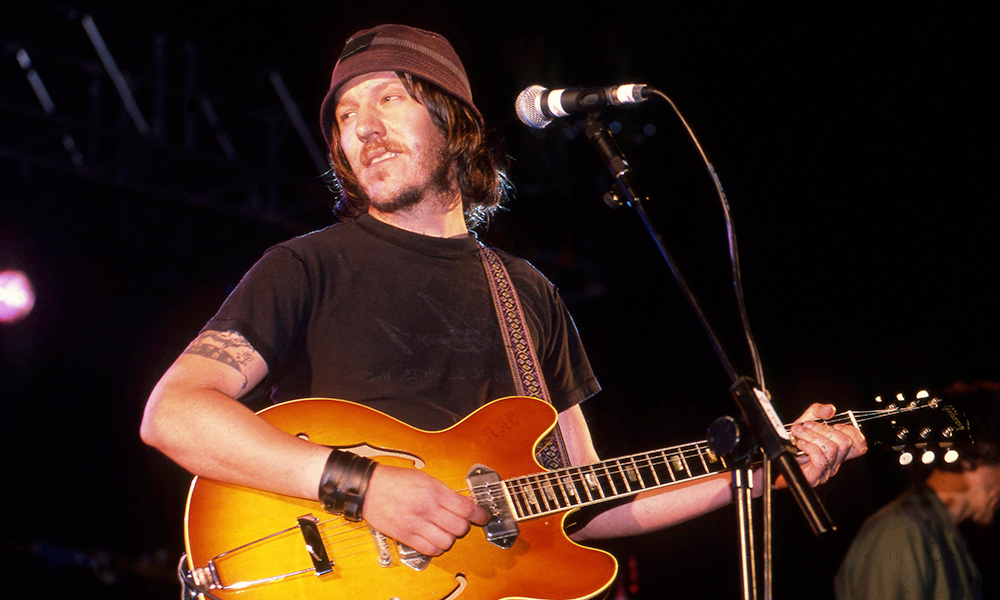 Fans Mourn The Death Of Elliott Smith
On October 22, 2003, 34-year-old singer-songwriter Elliott Smith was found dead in his home. Revered as a pioneer of indie rock and folk rock, the Omaha-born artist was raised in Texas, and lived much of his adult life in Portland, Oregon, where he first built a following. Soon, Smith had garnered critical acclaim for his candid lyricism and his distinctive vocals. Among his best-known work was 2000's Figure 8, which broke the top 100 of the Billboard albums chart, as well as his compositions for the Good Will Hunting soundtrack in 1997, which earned him an Academy Award nomination. At the time of his death, Smith was working on his sixth studio album, From a Basement on the Hill, which was produced and released posthumously in 2004.
In 1966, The Supremes became the first female group to have a No.1 album in the US with The Supremes A' Go Go. The title featured original songs like "Love Is Like an Itching in My Heart" and the number-one hit, "You Can't Hurry Love." The group also covered classic tunes from The Elgins, the Four Tops, The Temptations, Martha and the Vandellas, Barrett Strong, The Isley Brothers, Nancy Sinatra, and The McCoys.
In 1966, The Beach Boys' "Good Vibrations" made its debut on the US singles chart. The song marked a new era of production for Brian Wilson, who recorded the song in fragments so that he could interchange and splice together sections on tape.
In 2021, Adele returned to the UK pop chart after a five-year absence when her single, "Easy on Me," debuted at No.1. The song also won a BRIT Award for Best British Single.
In 2005, "Waterloo" by ABBA was voted the best song in the history of the Eurovision Song Contest.
In 1990, Pearl Jam played their first-ever concert, appearing at the Off Ramp in Seattle.
In 2002, Foo Fighters released their fourth album, One by One. The album includes such hit singles as "All My Life" and "Times Like These."
Looking for more things that happened on this day in music?
Keep scrolling for all of the headlines for October 22.
BORN ON OCTOBER 22:
1945: Leslie West (Mountain)
1968: Shelby Lynne
1968: Shaggy
1976: Jon Foreman (Switchfoot)
1983: Plan B
1985: Zach Hanson (Hanson)
1988: Joe Seaward (Glass Animals)
1998: Roddy Ricch
Looking for more artists born on this day?
Keep scrolling for all of our October 22 birthdays.
---
What to find another day?
---
October 22nd
22 Oct 2021
American singer Jay Black died from pneumonia age 82. Also known as 'The Voice,' whose height of fame came in the 1960s when he was the lead singer of Jay and the Americans. The band had numerous hits including 'Come a Little Bit Closer', 'Cara Mia', and 'This Magic Moment'.
22 Oct 2021
Adele
returned to the UK Singles Chart after a five-year absence when her single 'Easy on Me' entered the chart at No.1. Adele also set a new chart record with the single as 'Easy On Me' racked up 24 million streams in the UK in its first week of release, the most streams for a song in one week.
22 Oct 2017
Australian musician, songwriter and record producer George Young died aged 70. Young, the brother of
AC/DC
's Angus and Malcolm Young, was a member of the Easybeats and co-wrote the band's 1966 hit 'Friday On My Mind'. Born in Scotland in 1946, he migrated to Australia with his family as a teenager, forming The Easybeats after he met Dutch-born artist Harry Vanda in Sydney. After the band broke up in 1969, Vanda and Young embarked on a songwriting career that saw the pair produce dozens of hits. They became two of Australia's best-known songwriters, with Young's work including 'Love Is In The Air' and 'Yesterday's Hero' both hits for John Paul Young.
22 Oct 2014
Kasabian won best live act and best act in the world at the Q Awards held in London, England. Former Dr Feelgood guitarist Wilko Johnson was named a Q Icon, Elbow's The Take Off and Landing of Everything, was named best album, Paolo Nutini's Iron Sky received the best track award, while 22-year-old soul singer Sam Smith was named best new act.
22 Oct 2008
A homeless man claimed a £2,000 reward by returning a waxwork head of ex-Beatle Sir
Paul McCartney
which had been left on a train. Anthony Silva found the item in a bin at Reading station after auctioneer Joby Carter left it under a seat at Maidenhead station. The homeless man thought it was a Halloween mask and had been using it as a pillow before realising what it was. The wax model sold the following week for £5,500 at auction.
22 Oct 2005
Waterloo by
ABBA
was voted the best song in the history of the Eurovision Song Contest. Viewers in 31 countries across Europe voted during a special show in Copenhagen to celebrate the annual event's 50th birthday.
22 Oct 2002
Foo Fighters
released One by One their fourth studio album which includes the successful singles 'All My Life' and 'Times Like These'. One by One won a Grammy Award for Best Rock Album in 2004, the second for the band.
22 Oct 2000
George Michael
paid £1.45m for the Steinway piano on which
John Lennon
wrote '
Imagine
'. George said, "I know that when my fingers touch the keys of that Steinway, I will feel truly blessed. And parting with my money has never been much of a problem, just ask my accountant." The singer outbid Robbie Williams and The
Oasis
brothers.
22 Oct 2000
Pearl Jam
appeared at the MGM Grand in Las Vegas, California, celebrating the tenth anniversary of their first live performance as a band.
22 Oct 1999
It was reported that
Sinead O'Connor
was attempting to buy the church where she was ordained into the Catholic sisterhood. The church was on the market for £70,000.
22 Oct 1996
It was announced that, "
The Beatles
were now bigger than
The Beatles
". The statement was based on sales so far this year, having sold 6,000,000 albums from their back catalogue and a combined total of 13,000,000 copies of '
The Beatles
Anthology 1' and '
The Beatles
Anthology 2'. With the release of '
The Beatles
Anthology 3' a week away, it was anticipated that total Beatles album sales for 1996 would exceed 20 million. A poll showed 41 percent of sales were to teenagers who were not born when
The Beatles
officially called it quits in 1970.
22 Oct 1993
Oasis
signed a six-album deal with Creation Records for a £40,000 advance.
22 Oct 1990
Pearl Jam
played their first ever concert when they appeared at the Off Ramp in Seattle.
22 Oct 1989
English folk singer, songwriter, poet, and record producer Ewan MacColl died aged 74. He wrote 'Dirty Old Town' and 'The First Time Ever I Saw Your Face', (became a No.1 hit for Roberta Flack in 1972). Acts including Planxty, The Dubliners,
Elvis Presley
and
Johnny Cash
recorded his songs. He was the father of singer, songwriter Kirsty MacColl.
22 Oct 1988
Phil Collins
started a two week run at No.1 on the US singles chart with his version of 'Groovy Kind Of Love', his 6th US No.1. The song was also a hit for The Mindbenders, the group that backed Wayne Fontana in 1965.
22 Oct 1988
U2
scored their fourth UK No.1 album with the double set and film soundtrack 'Rattle And Hum', featuring their first UK No.1 single 'Desire'.
22 Oct 1986
Jane Dornacker, a traffic reporter with WNBC – as well as a former member of the San Francisco rock band Leila and the Snakes and a backing vocalist and songwriter with The Tubes – was killed in a helicopter crash during a live traffic report for the New York City station.
22 Oct 1969
American singer Tommy Edwards died after suffering a brain aneurysm in Henrico County, Virginia, at the age of 47. Had the 1958 US & UK No.1 single 'It's All In The Game'.
22 Oct 1969
Paul McCartney
publicly denied rumors that he was dead. The most recent of many "clues" of this Death Hoax was the fact that he was the only barefoot Beatle on the newly released
Abbey Road
LP cover. The story was actually started as a prank by Fred La Bour, a sports and arts writer for the student paper, The Michigan Daily at the University of Michigan.
22 Oct 1969
Led Zeppelin II
was released on Atlantic Records in the UK. The
Jimmy Page
produced album which was recorded over six months between four European and three American tours, peaked at No.1 in both the UK and US, going on to sell over 12 million copies in the US alone, (and spending 138 weeks on the UK chart). The album is now recognised by writers and music critics as one of the greatest and most influential rock albums ever recorded.
22 Oct 1966
22 Oct 1966
The Beach Boys
'Good Vibrations' made its debut on the US singles chart. Written by Brian Wilson and Mike Love, the track was recorded over six weeks in four different Los Angeles studios, at a cost of over $16,000. The recording engineer would later say that the last take sounded exactly like the first, six weeks earlier. The record would reach No.1 on the US charts in December 1966.
22 Oct 1964
The Who
then known as The High Numbers, receive a letter from EMI Records, asking them for original material after their recent audition for the company.
22 Oct 1964
Sandie Shaw had her first UK No.1 single with the Burt Bacharach song '(There's) Always Some Thing There To Remind Me'.
Born on this day in music
22 Oct 1998
Roddy Ricch American rapper, singer, and songwriter. His debut studio album Please Excuse Me for Being Antisocial (2019) debuted atop the Billboard 200. It spawned the No.1 single 'The Box'.
22 Oct 1988
Joe Seaward drummer with Glass Animals. Their song 'Heat Waves' reached No.1 in Australia in February 2021 and eventually reached No.1 in the US Billboard Hot 100 and No.5 on the UK Singles Chart. At the 2022 Brit Awards, Glass Animals were nominated for two Brit Awards (Best British Rock Act and 'Heat Waves' for Best British Single).
22 Oct 1985
Zachary Walker Hanson, guitar, keyboards and vocals with Hanson, who had the 1997 UK & US No.1 single 'MMMbop'. Hanson has sold over 16 million records worldwide and have had 8 top 40 albums and 6 top 40 singles in the US.
22 Oct 1983
English rapper, singer-songwriter, actor and film director, Plan B, (born Benjamin Paul Ballance-Drew). Plan B first emerged as a hip hop artist releasing his critically acclaimed debut album 'Who Needs Actions When You Got Words' in 2006.
22 Oct 1976
Jon Foreman, lead singer, guitarist, songwriter and co-founder of Switchfoot. Their 2014 album Fading West reached No.6 on the US album chart.
22 Oct 1968
Shaggy, (Orville Richard Burrell), 1993 UK No.1 single 'Oh Carolina', 2001 UK & US No.1 single 'It Wasn't Me', 2001 UK & US No.1 album 'Hotshot').
22 Oct 1968
US singer, songwriter, Shelby Lynne, (1999 album 'I Am Shelby Lynne'), 2001 Grammy Award winner for Best Newcomer.
22 Oct 1956
Stiv Bators, vocals, Dead Boys, Wanderers, Lords Of The New Church.
22 Oct 1946
Eddie Brigati, with American rock band, The Rascals (initially known as The Young Rascals) who had the US No.1 hits 'Good Lovin'' (1966), 'Groovin'' (1967), and 'People Got to Be Free' (1968).
22 Oct 1945
American guitarist, vocalist, and songwriter Leslie West with Mountain, 1970 US No.21 single 'Mississippi Queen', and a memebr of West
Bruce
& Laing. In 2011, due to complications from diabetes, West's right leg had to be amputated. He died on 22 Dec 2020 age 75 after suffering a heart attack in his home near Daytona, Florida.
22 Oct 1942
Bobby Fuller
singer, The
Bobby Fuller
Four. (1966 US No.9 single 'I Fought The Law' written by Sonny Curtis of
Buddy Holly
's Crickets). Fuller died on 18th July 1966 mysteriously from gasoline asphyxiation, while parked in a car outside his apartment.