October 23rd: The Biggest Music Headlines
Scroll down the page to see all the music headlines, stories and events for October 23 throughout music history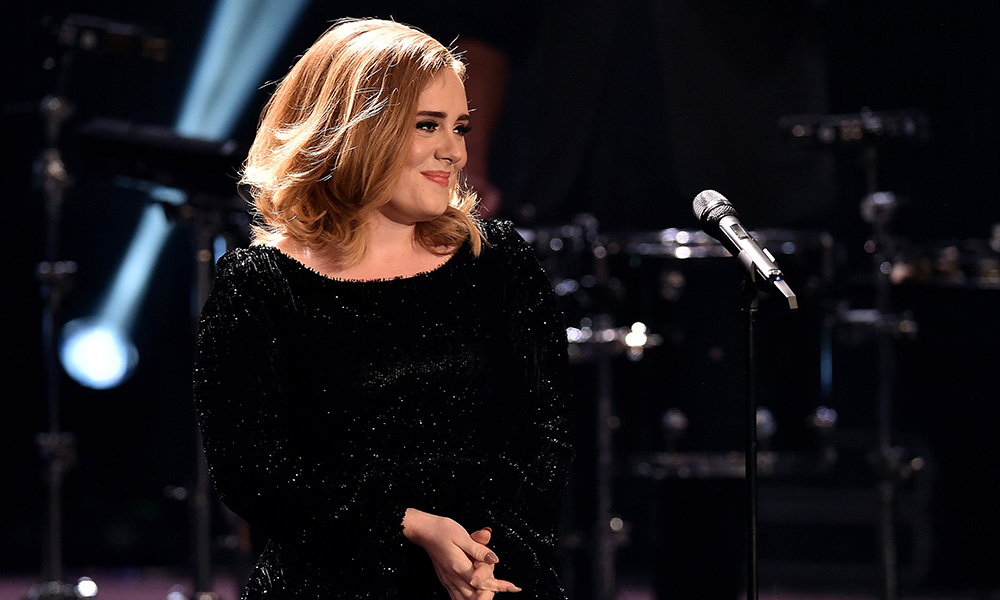 Adele Releases Her Record-Breaking Hit, 'Hello'
On October 23, 2015, Adele released her record-smashing hit, "Hello." The week prior, a 30-second clip of the highly-anticipated track was played during a commercial break on The X Factor, building excitement for the single. Upon its release, the song marked the British artist's second No.1 single, while it topped the charts in a record-breaking 36 countries. In the US, the song became the first track to sell more than a million digital copies in one week (it remains one of the best-selling digital singles ever). The visual for the song, meanwhile, broke the Vevo Record by accruing nearly 28 million views within 24 hours, while on YouTube, it became the fastest video to reach one billion views (87 days).
In 1963, Bob Dylan recorded his enduring anthem, "The Times They Are A-Changin." Inspired by traditional Irish and Scottish ballads, the song reflected the social and political upheaval of the decade and became one of the singer-songwriter's signature hits. Over the years, the song has been covered by countless artists, including The Byrds, Nina Simone, the Beach Boys, and Brandi Carlile.
In 1966, The Jimi Hendrix Experience recorded their first single, a cover of the rock standard, "'Hey Joe." The song became a Top Ten hit in the UK several months after its release, eventually landing at No.6. While it failed to chart in the US, Hendrix's rendition of the song became one of his signature hits and, over the decades, has ranked on numerous "Best Of" lists.
In 2006, Amy Winehouse released her rebellious signature hit, "Rehab." Marking the lead single off the singer's sophomore album, Back to Black, the song was a Top Ten hit in the US and UK and won multiple awards, including three Grammys and an Ivor Novello.
In 2005, Arctic Monkeys scored their first No.1 hit in the UK with "I Bet You Look Good On The Dancefloor." The song marked the lead single from their debut studio album, Whatever People Say I Am, That's What I'm Not.
In 1976, Chicago began a two-week run at the top of the Billboard Hot 100 with "If You Leave Me Now." While it was the group's 18th Top 40 hit, it marked their first No.1.
In 1962, 12-year-old Little Stevie Wonder recorded his first single for Motown Records, "Thank You For Loving Me All The Way."
In 1993, Meat Loaf landed his first UK No.1 with his signature hit, "I'd Do Anything For Love (But I Won't Do That)," featured on Bat Out of Hell II: Back into Hell.
In 1989, Nirvana played their first UK show in Newcastle Upon Tyne.
Looking for more things that happened on this day in music?
Keep scrolling for all of the headlines for October 23.
BORN ON OCTOBER 23:
1949: Michael Burston (Motorhead)
1956: Dwight Yoakam
1959: Weird Al Yankovic
1964: Roberto Trujillo (Suicidal Tendencies, Metallica)
Looking for more artists born on this day?
Keep scrolling for all of our October 23 birthdays.
---
What to find another day?
---
October 23rd
23 Oct 2020
American country music singer and songwriter Jerry Jeff Walker died of throat cancer age 78. He wrote 'Mr Bojangles' a hit for The Nitty Gritty Dirt Band in 1970. Since then Walker's song has been recorded by many popular artists, including Garth Brooks, Chet Atkins, Jim Croce, Jamie Cullum, John Denver,
Neil Diamond
,
Bob Dylan
,
Billy Joel
,
Elton John
, Don McLean and
Dolly Parton
.
23 Oct 2019
The tracklist for
Coldplay's
forthcoming album was exclusively announced for the first time in a classified advert in the North Wales Daily Post. The ad appeared alongside items for sale including a fridge freezer and a bale of hay, and below a Welsh Government public notice. Coldplay has strong links to North Wales, with the band's guitarist Jonny Buckland having grown up in Pantymwyn, near Mold. The band had been drip-feeding details of their new double album Everyday Life with a series of hints.
23 Oct 2016
English singer-songwriter and television personality Pete Burns died following a sudden cardiac arrest. He was a member of the Mystery Girls (with Pete Wylie and Julian Cope), and then Dead Or Alive who scored the 1985 UK No.1 single 'You Spin Me Round, Like A Record'.
23 Oct 2015
Adele
released 'Hello' as the lead track from her third studio album, 25. The music video for the song broke the Vevo Record by achieving over 27.7 million views within 24-hours and entered the top of the UK Singles Chart with 333,000 combined sales, of which 259,000 were downloads, making it the biggest selling No.1 single on the UK chart in three years.
23 Oct 2015
Jamie Lawson, the first act signed to
Ed Sheeran
's Gingerbread Man label, topped the UK album chart with his self titled new record. Lawson had released his first album 12 years ago.
23 Oct 2014
Alvin Stardust died after a short illness. His death came just weeks before he was due to release his first album after 30 years. He had recently been diagnosed with metastatic prostate cancer. The UK singer first performed under the name of Shane Fenton.
23 Oct 2012
It was reported that
Bee Gees
star
Robin Gibb
, who died last May at the age of 62, left an estate worth £93 million, ($148 million).
23 Oct 2008
Beyonce went to No.1 on the UK singles chart with 'If I Were A Boy', the singers fourth UK No.1 hit. Taken from her third solo album, I Am' Sasha Fierce.
23 Oct 2007
Rapper Foxy Brown was given 11 weeks in solitary confinement after fighting with another inmate in prison. She was also said to have been abusive to guards and refused to take a random drug test. Brown was serving a year in jail for violating her probation after a fight she had in a New York nail salon.
23 Oct 2007
British and Dutch police shut down a "widely-used" source of illegally-downloaded music after raids in Teesside and Amsterdam as part of an Interpol investigation into the members-only website OiNK. The UK-run site had leaked 60 major pre-release albums this year alone.
23 Oct 2006
Amy Winehouse
released her "signature song" 'Rehab' as a single, taken from her second studio album, Back to Black. The lyrics are autobiographical, and talk about Winehouse's refusal one time to enter a rehabilitation clinic. It won three Grammy Awards, including Record of the Year, Song of the Year, and Best Female Pop Vocal Performance and also won an Ivor Novello Award for Best Contemporary Song.
23 Oct 2005
Arctic Monkeys scored their first UK No.1 single with 'I Bet You Look Good On The Dancefloor', the Sheffield bands debut single.
23 Oct 2002
A federal judge in St. Louis dismissed a lawsuit against
Chuck Berry
by Johnnie Johnson, a piano player and former collaborator who wanted royalties for more than 30 songs written between 1955 and 1966. The songs in question included 'No Particular Place To Go', 'Roll Over Beethoven', and 'Sweet Little Sixteen'. Johnson's lawsuit argued that he and Berry were co-writers on many of the songs, but because Berry copyrighted them in his name alone, Johnson got none of the royalties. The judge ruled that too many years had passed to bring about a royalties suit.
23 Oct 1999
The wife of Los Lobos singer Sandra Ann-Rosas disappeared. Police charged her half brother Gabriel Gomez with the kidnapping and murder.
23 Oct 1995
Def Leppard
gave themselves a place in the Guinness book Of World Records, by playing three gigs in three continents in 24 hours. Tangier, London and Vancouver.
23 Oct 1993
Meat Loaf
had his first UK No.1 with 'I'd Do Anything For Love' (But I Won't Do That'). It stayed at No.1 for seven weeks. A No.1 in twenty-eight countries and gave Meat Loaf his first US No.1 hit.
23 Oct 1993
Take That
scored their first UK No.1 album with their second release 'Everything Changes.' The album which was nominated for the 1994 Mercury Prize became the third best selling album of 1993 in the UK.
23 Oct 1989
Nirvana
played their first ever European show when they appeared at Newcastle's Riverside Club in North East England. It was the first night of a 36 date European tour for the group who were sharing the bill with Tad.
23 Oct 1982
Culture Club were at No.1 on the UK singles chart with 'Do You Really Want To Hurt Me', the group's first chart topper and the first of 12 UK Top 40 hits. The song became a major hit after their memorable debut performance on
Top Of The Pops
when they stood in for Shakin' Stevens who was ill and not able to appear.
23 Oct 1980
Mark David Chapman quit his security job and signed out for the last time. Instead of the usual "Chappy" he wrote "
John Lennon
". Chapman would murder Lennon on December 8th of this year outside his New York City home.
23 Oct 1976
The Jam
played an afternoon show in Soho Market, London, England and in the evening,
The Clash
appeared at The ICA in London.
23 Oct 1976
Chicago started a two week run at No.1 on the US singles chart with 'If You Leave Me Now'. It was the group's 18th Top 40 and first US No.1, also a No.1 in the UK. It went on to win a Grammy Award for Best Pop Vocal Performance.
23 Oct 1976
Led Zeppelin
made their US television debut on Don Kirshner's Rock Concert, they performed 'Black Dog' and 'Dazed And Confused'.
23 Oct 1966
The
Jimi Hendrix Experience
recorded their first single 'Hey Joe', at De Lane Lea studios in London. The earliest known commercial recording of the song is the late-1965 single by the Los Angeles garage band the The Leaves; the band then re-recorded the track and released it in 1966 as a follow-up single which became a hit.
23 Oct 1964
All four members of US band Buddy and the Kings were killed when they hired a Cesna Skyhawk to take them to a gig in Harris County. Piloted by the bands drummer Bill Daniles, the plane crashed nose first killing all on board. Singer with the group Harold Box had replaced
Buddy Holly
in The Crickets after his death in a plane crash. He sang lead vocals on 'Peggy Sue Got Married.' The Great Gig In The Sky
23 Oct 1963
Bob Dylan
recorded 'The Times They Are A-Changin' at Columbia Recording Studios in New York City. Dylan wrote the song as a deliberate attempt to create an anthem of change for the time, influenced by Irish and Scottish ballads. In January 1984, a young Steve Jobs would recite the second verse of 'The Times They Are a-Changin' during his opening of the 1984 Annual Apple Shareholders Meeting, where he famously unveiled the Macintosh computer for the first time.
23 Oct 1963
The Beatles
completed the final session for their second album 'With the Beatles' recording 'I Wanna Be Your Man.' The group then drove to London airport for a flight to Stockholm, Sweden to start their first foreign tour. The Fab four were met at Stockholm airport by hundreds of girl fans that had taken the day of school.
23 Oct 1963
23 Oct 1962
23 Oct 1961
Dion started a two week run at No.1 on the US singles chart with 'Runaround Sue', it reached No.11 in the UK.
Born on this day in music
23 Oct 1972
Richard McNamara, guitarist from English alternative rock band Embrace, who had the 2006 UK No. 2 single 'Natures Law', the 2006 UK No.1 album This New Day and two other UK No.1 albums.
23 Oct 1964
Roberto Trujillo, bassist, Suicidal Tendencies, Infectious Grooves, Black Label Society, Jerry Cantrell, and
Ozzy Osbourne
's band before joining
Metallica
in 2003.
23 Oct 1959
Weird Al Yankovic, minor US hits parodying songs such as 'Eat It',
Michael Jackson
's 'Beat it' and 'Like A Surgeon', (
Madonna
's 'Like A Virgin').
23 Oct 1957
Kelly Marie, singer who had the 1980 UK No.1 single 'Feels like I'm In Love', which was written by Ray Dorset of Mungo Jerry.
23 Oct 1956
Dwight Yoakam, country singer, actor and film director, who is most famous for his pioneering country music which has sold over 25 million records with 5 Billboard No.1 Albums, 12 Gold Albums, and 9 Platinum Albums. Yoakam is the most frequent musical guest in the history of The Tonight Show and has also starred in many films, most notably in critically acclaimed performances as an ill-tempered, abusive, live-in boyfriend in Sling Blade.
23 Oct 1953
Pauline Black, singer from 2 Tone ska revival band Selecter who had the 1979 UK No.8 single 'On My Radio'.
23 Oct 1949
English guitarist Michael Burston. He played with
Motorhead
from 1984 to 1995. He died at the age of 61 following heart complications on 9 July 2011.
23 Oct 1945
Rosa Lee Hawkins from American pop music girl group The Dixie Cups best known for a string of hits including their 1964 million-selling record 'Chapel of Love', 'People Say', and 'Iko Iko'. She died on 11 January 2022.
23 Oct 1945
Ernie Watts, American jazz and rhythm and blues saxophonist. He has worked with
The Rolling Stones
, featured soloist on many of
Marvin Gaye
's albums,
Frank Zappa
(The Grand Wazoo) he played the "Mystery Horn", and played the notable saxophone riff on 'The One You Love' by Glenn Frey.
23 Oct 1943
Barbara Ann Hawkins from American pop music girl group The Dixie Cups, best known for a string of hits including their 1964 million-selling record 'Chapel of Love', 'People Say', and 'Iko Iko'.
23 Oct 1943
English rock bassist Greg Ridley with Spooky Tooth and a founder member of Humble Pie, who had the 1969 UK No.4 single 'Natural Born Bugie'. Ridley died on 19th November 2003 of pneumonia aged 56.
23 Oct 1940
English musician Freddie Marsden who with Gerry And The Pacemakers had the 1963 UK No.1 single 'How Do You Do It' and the 1965 US No.6 single, 'Ferry Cross The Mersey'. In common with
The Beatles
they came from Liverpool, were managed by Brian Epstein, and were recorded by George Martin.
23 Oct 1940
American pop music singer, songwriter, and record producer Ellie Greenwich. With Phil Spector and Jeff Barry she wrote or co-wrote many hits including 'Da Doo Ron Ron', 'Be My Baby' 'Then He Kissed Me', 'Do Wah Diddy Diddy', 'Leader of the Pack, and 'River Deep – Mountain High' among others. She died of a heart attack on 26 August 2009 age 68.