October 25th: The Biggest Music Headlines
Scroll down the page to see all the music headlines, stories and events for October 25 throughout music history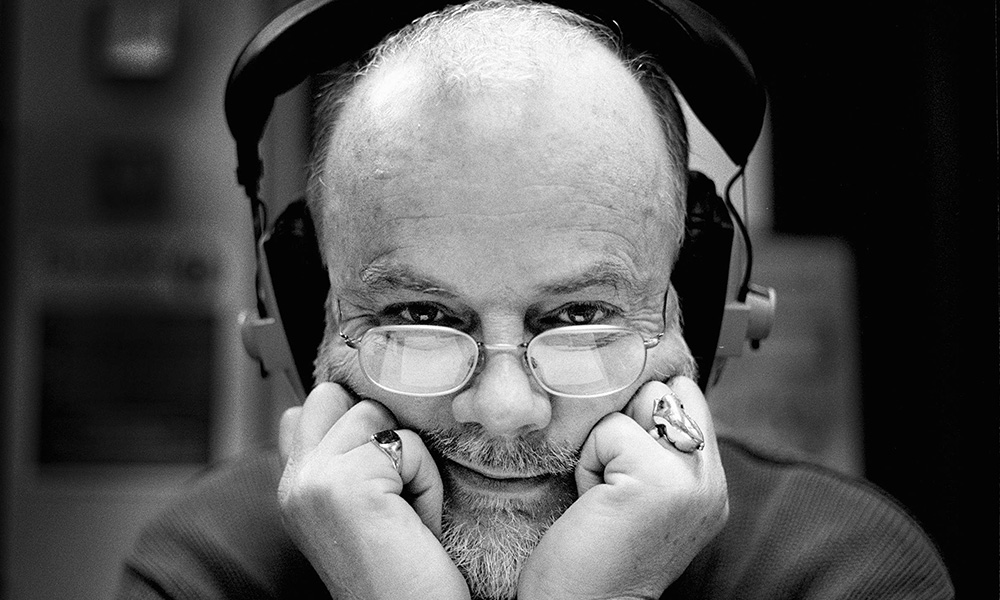 BBC Radio 1's Longest-Serving DJ, John Peel, Dies
On October 25, 2004, BBC Radio 1 DJ John Peel, a hugely influential figure in British music, died at the age of 65. Peel, Radio 1's longest-serving DJ, broadcasted regularly from 1967 until his death, and helped to break countless artists during that time – particularly those outside of the mainstream, including prog rock, post-punk, and electronic acts. The DJ was perhaps best known for his unique "Peel Sessions," which gave (often rising) artists a platform to perform several songs at the BBC studios. During his tenure, more than 4,000 sessions were recorded, including several by Queen (captured between 1973-1977), David Bowie (1967-72), Buzzcocks (1977-79), Nirvana (1989-1991), Underworld (2003-4), and PJ Harvey (1991-2004).
In 1986, for the first time in the history of the Billboard Hot 100, the top three spots on the chart were held by female solo acts. Cyndi Lauper's "True Colors" captured the No.1 position, Tina Turner's "Typical Male" came in at No.2, and Janet Jackson's "When I Think Of You" at No.3.
In 1968, The Jimi Hendrix Experience released their seminal double LP, Electric Ladyland. The band's third and final album was their most successful release and sole chart-topper, spending two weeks at No.1 in the US. Considered to be among one of the greatest rock albums of all time, Electric Ladyland includes the band's classic cover of Bob Dylan's "All Along the Watchtower," plus "Voodoo Child (Slight Return)" and "Crosstown Traffic."
In 1964, The Rolling Stones made their debut on The Ed Sullivan Show, performing a cover of Chuck Berry's "Around & Around" as well as their single "Time Is on My Side."
In 1997, The Spice Girls went to No.1 on the UK singles chart with "Spice Up Your Life." The song's success made them the only act to reach No.1 in the UK with their first five singles, as well as the first group to debut at the top of the chart four times in a row.
In 1986, Bon Jovi hit No.1 in the US with Slippery When Wet. The album has since been certified 12x Platinum, making it one of the 100 best-selling albums of all time in the United States.
In 2014, Jack Bruce, best known as one-third of Cream, died at the age of 71. The bassist and songwriter also had a prolific solo career.
Looking for more things that happened on this day in music?
Keep scrolling for all of the headlines for October 25.
BORN ON OCTOBER 25:
1941: Helen Reddy
1948: Glenn Tipton (Judas Priest)
1951: Richard Lloyd (Television)
1955: Matthias Jabs (Scorpions)
1959: Chrissy Amphlett (Divinyls)
1962: Chad Smith (Red Hot Chili Peppers)
1968: Todd Thomas (Arrested Development)
1970: Ed Robertso ( Barenaked Ladies)
1984: Katy Perry
1985: Ciara
Looking for more artists born on this day?
Keep scrolling for all of our October 25 birthdays.
---
What to find another day?
---
October 25th
25 Oct 2015
American guitarist and saxophonist Marlo Henderson died aged 67. As a session musician he played on albums such as Off the Wall by
Michael Jackson
and worked with
Paul McCartney
and Minnie Riperton.
25 Oct 2014
Jack Bruce, best known as one third of
Cream
died of liver disease aged 71. Bruce played bass, sang and was the principal songwriter in
Cream
, and his CV reads like a comprehensive guide to the British blues boom, with spells in Alexis Korner's Blues Inc, the Graham Bond Organisation, John Mayall's Bluesbreakers and Manfred Mann.
25 Oct 2012
Forbes magazine reported that
Michael Jackson
topped their list of highest-earning dead musical celebrities by earning $145 million in the past year.
Elvis Presley
ranked No.2 with $55 million in earnings, and
Bob Marley
No.3 with $17 million.
25 Oct 2007
Three workers building the set for an Akon outdoor show at Emory University in Atlanta were taken to hospital after a canopy fell on top of them. The concert was later cancelled
25 Oct 2004
John Peel
died in Cuzco, Peru of a heart attack, aged 65. He was BBC's longest-serving radio DJ and the first DJ to introduce the
Ramones
,
The Smiths
,
Rod Stewart
, Blur, the
Sex Pistols
,
T Rex
and others to the masses. He founded Dandelion Records in 1969, and was also known for his 'Peel Sessions', releases of live radio sessions. Peel was appointed an OBE in 1998.
25 Oct 2003
Johnny Cash
's step-daughter, Rosey Nix Adams and her fiddle player Jimmy Campbell were found dead on their tour bus in Clarksville, Tennessee from Carbon monoxide poisoning. Heaters that had been left on were blamed for the accident.
25 Oct 2002
Richard Harris, who had the 1968 US No.2 & UK No.4 hit 'MacArthur Park' died of cancer. The 72-year-old Irish-born actor had been undergoing chemotherapy at a private clinic in London. Though he charted three other times, Harris was better known for his acting roles on stage and film, most recently playing Albus Dumbledore in two Harry Potter films.
25 Oct 2001
13 law firms were still involved in claims to
Grateful Dead
guitarist
Jerry Garcia
's $10m estate six years after his death. Former wives & girlfriends continued to fight on how to distribute his estate and annual royalties of $4.6m.
25 Oct 2000
William Martin drummer with Sam The Sham & the Pharaohs died of a heart attack. The quintessential Tex-Mex band of the 1960s, had the 1965 US No.2 & UK No.11 single 'Wooly Bully'.
25 Oct 1999
Santana topped the US album chart with Supernatural. The massively popular album, which went on to win eight Grammy awards, spent a total of 12 non-consecutive weeks at the top of the Billboard 200, thanks in part to such chart-topping hits as "Smooth" ft. Rob Thomas and "Maria Maria" ft. the Product G&B.
25 Oct 1997
After falling over on stage when reaching for a guitar pick,
Johnny Cash
announced during a gig in Michigan that he was suffering from Parkinson's disease.
25 Oct 1997
The
Spice Girls
went to No.1 on the UK singles chart with 'Spice Up Your Life'. Taken from their second album 'Spiceworld' the single set new record, making them the only act to have their first five singles reach No.1.
25 Oct 1992
Roger Miller died of died of lung and throat cancer in hospital in Los Angeles. Scored the 1965 UK No.1 & US No.4 single 'King Of The Road'. Miller won eleven Grammy Awards as a songwriter and seven Tony awards for writing the music and lyrics for 'Big River'. The Proclaimers had the 1990 UK No.9 hit with their version of 'King Of The Road.'
25 Oct 1989
Nirvana
and Tad appeared at the Duchess Of York, Leeds, England. The two acts were on the third night of their debut European tour.
25 Oct 1986
Bon Jovi
went to No.1 on the US album chart with 'Slippery When Wet'. Featuring two US No.1 singles, 'You Give Love A Bad Name' and 'Livin' On A Prayer'. The album went on to sell over 8 million copies world wide.
25 Oct 1986
For the first time in the history of the Billboard Hot 100, the top three spots were held by female solo acts. Cyndi Lauper's 'True Colors' held down the No.1 position, followed by Tina Turner's 'Typical Male' at No.2 and
Janet Jackson
's 'When I Think Of You' at No.3.
25 Oct 1985
Actor and singer Gary Holton died of a drug overdose. Member of The Heavy Metal Kids, and one half of the duo Casino Steel. Holton appeared in the film Quadrophenia and UK TV's Auf Wiedersehen Pet.
25 Oct 1985
R.E.M.
,
The Smiths
and Tom Waits all appeared on the music TV show
The Tube
broadcast live from Tyne Tree Television Studios, Newcastle upon Tyne, England.
25 Oct 1980
Barbra Streisand scored her fourth US No.1 album with 'Guilty.' Also on this day Streisand started a three week run at No.1 on the UK singles chart with a song written by the The
Bee Gees
'Woman In Love', the singers only UK No.1.
25 Oct 1975
Art Garfunkel
was at No.1 on the UK singles chart with his version of 'I Only Have Eyes For You.' Written in 1934 for the film Dames the song was a No.2 hit for Ben Selvin in 1934 and most notably a hit for The Flamingos in 1959.
25 Oct 1970
Speaking at a US radio conference, President Nixon asked programmers to ban all songs containing drug references.
25 Oct 1969
'
Sugar Sugar
' by The Archies was at No.1 on the UK singles chart. It stayed at the top for eight weeks, and was also No.1 in the US, selling over six million copies worldwide. The Archies were a rock group based on comic book characters.
25 Oct 1968
Led Zeppelin
played a gig at Surrey University, England. Although there are unconfirmed reports of earlier shows, this appears to be the band's first gig with their new name after initially performing as The New Yardbirds. In 2003 a poster for the Surrey gig (billing the group as The New Yardbirds) sold at auction for £2,400.
25 Oct 1968
The double album 'Electric Ladyland' by the The
Jimi Hendrix Experience
was released. It was also made available as two albums with changed artwork after complaints about the naked women who were pictured on the sleeve. The female models were each paid £5 for the photo shoot and another £5 if they posed completely naked.
25 Oct 1966
Aged 7 months old, Jeff Healey had his right eye surgical removed (and subsequently his left eye, 4 months later), and replaced with artificial ones, necessitated by a form of cancer of the eyes called retinoblastoma. Three years later Healey was given his first guitar by his father. At the age of 13, the Canadian guitarist formed his first band, Blue Direction.
25 Oct 1964
The
Rolling Stones
appeared for the first time on The Ed Sullivan Show from New York, performing 'Around And Around' and 'Time Is On My Side'. A riot broke out in the studio, prompting Sullivan's infamous quote, 'I promise you they'll never be back on our show again.' The
Rolling Stones
went on to make a further five appearances on Sullivan's show between 1965 and 1969.
25 Oct 1963
The Beatles
kicked off their first tour of Sweden by playing two shows at Nya Aulan, Sundstavagen, Karlstad, Sweden. The local pop reviewer was not impressed, saying
The Beatles
should be grateful to their screaming fans for drowning out the group's terrible performance, adding that
The Beatles
"were of no musical importance whatsoever and that their local support group, The Phantoms, decidedly outshone them."
25 Oct 1958
Cliff Richard made his British radio debut on the BBC's 'Saturday Club.' The show had started life as Saturday "Skiffle" club in 1957 hosted by Brian Matthew and was broadcast from 10am to 12noon Saturday mornings on the BBC Light Programme.
Born on this day in music
25 Oct 1985
Ciara Princess Harris, US singer, songwriter, record producer, (2004 US No.1 single 'Goodies', 2006 US No.1 album Ciara: The Evolution).
25 Oct 1984
Katy Perry, American singer-songwriter, who scored the 2008 single 'I Kissed a Girl' which was a worldwide hit topping the charts in over than 20 countries. Her 2013 single 'Roar' gave the singer her eighth non-consecutive US No.1 hit.
25 Oct 1970
Ed Robertson, guitar, with Canadian rock band Barenaked Ladies who scored the 1998 US No.1 & UK No.5 single 'One Week'. The group has sold over 15 million records including albums and singles, and were inducted into the Canadian Music Hall of Fame in March of 2018.
25 Oct 1968
Todd Thomas, from American alternative hip hop group Arrested Development who scored the 1992 UK No.2 and US No. 8 single 'People Everyday'. The group won two Grammy Awards in 1993 for Best New Artist and Best Rap Performance and were also named Band of the Year by Rolling Stone magazine.
25 Oct 1965
Nick Thorp, from British pop band, Curiosity Killed The Cat who had the 1989 UK No.14 single 'Name And Number' and the UK No.1 album Keep Your Distance.
25 Oct 1963
John Leven, Europe, (1986 UK No.1 single 'The Final Countdown').
25 Oct 1962
Chad Smith, drummer,
Red Hot Chili Peppers
(1992 UK No.26 single 'Under The Bridge', 2002 UK No.1 album 'By The Way').
25 Oct 1960
Australian singer Christina Amphlett with The Divinyls who had the 1991 US No.4 & UK No.10 single, 'I Touch Myself'. Amphlett died on 21st April 2013 after battling breast cancer and multiple sclerosis.
25 Oct 1955
Matthias Jabs, from German rock band Scorpions. Their 1990 power ballad 'Wind Of Change' topped the European charts and was a No.4 hit in the US. The Scorpions hold the record for the best-selling single by a German artist and band.
25 Oct 1951
Richard Lloyd, American guitarist with Television. The group's debut album, Marquee Moon, is often considered one of the defining releases of the punk era.
25 Oct 1950
Chris Norman, from English rock band Smokie who had the 1975 UK No.3 single 'If You Think You Know How To Love Me'. Their most popular hit single was 'Living Next Door to Alice'.
25 Oct 1948
English Grammy Award-winning guitar player and songwriter Glenn Tipton from Judas Priest who have sold over 50 million albums worldwide.
25 Oct 1947
John Hall from the British pop, R&B and rock group The Equals who had the 1968 UK No.1 & US No.32 single 'Baby Come Back' written by Eddy Grant.
25 Oct 1944
English singer and songwriter Jon Anderson, who was a member of The Warriors, and Yes who scored the 1983 UK No.28 & US No.1 single 'Owner Of A Lonely Heart'. Anderson is also noted for his solo career and collaborations with other artists, including Vangelis as Jon and Vangelis.
25 Oct 1944
Taffy Danoff, from American pop group Starland Vocal Band, who had the 1976 US No.1 & UK No.18 single 'Afternoon Delight' one of the biggest-selling singles of 1976.
25 Oct 1941
Helen Reddy, Australian singer, songwriter who had the 1975 US No.1 & UK No.5 single 'Angie Baby'). Cher had previously turned down the song. Reddy died on 29 September 2020 age 78.