October 3rd: The Biggest Music Headlines
Scroll down the page to see all the music headlines, stories and events for October 3 throughout music history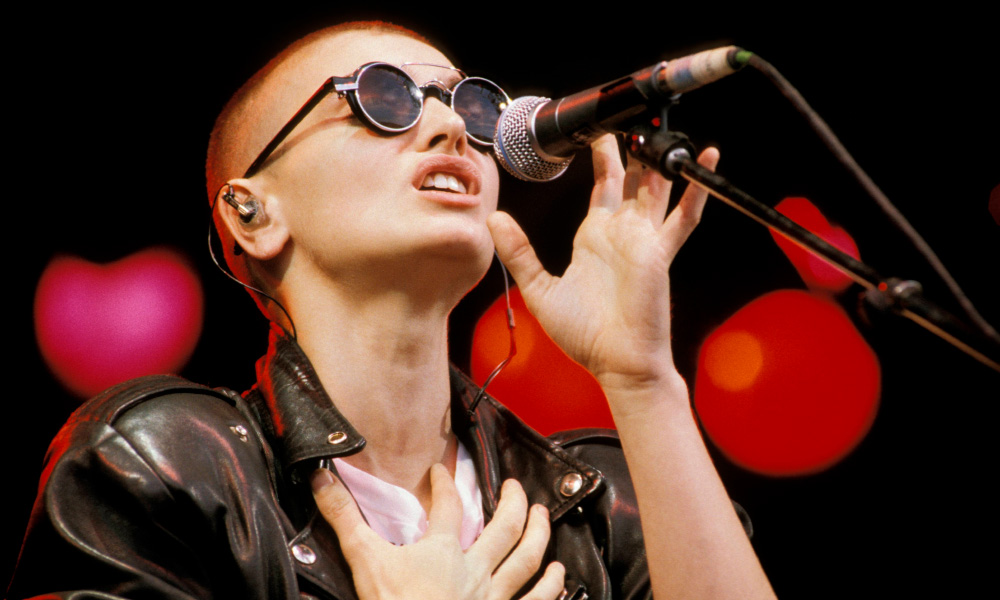 Sinead O'Connor's Controversial 'SNL' Appearance
On October 3, 1992, Sinead O'Connor made Saturday Night Live history with one of the show's most unforgettable appearances. In a controversial move that defined her career, the Irish singer-songwriter performed a cover of Bob Marley's "War," changing the lyric "racism" to "child abuse," while holding up a photo of Pope John Paul II. She then tore the picture and threw the pieces at the camera. The audience was stunned, neither clapping nor booing. NBC, meanwhile, was fined $2.5 million by the FCC for O'Connor's live stunt.
In 1967, American folk icon Woody Guthrie died after a lengthy battle with Huntington's disease at age 55. During his career, the pioneering artist wrote hundreds of songs, including, most famously, "This Land Is Your Land," in response to Irving Berlin's "God Bless America." An anti-fascist activist, who was associated with several American communist groups, Guthrie often incorporated political and social commentary into his songs. His vast catalog of work would inspire artists across a range of genres and decades, including Johnny Cash, Bob Dylan, Bruce Springsteen, Jerry Garcia, and Jeff Tweedy.
In 1945, a 10-year-old Elvis Presley performed in public for the first time during a talent contest at the Mississippi Alabama Dairy Show. He sang "Old Shep" and came in second place.
In 1999, 59-year-old Tom Jones became the oldest artist to top the UK album charts with new material. The LP in question was Reload, which featured his hit collaboration with Mousse T, "Sexbomb."
In 2004, 17-year-old Joss Stone became the youngest female artist to top the UK Album charts with Mind Body & Soul. Across the pond, Stone's sophomore LP earned her three Grammy nominations, including Best New Artist, Best Pop Vocal Album, and Best Female Pop Performance (for "You Had Me").
In 1991, Texas governor Ann Richards proclaimed October 3rd "Stevie Ray Vaughan Day," to mark the late, Dallas-born musician's birthday. Annual motorcycle rides and concerts in Central Texas benefit the Stevie Ray Vaughan Memorial Scholarship Fund.
Looking for more things that happened on this day in music?
Keep scrolling for all of the headlines for October 3.
BORN ON OCTOBER 3:
1941: Chubby Checker
1949: Lindsey Buckingham
1954: Stevie Ray Vaughan
1962: Tommy Lee
1969: Gwen Stefani
1971: Kevin Richardson (Backstreet Boys)
1975: India Arie
1978: Jake Shears (Scissor Sisters)
Looking for more artists born on this day?
Keep scrolling for all of our October 3 birthdays.
---
What to find another day?
---
October 3rd
3 Oct 2019
Liam Gallagher
was at No.1 on the UK chart with his second solo studio album Why Me? Why Not. The album's lead single 'Shockwave' became one of Gallagher's biggest solo hits, and the best selling vinyl single of 2019 in the UK.
3 Oct 2014
3 Oct 2013
The family of
Michael Jackson
lost a negligence case against concert promoters AEG Live over the death of the 50-year-old pop star. A jury concluded the doctor looking after Jackson ahead of his concert tour was not unfit for his job - and so AEG had not been negligent in hiring him. Jackson died in 2009 after taking an overdose of a surgical anaesthetic.
3 Oct 2011
According to new scientific research,
Queen
's 'We Are The Champions' was found to be the catchiest song ever written. Musicologist Dr Alisun Pawley from the University of London, England, conducted research into what makes a song memorable and compiled a list of the ten "catchiest" songs of all time. During the research, they discovered that sing-along songs contained four key elements: long and detailed musical phrases, multiple pitch changes in a song's 'hook', male vocalists, and higher male voices making a noticeable vocal effort. Y.M.C.A. by the Village People, Sum 41's Fat Lip, and Europe's The Final Countdown were also in the list.
3 Oct 2008
Singer, producer and songwriter Johnny J (Johnny Jackson) died after jumping from a tier in a Los Angeles jail while serving a sentence for driving under the influence. He produced
Tupac Shakur
's albums All Eyez on Me and Me Against the World, as well as many of Shakur's subsequent posthumous albums and Candyman.
3 Oct 2004
UK singer Joss Stone scored her first UK No.1 album with her second release Mind Body & Soul. Stone became the youngest female singer to top the UK Albums Chart, a record previously held by Avril Lavigne.
3 Oct 2002
Original guitarist, vocalist from American psychedelic rock band
Iron Butterfly
Darryl DeLoach died of liver cancer at the age of 56.
3 Oct 2000
John Lennon
's assassin Mark Chapman was denied parole after serving 20 years in prison. Chapman was interviewed for 50 minutes by parole board members who concluded that releasing Chapman would 'deprecate the seriousness of the crime.'
3 Oct 2000
The Cars singer and bass player Benjamin Orr died of cancer at home in Atlanta at the age of 53. Sang lead vocals on the bands hits 'Just What I Needed', 'Let's Go' and 'Drive'.
3 Oct 1999
Akio Morita the founder of Sony electronics died aged 78. The 1979 Sony Walkman transformed both Sony and consumers across the world.
3 Oct 1999
Tom Jones went to No.1 on the UK album chart with 'Reload', making the singer the oldest artist to score a UK No.1 album with new material. The album featured the collaboration with Mousse T, 'Sexbomb', which reached No.3 on the UK Singles Chart, and was later used in an episode of The Simpsons.
3 Oct 1992
Sinead O'Connor
ripped up a photograph of Pope John Paul II, on the US TV show 'Saturday Night Live', as a protest over sexual abuse in the Roman Catholic Church. The incident happened as Sinead ended her live performance and out of nowhere, produced a photograph of Pope John Paul II, which she ripped into pieces. There was stunned silence in the studio and the station went to a commercial. NBC was fined $2.5 million dollars by the Federal Communications Commission.
3 Oct 1991
Texas governor Ann Richards proclaimed October 3,
Stevie Ray Vaughan
, (Stevie Ray Vaughan's birthday), to be "Stevie Ray Vaughan Day". An annual motorcycle ride and concert in Central Texas benefits the Stevie Ray Vaughan Memorial Scholarship Fund.
3 Oct 1991
M.C. Hammer offered a $50000 reward for the return of
Michael Jackson
's white glove, which had been stolen from the
Motown
Museum. This was part of an on-going battle between Hammer and Michael Jackson.
3 Oct 1987
M/A/R/S were at No.1 on the UK singles chart with 'Pump Up The Volume.' The first British-made house hit heavily sampled other recordings which resulted in litigation.
3 Oct 1978
The members of
Aerosmith
bailed thirty fans out of jail after they were arrested for smoking pot during an
Aerosmith
concert at Fort Wayne Coliseum.
3 Oct 1968
Working at Trident Studios in London,
The Beatles
recorded the new
George Harrison
song 'Savoy Truffle'. George, Paul, and Ringo recorded just one take of the basic track (drums, bass, and lead guitar). The song was inspired by
Eric Clapton
's love of chocolates, particularly Mackintosh's Good News.
3 Oct 1967
American singer, songwriter Woody Guthrie died after suffering from Huntington's Chorea disease. Guthrie was a major influence on
Bob Dylan
and American folk music. The 70s film 'Bound For Glory' is based on his life. His best-known song is 'This Land Is Your Land', which is regularly sung in American schools.
3 Oct 1958
The Biggest Show Of Stars 1958 Tour kicked off at the Worcester Auditorium in Worcester, Massachusetts. This Autumn Edition featured;
Buddy Holly
, Frankie Avalon, Bobby Darin, The Olympics, Dion & The Belmonts, Bobby Freeman, The Elegants, Jimmy Clanton, The Danleers, Duane Eddy, Clyde McPhatter and The Coasters.
3 Oct 1945
Elvis Presley
made his first ever-public appearance in a talent contest at the Mississippi Alabama Dairy Show singing 'Old Shep', Elvis was 10 years old at the time and came second.
Born on this day in music
3 Oct 1984
Ashlee Simpson, US singer, (2004 US No.1 album 'Autobiography').
3 Oct 1983
Danny O'Donoghue, singer-songwriter, The Script. 2008 UK No.1 self-titled album. Was a coach on the television singing talent show The Voice UK.
3 Oct 1978
Jake Shears, (Jason Sellards), vocals, Scissor Sisters, (2004 UK No.1 self-titled album, 2004 UK No. 12 single 'Laura').
3 Oct 1975
India Arie Simpson, American soul, R&B singer, songwriter, (2006 US No.1 album Testimony: Vol. 1, Life & Relationship').
3 Oct 1971
Kevin Richardson, singer, Backstreet Boys, (1997 US No.2 single 'Quit playing Games With My Heart', 1999 UK No.1 single 'I Want It That Way').
3 Oct 1969
Gwen Stefani, vocalist with No Doubt, (1997 UK No.1 single with 'Don't Speak' and a 1997 No.1 US album 'Tragic Kingdom'). As a solo artist (2005 US No.1 single 'Hollaback Girl' from the 2004 worldwide 2004 Top 5 album 'Love, Angel, Music, Baby').
3 Oct 1967
American singer, songwriter Chris Collingwood lead vocalist and founding member of the power pop band Fountains of Wayne who had the 2003 Grammy-nominated single 'Stacy's Mom'.
3 Oct 1966
Dan Miller, guitarist, from American alternative rock band They Might Be Giants, who scored the 1990 UK No.6 single, 'Birdhouse In Your Soul'. The band has won two Grammy Awards, one in 2002 for their song 'Boss of Me, and in 2009 for 'Here Come the 123s'.
3 Oct 1962
Tommy Lee
, drummer and founding member of Motley Crue, who had the 1988 UK No.23 single 'You're All I Need' and the 1989 US No.1 & UK No.4 album Dr Feelgood. Lee also founded rap-metal band Methods of Mayhem, and has pursued solo musical projects. He has been married to model Elaine Starchuk and actresses Heather Locklear and Pamela Anderson.
3 Oct 1961
Robbie Jaymes, Modern, Romance, (1982 UK No.4 single 'Best Years Of Our Lives').
3 Oct 1960
Gail Greenwood bass, Belly, (1993 UK No. 23 single 'Feed The Tree').
3 Oct 1954
American musician, singer, songwriter, guitarist
Stevie Ray Vaughan
. He was one of the most influential guitarists in the revival of blues in the 1980s. Vaughan was killed in a helicopter crash on August 27th 1990 age 35. His family successfully sued the operators of the company for allowing an unqualified pilot to fly in fog and were awarded $2 million (£1.2 million). Vaughan played guitar on
David Bowie
's Let's Dance album.
3 Oct 1954
American guitarist Dawayne Bailey who has toured and recorded with Bob Seger & the Silver Bullet Band, Véronique Sanson, and Chicago.
3 Oct 1950
Ronnie Laws, saxophonist, with Earth, Wind & Fire, who had the 1975 US No.1 single 'Shining Star', and the 1981 UK No.3 single 'Let's Groove'. The band has received 20 Grammy nominations and were the first African-American act to sell out Madison Square Garden.
3 Oct 1949
American musician, singer, songwriter Lindsey Buckingham from
Fleetwood Mac
who had the 1977 US No.1 single 'Dreams' from the world wide No.1 album
Rumours
. Buckingham was one half of the duo, Buckingham Nicks and aside from his tenure with Fleetwood Mac, Buckingham has also released six solo albums and three live albums.
3 Oct 1947
American poet and political activist John Perry Barlow. He was also a lyricist for
Grateful Dead
and a founding member of the Electronic Frontier Foundation and the Freedom of the Press Foundation. Barlow died in his sleep on February 7, 2018 at his San Francisco home, at the age of 70.
3 Oct 1947
American trumpet player, Ben Cauley, vocalist, songwriter, and founding member of the Stax recording group, The Bar-Kays. He was the only survivor of the 1967 plane crash that claimed the lives of soul singer
Otis Redding
and four members of the Bar-Kays. Cauley died on 21st Sept 2015.
3 Oct 1946
American soul singer, PP Arnold who was a member of the Ike & Tina Turner Revue. She scored several hits including the original version of the Cat Stevens song 'The First Cut Is the Deepest' and later released singles produced by Barry Gibb. As a session singer Arnold has worked with
Eric Clapton
and Roger Waters.
3 Oct 1945
Antonio Martinez, from Spanish beat group Los Bravos who had the 1966 UK No.2 & US No.4 single 'Black Is Black'. They were the first Spanish rock band to have a UK & US hit single.
3 Oct 1941
Chubby Checker, US singer, (Ernest Evans), 1960 US No.1 & UK No.14 single 'The Twist', 1962 UK No.2 single 'Let's Twist Again'). 'The Twist' is the only song to go to number 1 on the US singles charts twice. Once in 1960 and again in 1962.
3 Oct 1940
Alan O'Day American singer-songwriter, best known for 'Undercover Angel,' a million-selling American No.1 hit in 1977. He also wrote the 1974 Helen Reddy No. 1 hit 'Angie Baby'. He died on 17 May 2013 age 72 after a battle with brain cancer.
3 Oct 1938
American rock and roll musician Eddie Cochran, who had the 1958 US No. 8 single 'Summertime Blues', and the 1960 UK No.1 single 'Three Steps To Heaven'. He experimented with multitrack recording, distortion techniques, and overdubbing even on his earliest singles and played the guitar, piano, bass, and drums. Cochran was killed in a car crash on 17th April 1960 aged 21 while on tour in the United Kingdom. Songwriter Sharon Sheeley and singer Gene Vincent who were also in the car both survived the crash.