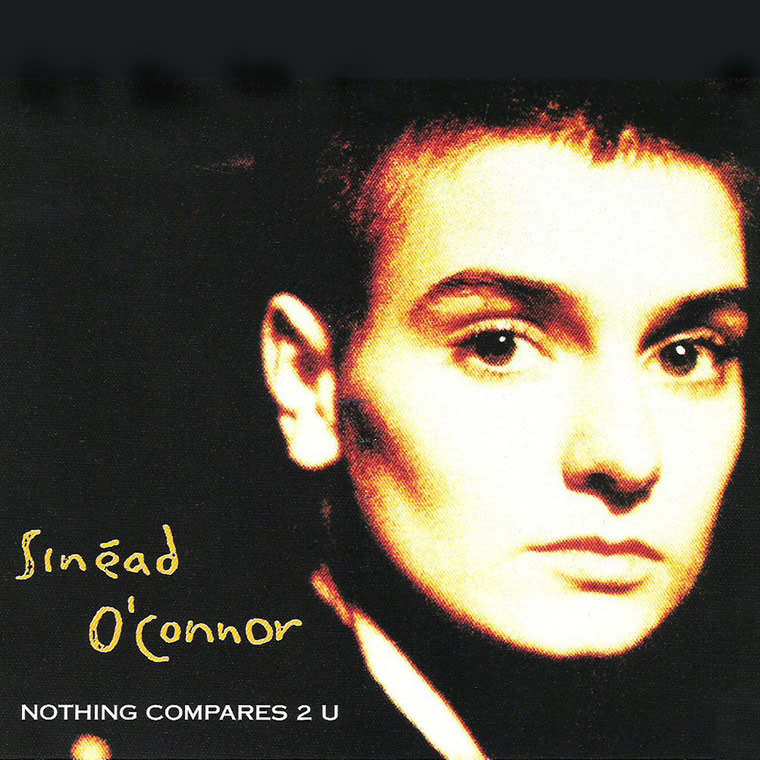 In 1990, Sinead O'Connor was at No. 1 on the UK singles chart with "Nothing Compares 2 U." Her version of the Prince-penned song was also a No. 1 hit in 18 other countries. A month later the Irish singer's second album, I Do Not Want What I Haven't Got, was in pole position on the UK charts as well as 13 other countries including six weeks at No. 1 in the US — going on to become the third best-selling single of 1990.
For a moment there, Sinead could do no wrong. Every time you turned on MTV, there she was, staring into your living room, the big close-up of her face with a tear rolling down it.
The iconic video directed by John Maybury was shot in Paris, France. O'Connor's cry toward the end wasn't accidental — she later stated on VH1's 100 Greatest Songs of the 90s that it was caused by the lyric "all the flowers that you planted, Mama, in the backyard, all died when you went away," because she had a very complex relationship with her late mother, who used to abuse her in childhood. The much-viewed video cleaned up at the 1990 MTV Music Awards winning O'Connor Video of the Year (O'Connor became the first female artist to be awarded it), Best Female Video, and Best Post-Modern Video.
The song was produced by British DJ and re-mixer Nellee Hooper who was also a member of the influential Bristol-based group Massive Attack. "Nothing Compares 2 U" was first released by The Family, who were a funk band created as an outlet to release more of Prince's music, tucked away on their first and only album, the self-titled The Family.
Then what happened? Well, things were going well. O'Connor joined many other guests for former Pink Floyd member Roger Waters' massive performance of The Wall in Berlin. She appeared on a couple of high profile charity albums but her follow-up singles just didn't happen. You would imagine that after such a massive hit and with an album that spent one week short of a year on the chart, any artist would land another top 10 hit, but no — her next single, "The Emperor's New Clothes," stalled outside the top 30, as did the next two, "Three Babies" and "My Special Child."
Then the controversy started. Frank Sinatra threatened to "kick her ass" after she announced that she would not perform if the United States national anthem was played before one of her concerts. Then, after receiving four Grammy nominations she withdrew her name from consideration.
But that was nothing. On 3 October 1992, O'Connor appeared on Saturday Night Live as a musical guest. During the dress rehearsal, she held up a photo of a refugee child during an a cappella version of Bob Marley's "War," which she intended as a protest over the sexual abuse in the Roman Catholic Church, by changing the lyric "racism" to "child abuse."
During her actual live performance, the photo of a refugee child was nowhere to be seen. Instead, she held a photo of Pope John Paul II up to the camera while singing the word "evil," after which she tore the photo into pieces, said "fight the real enemy," and threw the pieces towards the camera.
It was a very brave thing to do, but also a strange way to throw away your career in the land of the free. But Sinead was and is a brave woman, and has continued to rock the boat since then, using her position to make people aware of various causes close to her heart.
Speaking in an interview with Norwegian station NRK in 2014, O'Connor told the tale of one encounter she had with Prince, "I did meet him, we didn't get on at all. In fact we had a punch-up. He summoned me to his house after "Nothing Compares". I made it without him. I'd never met him. He summoned me to his house – and it's foolish to do this to an Irish woman – he said he didn't like me saying bad words in interviews. So I told him to fuck off. He got quite violent. I had to escape out of his house at 5 in the morning. He packed a bigger punch than mine."
And what about that shaved head? While her look was initially an assertion against traditional views of women, years later, O'Connor said she had begun to grow her hair back, but that after being asked if she was the Irish singer Enya, O'Connor shaved it off again.
And you have to admit, it is a great song and a great performance. Nothing compares to you!