October 7th: The Biggest Music Headlines
Scroll down the page to see all the music headlines, stories and events for October 7 throughout music history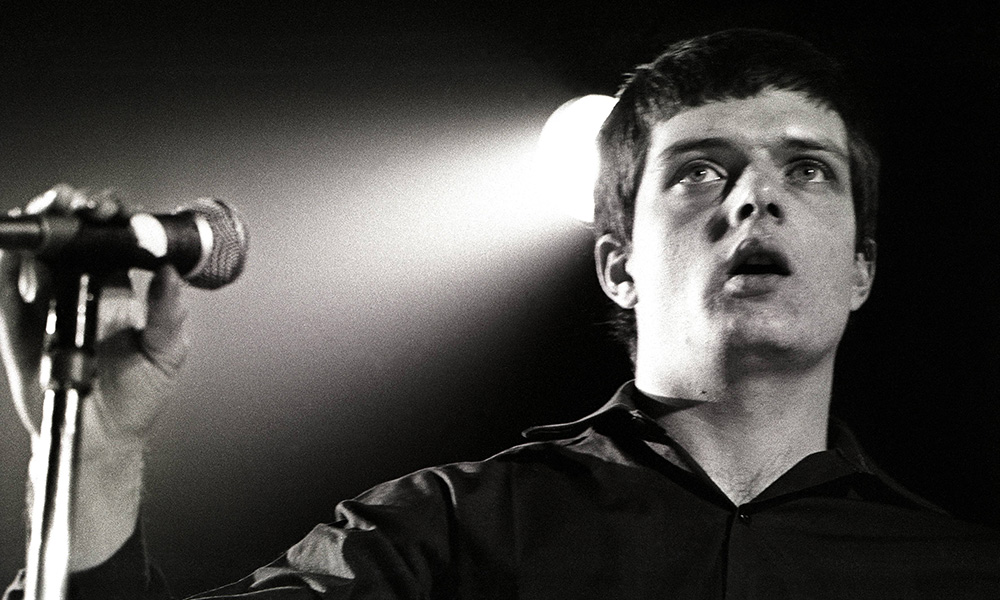 Joy Division Drop Their Debut Single, 'Transmission'
On October 7, 1979, Factory Records released Joy Division's debut single, "Transmission." Originally recorded in 1978 for a scrapped, self-titled debut, the song was re-recorded at a faster tempo and released as a non-album single, months after their debut album, Unknown Pleasures, landed in stores. In 2007, the frenetic track was ranked among the NME's 50 "Greatest Indie Anthems Ever."
In 1995, Alanis Morissette's breakthrough third album, Jagged Little Pill, took the top spot on the Billboard 200, roughly four months after its release. Featuring many of the Canadian artist's biggest hits – including "Ironic," "Hand in My Pocket," and the incendiary "You Oughta Know," Jagged Little Pill went on to become Billboard's best-selling album of the decade, and, on a global scale, the highest-selling album ever by a female artist, with sales exceeding 33 million.
In 2016, Coachella co-founder Paul Tollett inaugurated Desert Trip (fondly dubbed "Oldchella"), a music festival held in Indio, California that featured classic rock acts. The Rolling Stones headlined the first night, covering The Beatles' "Come Together." The festival also featured Bob Dylan, Paul McCartney, Neil Young, Roger Waters, and The Who. Though it was only held in 2016, the six-day event (split over two weekends) became the highest-earning music festival at the time.
In 1976, after years of facing deportation, John Lennon received his green card, granting him permanent resident status in the US. This was achieved at a hearing in New York City, where previous efforts by the US Government to deport the Beatle alum were overturned.
In 1989, Paula Abdul topped the US album charts with Forever Your Girl. The choreographer, singer, and dancer's debut album spent sixty-four consecutive weeks on the Billboard 200 before hitting number one, setting the record for the longest journey to the top spot.
In 1968, José Feliciano inadvertently sparked controversy by performing a slower, folk-influenced rendition of "The Star Spangled Banner" at the World Series. Following the appearance, Feliciano's career suffered tremendously, with radio stations refusing to play his music.
Looking for more things that happened on this day in music?
Keep scrolling for all of the headlines for October 7.
BORN ON OCTOBER 7:
1945: Kevin Godley (10cc)
1951: John Mellencamp
1953: Tico Torres (Bon Jovi)
1959: Simon Cowell (Record Executive, Producer)
1967: Toni Braxton
1968: Thom Yorke (Radiohead)
1996: Lewis Capaldi
Looking for more artists born on this day?
Keep scrolling for all of our October 7 birthdays.
---
What to find another day?
---
October 7th
7 Oct 2016
The Rolling Stones
played the first night of the Desert Trip festival, at the Empire Polo Club in Indio, California. The event also featured Bob Dylan, Paul McCartney, Neil Young, Roger Waters and the Who. The six-day (split over two weekends) event rakes in $160 million, making it the highest-earning music festival ever.
7 Oct 2013
Annie Lennox described the sexualised imagery of modern pop videos as "dark" and "pornographic". "I'm all for freedom of expression," she told BBC Radio 5 live, "but this is clearly one step beyond, and it's clearly into the realm of porn." The singer called for pop videos to be rated in the same way as films.
7 Oct 2009
Barbra Streisand surprised many music industry watchers when she topped the Billboard Hot 200 for the ninth time with her latest release, 'Love Is the Answer'. The CD extended Streisand's lead as the female act with the most chart toppers in the history of the Billboard Hot 200.
7 Oct 2009
Monkees
vocalist Davy Jones ruled out ever reuniting with his former band mates after launching a scathing attack on each of his old pals in The National Enquirer. "It's not a case of dollars and cents. It's a case of satisfying yourself. I don't have anything to prove. The
Monkees
proved it for me."
7 Oct 2007
Bruce Springsteen
went to No.1 on the UK album chart with 'Magic', the singer, songwriter's 15th studio album and 7th UK No.1. Also a US No.1 album.
7 Oct 2007
25 year-old Hip-hop artist Lil' Wayne was arrested during a US tour after a concert in Idaho on a warrant stemming from a drug possession charge. Because of the nature of the charges, the rapper - real name Dwayne Michael Carter Jr - was not eligible for bail.
7 Oct 2006
Babyshambles postponed their UK tour to give singer Pete Doherty more time to recover from drug treatment. The band postponed their five remaining dates to allow him to continue his "excellent" rehab efforts.
7 Oct 2005
Boy George was arrested in New York after Police found traces of drugs in his apartment. George had called the police after he thought somebody was breaking into his apartment. When police arrived and made a search they found traces of cocaine on a computer table.
7 Oct 2004
53 year old Motley Crue guitarist Mick Mars had a hip replacement operation in a LA hospital.
7 Oct 2002
Mick Jagger
donated £100,000 to his old Grammar school in Dartford to help pay for a music director and buy musical instruments. The new centre was also named after Mick Jagger.
7 Oct 1999
It was reported that four musicians who claimed they worked on her 'Miseducation' album were suing Lauryn Hill. The musicians were seeking unpaid royalties for co writers and producers.
7 Oct 1999
Don Henley and Eagles Ltd. filed a federal suit against Lovearth, a Sarasota, Florida-based Internet company, alleging that its registration of the domain names don-henley.net, don-henley.org, donhenley.org, theendoftheinnocence.com, and e-a-g-l-e-s.com constitutes copyright infringement.
7 Oct 1995
Alanis Morissette
went to No.1 on the US album chart with her third album Jagged Little Pill. The record produced six successful singles, including 'You Oughta Know', 'Ironic', 'You Learn', 'Hand in My Pocket', and 'Head over Feet' and went on to become the biggest selling album ever by a female artist with sales over 30m.
7 Oct 1989
Paula Abdul went to No.1 on the US album chart with 'Forever Your Girl'. Abdul spent sixty-four consecutive weeks on the Billboard 200 before hitting number one, making it the longest time for an album to reach the number one spot.
7 Oct 1982
Led Zeppelin
's
Jimmy Page
was given a 12-month conditional discharge after being found guilty of possessing cocaine.
7 Oct 1979
Factory Records released 'Transmission' the debut single by English post-punk band
Joy Division
. In May 2007, NME magazine placed 'Transmission' at No.20 in its list of the 50 "Greatest Indie Anthems Ever", one place below their third single 'Love Will Tear Us Apart'.
7 Oct 1978
US Music magazine Billboard reported that
Marvin Gaye
had twice filed bankruptcy papers earlier in the year, with debts of $7 million.
7 Oct 1978
The film soundtrack to 'Grease' featuring John Travolta and Olivia Newton-John started a 13 week run at No.1 on the UK chart.
7 Oct 1976
John Lennon
was awarded his 'Green Card' - permanent residency status, at a hearing in New York which overturned previous efforts by the US Government to deport him. The three judge panel of the US Court of Appeals ruled that his 1968 arrest in Britain for possession of marijuana was "contrary to US ideas of due process and was invalid as a means of banishing the former Beatle from America."
7 Oct 1968
Jose Feliciano performed a controversial version of The Star Spangled Banner before the fifth game of the World Series between the Detroit Tigers and the St. Louis Cardinals. As a result of his slow, Bluesy delivery, many radio stations refused to play his songs, and his career suffered.
7 Oct 1967
The Beatles
rejected an offer of $1 million from promoter Sid Bernstein to make a second appearance at New York's Shea Stadium. Bernstein had originally brought the group to Shea in August 1965. Sid Bernstein had actually successfully contracted the Beatles to play at Shea Stadium in both 1965 and 1966.
7 Oct 1967
Cass Elliot from The Mamas & the Papas spent the night in a London jail after being accused of stealing from a hotel. A TV and concert appearance had to be cancelled.
7 Oct 1966
Johnny Kidd was killed in a car crash while on UK tour in Radcliffe, Manchester, aged 27. Pirates' bassist Nick Simper, who later became an original member of
Deep Purple
, was also in the car with Kidd but he suffered only some cuts and a broken arm. Kidd scored the 1960 UK No.1 single 'Shakin' All Over' as Johnny Kidd and the Pirates.
7 Oct 1966
Smiley Lewis, New Orleans R&B singer, died of stomach cancer. He wrote 'One Night' covered by
Elvis Presley
and 'I Hear You Knocking' 1955 US No.2 for Gale Storm plus UK No.1 & US No.2 for Dave Edmunds'.
7 Oct 1963
The
Rolling Stones
recorded the Lennon and McCartney penned song 'I Wanna Be Your Man' at De Lane Lea Studios in London. The song which was primarily written by
Paul McCartney
, was finished by Lennon and McCartney in the corner of a room while
Mick Jagger
and
Keith Richards
were talking. The song peaked at No.12 on the UK charts when released.
Born on this day in music
7 Oct 1996
Scottish singer-songwriter Lewis Capaldi who achieved global mainstream success in 2019 with his international breakthrough single "Someone You Loved".
7 Oct 1978
Alesha Dixon, Mis- Teeq, (2001 UK No.2 single 'All I Want').
7 Oct 1976
Taylor Hicks, US soul singer, songwriter, 2006 American Idol winner, (2006 US No.1 single 'Do I Make You Proud').
7 Oct 1969
Leeroy Thornhill, dancer with English electronic dance music group The Prodigy who scored the 1996 UK No.1 & US No. 30 single 'Firestarter' and the 1997 UK & US No.1 album 'The Fat Of The Land'.
7 Oct 1968
Thom Yorke, vocals, guitar, keyboards,
Radiohead
. Their 1993 debut single 'Creep' was initially unsuccessful, but it became a worldwide hit several months after the release of their debut album, Pablo Honey. Their 1997 album OK Computer appeared in many 1997 critics' lists and listener polls for best album of the year. In 2006, Yorke released his debut solo album, The Eraser, and in 2009 formed Atoms for Peace.
7 Oct 1967
American singer, songwriter, pianist, actress Toni Braxton who had the 1996 US No.1 & UK No.2 single 'Un Break My Heart'. In the late 1980s, Braxton began performing with her sisters in a music group known as The Braxtons. She has won seven Grammy Awards, nine Billboard Music Awards, seven American Music Awards.
7 Oct 1964
Sam Brown, UK singer, (1989 UK No.4 single 'Stop'), Jools Holland Band.
7 Oct 1959
David Taylor, from English pop band Edison Lighthouse who scored the 1970 UK No.1 single 'Love Grows Where My Rosemary Goes'.
7 Oct 1959
Simon Cowell
record executive and producer, judge on TV shows Popstars, Pop Idol and American Idol. Notorious for his uncompromisingly harsh and controversial criticism of contestants.
7 Oct 1953
Tico Torres, drums,
Bon Jovi
(1987 US No.1 & UK No.4 single 'Livin' On A Prayer', 1986 US No.1 album 'Slippery When Wet' has sold over 8 million copies world wide).
7 Oct 1952
American bass guitarist Ricky Phillips who has worked with Nasty Habit, The Babys, Bad English, and with Coverdale-Page and Ted Nugent.
7 Oct 1951
John 'Cougar' Mellencamp, American singer and songwriter, who had the 1982 US No.1 and UK No.25 single Jack And Diane, and the 1982 US No.1 album American Fool. He holds the record for the most tracks by a solo artist to hit Number One on the US Hot Mainstream Rock Tracks Chart, and has been nominated for 13 Grammy Awards, winning one, as Best Male Rock Performer for Hurts So Good.
7 Oct 1949
David Hope, from American rock band Kansas, who scored the 1978 US No.3 single 'Dust In The Wind', and the 1978 hit single 'Carry On Wayward Son'. which was the second-most-played track on US classic rock radio in 1995 and No.1 in 1997.
7 Oct 1945
Kevin Godley, drums, vocals, 10cc, (1975 UK No.1 & US No.2 single 'I'm Not In Love', plus 10 other UK Top 30 hits including 2 No.1's). Godley And Creme (1981 UK No.3 single 'Under Your Thumb'). Video producer.
7 Oct 1941
Martin Murray, The Honeycombs, (1964 UK No.1 single 'Have I The Right').
7 Oct 1941
Tony Silvester, singer with American soul and R&B group Main Ingredient, best known for their 1972 hit song 'Everybody Plays the Fool'.
7 Oct 1939
Colin Cooper from British blues rock group Climax Blues Band, who had the 1977 US No.3 & 1976 UK No.10 single 'Couldn't Get It Right'. Cooper died of cancer, aged 69 on 3 July 2008.
7 Oct 1937
Chet Powers, American singer-songwriter, and under the stage names Dino Valenti or Dino Valente, one of the lead singers of Quicksilver Messenger Service. He wrote the quintessential 1960s love-and-peace anthem 'Get Together' a hit for The Youngbloods. He died on 16 November 1994.
7 Oct 1927
American singer Al Martino. He had the 1952 US & UK No.1 single 'Here In My Heart' which became the first No.1 in the NME singles chart. It remained in the top position for nine weeks in the UK, setting a record for the longest consecutive run at No.1 a record which, over 50 years on, has only been beaten by six other tracks. Martino also played Johnny Fontane in 1972 film The Godfather. He died on 13th Oct 2009 aged 82.