September 15th: The Biggest Music Headlines
Scroll down the page to see all the music headlines, stories and events for September 15 throughout music history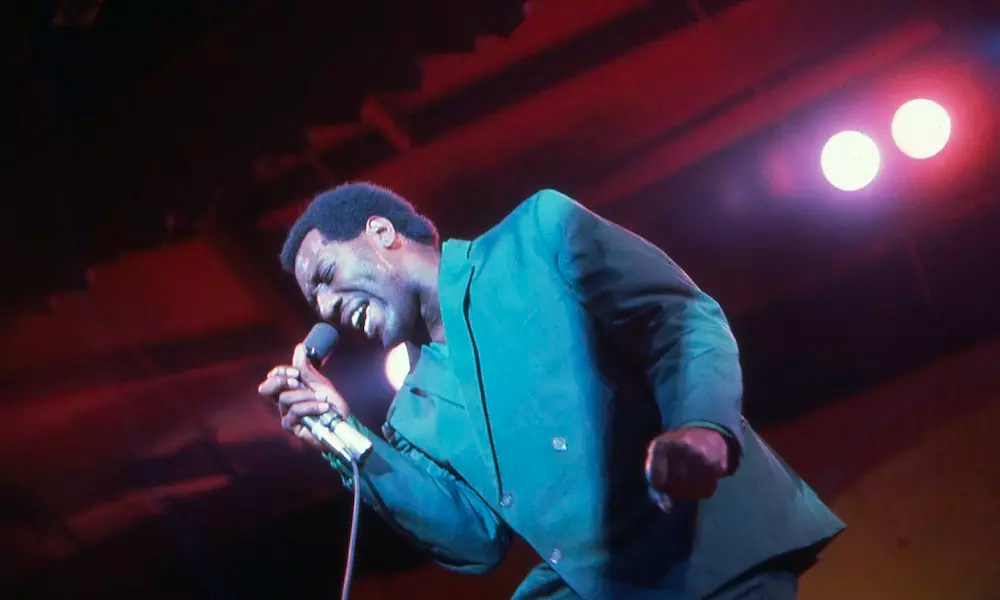 Otis Redding Releases A Soon-To-Be Soul Classic
In 1965, Otis Redding released his best-selling crossover hit, Otis Blue, on Stax Records. For his third studio LP, the soul star recorded both original material and a variety of popular songs from the day. In addition to topping the R&B Albums chart and landing at No.6 in the UK, the album produced three Top 40 hits, including "Respect" (later popularized by Aretha Franklin), "I've Been Loving You Too Long," and a cover of The Rolling Stones' "(I Can't Get No) Satisfaction." Today, Otis Blue is considered to be a definitive title in the soul canon and has been ranked as one of the greatest albums of all time by a variety of outlets, including Rolling Stone.
In 1961, a young band called The Pendletones entered Hite Morgan's Los Angeles studio to record a demo called "Surfin'." The Southern California group would re-record the song in October and, by the end of the year, they would sign their first record deal and be re-christened The Beach Boys. "Surfin'," meanwhile, became their first single. It not only became a popular regional hit, but also broke the Billboard Hot 100, peaking at No.75.
In 1956, Elvis Presley topped the Billboard Hot 100 with "Don't Be Cruel." Released as a double-sided single (with "Hound Dog"), the two songs would occupy the top spots on the pop chart for a total of 11 weeks (and remain on the Hot 100 for a total of 55 weeks). "Don't Be Cruel" also became The King's biggest selling single, with sales reaching more than six million by 1961.
In 2019, 75-year-old singer, songwriter, and producer Ric Ocasek was found dead in his New York City apartment. Best-known as the co-founder and frontman of The Cars, Ocasek rose to fame in the late 70s with songs like "Just What I Needed," "My Best Friend's Girl," and "Let the Good Times Roll." The band continued to soar in the early 80s, landing in the Billboard Top Ten with such hits as "Shake It Up" and "Drive." After The Cars broke up, Ocasek found success as a solo artist and a producer, working with the likes of No Doubt, Weezer, and Bad Religion.1
In 1990, The Steve Miller Band topped the UK charts with "The Joker," 16 years after its original release. The song, which hit No.1 in the US in 1974, found a new generation of fans after appearing in a Levi's TV ad, and earned the record for the longest gap between transatlantic chart-toppers.
In 1965, The Ford Motor Company became the first automaker to offer an 8-track tape player as an option for their entire line of vehicles in the US. The latest audio technology was only offered in auto stores at the time, and was still a year away from being sold to consumers for home use.
In 1978, Bob Dylan embarked on the longest US tour of his career, which consisted of 65 shows in 62 cities. The tour kicked off in in Augusta, ME.
Looking for more things that happened on this day in music?
Keep scrolling for all of the headlines for September 15.
BORN ON SEPTEMBER 15:
1941: Signe Toly Anderson (Jefferson Airplane)
1946: Ola Brunkert (ABBA)
1960: Michel Dorge (Crash Test Dummies)
1972: Paul Thomson (Franz Ferdinand)
Looking for more artists born on this day?
Keep scrolling for all of our September 15 birthdays.
---
What to find another day?
---
September 15th
15 Sep 2019
Ric Ocasek the former lead singer with The Cars was found dead in his New York City apartment, he was 75. The Cars formed in Boston in the mid-1970s by Ocasek and band-mate Benjamin Orr after they met at high school. Their early hits included 'Just What I Needed', 'My Best Friend's Girl' and 'Good Times Roll'. Their 1984 ballad 'Drive' was used as background music for footage of the Ethiopian famine, and its re-release as a single after
Live Aid
helped raise money for the cause. After the band broke up in the late 1980s, Ocasek embarked on a solo career as well as working as a producer for artists including Weezer, Bad Religion and No Doubt.
15 Sep 2019
The Cook Islands, a nation in the South Pacific, released two silver coins to honour two classic
AC/DC
albums. The band's landmark 1981 album 'For Those About To Rock (We Salute You)' was honoured on a two dollar coin while 1990's 'The Razors Edge' could be found on a ten dollar coin. Both feature a portrait of Queen Elizabeth II on the reverse side.
15 Sep 2014
Apple released a tool to remove
U2
's new album from its customers' iTunes accounts six days after giving away the music for free. Some users had complained about the fact that their latest album Songs of Innocence had automatically been downloaded to their devices without their permission.
15 Sep 2008
Pink Floyd
keyboard player and founder member
Richard Wright
died aged 65 from cancer. Wright appeared on the group's first album, The Piper at the Gates of Dawn, in 1967 alongside
Syd Barrett
, Roger Waters and Nick Mason. David Gilmour who joined the band at the start of 1968 said: "He was such a lovely, gentle, genuine man and will be missed terribly by so many who loved him." In 2005, the full band reunited - for the first time in 24 years - for the Live 8 concert in London's Hyde Park. Wright had also contributed vocals and keyboards to Gilmour's 2006 solo album On An Island.
15 Sep 2006
The Casbah Coffee Club in Liverpool where
The Beatles
played their first gig was given a Grade II listed building status after a recommendation from English Heritage.
John Lennon
,
Paul McCartney
and
George Harrison
played in the converted coal cellar of the house in West Derby, in August 1959 as The Quarrymen.
15 Sep 2004
Ramones
guitarist Johnny Ramone (John Cummings) died in Los Angeles after a five-year battle with prostate cancer. Founding member of The
Ramones
, major influence on many punk and 90's bands. Scored the 1977 hit single 'Sheena Is A Punk Rocker'.
15 Sep 2003
ABBA
tribute acts overtook
Elvis Presley
impersonators in the battle of British covers singers according to a survey. The Swedish group jumped from third most tributed act in 2001 to top in 2002 with imitators like
Abba
Fever and Voulez Vous putting on
Abba
shows. Elvis dropped to number two while
The Beatles
dropped to three. The Performing Right Society carried out the research.
15 Sep 1997
A 34 year old man was awarded more than £20,000 by a French court after he lost his hearing when he stood too close to loudspeakers at a
U2
concert in 1993.
15 Sep 1994
A reel to reel tape of The Quarry Men appearing at St Peter's Parish Church garden party Liverpool in July, 1957, sold for £69,000, ($125,000) at a Sotheby's auction.
15 Sep 1990
George Michael
scored his second UK No.1 solo album with his second release 'Listen Without Prejudice Vol. 1'. The album went on to sell over 8 million copies worldwide.
15 Sep 1990
The Steve Miller Band had a UK No.1 with 'The Joker' 16 years after its first release. The song topped the US Billboard Hot 100 in early 1974. More than 16 years later, it reached No.1 in the UK Singles Chart after being used in "Great Deal", a Hugh Johnson-directed television advertisement for Levi's, thus holding the record for the longest gap between transatlantic chart-toppers.
15 Sep 1990
Wilson Phillips had their second US No.1 with 'Release Me', a No.36 hit in the UK. The group was made up of Carnie and Wendy Wilson, the daughters of Beach Boys leader
Brian Wilson
, along with Chynna Phillips, the daughter of Mamas and Papas founder John Phillips.
15 Sep 1984
Frankie Goes To Hollywood's 'Relax' became the longest running chart hit since Engelbert Humperdink's 'Release Me', after spending 43 weeks on the UK singles chart.
15 Sep 1979
Led Zeppelin
scored their sixth US No.1 album when In Through The Out Door started a seven-week run at the top of the charts. The eighth studio album by Zeppelin, was their final album of entirely new material.
15 Sep 1978
Bob Dylan
kicked off his longest and most continuous US tour of his career in Augusta, Maine, playing the first of sixty-five gigs in sixty-two cities.
15 Sep 1970
US Vice-President Spiro Agnew said in a speech that the youth of America were being "brainwashed into a drug culture" by rock music, movies, books and underground newspapers.
15 Sep 1968
The Doors
were forced to perform as a trio at a concert in Amsterdam after singer
Jim Morrison
collapsed while dancing during the Jefferson Airplane's performance.
15 Sep 1967
Filming continued for
The Beatles
'Magical Mystery Tour'. Lunch was at James and Amy Smedley's fish and chip shop in Taunton, Somerset with
The Beatles
being filmed and photographed eating their fish and chips.
15 Sep 1966
The
Small Faces
were at No.1 on the UK singles chart with 'All Or Nothing', their only No.1 hit. According to Kay Marriott, Steve Marriott's mother, Steve wrote the song about his split with ex-fiancee Sue Oliver, though first wife Jenny Rylance states that Marriott told her he wrote the song for her as a result of her split with
Rod Stewart
.
15 Sep 1965
Otis Redding
released his third studio album Otis Blue. The album mainly consists of cover songs by popular R&B and soul artists, and, bar one track, was recorded in a 24-hour period over July 9/10 1965 at the Stax Recording Studios in Memphis, Tennessee and includes the classic tracks 'Ole Man Trouble", 'Respect', and 'Down in the Valley'.
15 Sep 1965
The Ford Motor Company became the first automaker to offer an 8-track tape player as an option for their entire line of vehicles on sale in the US. Tapes were initially only available at auto parts stores, as home 8-track equipment was still a year away.
15 Sep 1964
The Beatles
on tour in the USA, appeared at the Public Auditorium in Cleveland, Ohio. During the performance a group of fans managed to break through the line of police fronting the stage and get up on-stage. Police ordered
The Beatles
off-stage in the middle of a song, and the concert only resumed after Derek Taylor got on the PA system and pleaded for order to be restored so that the rest of the performance would not be cancelled by the police.
15 Sep 1962
The Four Seasons started a five week run at No.1 on the US singles chart with 'Sherry', it made No.8 in the UK. They became the first American group to have three No.1's in succession.
15 Sep 1961
A group from Hawthorne, California called The Pendletones attend their first real recording session at Hite Morgan's studio in Los Angeles. The band recorded 'Surfin', a song that would help shape their career as
The Beach Boys
.
15 Sep 1956
Elvis Presley
started a five-week run at No.1 on the US charts with 'Don't Be Cruel'. The track went on to become Presley's biggest selling single, with sales over six million by 1961. This "double-sided hit" which had 'Hound Dog' on the B side, became the most successful on Billboard's Hot 100 chart. One side reached No.1 on the chart, the other No.2. The two titles spent a combined 55 weeks in the Top 100 in 1956-1957.
Born on this day in music
15 Sep 1977
Paul Thomson, drummer with Scottish indie rock band Franz Ferdinand, who were the winners of the 2004 Mercury Music Prize for their self-titled debut album.
15 Sep 1976
Ivette Sosa, singer from Eden's Crush, the American girl group who were created on the American television series Popstars who scored the 2001 Canadian No.1 and US No. 8 single 'Get Over Yourself'.
15 Sep 1976
KG, MN8, (1995 UK No.2 single 'I've Got A Little Something For You').
15 Sep 1960
Michel Dorge drummer with Canadian rock band Crash Test Dummies best known internationally for their 1993 single 'Mmm Mmm Mmm Mmm'.
15 Sep 1958
Tim Whelan, from British new wave band Furniture, who had the 1986 UK No.21 single 'Brilliant Mind'.
15 Sep 1956
Jaki Graham, singer, (1985 UK No.5 single 'Could It Be I'm Falling In Love').
15 Sep 1946
Ola Brunkert, drummer with the Swedish group
ABBA
. Was a member of the Slim Blues Gang, Science Poption and jazz-rock combo Opus III before joining ABBA. He played on every ABBA album and toured with the group. He was found dead with his throat cut at his home in Majorca, Spain on March 17th 2008 after he hit his head against a glass door in the dining room at his home.
15 Sep 1941
American singer Signe Toly Anderson who was one of the founding members of the American rock band Jefferson Airplane. She sang on the first Jefferson Airplane album, Jefferson Airplane Takes Off, most notably on the song 'Chauffeur Blues'. She died on 28 January 2016.
15 Sep 1941
Les Braid, bassist, from British Merseybeat band The Swinging Blue Jeans who had the 1964 UK No.2 single 'Hippy Hippy Shake' and the hit and 'You're No Good'. He died on 31st July 2005.
15 Sep 1938
American songwriter and record producer Sylvia Moyformerly, the first woman at the Detroit-based music label to write and produce for Motown acts. She is probably best known for her songs written with and for Stevie Wonder including 'Uptight (Everything's Alright)' and My 'Cherie Amour'. Moy died age 78 of complications from pneumonia on April 15, 2017.