September 18th: The Biggest Music Headlines
Scroll down the page to see all the music headlines, stories and events for September 18 throughout music history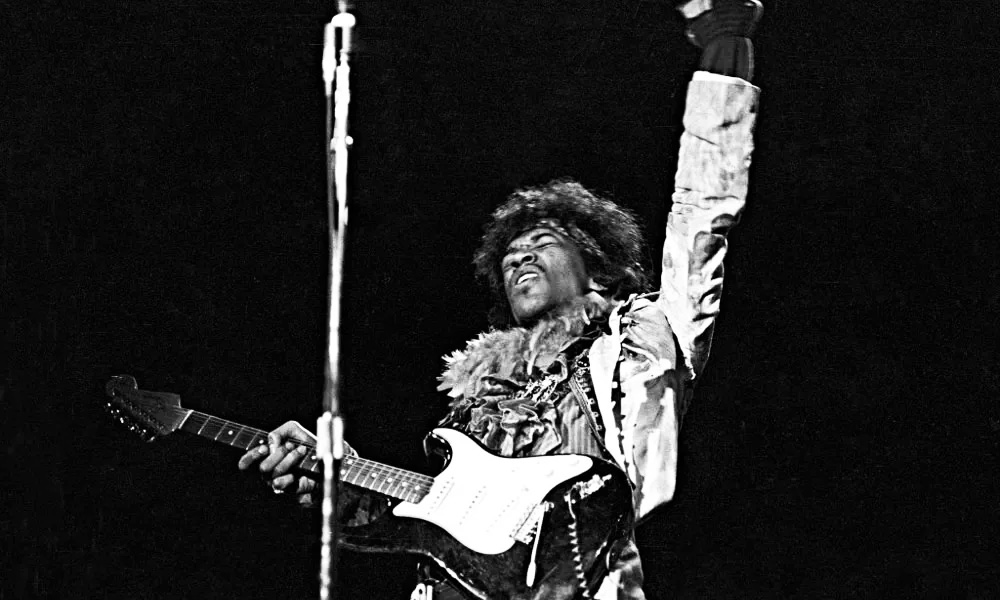 Music Fans Mourn The Death Of Jimi Hendrix
On September 18, 1970, Jimi Hendrix died tragically at London's Samarkand Hotel. While the 27-year-old had only been in the spotlight for just four years, his imprint on rock music was mighty. His virtuosic guitar technique would inspire countless musicians, while his hits with The Jimi Hendrix Experience (including "Purple Haze," "Hey Joe," and "The Wind Cries Mary,") continue to endure. A week before his death, Hendrix gave his final interview in his suite at the Cumberland Hotel in London, where he discussed a number of topics with Keith Altham, a journalist for Record Mirror. The duo dove into his thoughts on psychedelic music, his role as a guitar hero, and more, capturing Hendrix's state of mind shortly before the end of his life.
In 1971, The Who scored their first and only UK No.1 album with Who's Next. Released in August, the project emerged from the ashes of a scrapped rock opera, Lifehouse, which was slated to be the multimedia follow-up to 1969's Tommy. Nevertheless, the album went on to become a critical darling and be considered one of The Who's greatest LPs.
In 1993, Meat Loaf's hard rock epic Bat Out Of Hell II reached No.1 on the UK album chart, a feat he would repeat five more times over the course of his career. The album was released sixteen years after the artist's first solo album, Bat Out of Hell.
In 2014, Taylor Swift landed at the top of the US singles chart once again, thanks to the success of her hit, "Shake It Off." The song was the lead single from 1989, which Swift marketed as her first pop album.
In 1983, KISS took to MTV to appear in public without their iconic makeup for the first time. While the hard rockers pulled off the stunt to promote their new album, Lick It Up, it also tripled the sales of their previous LP, Creatures of the Night.
In 1968, The Beatles recorded 20 takes of "Birthday." The session had the band recruiting a number of friends and family: Roadie Mal Evans added handclaps, while Yoko Ono and Patti Harrison contributed backing vocals on the track.
Looking for more things that happened on this day in music?
Keep scrolling for all of the headlines for September 18.
BORN ON SEPTEMBER 18:
1939: Frankie Avalon
1950: Michael Hossack (The Doobie Brothers)
1952: Dee Dee Ramone
1962: Joanne Catherall (The Human League)
1967: Ricky Bell (New Edition, Bell Biv DeVoe)
1988: Lukas Forchhammer (Lukas Graham)
Looking for more artists born on this day?
Keep scrolling for all of our September 18 birthdays.
---
What to find another day?
---
September 18th
18 Sep 2020
Pamela Hutchinson from the American soul/R&B vocal group The Emotions died at the age of 61. The Emotions scored the 1977 US No. 1 hit 'Best of My Love'.
18 Sep 2019
A Chinese study called for a publicity programme that could enhance public awareness of the negative impact of listening to fast music when driving. The study claimed that drivers should keep music below 120 beats per minute saying that a track like 'American Idiot' by
Green Day
- at 189 beats per minute - was a dangerous song to listen to when driving and
Stairway To Heaven
by Led Zeppelin was a safe song at 63 beats per minute.
18 Sep 2014
American singer-songwriter
Taylor Swift
was at no.1 on the US singles chart with 'Shake It Off', becoming Swift's second No.1 single in the United States and the 22nd song to debut at No.1 in the chart's history.
18 Sep 2012
18 Sep 2009
Leonard Cohen collapsed on stage during a concert in Valencia in Spain and was taken to hospital. He was later discharged after doctors told him he had food poisoning. Cohen was in the middle of singing his song Bird On The Wire when he fainted, prompting the band to stop playing and rush to help him.
18 Sep 2007
Britney Spears
was dropped by her management company, one month after employing their services. Los Angeles-based The Firm said: "We have terminated our professional relationship with
Britney Spears
. "We believe she is enormously talented, but current circumstances have prevented us from properly doing our job."
18 Sep 2006
Sir Cliff Richard unveiled a plaque to mark a tiny basement said to be the birthplace of British rock and roll, fifty years after the "2 i's" coffee bar opened in London's Old Compton Street. The Tornados, Tommy Steele, The Shadows and Adam Faith were among stars who started out at the club.
18 Sep 2006
73 year old country singer Willie Nelson and four members from his band were charged with drug possession after marijuana and magic mushrooms were found by police on his tour bus. Police had stopped the tour bus near Lafayette, Louisiana.
18 Sep 2006
Echo And The Bunnymen singer Ian McCulloch was convicted of committing a breach of the peace by shouting, swearing and threatening Gary Duncan and his girlfriend Juliet Sebley backstage at Glasgow Barrowlands in Scotland. A court was told that McCulloch had lost his temper when he discovered the two fans in a toilet cubicle inside his private dressing room.
18 Sep 2004
Britney Spears
married dancer Kevin Federline during a private ceremony in Los Angeles. Federline had two daughters from his previous relationship with actress Shar Jackson.
18 Sep 1996
At Sotheby's in London, Julian Lennon successfully bid just over $39,000 (£21,000), for the recording notes for the song
Paul McCartney
wrote for him,
'Hey Jude'
. At the same event,
John Lennon
's scribbled lyrics to 'Being For The Benefit Of Mr. Kite' sold for $103,500, (£57,500).
18 Sep 1993
Garth Brooks went to No.1 on the US album chart with 'In Pieces'. The album spent 25 weeks on the chart and sold over 6m copies. The album peaked at No.2 on the UK chart.
18 Sep 1993
Meat Loaf went to No.1 on the UK album chart for the first of five times with
Bat Out Of Hell
II.
18 Sep 1991
Rob Tyner lead singer with the American hard rock band MC5 died after he suffered a heart attack in the seat of his parked car in his hometown of Berkley, Michigan. MC5, (shortened from the Motor City Five), formed in Detroit, in 1965, they released their first album, 'Kick Out the Jams' in 1969.
18 Sep 1983
Kiss
appeared without their 'make-up' for the first time during an interview on
MTV
promoting the release of their newest album, Lick It Up.
18 Sep 1982
The seven-minute epic by
Dire Straits
'Private Investigations' went to No.2 on the UK singles chart, held off No.1 by survivors 'Eye Of The Tiger'.
18 Sep 1981
Gary Numan took off on a round the world trip in a single engine Cessna plane. The attempt ended after he was forced to land in India, where local police arrested him.
18 Sep 1979
The
Eagles
released 'Heartache Tonight' from their album The Long Run. The song originated from an jam session between Glenn Frey and J. D. Souther who would visit Frey's home in Los Angeles whenever he was in town on tour. Frey and Souther wrote the first verse while listening to Sam Cooke songs. In the heat of jamming, Frey called Bob Seger on the phone and sang him the verse. Seger then blurted out the chorus.
18 Sep 1976
One Hit Wonders
Wild Cherry started a three week run at No.1 on the US singles chart with 'Play That Funky Music'. The song started life as a B-side. It was the group's only hit in the UK which peaked at No.7.
18 Sep 1971
The Who
scored their first and only UK No.1 album with
Who's Next
the bands sixth LP release, featuring 'Won't Get Fooled Again'. Cover artwork shows a photograph, taken at Easington Colliery, of the band apparently having just urinated on a large concrete piling. According to photographer Ethan Russell, most of the members were unable to urinate, so rainwater was tipped from an empty film canister to achieve the desired effect.
18 Sep 1970
Jimi Hendrix
was pronounced dead on arrival at St. Mary Abbot's Hospital in London at the age of 27 after choking on his own vomit. Hendrix left the message 'I need help bad man', on his managers answer phone earlier that night. Rumors and conspiracy theories grew up around Hendrix's death. Eric Burdon claimed Jimi had committed suicide, but that's contradicted by reports that he was in a good frame of mind. In 2009, a former Animals roadie published a book claiming that Jimi's manager had admitted to him that he arranged the murder of Hendrix, since the guitarist wanted out of his contract.
18 Sep 1968
Working at Abbey Road studios on new songs for their forthcoming album,
The Beatles
recorded 20 takes of 'Birthday.' Roadie Mal Evans added handclaps, and Yoko Ono and Pattie Harrison contributed backing vocals on the track.
Born on this day in music
18 Sep 1992
Japanese singer Joji (George Miller). His 2022 single "Glimpse of Us" from his third studio album Smithereens became the second song by a Japanese artist to reach the top 10 on the US chart after Kyu Sakamoto's 'Sukiyaki' in 1963.
18 Sep 1988
Danish-Irish singer, songwriter Lukas Forchhammer, the lead vocalist for the Danish band Lukas Graham who had the 2016 hit '7 Years' which topped the charts in Denmark, Sweden, Italy, Austria, Australia, New Zealand, Ireland, the UK and Canada.
18 Sep 1967
American singer Ricky Bell, from American R&B group New Edition who had the 1983 UK No.1 single 'Candy Girl', and Bell Biv DeVoe who had the 1990 US No.3 single 'Do Me!'.
18 Sep 1966
Mike Heaton, drummer, from English alternative rock band Embrace, who had the 2006 UK No. 2 single 'Natures Law', the 2006 UK No.1 album This New Day and two other UK No.1 albums.
18 Sep 1966
Ian Spice, Breathe, (1988 UK No.4 single 'Hands To Heaven').
18 Sep 1966
Nigel Clarke from English power pop rock trio Dodgy who had the 1996 UK No.4 single 'Good Enough'.
18 Sep 1962
Joanne Catherall, singer with The Human League. Formed in Sheffield, England in 1977 the group attained widespread commercial success with their third album Dare in 1981. The album contained four hit singles, including the UK/US No.1 hit 'Don't You Want Me'.
18 Sep 1962
Richard Walmsley, Beatmasters, 1988 UK No.5 single 'Rock Da House').
18 Sep 1961
Martin Beedle, drummer, with English rock band Cutting Crew, who scored the 1987 US No.1 & 1986 UK No.4 single 'I Just Died In Your Arms Tonight'.
18 Sep 1952
Dee Dee Ramone (Douglas Colvin), bassist,
Ramones
, 1977 UK No.22 single 'Sheena Is A Punk Rocker'). He died of a drug overdose 5th June 2002. Dee Dee is buried at the Hollywood Forever Cemetery in Hollywood, California, not far from the cenotaph of his former
Ramones
' bandmate, Johnny Ramone.
18 Sep 1950
American drummer Michael Hossack who as a member of The Doobie Brothers between 1971 and 1973, playing on several of the band's best-known hits, including 'Listen to the Music' and 'China Grove'. Hossack died of cancer on 12 March 2012 at his home in Dubois, Wyoming at the age of 65.
18 Sep 1946
Alan King, Ace, (1974 UK No.20 single 'How Long').
18 Sep 1939
Frankie Avalon, (1959 US No.1 & UK No.16 single 'Venus'). On his twenty-first birthday, Frankie Avalon was given $600,000 (£330,000) that he earned as a minor from such hits as his 1959 US No.1 single 'Venus'.
18 Sep 1933
American pop singer who had a brief run of mainstream popularity in the 1950s and 1960s with a string of crossover single including the 1957 US No.1 single 'Honeycomb'.