September 26th: The Biggest Music Headlines
Scroll down the page to see all the music headlines, stories and events for September 26 throughout music history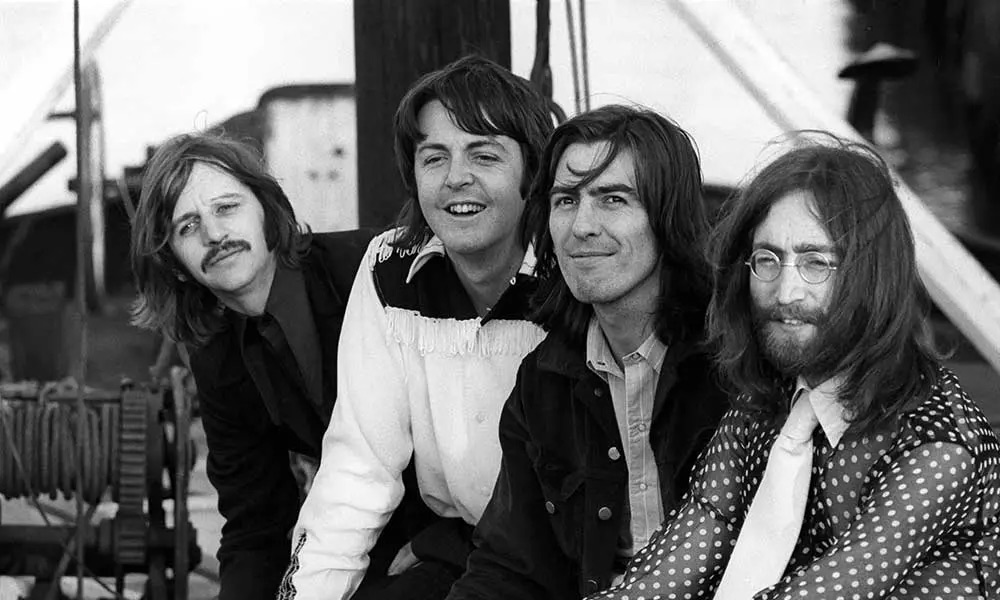 The Beatles Release 'Abbey Road'
On September 26, 1969, The Beatles released their 11th studio album, Abbey Road, in the UK. Featuring one of the most iconic jacket covers in history (in which the band is walking on the zebra crossing outside of Abbey Road Studios), the songs on the album marked the Beatles' final recordings together. Sessions for Abbey Road began just three weeks after the group wrapped work on the proposed Get Back album (released in 1970 as Let It Be), and ran throughout the summer. Despite tensions between the band members, Abbey Road resulted in some of their best material, including "Come Together," "Here Comes the Sun," and "Something," which marked the first Beatles A-Side to feature a George Harrison composition. The highly-influential title topped the album charts in the UK as well as in the US, where it was released a week later, on October 1.
In 1979, U2 made their recorded debut with Three, a three-song EP featuring the songs "Out of Control," "Stories for Boys," and "Boy/Girl." Upon its release, all 1,000 copies of the 12-inch vinyl sold out instantly, making the EP the fastest-selling 12-inch record ever in Ireland.
In 1967, Pink Floyd played their first live dates in the US, with a three-night stint at the Fillmore in San Francisco. The band, which formed in 1965, took so long to make it stateside in part because of frontman Syd Barrett's health problems.
In 1937, "Empress of the Blues" Bessie Smith died at the age of 43, after sustaining injuries in a car accident. Considered to be one of the most influential figures in the history of blues music, Smith often delivered social commentary in her songs, speaking to the struggles of the working class, women, and Black Americans. Her powerful voice, meanwhile, can be heard on such hits as "Downhearted Blues," "The St. Louis Blues," and "After You've Gone."
In 1987, Michael Jackson began a six-week run at the top of the US album chart with Bad. Anticipation for the project was through the roof, in part because it had been five years since Jackson's 1982 all-time epic, Thriller.
In 2004, Green Day scored their first No.1 album in the UK with American Idiot. The album marked their seventh full-length release.
In 1989, Paul McCartney started his world tour at The Drammenshallen, in Drammen, Norway. It was McCartney's first major tour outing in ten years, and his first under his own name, after over a decade of touring with Wings.
Looking for more things that happened on this day in music?
Keep scrolling for all of the headlines for September 26.
BORN ON SEPTEMBER 26:
1945: Bryan Ferry
1948: Tiran Porter (The Doobie Brothers)
1948: Olivia Newton-John
1954: Cesar Rosas (Los Lobos)
1972: Shawn Stockman (Boyz II Men)
1981: Christina Milian
Looking for more artists born on this day?
Keep scrolling for all of our September 26 birthdays.
---
What to find another day?
---
September 26th
26 Sep 2021
English musician Alan Lancaster died age 72 due to complications from multiple sclerosis. He is best known as a founding member and bassist of Status Quo, playing with the band from 1967 to 1985.
26 Sep 2016
Universal, Warner Brothers, Sony and several other record labels filed a law suit against the operators of YouTube-mp3.org, a service that allowed its users to remove audio from videos streamed on YouTube. The court action, launched against a German company, alleged that "tens, or even hundreds, of millions of tracks are illegally copied and distributed by stream ripping services each month."
26 Sep 2009
Jay-Z started a two-week run at No.1 on the US album charts with 'The Blueprint 3', the rappers eleventh studio album.
26 Sep 2008
Matthew Bellamy, Christopher Wolstenholme and Dominic Howard from Muse was awarded an Honorary Doctorate of Arts from the University of Plymouth, England.
26 Sep 2007
A charitable foundation set up by Shakira donated $40 million (£19.6 million) to help victims of natural disasters. The money would go towards repairing damage caused by an earthquake in Peru and a hurricane in Nicaragua. A further $5 million (£2.46 million) would be spent on health and education in four Latin American countries.
26 Sep 2004
Green Day
scored their first UK No.1 album with 'American Idiot' the bands seventh release.
26 Sep 2003
English singer, songwriter Robert Palmer died of a heart attack aged 54 in Paris France. He was a member of Vinegar Joe and Power Station (with
Duran Duran
members Andy Taylor and John Taylor with drummer and former Chic member Tony Thompson). As a solo artist had the 1986 US No.1 & UK No.5 single 'Addicted To Love' and the 1988 hit 'Simply Irresistible'.
26 Sep 2003
A report published on requests by artists to venues of their backstage requirements revealed; Limp Bizkit insisted that all the lamps in their rooms be dimmable while
Mariah Carey
would only have 'bendy' straws as she will not use straight ones.
Van Halen
insisted that back-stage celery is trimmed and not peeled. The
Red Hot Chili Peppers
asked for a meditation room and a selection of aromatherapy candles. Barry Manilow requested that the air temperature in the auditorium be kept at a regular 65 degrees.
26 Sep 1996
Police found drugs hidden in a Smarties tube when they raided the London home of Paula Yates and INXS singer
Michael Hutchence
. The couple were away in Australia at the time of the raid.
26 Sep 1995
AC/DC
released Ballbreaker their 12th international studio album. The album which was produced by Rick Rubin, featured the return of former drummer Phil Rudd, who had been fired from the band in 1983 as a result of drinking and drug problems and a fight with founding rhythm guitarist Malcolm Young.
26 Sep 1989
Paul McCartney
started his world tour at The Drammenshallen, in Drammen, Norway. It was McCartney's first major tour outing in ten years, since Wings UK Tour 1979, and his first appearances in North America in thirteen years.
26 Sep 1987
Michael Jackson
started a six-week run at No.1 on the US album chart with 'Bad'. Released nearly five years after Jackson's previous studio album,
Thriller
, Bad, went on to become the world's best-selling album having sold between 30 to 45 million copies worldwide. The album produced five US No.1's, the first album to do so.
26 Sep 1987
Whitney Houston
started a two week run at No.1 on the US singles chart with 'Didn't We Almost Have It All'.
26 Sep 1981
Bruce Dickinson joined UK rock band
Iron Maiden
, (Dickinson had been the vocalist with Samson).
26 Sep 1979
U2
released their very first record, an EP titled '
U2
-3.' With an initial run of 1,000 individually numbered copies the tracks were produced by the band with Chas de Whalley and was available only in Ireland.
26 Sep 1969
The Beatles
released
Abbey Road
in the UK. The final studio recordings from the group featured two
George Harrison
songs
'Something'
(Harrison's first A-side single), and 'Here Comes The Sun'. In their interviews for
The Beatles
Anthology, the surviving band members stated that, although none of them ever made the distinction of calling it the "last album", they all felt at the time this would very likely be the final Beatles product and therefore agreed to set aside their differences and "go out on a high note".
26 Sep 1968
Rolling Stone
Brian Jones
was fined £50 with 100 guineas cost after being found guilty of possession of cannabis.
26 Sep 1967
Pink Floyd
played the first of three nights at the Fillmore in San Francisco, the groups first ever live dates in the US.
26 Sep 1965
At the end of a European tour Roger Daltry knocked out
Keith Moon
resulting in the singer being sacked from
The Who
. The band were playing two shows in one night in Denmark, when an argument broke about between all four band members. Daltrey was reinstated the following day.
26 Sep 1964
Roy Orbison
started a three week run at No.1 on the US singles chart with 'Oh Pretty Woman'. The title was inspired by Orbison's wife Claudette interrupting a conversation to announce she was going out; when Orbison asked if she was okay for cash, his co-writer Bill Dees interjected "A pretty woman never needs any money."
26 Sep 1961
The Greenbriar Boys started a two-week residency at Gerde's Folk Club in New York. The opening act was
Bob Dylan
.
26 Sep 1937
American blues singer Bessie Smith died aged 43 after being involved in a car accident while traveling along Route 61 outside Memphis, Tennessee. Her 1923 song 'Downhearted Blues' was inducted into the Grammy Hall of Fame in 2006.
Born on this day in music
26 Sep 1981
Christina Milian, US singer, (2002 UK No. 3 single 'AM To PM').
26 Sep 1972
Shawn Stockman, from American R&B vocal group Boyz II Men, who had the 1992 US & UK No.1 single 'End Of The Road' which set a new record for longevity, staying at No.1 on the Billboard Hot 100 for thirteen weeks, breaking the decades-old record held by
Elvis Presley
.
26 Sep 1965
Cindy Herron, vocals, En Vogue, (1992 US No.2 & UK No.4 single 'My Lovin').
26 Sep 1962
Tracey Thorn, vocals, Everything But The Girl, (1995 UK No.3 & 1996 US No.2 single 'Missing').
26 Sep 1954
Cesar Rosas guitarist from Los Lobos (Spanish for "the Wolves"), who had the 1987 UK & US No.1 single with their cover version of 'La Bamba', which was a 1958 hit for Ritchie Valens and one of early rock and roll's best-known songs.
26 Sep 1954
Craig Chaquico, Jefferson Starship, (1987 UK & US No.1 single 'Nothing's Gonna Stop Us').
26 Sep 1951
Stuart Tosh, Scottish drummer with Pilot who had the 1975 UK No.1 single 'January'. Tosh has also worked with The Alan Parsons Project, 10cc, Camel, and Roger Daltrey.
26 Sep 1948
British-born Australian singer, actress and activist Olivia Newton-John. She scored the 1978 UK & US No.1 single with John Travolta, 'You're The One That I Want', and the 1981 US No.1 & UK solo No.7 single 'Physical'. She was a four-time Grammy Award winner whose music career included five No.1 hits. Newton-John, who battled breast cancer three times, was an advocate for breast cancer research. She died on 8 August 2022 from cancer at her home in the Santa Ynez Valley of California, at the age of 73.
26 Sep 1948
American bassist, guitarist and singer Tiran Porter best known as a member of The Doobie Brothers from 1972 to 1980 and 1987 to 1992. 'Listen to the Music' gave the group their first big hit in 1972.
26 Sep 1947
Multi-award-winning American country music singer, Lynn Anderson, who scored the 1970 US No.3 & 1971 UK No.3 single 'Rose Garden'. Anderson who charted 12 No.1, 18 Top 10, and more than 50 Top 40 hits died on July 30th 2015 aged 67.
26 Sep 1945
English singer and songwriter Bryan Ferry, who with Roxy Music scored the hit singles 'Street Life', 'Love is the Drug', 'Dance Away', 'Angel Eyes', 'Jealous Guy' and 'Avalon'. Ferry has recorded many cover versions of other artists' songs, including standards from the Great American Songbook, in albums such as These Foolish Things (1973).
26 Sep 1941
Joe Bauer, drummer, The Youngbloods, died of a brain tumour in 1982. (1969 US No.5 single 'Get Together').
26 Sep 1926
Julie London, US singer, (1956 US No. 9 & UK No. 22 single 'Cry Me A River'). She died on 18th October 2000.
26 Sep 1925
Marty Robbins, US Country singer, (1960 US No.1 & UK No.19 single 'El Paso'). He died on 8th December 1982.