September 30th: The Biggest Music Headlines
Scroll down the page to see all the music headlines, stories and events for September 30 throughout music history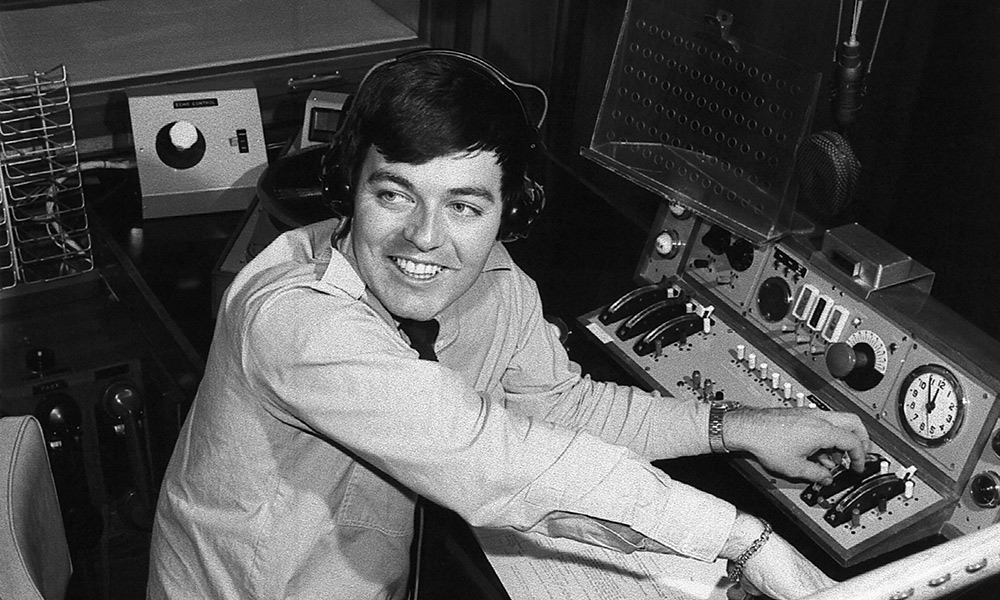 BBC Radio 1 Goes On-Air In The UK
On September 30, 1967, the UK's first national pop radio station, BBC Radio 1 was launched. The station was established as a successor to the BBC Light Program, which had broadcast music and other shows since the end of World War II. Radio 1, meanwhile, was created as a direct response to the rabid success of offshore pirate radio stations, such as Radio Caroline and Radio London, which had been outlawed by the UK Parliament. Radio 1 served as the home to such legendary DJs as John Peel, Alan Freeman, Kenny Everett, and Tony Blackburn, while today, it remains one of the most influential music stations around the world.
In 1995, Mariah Carey made chart history when she began an eight-week run atop the Billboard Hot 100 with "Fantasy," making her the first female act to debut at the chart's No.1 spot. The enduring track, which heavily samples the Tom Tom Club's 1981 song, "Genius of Love," marked the singer's ninth No.1 hit in the US and became a Top Ten hit around the globe.
In 1978, John Travolta and Olivia Newton-John topped the UK pop chart with "Summer Nights," their second No.1 from the Grease soundtrack. The track spent seven weeks at No.1, and, combined with an earlier nine-week run with "You're The One That I Want," the duo spent 16 weeks at No.1 in 1978. In the US, the song reached No.5.
In 1995, Simply Red scored their first UK No.1 hit with "Fairground." It was the British group's only song to top the chart.
In 2006, Justin Timberlake's second solo album, FutureSex/LoveSounds, topped the US album charts. Prior to its release, it also became the most pre-ordered album on iTunes in the history of the service.
In 1965, Donovan made his US television debut on Shindig!, along with The Hollies, The Turtles, and the Dave Clark Five.
Looking for more things that happened on this day in music?
Keep scrolling for all of the headlines for September 30.
BORN ON SEPTEMBER 30:
1933: Cissy Houston
1935: Johnny Mathis
1947: Marc Bolan (T. Rex)
1964: Trey Anastasio (Phish)
1964: Robby Takac (Goo Goo Dolls)
1984: Keisha Buchanan (Sugababes)
1986: Ben Lovett (Mumford & Sons)
Looking for more artists born on this day?
Keep scrolling for all of our September 30 birthdays.
---
What to find another day?
---
September 30th
30 Sep 2022
Ed Sheeran
was ordered to stand trial in the US over claims he copied his hit song 'Thinking Out Loud' from
Marvin Gaye
's 'Let's Get It On'. A judge denied Sheeran's bid to dismiss the case, saying a jury should decide on the similarities between the songs. The claim was originally lodged in 2018, by investment banker David Pullman and a company called Structured Asset Sales, which had acquired a portion of the estate of 'Let's Get It On' co-writer Ed Townsend. Seeking $100m (£90m) in damages, they alleged that Sheeran and his co-writer Amy Wadge "copied and exploited, without authorisation or credit".
30 Sep 2016
A schoolboy from Philadelphia who skipped class to meet his musical hero handed his teacher an absence note with a difference. The typewritten note was signed by
Bruce Springsteen
. Fifth-grader Michael Fenerty met the star at a "meet-and-greet" in the Free Library of Philadelphia when Springsteen was in town signing copies of his new autobiography, Born to Run.
30 Sep 2011
American guitarist and songwriter Marv Tarplin died aged 70. He was best known as the guitarist for the Miracles from the 1950s through the early 1970s who co-wrote several of their biggest hits, including the 1965 Grammy Hall Of Fame inducted 'The Tracks of My Tears'. Tarplin also worked with
Marvin Gaye
, The
Marvelettes
and The
Supremes
.
30 Sep 2007
Foo Fighters
went to No.1 on the UK album chart with Echoes Silence Patience & Grace the bands sixth studio album and second UK No.1. The album was nominated for five Grammy Awards, winning Best Rock Album, and was also awarded the Brit Award of Best International Album.
30 Sep 2007
Country music singer Keith Urban crashed his motorcycle on the way to an Alcoholics Anonymous meeting. The 39-year-old, who was not injured, said he was being followed by a photographer when the accident happened near his home in Sydney, Australia.
30 Sep 2006
Justin Timberlake started a two week run at No.1 on the US album chart with his second solo album 'FutureSex/LoveSounds' which also became the biggest album ever for pre-orders on iTunes.
30 Sep 2004
Mick Jagger
held a press conference with Dave Stewart at Essex House in New York City, USA, to promote the soundtrack to the movie Alfie. The re-make of the 1966 film also featured Joss Stone, Sheryl Crow and Nadirah Nadz Seid. The track 'Old Habits Die Hard' from the soundtack by Mick Jagger and David A. Stewart won the BFCA Award, Golden Globe, Sierra Award and the World Soundtrack Award.
30 Sep 2003
An auction of the contents of Sir
Elton John
's London home raised more than £1.4 million. An oil painting, entitled Madison Square Park, sold for £67,200, and a 19th Century portrait of Lieutenant George Dyer, painted by James Northcote in 1817, fetched £55,200. Sir Elton sold off the items so he could redecorate his home in a more modern style.
30 Sep 1999
Chris de Burgh's web site was closed down after countless obscene messages were posted on the guestbook. One message consisted entirely of two four-letter words repeated 3500 times.
30 Sep 1995
Mariah Carey
made chart history when she started an eight week run at No.1 on the US singles chart with 'Fantasy', making her the first female act to enter the chart in pole position.
30 Sep 1995
Simply Red scored their first UK No.1 single when 'Fairground' started a four-week run at the top of the charts. It was their 15th UK Top 40 hit.
30 Sep 1994
T.A.F.K.A.P. launched music channel VH1 in the UK, which gave the first airing of his new video 'Dolphin.'
30 Sep 1993
Kate Pierson from The B-52's was charged with criminal mischief and trespassing during an anti-fur protest at 'Vogue's' New York City offices.
30 Sep 1984
The music division of Thorn EMI once said to be the greatest recording organisation in the world reported a world-wide loss of almost $5 million during the last six months.
30 Sep 1978
John Travolta and Olivia Newton-John had their second UK No.1 from the film 'Grease' with 'Summer Nights.' Seven weeks at No.1 it became the second best selling single of 1978, beaten by 'Saturday Night Fever'.
30 Sep 1977
Mary Ford died from cancer after being in a diabetic coma for 54 days. One-half of the husband-and-wife musical team, Les Paul and Mary Ford. Between 1950 and 1954, the couple had 16 top-ten hits; in 1951 alone, they sold six million records.
30 Sep 1974
Police were called to a Lynyrd Skynyrd and Blue Oyster Cult concert after a fight broke out between two sound engineers. The Skynyrd roadie claimed that the sound had been deliberately turned off during the bands set.
30 Sep 1972
David Cassidy was at No.1 on the UK singles chart with 'How Can I Be Sure.' It was the star from the US TV series the Partridge Family's first UK No.1. The song was originally recorded by The Young Rascals in 1967.
30 Sep 1967
The UK's first National pop radio station, BBC
Radio 1
was launched in the UK to take over from the very successful pirate radio stations, which had been forced off-air by the Government. Former pirate DJ Tony Blackburn, from Radio Caroline, was the first presenter on air, with The Move's Flowers In The Rain the first record to be played.
30 Sep 1965
Donovan made his US television debut on Shindig! along with The Hollies, The Turtles and the Dave Clark Five.
30 Sep 1965
The
Rolling Stones
performed at the Gaumont Theatre in Hanley, Staffordshire, UK. Also on the bill were The Moody Blues, The Spencer Davis Group, The End and The Habits. Bill Wyman produced singles and the debut album of The End, for Decca Records.
30 Sep 1964
The Beatles
continued recording sessions at Abbey Road for their fourth UK album Beatles For Sale, recording various takes of 'Every Little Thing', 'What You're Doing' and 'No Reply', which became the opening track on Beatles For Sale.
Born on this day in music
30 Sep 1986
Ben Lovett, English musician, who plays guitar, accordion, percussion, keyboard and piano with Mumford & Sons. Their second studio album 'Babel' released in 2012 debuted at number one on both the UK Albums Chart and the US Billboard 200. It became the fastest selling album of 2012 in the UK.
30 Sep 1984
Keisha Buchanan, singer, with British girl group Sugababes who had the 2002 UK No.1 single, 'Round Round'. In 2006, British Hit Singles & Albums named the Sugababes as the most successful female act of the 21st century with six UK No.1 singles and eighteen UK top ten hits.
30 Sep 1964
Robby Takac, bass, Goo Goo Dolls (1999 UK No. 26 single 'Iris', 2002 US No.3 album 'Gutterflower').
30 Sep 1964
Trey Anastasio, singer, guitarist from American rock band Phish who are known for musical improvisation, extended jams, and blending of genres.
30 Sep 1960
American musician Bill Rieflin who came to prominence in the 1990s mainly for his work as a drummer with groups such as Ministry, the Revolting Cocks, Swans, Chris Connelly, and Nine Inch Nails. He worked regularly with
R.E.M.
following the retirement of Bill Berry in 1997. He died on 24 March 2020 age 59.
30 Sep 1959
Basia Trzetrzelewska, singer, Matt Bianco, (1988 UK No.11 single 'Don't Blame It On That Girl').
30 Sep 1954
Lesley Beach, sax, Amazulu, (1986 UK No.5 single 'Too Good To Forgotten').
30 Sep 1952
John Lombardo from American alternative rock band 10,000 Maniacs. They released four albums that charted in the top 50 in the US: In My Tribe (1987), Blind Man's Zoo (1989), Our Time in Eden (1992) and the live album
MTV
Unplugged (1993).
30 Sep 1947
Marc Bolan
(born Mark Feld), English guitarist, singer, songwriter, best known as the lead singer of the glam rock band T. Rex. Bolan was one of the pioneers of the glam rock movement of the 1970s. He had the 1971 UK No.1 single 'Hot Love', plus over 20 other UK Top 40 singles, and the 1972 US No.10 single Bang A Gong, (Get It On). Bolan was killed in a car accident on 16th September 1977 aged 29 a fortnight before his 30th birthday.
30 Sep 1946
Sylvia Peterson, from American all-girl group The Chiffons who had the 1963 US No.1 single 'He's So Fine', and the 1972 UK No.4 single 'Sweet Talking Guy', (first released in 1966).
30 Sep 1943
Marilyn McCoo, singer, 1977 US No.1 & UK No.7 single 'You Don't Have To Be A Star'. Also a member of The 5th Dimension.
30 Sep 1942
Canadian rock drummer Dewey Martin from The Dillards and Buffalo Springfield, who had the 1967 US No.17 single 'For What It's Worth'. Martin died on 31st Jan 2009, aged 68.
30 Sep 1942
Frankie Lymon, singer, Frankie Lymon & the Teenagers, (1956 UK No.1 & US No.6 single 'Why Do Fools Fall In Love'). He died from a drug overdose on 27th February 1968 aged 25.
30 Sep 1942
Gus Dudgeon, producer. Best known for his work with
Elton John
. Also produced
David Bowie
,
The Beach Boys
, Zombies, Kiki Dee, Strawbs, XTC and Joan Armatrading. Dudgeon was killed in a car accident on 21st July 2002, his wife, Sheila, was also killed in the accident.
30 Sep 1935
Johnny Mathis, US singer, 1976 UK No.1 single 'When A Child Is Born', plus 10 other UK Top 40 singles. 1978 US No.1 single 'Too Much Too Little Too Late' and over 15 other Top 40 singles). His Greatest Hits album spent over nine years on the US chart.
30 Sep 1933
American soul and gospel singer Cissy Houston, (mother of
Whitney Houston
). She was a member of Sweet Inspirations, The Drinkard Singers, (with Dionne Warwick), and as a back-up singer worked with
Elvis Presley
,
Aretha Franklin
, Chaka Khan, Luther Vandross,
David Bowie
(Young Americans),
Jimi Hendrix
, Van Morrison, (Moondance), Beyoncé, (Dangerously In Love) and many others.