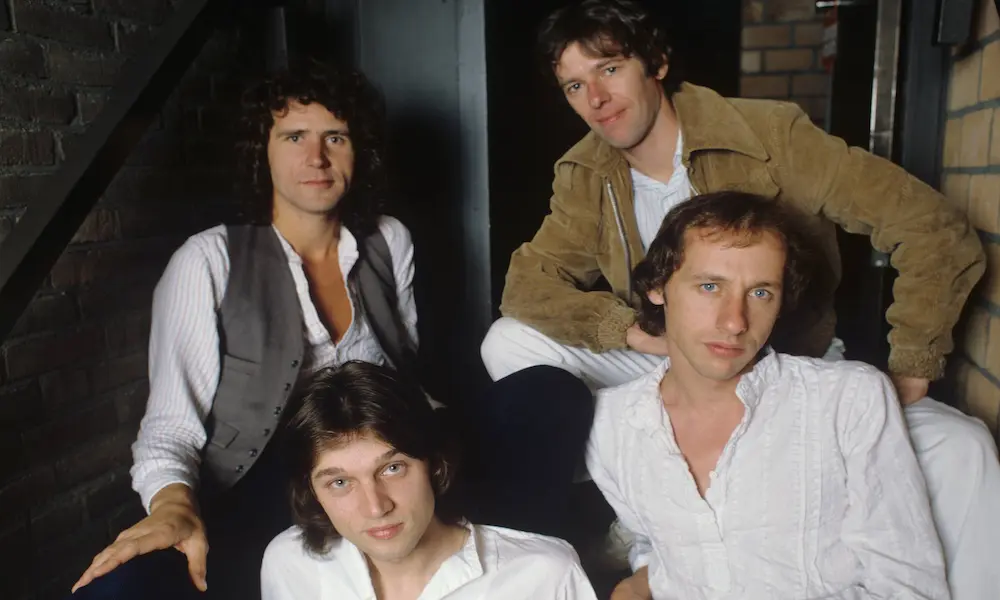 According to the Guinness Book of British Hit Albums, Dire Straits have spent over 1,100 weeks on the UK albums chart, ranking fifth all time. Their 1985 release Brothers in Arms is the eighth-best-selling album in UK chart history. Dire Straits won four Grammy Awards, three Brit Awards (Best British Group twice), two MTV Video Music Awards, and various other music awards. The band were inducted into the Rock and Roll Hall of Fame in 2018.
Mark Knopfler and his younger brother David Knopfler were born in Glasgow, Scotland. The family moved to Knopfler's mother's hometown of Blyth, near Newcastle, in North East England when Mark was seven years old.
Originally inspired by his uncle Kingsley's harmonica and boogie-woogie piano playing, Mark formed and joined several bands during the 60's and listened to singers like Elvis Presley and guitarists Chet Atkins, Scotty Moore, B.B King, Django Reinhardt, Hank Marvin, and James Burton. At sixteen years old, he made a local television appearance as part of a harmony duo, with his classmate Sue Hercombe.
In 1973, Mark moved to London and joined a pub rock band based in High Wycombe called Brewers Droop along with future Dire Straits drummer Pick Withers. By the mid-1970s, Knopfler devoted much of his musical energies to his next group, the Café Racers. His brother David moved to London, where he shared a flat with bassist John Illsley.
Mark Knopfler had been working as a teacher at Art College, John Illsley was studying at Goldsmiths' College, and David Knopfler was a social worker. By 1977 the name Dire Straits was given to the band by a musician flatmate of Withers (it represented their financial condition they found themselves in) and the group recorded a five-song demo tape, which included their future hit single, "Sultans of Swing".
After being rejected by MCA records they took the demos to BBC Radio London DJ Charlie Gillett, who had a radio show called "Honky Tonk". The band simply wanted advice, but Gillett liked the music so much that he played "Sultans of Swing" on his show. Two months later, Dire Straits signed a recording contract with Vertigo records.
The group's first album, Dire Straits, was recorded at Basing Street studios (established by Chris Blackwell, the founder of Island Records) in Notting Hill, London in February 1978, and was produced by Muff Winwood the older brother of Steve and both former members of the Spencer Davis Group.
That same year, Dire Straits began a tour as opening band for Talking Heads after the re-released "Sultans of Swing" finally started to climb the UK charts. This led to a United States recording contract with Warner Bros. Records; before the end of 1978, Dire Straits had released their self-titled debut worldwide, which reached the top of the charts in Canada, Australia and New Zealand. Dire Straits eventually went top 10 in every European country.
Inspiration for the song came from witnessing a jazz band playing in the corner of a practically deserted pub in Deptford, South London. At the end of their performance, the lead singer announced that they were the "Sultans of Swing", and Knopfler found the contrast between the group's dowdy appearance and surroundings and their grandiose name amusing.
Eventually "Sultans of Swing" scaled the charts to number four in the US and number eight in the UK and became one of Dire Straits' biggest hits. The song was nominated for two Grammy Awards for Best New Artist and Best Rock Vocal Performance by a Duo or Group.
The group's second album, Communiqué, followed in 1979, and produced the minor hit "Lady Writer" which stalled just outside the Top 40 in the UK and US. Their third album, Making Movies, released in 1980, moved towards more complex arrangements and production, included many of Mark Knopfler's most personal compositions, most notably "Romeo and Juliet" and "Tunnel of Love." During recording the pressures of work took its toll on the brothers, and David Knopfler left the band.
Dire Straits returned to recording at the end of 1984, and began recording tracks at Air Studios in Montserrat for their upcoming fifth studio album to be titled Brothers in Arms
Released in May 1985, Brothers in Arms entered the UK Albums Chart at number one and spent a total of 228 weeks in the charts. It went on to become the best-selling album of 1985 in the UK. Brothers in Arms was similarly successful in the US, peaking at number one for nine weeks, going multi-platinum and selling nine million copies there. The album also spent 34 weeks at number-one on the Australian Charts, and to this day remains the longest-running number-one album in Australia.
Brothers in Arms spawned several chart singles including the US number-one hit "Money for Nothing", which was the first video played on MTV in Britain. It was also the first compact disc to sell a million copies. Other successful singles were "So Far Away", "Walk of Life", and the album's title track. The band embarked on a 1985–1986 Brothers in Arms world tour of over 230 shows.
After the Brothers in Arms world tour Dire Straits ceased to work together for some time with Knopfler concentrating mainly on film soundtracks.
The follow-up to Brothers in Arms was finally released in 1991 after a six-year break. On Every Street was met with a mixed critical reaction, nonetheless, the album sold well and reached number one in the UK.
Mark Knopfler has since enjoyed a successful solo career, releasing solo albums and a series of film soundtrack recordings along with production duties for the likes of Bob Dylan, Randy Newman, Willy DeVille and Aztec Camera.
In 2018 Dire Straits were inducted into the rock'n'roll hall of fame, but the occasion was marked without Mark Knopfler, who chose not to turn up to the ceremony. It was left to bassist John Illsley to except the award and explain his absence. "I'll assure you it's a personal thing," Illsley said on stage. "Let's just leave it at that. He just didn't feel like coming, it's as simple as that."