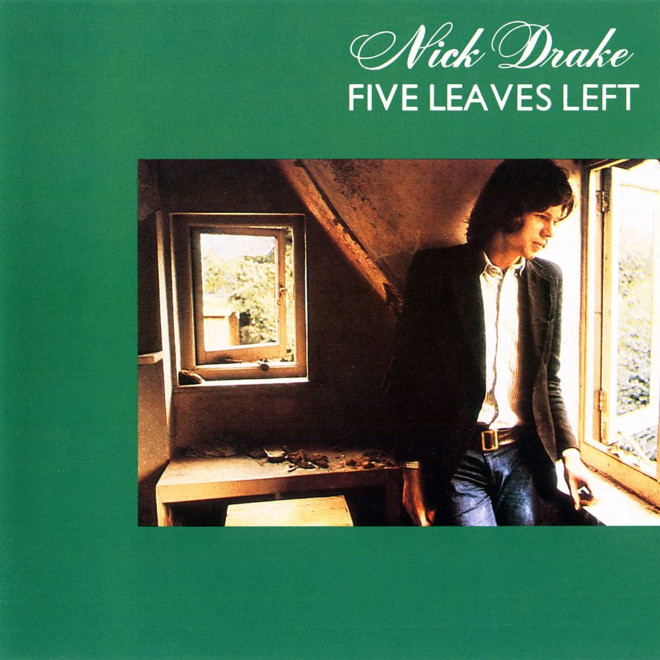 Like almost everyone else I discovered Nick Drake far too late to save him. What is unusual is that when I was on Melody Maker during the early 70s the Island Records' PR David Sandison and I became good friends, and he used to give me all the Island albums as promo copies, Traffic, Free, Fairports, Cat Stevens, Bob Marley, you name it, but he never ever gave me a Nick Drake album, never even mentioned him to me. I don't know why or whether I would have liked Drake or not in those days because I was young and a big rock fan in the serious sense of the word so I might have dismissed Drake as a 'folkie' who wasn't my cup of tea. Maybe I wouldn't have been mature enough to appreciate him then.
I liked Cat Stevens but I got into him because every single attractive girl I ever met in those days seemed to adore Cat Stevens so it was prudent to agree with them, but Nick Drake was far more subtle than Stevens or even Paul Simon. His songs demanded greater attentiveness, harder work if you like, but I think it would have been worth the effort even then. In truth I was turned on to him in the mid- 90s by a friend who managed an Our Price record shop, who mentioned that he was always re-stocking Nick Drake albums. Later I became fascinated by his sad story. It's an extraordinary tale, like a great painter who was ignored until after his death, like Van Gogh.
Nick Drake was a singer, songwriter and guitarist of unusual skill and depth, thoughtful, poetic, enigmatic, dreamy and mysterious, complex yet potentially commercial (as has now been proved) to a perceptive market, certainly addictive, certainly sophisticated, an absolute natural talent, and quite unlike anyone else I've ever heard; just a massive overlooked genius who was criminally, almost freakishly, ignored during his lifetime.
I can probably listen to 'River Man' over and over again and never get bored. With most artists you know what you're getting but it's not like that with Nick. You can listen over and over again and still not quite get it, so you listen again and it's still magical. His recordings are very 'alive'. If you close your eyes while you are listening to him through speakers he could be in the room with you. He sounds incredibly romantic, a bit sad most of the time, weary, and very English in a middle-class, cricket on the village green, warm beer sort of way, slightly posh (which he was) and almost from another now-forgotten world.
Nevertheless, Drake's music is absolutely timeless. This is surely proved by the fact that he sold his millionth album a few years ago, or so I read. In his lifetime it's doubtful he sold more than 5,000 of any of his three albums, probably less. The late great NME writer Ian McDonald has written a brilliant 16,000-word appraisal of his work, a large portion devoted to 'River Man', and this lovely quote from the opening section of his essay sums up the song and the man far better than I can: "To listen to Nick Drake is to step out of this world of pose and noise, and enter a quiet, oak-panelled room, dappled with sun-light – a room opening, through French windows, into a lush green garden, equally quiet because we're in the country, far from the sound of the city.
It's summer, bees and birds are abroad in the shade, and, beyond the nearby trees, a soft tangle of voices and convivial laughter can be felt, along with the dipping of languid oars in a rushy river that winds through cool woods and teeming meadows hereabouts: an English landscape with an acoustic guitar playing gently beyond the hedgerow in jazzy 5/4: 'River Man'."
That's just perfect.
Chris Charlesworth – more from Chris at Just Backdated
Important Dates In The Life Of Nick Drake:
17 Jul 1996
Chas Chandler died aged 57 at Newcastle General Hospital, England, where he was undergoing tests related to an aortic aneurysm. He had been the bass player with The Animals and manager of Slade,
Nick Drake
and
Jimi Hendrix
.
25 Nov 1974
UK singer, songwriter
Nick Drake
died in his sleep aged 26 of an overdose of tryptasol an anti-depressant drug. Drake signed to Island Records when he was twenty years old, recorded the classic 1972 album Pink Moon. In 2000, Volkswagen featured the title track from Pink Moon in a television advertisement, and within a month Drake had sold more records than he had in the previous thirty years.