Bon Jovi – Slippery When Wet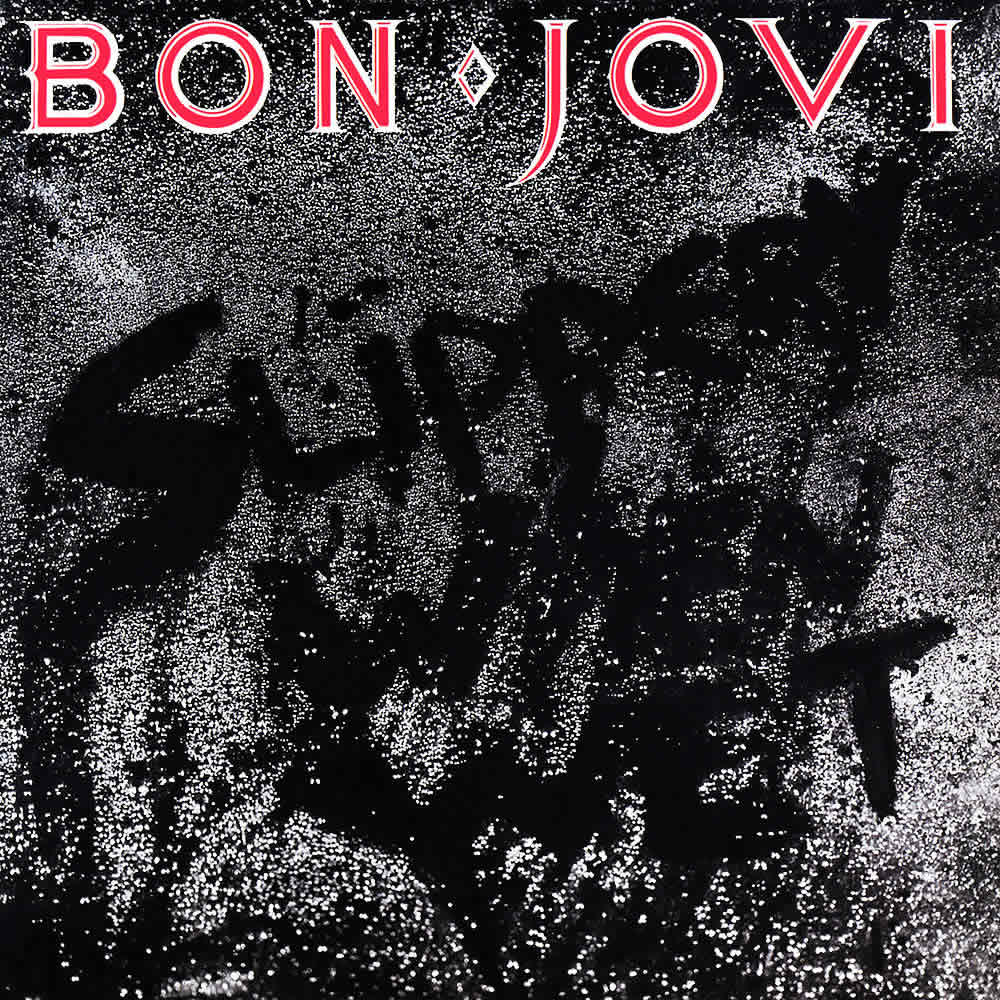 1986 was make or break time for Bon Jovi. After their self-titled, debut album in 1984 had put them firmly into the trench, everyone took it for granted that 1985's 7800° Fahrenheit would take the guys over the top, and into the vanguard of platinum-selling bands. It never happened.
With the third album completed, Jon Bon Jovi gave an interview in 1986 to talk about its creation. 'Everything about that second album was wrong,' recalled Bon Jovi. 'All of us were going through tough times on a personal level. And the strain told on the music we produced. My heroes are people like Southside Johnny and Bruce Springsteen. Their songs tell valuable stories. These guys are for real. I can relate to them, and the way they work. I come from the same blue-collar background. I've grafted for everything. People seem to think that I'm a pretty boy who just got lucky. I've swept studio floors, done all that kinda thing.'
Bon Jovi and songwriting partner guitarist Richie Sambora collaborated on the album with Desmond Child, songwriter of choice for Alice Cooper and others. 'To some extent it was our choice', said Bon Jovi. 'I liked what Bryan Adams had done with Tina Turner (they duetted on Adams' It's Only Love), so I suggested we do something similar – I write a song for someone like her, and then we do the song together. But that got changed, and our A&R guy [Derek Shulman] came up with Desmond's name. 'We're growing as songwriters, learning things. What's wrong with collaborating with people like him, who can help to give us the extra 10 percent out of a song? Actually, he's involved with only three tracks on here – Livin' On A Prayer, You Give Love A Bad Name and Without Love – and, in each case, he hasn't tried to change what we are, but to refine it slightly, to suggest extra ways that we could wring a bit more out of what we had.'
Bon Jovi were far removed from rock star grandeur when they began the process of putting together their third album. Jon Bon Jovi: 'We wrote it in Richie [Sambora]'s mother's basement. His parents both worked, so the house was empty during the day. Richie was playing the bars on the cover circuit, trying to make ends meet – you see, we'd barely made any money at that point. I would drive over there with some pizza, bang on the door, and wake him up at one in the afternoon. We'd write until six in the evening, when his folks came home. It was just us. We knew who we were. We knew it was going to be a different producer who would capture that live element. And we were going to have stories to tell.'
The story that fired the seminal Wanted Dead Or Alive went back to the band's exhaustive tour in support of the 7800° Fahrenheit album. 'I was on the tour bus and couldn't sleep, and was staring out of the window, thinking: 'This is great, but it's an odd existence.' You don't know where you are. You're living in truck stops, sleeping on the bus, showering at a gig. We were thinking of songs like "Turn The Page" by Bob Seger, and how those songs were storytellers doing their best storytelling. I talked to Richie about the concept, he worked up the riff almost on the spot, and we knocked it out in two or three hours.'
"Livin' On A Prayer", meanwhile, is locked into the working class ethic around which Jon grew up. 'I am really proud of that one, because it goes back to the storytelling roots that I was talking about. It deals with the way that two kids – Tommy and Gina – face life's struggles, and how their love and ambitions get them through the bad times. It's working class, and it's real. That's what most of our fans can relate to, not the limos and groupies. That's where I still find my heart.'
'I wanted to incorporate the movie element and tell a story about people I knew. So, instead of doing what I did on Runaway, where the girl didn't have a name, I gave them names, which gave them identity. I wanted to relate those stories to people I'd gone to high school with. Some got married right out of high school. Some joined the service, and now were working somewhere. I wanted to tell their stories, because they could've been me, if I hadn't learned to play guitar. Tommy and Gina aren't two specific people – they represent a lifestyle.'
'As a songwriter, I've been hugely influenced by someone like Tom Waits, thanks to his cinematic approach. Elvis Costello was another, and storytellers like Paul Simon. Elton John was a big influence when I was a kid, because of Goodbye Yellow Brick Road and Captain Fantastic And The Brown Dirt Cowboy.'
The third crucial commercial element of the record was 'You Give Love A Bad Name', the second song written with Desmond Child. 'He came down to that Sambora basement, and we wrote something called Edge Of A Broken Heart, Jon recalled in the early 1990s. That song never made it on to Slippery…, but it went on to be a B-side and is featured on the 2004 retrospective box set 100,000,000 Bon Jovi Fans Can't Be Wrong.
'The second song was 'You Give Love A Bad Name'. We demoed it up, liked what we heard, but never thought it would be a hit. We'd never had one of those before, so didn't actually know what to expect. Actually, we were gonna call it 'Shot Through The Heart' [the opening lyric], but then changed our minds.'
And considering the band already had a track with that very title on their debut album, it was a smart move. The song is believed to have been inspired by Jon Bon Jovi's brief flirtation with actress Diane Lane in 1985. But, a year later, the singer chose to remain enigmatic about the source, stating simply: 'Is it about Diane? Maybe.'
Returning to the 1986 interview, Bon Jovi resumed the story of the album's creation: 'Bon Jovi is still very much a grassroots band, OK? After we wrote all the songs for the album, we put them on a cassette and went down to the local pizza place [in Sayreville, New Jersey], hung out with the kids and got their opinions. The reaction was phenomenal. Honestly, the fans were excited by what we were doing – and these are the people who will finally judge, by either buying the album, or not.'
There was some speculation at the time about whether Bon Jovi's future at Mercury / PolyGram was in question. A few years later, Derek Shulman, formerly of Gentle Giant, and then Bon Jovi's A&R man based in New York, commented: 'I never doubted that Bon Jovi would be huge, but, if you wanna know how close we came here to canning the whole thing before Slippery When Wet … all I'll say is that we didn't commit big funds to it without making sure everything was right. I think you can take it as read that, once we'd satisfied ourselves that the band were doing everything right, then we knew this was gonna be a winner.'
Back in 1986, Jon Bon Jovi had similar confidence: 'Things just feel right. On our debut, we were learning how to be a band. With 7800° Fahrenheit, we went through bad times, but they made us stronger. Now, we're putting it all together. I have to give a lot of credit to our producer this time, Bruce Fairbairn. He's just been the best we've worked with so far.'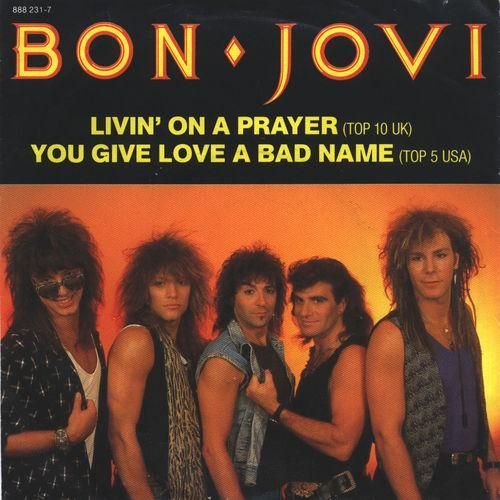 Over the years, it's been forgotten how diverse this record is – not so much a pop-rock masterpiece as a hard rock master class. The original title of the band's third album was to be Wanted Dead Or Alive, something they changed only shortly before the album's release in 1986.
And as soon as the record was put out, it hit paydirt – big time. It reached the top of the US chart, and peaked at number 6 in the UK, fuelled by the success of the first single, 'You Give Love A Bad Name.' Suddenly, everyone wanted to know Bon Jovi. 20 years on, Slippery When Wet has become iconic, selling over 28 million copies worldwide to date. It seems to be the standard by which everything the band have subsequently released is judged. In many ways, it's the point at which America took on board the lessons Def Leppard had taught in 1983 with Pyromania. Slippery… took these rules and ran with them. And the world noticed. Not just hard rock aficionados, but casual radio listeners and pop fans. But Slippery… has survived and prospered because it is a record with depth, clarity and no little sincerity.
'I look upon it as a career record,' Jon said in the mid-90s. Slippery When Wet was one more step on the road…but it was an important one.' 'I rarely listen to our old records. But I heard You Give Love A Bad Name on the radio the other night. I was like, 'It's still on the radio, all these years later!' I saw myself again as a kid, enjoying that moment in time, and you smile. It still holds up.'