Sex Pistols – Never Mind The Bollocks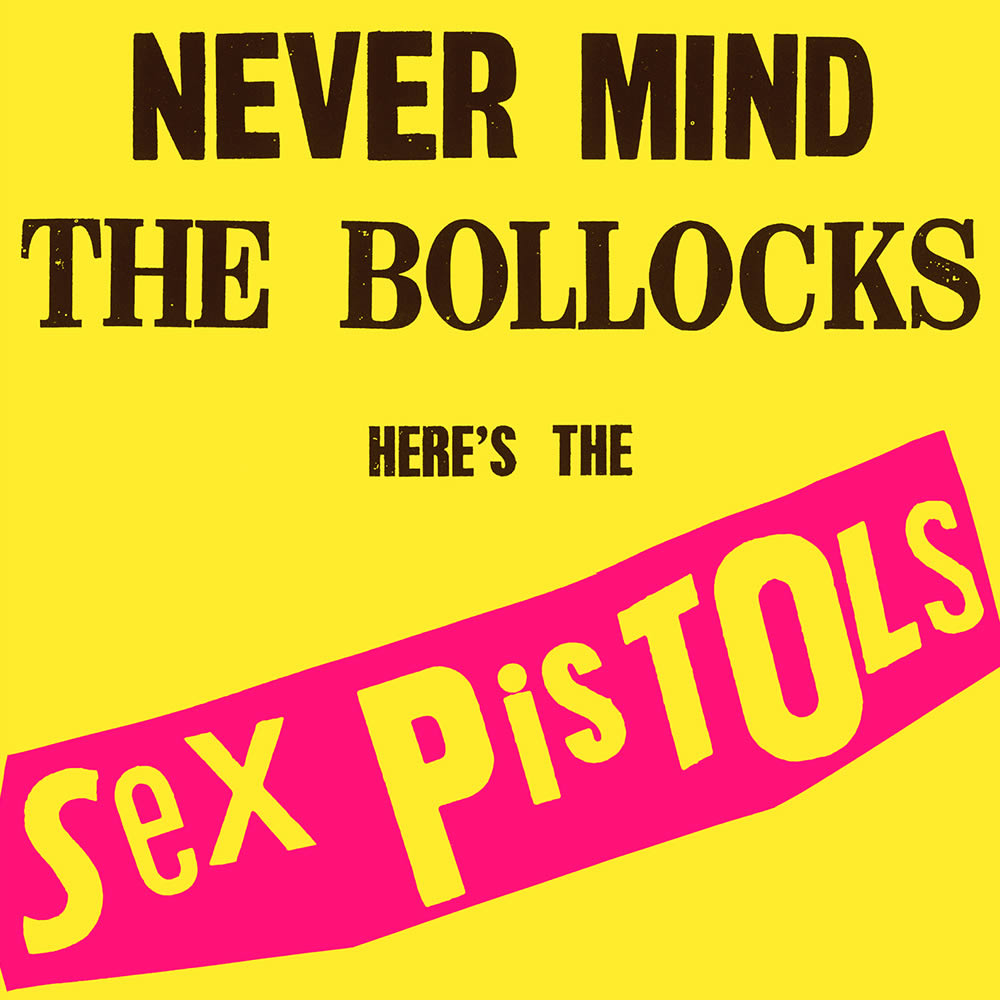 When they first came together in the summer of 1975, the Sex Pistols had no intention of releasing an album. 'It was like: 'Oh God. Isn't that just showbiz?' vocalist Johnny Rotten recalled. 'But then it came to look like nobody wanted us to do it – so then we were fully committed.'
For a group who only released one proper album, the Sex Pistols made one hell of an impact. Their timing was perfect. The media had a field day and couldn't keep those dirty little punks off the front pages of the papers. The good citizens of the British Isles were feeling patriotic; we were about to celebrate the Silver Jubilee of Elizabeth II, marking the 25th anniversary of Queen Elizabeth II's accession to the throne. But these little buggers came along to ruin the whole thing!
Never Mind The Bollocks… was born amid the bloated pomp of progressive rock, a movement whose musicians could not have been further removed from the original Pistols line-up of Rotten (vocals), Steve Jones (guitar), Glen Matlock (bass) and Paul Cook (drums). Indeed the band's ideology hinged on being everything that supergroups like Emerson Lake And Palmer were not.
Early rehearsals in rented buildings were suitably chaotic, with the band fumbling through old Who numbers. The group eventually found themselves a permanent HQ in London's Denmark Street and tightened up their sound by recording a series of demos in '76, produced by Chris Spedding. By this point, they were gigging regularly, and starting to write their own material with subjects ranging from the 'blank generation' clarion call of 'Pretty Vacant' to the snarling first single, 'Anarchy In The UK.'
It was a failed attempt to lay down the latter track with live engineer Dave Goodman that prompted the Pistols to employ the production team who would ultimately bottle the anarchic genius of Never Mind The Bollocks. Engineer Bill Price had the experience to keep the band's unforgiving sound on the straight and narrow, while producer Chris Thomas's work with Roxy Music was deemed a major plus-point. 'If we went in with some heavy metal noise merchant producer,' Rotten says, 'it would have been a catastrophe.'
In fact, Bill Price and Chris Thomas ended up producing separate tracks themselves, as he told Mix Online in 2000. As a staff engineer at Decca's West Hampstead studios in the mid-'60s, Price had recorded a string of worldwide hits for Tom Jones and Engelbert Humperdinck, before moving to AIR Studios in London's Oxford Street, then reviving the fortunes of Wessex Studios in Islington in the mid-1970s. As well as the Pistols, Price also worked with The Clash and The Pretenders, as well as Pete Townshend, Elton John, the Jesus and Mary Chain and Big Audio Dynamite, among others. Price explained how he and Chris Thomas wound up with a joint production credit, without it ever being clear who did what:
'It was totally down to [Pistols manager] Malcolm McLaren. Chris was hired by Malcolm to do a series of singles…[and] I was hired by Malcolm to do a series of album tracks. Life got slightly complicated because I did a few album tracks that Chris remade as singles. Also, Chris started a couple of tracks, which got abandoned as singles, which I remade to be used as album tracks. On quite a large number of songs, when we'd finished the album, we had two versions of the song. We went to the cutting room at least three times with different running orders. I couldn't quite understand why Malcolm kept chopping and changing between different versions of different songs. It slowly dawned on Chris and me that Malcolm was trying to slip between two stools and not pay Chris or me. So we said, 'I'll tell you what, Malcolm. Whatever's on the Sex Pistols' album, it was either done by me or Chris, and you can pay us and we'll divvy it out amongst our little selves.'
Price also tells of the time the band arrived at the studio, the same day they had signed to A&M Records: 'Sometime in the afternoon, the band arrived at Wessex in a Daimler limousine, the sort the Queen uses. Everybody had a bottle of A&M's vodka in their pockets. Unfortunately, it was just at the time when the primary school next door to Wessex was on a break. The combination of seeing Johnny Rotten in a Daimler limousine was just too much for these primary-school kids. The headmistress came out and started screaming at them to get in and get away from these dreadful Sex Pistols characters, and Johnny Rotten treated this lovely lady to quite a lot of verbal relating to right-wing dictators and farmyard animals. She started strutting around the playground screaming, 'Call the police!' etcetera, etcetera.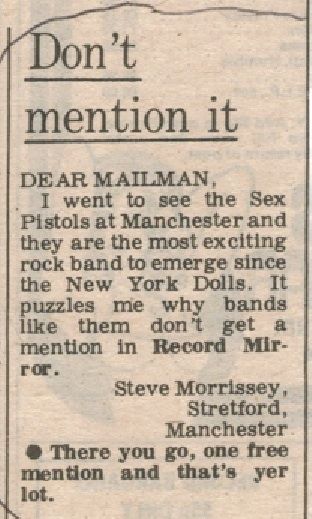 'I was working in Studio One, but I tucked the band into Studio Two, out the back, and awaited the arrival of the police in Studio One. They arrived at the front door of Wessex, and I ushered them, complete with their body armour, into Studio One. I launched into the standard, 'This is how a recording studio works' lecture as if they were a group of Japanese tourists, and, believe it or not, they were quite interested. A couple of coppers played guitar, one was a drummer, if I remember rightly. Eventually, the sergeant, who presumably was not a musician, got fed up and said, 'Let's get out of here.' They completely forgot about the Sex Pistols. I walked back into Studio Two, where we'd put the band, and they were just sleeping like babies. Empty vodka bottles still in their hands.'
'Anarchy In The UK' was nailed in three takes. The rest of the album was recorded in fits and starts over the summer of '77, as waves of controversy crashed around the band in the tabloids, and record deals came and went. Matlock had left in March, but his replacement – the iconic but inept Sid Vicious – spent much of the recording period in hospital. This, along with Sid's musical failings, left Jones to play bass on the album (bar Anarchy In The UK), the guitarist simply playing an octave below his guitar riffs, thus creating what Thomas called the 'panzer division' sound that defines the record.
Talking about the album to Classic Rock in 2012, Guitarist Steve Jones said: 'I think we were a great band because we played great. I think we're a great band live. There's a chemistry thing that happens. Besides all the hype, John 's original lyrics and his vocal style back then, it was totally unique, but still rocked, for sure. A lot of people took music and imagery in another direction, and that was because of the Sex Pistols.'
Upon its original release in 1977, it may have been the notoriety surrounding the Sex Pistols that propelled the album to #1 in the UK. Nearly 30 years later, however, it's the attitude and intelligence of the songwriting that resonates. From the social paranoia depicted in 'Holidays In The Sun' (written after a trip to Berlin – at that time still divided by the Wall), to the grisly lyric of 'Bodies' (inspired by a girl who turned up on Rotten's doorstep with an aborted foetus in her bag), Never Mind The Bollocks is anything but the neanderthal bluster its detractors claim. It defined a generation – and remains every bit as relevant today.