April 1st: The Biggest Music Headlines
Scroll down the page to see all the music headlines, stories and events for April 1 throughout music history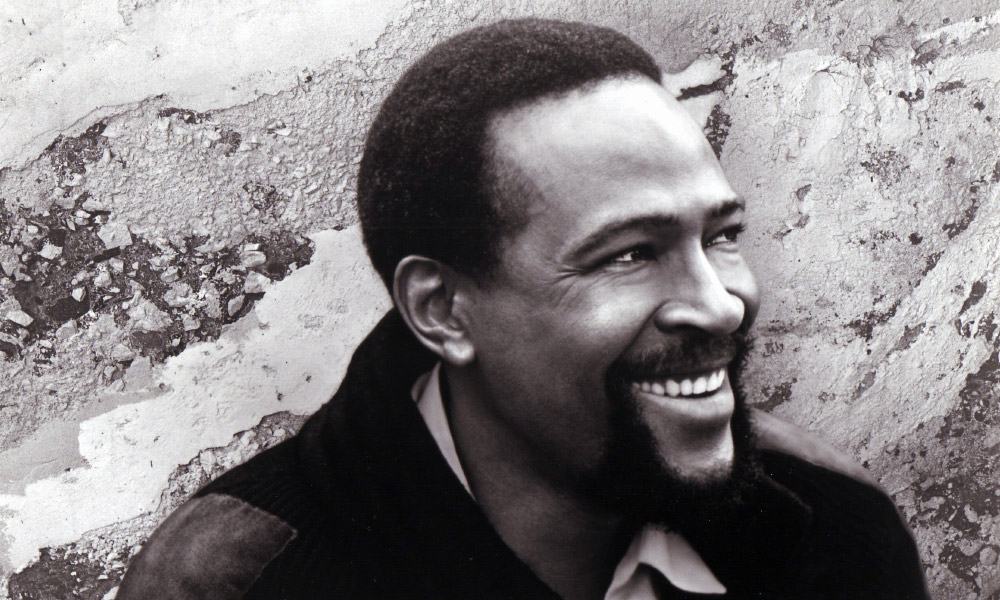 An Unthinkable Tragedy Takes The Life of Soul Star Marvin Gaye
On this day in music, April 1, 1984, soul star Marvin Gaye died after being fatally shot by his father during a heated altercation over mislaid insurance documents. The shooting, which occurred one day before Gaye's 45th birthday, came at a time when the Washington D.C.-born singer and songwriter was enjoying a career resurgence, sparked by the success of his 1982 single, "Sexual Healing," and its parent album, Midnight Love. Gaye rose to fame at Detroit's Motown Records where he racked up 13 No.1 singles on the Billboard R&B chart between 1962 and 1981, though it was as an album artist that he made his biggest impact, releasing the acclaimed concept LP, What's Going On in 1971.
In 1966, David Bowie (born David Jones) released his maiden solo single, "Do Anything You Say," on the Pye label. Produced by Tony Hatch, it was the London artist's first recording under his new stage name.
In 2020, singer, songwriter, and multi-instrumentalist Adam Schlesinger died at the age of 52 from COVID-19. Schlesinger was best known as the co-founder of the power-pop band Fountains Of Wayne, with whom he released five albums. The Emmy and Grammy-winning artist, who penned the hit theme from 1996's That Thing You Do!, was also an accomplished songwriter for film, theater, and TV.
In 1989, The Bangles scored their only British chart-topping single with "Eternal Flame," taken from the all-girl group's third album, Everything. The record was the Los Angeles quartet's second US No. 1, following 1986's "Walk Like An Egyptian."
In 1976, pioneering British punk band the Buzzcocks played their first show at Bolton's Institute of Technology, though the concert didn't last long. After three numbers, the gig was brought to a premature close by a power outage.
In 2000, Santana scored their first No.1 album in the UK with Supernatural. The long-running Latin music group's 18th studio album, which featured a variety of guest stars, eventually sold over 30 million copies worldwide and earned eight Grammy awards.
In 1985, Van Halen's charismatic frontman David Lee Roth quit the band after six albums. Ex-Montrose singer Sammy Hagar replaced him.
Looking for more things that happened on this day in music?
Keep scrolling for all of the headlines for April 1.
BORN ON APRIL 1:
1939: Rudolph Isley (The Isley Brothers)
1946: Ronnie Lane (Small Faces)
1952: Billy Currie (Ultravox)
1954: Jeff Porcaro (Toto)
1961: Susan Boyle
1965: Peter O'Toole (Hothouse Flowers)
1971: Method Man (Wu-Tang Clan)
1986: Hillary Scott (Lady A)
Looking for more artists born on this day?
Keep scrolling for all of our April 1 birthdays.
---
What to find another day?
---
April 1st
1 Apr 2020
American singer-songwriter, record producer and guitarist Adam Schlesinger, best known for his work with Fountains Of Wayne, died at the age of 52 as a result of health complications caused by COVID-19. Fountains Of Wayne formed in New Jersey in 1995 and were named after a lawn ornament store in the state. Over his career, Schlesinger earned nominations for an Oscar, a Golden Globe, Tonys, Grammys and Emmys, winning the latter two.
1 Apr 2019
Ed Sheeran's
wildlife pond was given the all-clear by inspectors despite neighbours complaining that it was actually a swimming pool. A Suffolk Coastal District Council team visited the pop star's estate and found "no evidence that it is not a wildlife pond". Sheeran was given planning permission for the development on the basis it was used for wildlife and not for swimming or any other recreational leisure activity.
1 Apr 2017
After months of uncertainty and controversy,
Bob Dylan
finally accepted the 2016 Nobel Prize in literature at a jovial, champagne-laced ceremony. The academy, which awards the coveted prize, ended prolonged speculation as to whether the 75-year-old troubadour would use a concert stopover in Stockholm to accept the gold medal and diploma awarded to him back in October.
1 Apr 2015
Cynthia Lennon, first wife of
The Beatles
'
John Lennon
died at her home in Spain following a short battle with cancer. At the height of
The Beatles
' early success she was, at the insistence of the band's management, kept in the background so their legions of female fans were not aware of her existence. The couple divorced in 1968 after Cynthia discovered her husband's affair with Yoko Ono.
1 Apr 2013
A signed copy of
The Beatles
' album
Sgt. Pepper's Lonely Hearts Club Band
sold at Dallas-based Heritage Auctions for $290,500 (£191,000). The selling price far exceeded the $30,000 (£19,700) originally estimated for the rare LP record. The UK Parlophone copy of the album included a high gloss cover and vinyl gatefold sleeve.
1 Apr 2007
Alanis Morissette
released a tongue-in-cheek cover of The Black Eyed Peas's 'My Humps', which she recorded in a slow, mournful voice, accompanied only by a piano. The accompanying YouTube video, in which she danced provocatively with a group of men received over 15m views.
1 Apr 2005
During the first leg of their Vertigo World tour,
U2
appeared at the Arrowhead Sports Arena in Anaheim, Southern California, with Kings Of Leon as the opening act. By the end of the 131 date tour, 4,619,021 tickets had been sold with a total gross of $389 million.
1 Apr 2004
Paul Atkinson guitarist with The Zombies died aged 58 due to liver and kidney disease. They scored the 1964 US No.2 & UK No.12 single 'She's Not There'. He later became an artists and repertoire executive, working for Columbia and RCA discovering and signing such bands as
ABBA
, Bruce Hornsby, Mr. Mister, Judas Priest, and Michael Penn.
1 Apr 2001
It was reported that
Spice Girl
Mel B had been advised to sell her £3.5m Buckinghamshire mansion because she couldn't afford to run it. The singer told friends she had to take out a £500.000 bank loan.
1 Apr 2000
Santana started a two-week run at No.1 on the UK album chart with 'Supernatural.' The album went on to win eight Grammy Awards including Album Of The Year, Record Of The Year (for 'Smooth') and Song Of The Year.
1 Apr 1989
Madonna
scored her third UK No.1 album with 'Like A Prayer.' Also a US No.1 the album spent 70 weeks on the UK chart.
1 Apr 1989
The Bangles went to No.1 on the US singles chart with 'Eternal Flame', also a No.1 in the UK and the biggest selling single of 1989 in Australia.
1 Apr 1985
David Lee Roth quit
Van Halen
shortly after releasing his version of
The Beach Boys
'California Girls', (which featured Carl Wilson on background vocals). He was replaced by Sammy Hagar later in the year.
1 Apr 1984
Marvin Gaye
was shot dead by his father at his parent's home in Los Angeles, California. The argument started after his parents squabbled over misplaced business documents, Gaye attempted to intervene, and was killed by his father using a gun he had given him four months before. Marvin Sr. was sentenced to six years of probation after pleading guilty to manslaughter. Charges of first-degree murder were dropped after doctors discovered Marvin Sr. had a brain tumour.
1 Apr 1976
Making their live debut in the UK,
AC/DC
played at The Red Cow in Hammersmith, London.
1 Apr 1976
The
Buzzcocks
played their debut live gig when the appeared at Bolton Institute Of Technology. The power was turned off after three numbers.
1 Apr 1975
The Bay City Rollers TV series Shang-A- Lang premiered on ITV in the UK. It featured the band in comedy sketches and performing their songs to a live studio audience made up of their teenage fans. This resulted in chaotic scenes at times as some members of the audience attempted to run onto the studio floor to meet their heroes. It ran for one 20-week series in 75.
1 Apr 1970
50 musicians recorded the orchestral scores for
The Beatles
tracks 'The Long And Winding Road' and 'Across The Universe' for the Phil Spector produced sessions. The bill for the 50 musicians was £1,126 and 5 shillings, ($1.914).
1 Apr 1970
Earls Court in London received over one million postal ticket applications for The
Rolling Stones
forthcoming six concerts as part of the group's European tour.
1 Apr 1970
As an April Fool's joke,
John Lennon
and Yoko Ono issued a statement to the press that they were having dual sex change operations.
1 Apr 1969
The Beach Boys
announced they were suing their record label Capitol for $2m in unpaid royalties.
1 Apr 1966
The
Troggs
recorded 'Wild Thing' at Regent Sound Studio in London. The song went on to be a No.1 US and No.2 UK hit in June the following year. The track was recorded in one complete take (take two).
1 Apr 1966
Pye Records released
David Bowie
's first solo single, 'Do Anything You Say'. Despite featuring Bowie's backing band at the time, The Buzz, the single was to be the first simply credited to David Bowie (which failed to chart). Bowie had previously recorded as David Jones and The Lower Third.
1 Apr 1966
John Lennon
bought a copy of Timothy Leary's The Psychedelic Experience and The Tibetan Book Of The Dead, where he read near the beginning of the book's introduction; "When in doubt, relax, turn off your mind, float downstream," which captured Lennon's imagination and became the first line of 'Tomorrow Never Knows' which he recorded 5 days later.
1 Apr 1965
The Who
recorded an appearance for
Top Of The Pops
at the Manchester television studio. The band then played a gig supporting Donovan at The Town Hall, Wembley, with
Rod Stewart
and the Soul Agents appearing at the bottom of the bill.
1 Apr 1961
The Beatles
began a three-month residency at The Top Ten Club, Hamburg, playing 92 straight nights. The group played for seven hours a night on weekdays and eight hours at weekends with a fifteen-minute break every hour. It was during this visit that Astrid Kirchherr cut Stuart Sutcliffe's hair into the style destined to become known as the "Beatle haircut" which The Beatles later adopted themselves.
Born on this day in music
1 Apr 1994
Ella Eyre, English singer and songwriter best known for her collaborations with Rudimental on their UK No.1 single 'Waiting All Night' which won the 2014 Brit Award for British Single of the Year, and DJ Fresh on his single 'Gravity'.
1 Apr 1986
American country music singer-songwriter, Hillary Scott from Lady A. Winner of seven Grammy awards, seven Academy of Country Music awards, and six Country Music Association awards.
1 Apr 1981
Hannah Louise Spearitt, from English pop group S Club 7 who had the 1999 UK No.1 single 'Bring It All Back'. Their 2000 UK No.1 album 7 spent over a year on the UK chart. The group was formed in 1998 and quickly rose to fame by starring in their own BBC television series, Miami 7.
1 Apr 1971
American rapper, record producer and actor Clifford Smith, (Method Man), from Wu-Tang Clan who had the 1997 US & UK No.1 album Wu-Tang Forever.
1 Apr 1965
Peter O'Toole, from Irish rock group Hothouse Flowers who scored the 1988 UK No.11 single 'Don't Go'. Their first album, People, released in 1988 became the most successful debut album in Irish history. It reached the No.1 slot in Ireland within a week and eventually reached No.2 in the UK Albums Chart.
1 Apr 1961
Susan Boyle, Scottish singer, debut 2009 album 'I Dreamed a Dream' was the biggest selling album in the world in 2009.
1 Apr 1961
Mark White, guitarist with English pop band ABC who as part of the New Romantic movement had the 1982 UK No.4 & 1983 US No.18 'The Look Of Love'. Their 1982 debut album, The Lexicon of Love, was a UK No.1 and they achieved ten UK and five US Top 40 hit singles between 1981 and 1990.
1 Apr 1954
American drummer, songwriter, and record producer Jeff Porcaro, best known for his work with Toto. Porcaro is one of the most recorded session musicians in history - he came to prominence in the United States as the drummer on the Steely Dan album Katy Lied. He also worked with
Paul McCartney
,
Dire Straits
,
Pink Floyd
,
Michael Jackson
, Joe Walsh, Miles Davis,
Bruce Springsteen
,
Elton John
and many other acts. Porcaro had fallen ill after spraying insecticide in the yard of his home and died that evening on 5th August 1992.
1 Apr 1952
Billy Currie, keyboards with British new wave band Ultravox who had the 1981 UK No.2 single 'Vienna', plus 15 other UK Top 40 singles.
1 Apr 1951
American singer-song writer Henry Gross, best known as a member of Sha Na Na and for his hit song, 'Shannon'. He was the youngest person, at age 18, to play on the main stage at the
Woodstock
Festival in 1969.
1 Apr 1948
Simon Cowe, guitarist with English group Lindisfarne who had the 1970s hit singles 'Meet Me on the Corner', 'Lady Eleanor and 'Run For Home'. Their album Fog on the Tyne became the biggest selling UK album in 1972.
1 Apr 1947
English singer Robin Scott who as founder of a music project he called M scored the 1979 US No.1 & UK No.2 single 'Pop Muzik' from the debut album New York, London, Paris, Munich.
1 Apr 1946
Ronnie Lane, bass player and vocalist with
Small Faces
who had a 1967 UK No.3 & US No.16 single with 'Itchycoo Park' and a 1968 UK No.1 album with 'Ogden's Nut Gone Flake'. As The Faces they had a 1972 UK No.6 & US No.17 single with 'Stay With Me'. Ronnie then formed Slim Chance, who had a 1974 UK No.5 single with 'How Come'. He died on June 4th 1997, aged 51, after a 20 year battle with multiple sclerosis.
1 Apr 1945
American drummer John Barbata from the American rock The Turtles who had the US No.1 single 'Happy Together', and with Jefferson Starship the 1987 UK & US No.1 single 'Nothing's Gonna Stop Us'. Barbata also worked with Crosby, Stills, Nash & Young.
1 Apr 1942
Alan Blakley, who with Brian Poole and the Tremeloes had the the UK 1963 No.1 hit 'Do You Love Me' and with The Tremeloes the 1967 UK No.1 & US No.11 single 'Silence Is Golden'. He died of cancer 1st June 1996.
1 Apr 1942
Phil Margo, from American male doo-wop-style vocal group The Tokens who had the 1961 US No.1 & UK No.11 single with its cover of Solomon Linda's 'The Lion Sleeps Tonight'. He died on 13 November 2021, age 79.
1 Apr 1939
Rudolph Isley, from American group The Isley Brothers who first came to prominence in 1959 with their fourth single, 'Shout', and then the 1962 hit 'Twist and Shout. The Isley Brothers also scored the hits 'This Old Heart Of Mine', 'Summer Breeze' and 'Harvest for the World'. Sixteen of their albums charted in the Top 40.