April 11th: The Biggest Music Headlines
Scroll down the page to see all the music headlines, stories and events for April 11 throughout music history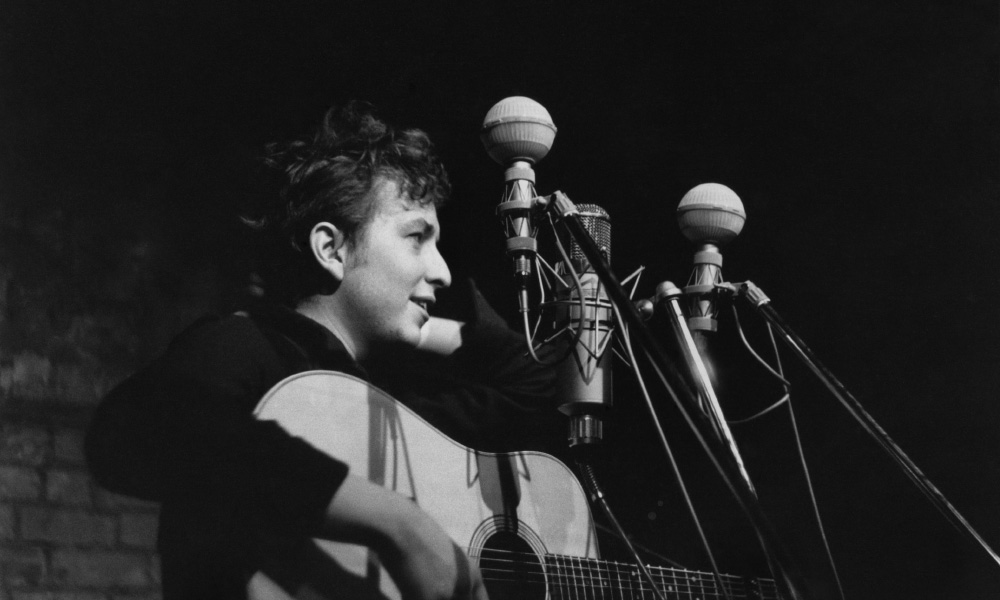 Bob Dylan Plays His First Show In New York City
On this day in music, April 11, 1961, Bob Dylan made his live debut in New York City, opening for blues maven John Lee Hooker at Gerde's Folk City – a recently-established Greenwich Village venue, which would soon be recognized as an incubator for some of the era's most influential artists. The 19-year-old singer-songwriter, who had arrived in Manhattan months earlier, was too young to hold a cabaret license that would permit him to play, so one of the club's owners, Mike Porco, became his guardian – or as the singer once described him, "the Sicilian father I never knew I had." Dylan later referenced this show in his song "Talkin' New York."
In 1994, Oasis unleashed their debut single, "Supersonic." Though it stalled at No.31 in the UK, it performed better in the US, reaching No.11 on Billboard's Modern Rock Tracks chart.
In 1966, the influential folk-rock band Buffalo Springfield took to the stage for the first time at The Troubadour in West Hollywood. Best remembered for their counterculture anthem "For What It's Worth" (a 1967 US Top Ten hit), band members Stephen Stills and Neil Young later played together in Crosby, Stills, Nash & Young.
In 2006, June Pointer, the youngest of the four Pointer Sisters died of cancer at 52. Although the Pointer Sisters topped the US R&B charts with "How Long (Betcha Got A Chick On The Side)" in 1975, they are best remembered for pop hits like "I'm So Excited," "Automatic" and "Jump (For My Love)," which they racked up between 1979 and 1985. Away from the group, Pointer made two solo albums.
In 1964, The Beatles put themselves in the pop history books by simultaneously placing 14 songs on the Billboard Hot 100. The highest placed was "Can't Buy Me Love," at the top of the chart while the lowest was the Liverpudlian group's debut single, "Love Me Do," at No. 81.
In 2017, guitarist J Geils, leader of The J. Geils Band, died at the age of 71. Born John Warren Geils Jr, his band scored their biggest commercial success in 1981 with the chart-topping single "Centerfold" taken from the No.1 US album, Freeze-Frame.
In 1970, guitarist Peter Green left Fleetwood Mac to join a Munich commune during a tour of Germany. To avoid being sued for a breach of contract, he was persuaded to return and finish the tour. He left the band for good on May 20 of that year.
Looking for more things that happened on this day in music?
Keep scrolling for all of the headlines for April 11.
BORN ON APRIL 11:
1956: Neville Staples (The Specials)
1958: Stuart Adamson (Big Country)
1966: Lisa Stansfield
1969: Cerys Matthews (Catatonia)
1970: Delroy Pearson (Five Star)
1971: Oliver "Ollie" Riedel (Rammstein)
1977: DJ Fresh (DJ and record producer)
1978: Tom Thacker (Sum 41)
1987: Joss Stone
1996: Summer Walker
Looking for more artists born on this day?
Keep scrolling for all of our April 11 birthdays.
---
What to find another day?
---
April 11th
11 Apr 2019
One person was shot dead and three others injured in a drive-by shooting during Nipsey Hussle's funeral procession in Los Angeles. Thousands of fans and scores of big name stars including
Stevie Wonder
, Snoop Dogg,
Beyoncé
and Jay Z, Kendrick Lamar and 50 Cent had gathered at the Staples Centre to pay tribute to the murdered 33-year-old rapper.
11 Apr 2017
J Geils, American guitarist, with The J. Geils Band died aged 71. With the J. Geils Band he had the 1982 US No.1 & UK No.3 single 'Centerfold', which was taken from their US No.1 1981 album Freeze Frame.
11 Apr 2017
British musician Toby Smith died aged 46. He was most famous for being the keyboardist and co-songwriter for Jamiroquai from 1992 until his departure in 2002. He was music producer and manager for The Hoosiers and in 2013, Smith co-produced Matt Cardle's third album Porcelain.
11 Apr 2014
Nirvana
were enlisted to the Rock and Roll Hall of Fame, alongside the likes of
Kiss
and Beatles manager Brian Epstein. REM's
Michael Stipe
inducted the group, saying: "
Nirvana
tapped into a voice that was yearning to be heard.
Nirvana
were kicking against the mainstream. They spoke truth and a lot of people listened."
11 Apr 2014
American musician and songwriter Jesse Winchester died aged 69. To avoid the Vietnam War draft he moved to Canada in 1967, where he began his career as a solo artist. His best known songs include 'Yankee Lady', 'The Brand New Tennessee Waltz', 'Mississippi, You're on My Mind', 'A Showman's Life', and 'Biloxi'.
11 Apr 2013
Malawi accused
Madonna
of 'bullying state officials' after she reportedly complained about her treatment on a visit to the country.
Madonna
- who has adopted two Malawian-born children had recently visited 10 primary schools funded by her charity.
Madonna
's manager accused Malawi's government of having a 'grudge' against the singer's charity, Raising Malawi.
11 Apr 2006
A member of
Eminem
's rap collective D12 was killed in a nightclub shooting in Detroit after an argument broke out at the CCC nightclub. Proof, (real name Deshaun Holton), was shot at a club on Eight Mile Road, made famous in
Eminem
's autobiographical film 8 Mile. Holton was a longtime friend of
Eminem
and was the rappers best man at his wedding in January of this year.
11 Apr 2006
June Pointer, the youngest of the four Pointer Sisters who went from teenage Gospel singers to the top of the Pop charts with such hits as 'Fire', 'Slow Hand' and 'I'm So Excited', died of cancer at the age of 52.
11 Apr 2001
Robbie Williams raised 165,000 pounds at a charity auction with the money going to his old school in Stoke to build a performing arts block. The items sold were Robbie's personal possessions, including a toilet from a stage show, a Union Jack bikini, Tiger's head briefs, a Millennium jet pack and the hand written lyrics to 'Angels' which sold for 27,000.
11 Apr 1994
Oasis
released their first single 'Supersonic' which peaked at No.31 on the UK charts. However, over time it has amassed sales of over 215,000, making it their 13th biggest selling single ever in the UK. 'Supersonic' was also the band's first single to chart in the United States, where it peaked at No. 11 on the US Billboard Modern Rock Tracks chart.
11 Apr 1981
Eddie Van Halen
married actress Valerie Bertinelli, co-star of the 1980s television hit, One Day at a Time. The two had met eight months earlier when Bertinelli's brother took her to a Van Halen concert in Shreveport, Louisiana.
11 Apr 1977
Alice Cooper played to an audience of 40,000 in Sydney, Australia, the largest crowd to attend a rock concert in the country's history. After the show Cooper was placed under house arrest at his hotel until he posted a bond for $59,632. That amount was the sum that a promoter claimed to have paid Cooper for a 1975 Australia tour he never made. The two settled when it was found that the promoter did not fulfill his part of the agreement either.
11 Apr 1973
The Beach Boys
appeared at the Omni Coliseum in Atlanta, Georgia. The Beach Boys were at a very low ebb in popularity in America and this show proved a financial disaster for the promoter, with less than 3,000 tickets sold for the 16,000 capacity venue. Opening act was Mothers Finest and middle of the bill was
Bruce Springsteen
who played a 60-minute set.
Elvis Presley
performed twice in the Omni and a plaque was placed on an interior wall to that effect after his death.
11 Apr 1970
Peter Green quit
Fleetwood Mac
while on tour in Germany, to avoid breach of contract he agreed to finish the current tour. While touring Europe in late March 1970, Green took LSD at a party at a commune in Munich, an incident cited by Fleetwood Mac manager Clifford Davis as the crucial point in his mental decline.
11 Apr 1970
The Beatles
started a two week run at No.1 on the US singles chart with 'Let It Be'. It became the group's 19th US No.1 in 6 years. The track was a No.2 hit in the UK.
11 Apr 1966
Buffalo Springfield made their live debut at The Troubadour in Hollywood, California. The folk rock band are renowned both for their music and as a springboard for the careers of
Neil Young
, Stephen Stills, Richie Furay and Jim Messina. Buffalo Springfield were among the first wave of North American bands to become popular in the wake of the British invasion.
11 Apr 1965
Performing at the New Musical Express poll winners concert, at London's Wembley Empire Pool, England,
The Beatles
, The
Rolling Stones
, Tom Jones, Freddie and the Dreamers, The Animals,
The Kinks
, Herman's Hermits, Moody Blues, Them, Cilla Black, The Seekers and Donovan.
11 Apr 1964
The Beatles
set a new chart record when they had 14 songs on the Billboard Hot 100. The songs ranged from 'Can't Buy Me Love' at No.1 to '
Love Me Do
' at No. 81.
11 Apr 1963
Gerry and the Pacemakers were at No.1 on the UK singles chart with 'How Do You Do It'' The group's first of three UK No.1's.
11 Apr 1961
Bob Dylan
played his first live gig in New York City at Gerde's Folk City, opening for John Lee Hooker.
11 Apr 1956
Travelling from Amarillo to Nashville, the plane that
Elvis Presley
was flying on developed engine trouble and was forced to make an emergency landing. The incident created a fear of flying for Presley.
11 Apr 1953
Hank Williams' 'Your Cheatin' Heart was at No.1 on the Billboard country chart. The story goes that Williams was prompted to write the song when thinking about his first wife, Audrey Williams, while driving around with his second, Billie Jean Jones who she is supposed to have written down the lyrics for him whilst sat in the passenger seat. The song was record during his last ever recording sessions, on September 23, 1952 and had been released the following year, shortly after he died.
Born on this day in music
11 Apr 1996
American singer-songwriter Summer Walker. Her 2021 album Still Over It, debuted at No.1 on the Billboard 200 and broke the record for most album streams in a single day by a female artist on Apple Music, and broke her previous record for largest streaming debut-week for a female R&B artist; while she also tied with
Taylor Swift
as the only two female artists that have held 18 songs concurrently on the Billboard Hot 100.
11 Apr 1987
Joss Stone, (Joscelyn Eve Stoker), UK soul singer who rose to fame in late 2003 with her multi-platinum debut album, The Soul Sessions, which made the 2004 Mercury Prize shortlist. Her multi-platinum Mind Body & Soul, topped the UK Albums Chart for one week and spawned the top ten hit 'You Had Me'. Stone also joined the supergroup SuperHeavy which was formed by
Mick Jagger
together with Dave Stewart and Damian Marley (the youngest son of
Bob Marley
).
11 Apr 1978
Canadian musician Tom Thacker, guitar, vocals and co-founde of Sum 41. They had the 2001 UK No 13 single 'In Too Deep', and the 2001 UK No. 7 album 'All Killer No Filler'.
11 Apr 1977
Daniel Stein better known by his stage name DJ Fresh, English musician, DJ and record producer. His two 2011 UK No.1 singles, 'Louder' and 'Hot Right Now' became the UK's first dubstep and drum and bass No.1's.
11 Apr 1971
Oliver "Ollie" Riedel, bassist, for the German rock band Rammstein who formed in Berlin in 1994. Five of their albums reached No.1 on the German album charts.
11 Apr 1970
Delroy Pearson, from British pop/R&B group Five Star who had the 1986 UK No.3 single 'System Addict' plus 15 other UK Top 40 singles.
11 Apr 1969
Welsh singer, songwriter, author, and broadcaster Cerys Matthews, who with alternative rock band Catatonia who had the 1998 UK No.3 single 'Mulder And Scully'. She founded 'The Good Life Experience', a festival of culture and the great outdoors in Flintshire in 2014.
11 Apr 1966
English singer, songwriter and actress Lisa Stansfield, who had the 1989 UK No.1 & US No.3 single 'All Around The World', taken from her first solo album, Affection.
11 Apr 1965
Nigel Pulsford, of the rock band Bush who had the 1997 UK No.7 single 'Swallowed'. The bands debut album, Sixteen Stone sold over 7 million copies in the US.
11 Apr 1958
Scottish guitarist, vocalist, and songwriter Stuart Adamson. He formed The Skids, who had a 1979 UK No.10 single with 'Into The Valley' then Big Country, who had the 1983 UK No.10 single with 'Fields Of Fire' plus 14 other UK Top 40 singles. On 26 November 2001, Adamson was reported missing by his wife Melanie. At the time, the couple had been estranged for six weeks, and Melanie filed for divorce on the day he disappeared. Adamson had been due to face drunk-driving charges in March 2002 and had been ordered to attend Alcoholics Anonymous. He died on December 16th 2001, his body found in a closet in his room at the Best Western Plaza Hotel in Honolulu, Hawaii.
11 Apr 1956
Jamaican born English singer Neville Staples who with The Specials had the 1981 UK No.1 single 'Ghost Town'. When The Specials split up, Neville along with Terry Hall and Lynval Golding, formed Fun Boy Three. They had a string of chart hits, some in collaboration with the all-female trio Bananarama.
11 Apr 1946
Bob Harris, English music presenter known for being a host of the BBC2 music programme The Old Grey Whistle Test, and as a co-founder of the listings magazine Time Out.
11 Apr 1921
British musician Ronnie Milne who as a member of The Stargazers had two UK No.1 singles, 'Broken Wings' in 1953 (which was the first recording by a native British act to top the UK Singles Chart) and the 1954 'I See the Moon'. He died on 9 February 2014.