April 16th: The Biggest Music Headlines
Scroll down the page to see all the music headlines, stories and events for April 16 throughout music history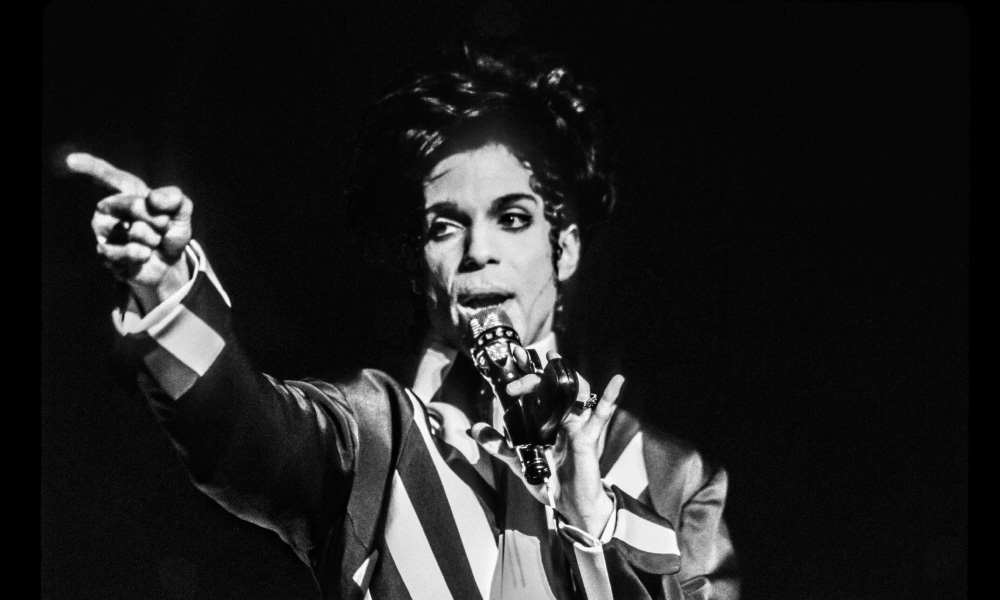 Prince Scores His First And Only UK No.1
On this day in music, April 16, 1994, Prince topped the UK singles charts for the first time with "The Most Beautiful Girl In The World," a romantic ballad he issued after he changed his name to an unpronounceable symbol. Although Prince was still signed to Warner Bros at the time, the label, with whom he had a dispute, allowed him to release the song independently as a one-off project via his own NPG imprint. It was the Minneapolis star's last US Top 10 hit during his lifetime.
In 1972, the Electric Light Orchestra made their live debut in a London pub called The Fox and Greyhound. The Birmingham-based band, which was co-founded by ex-Move members Roy Wood and Jeff Lynne, sought to create classical-influenced rock using orchestral instruments. After Wood quit to form Wizzard, the band shortened its name to ELO and went on to become one of the biggest acts of the 70s.
In 1969, Desmond Dekker and the Aces became the first Jamaican act to reach the top of the UK charts with their single, "The Israelites." Dekker, who was born Desmond Adolphus Dacres in Kingston, was also the first reggae performer to put a record on the US charts.
In 2021, Mike Mitchell, guitarist with the US garage band The Kingsmen, died on his 77th birthday. The Oregon quintet is best remembered for their US hit, "Louie Louie," which spent six weeks at No. 2 in 1963. It came from the album The Kingsmen In Person, which remained on the Billboard albums chart for 131 consecutive weeks.
In 1964, The Rolling Stones topped the UK albums chart for the first time with their self-titled debut, which stayed at the No.1 spot for 12 weeks. In the US, it was issued under the title England's Newest Hit Makers with a different track listing.
In 1970, Led Zeppelin's "Whole Lotta Love" single reached a million sales in the US and was awarded a gold record. Though it was scheduled as a UK single, the band's manager persuaded the record label to cancel its release to preserve the group's no-singles marketing policy in their home country.
In 1977, David Soul topped the US singles chart with "Don't Give Up On Us." Best known for his role as Hutch in the 70s cop show Starsky & Hutch, the singer/actor was a one-hit wonder in the US but in Britain racked up five hits, including two No.1s: "Don't Give Up On Us" and "Silver Lady."
Looking for more things that happened on this day in music?
Keep scrolling for all of the headlines for April 16.
BORN ON APRIL 16:
1924: Henry Mancini
1939: Dusty Springfield
1947: Gerry Rafferty (Stealers Wheel)
1962: Jason Scheff (Chicago)
1964: Dave Pirner (Soul Asylum)
1970: Gabrielle
1971: Selena
1973: Akon
1993: Chance the Rapper
Looking for more artists born on this day?
Keep scrolling for all of our April 16 birthdays.
---
What to find another day?
---
April 16th
16 Apr 2021
English songwriter Barry Mason died age 85. A leading songwriter of the 1960s, he wrote the bulk of his most successful songs in partnership with Les Reed. His song writing credits included three UK Singles Chart No.1s, "Love Grows (Where My Rosemary Goes)", "The Last Waltz", and "I Pretend". His songs have been recorded by many artists including Tom Jones, David Essex, The Drifters,
Rod Stewart
, Petula Clark, Perry Como,
Elvis Presley
and Engelbert Humperdinck.
16 Apr 2021
The Kingsmen guitarist Mike Mitchell died. The 1960s garage rock and blue-eyed soul band from Portland, Oregon, are best known for their 1963 recording of R&B singer Richard Berry's 'Louie Louie'. Their first album, The Kingsmen in Person, remained on the Billboard Top LPs chart for 131 weeks from January 1964 to August 1966.
16 Apr 2021
English harmonica player and vocalist Lew Lewis died. He was a member of Eddie and the Hot Rods before forming his own bands and released a solo single for
Stiff Records
. Influenced in style by Little Walter, he also guested on albums by The Stranglers,
The Clash
and others. In 1987, Lewis was given a seven-year jail sentence for armed robbery, after holding up a post office with a fake pistol, stealing £5,000 and trying to escape on a shopping bike.
16 Apr 2015
British guitarist and composer Martin Quittenton died. He played in the blues rock band Steamhammer, formed in 1968 and Quittenton also worked with Rod Stewart and co-wrote the international hit singles 'Maggie May' and 'You Wear It Well'. Stewart invited Quittenton to join his group The Faces, but Quittenton was not attracted by the wild off-stage antics for which the Faces were notorious.
16 Apr 2015
An auction of part of the model railway collection owned by record producer Pete Waterman raised more than £600,000. Waterman said he was selling the collection, which included 56 Gauge 1 steam models, to fund apprenticeships at the heritage trust he runs.
16 Apr 2013
Edwin Shirley the co-founded Edwin Shirley Trucking, which became one of the largest music transport companies in Europe died of cancer. Brian May noted Shirley's importance to their touring operation: 'Edwin was at the head of
Queen
's vehicle convoy for so many years I can't begin to remember how many... He was a great pal of Gerry Stickells, our illustrious Tour Manager and the two of them wrote the book on how to party on tour.'
16 Apr 2003
Jerry Lee Lewis filed for divorce from his sixth wife, Kerrie McCarver Lewis. The 67-year-old singer married Kerrie in 1984 who was the president of Lewis Enterprises Inc. fan club.
16 Apr 1999
Skip Spence, an original member of Jefferson Airplane and founding member of Moby Grape, died of lung cancer in a San Francisco hospital aged 52. He had battled schizophrenia and alcoholism.
16 Apr 1997
Mark Morrison was convicted with threatening a police officer with an illegal 23,000-volt electric stun gun. The singer left Maryebone Magistrates' Court in tears after being warned he was likely to be sent to prison.
16 Apr 1996
Kiss
appeared in full make-up at the 38th Grammy Awards, where they announced a reunion tour. It would mark the first time all four members had appeared together in over fifteen years.
16 Apr 1994
Prince
had his first UK No.1 with 'The Most Beautiful Girl In The World', (his 37th single release). It was his first release since changing his stage name to an unpronounceable symbol.
16 Apr 1993
David Lee Roth was arrested in New York's Washington Square Park for allegedly buying a $10 bag of marijuana.
16 Apr 1993
Paul McCartney
headlined a concert at the Hollywood Bowl to celebrate 'Earth Day' along with
Ringo Starr
, Don Henley and Steve Miller. McCartney had last performed there as a member of
The Beatles
in 1965.
16 Apr 1977
David Soul one half of TV cop show Starsky & Hutch, went to No.1 on the US singles chart with 'Don't Give Up On Us', his only US hit. Also No.1 in the UK.
16 Apr 1973
Paul McCartney
's first television special, James
Paul McCartney
, was aired in America on the ABC network. The show, which includes performances by McCartney and Wings, would be broadcast in the UK on May 10th.
16 Apr 1972
The Electric Light Orchestra made their debut at The Fox and Greyhound in Croydon, London. ELO were formed to accommodate former Move members Roy Wood and Jeff Lynne's desire to create modern rock and pop songs with classical overtones. Wood departed following the band's debut record, Lynne wrote and arranged all of the group's original compositions and produced every album.
16 Apr 1972
Pink Floyd
appeared at the Township Auditorium, Columbia, South Carolina, USA. A typical set list on this The Dark Side of The Moon tour was: The
Dark Side of the Moon
(entire album), One of These Days, Careful with that Axe Eugene, Echoes, Set The Controls For The Heart Of The Sun.
16 Apr 1970
The
Led Zeppelin
single 'Whole Lotta Love' was certified Gold in the US after selling over a million copies. The single had peaked at No. 4 on the US singles chart. In the UK Atlantic Records had expected to issue the edited version themselves, and pressed initial copies for release on 5th December 1969. However, band manager Peter Grant was adamant that the band maintain a 'no-singles' approach to marketing their recorded music in the UK, and he halted the release.
16 Apr 1969
Elektra Records dropped Detroit's MC5 from their label after the band took out an advertisement in a local paper that included the company logo and said; 'Fuck Hudsons.' The band were protesting at the Michigan department store's refusal to stock their albums.
16 Apr 1969
Desmond Dekker and the Aces were at No.1 on the UK singles chart with 'The Israelites', making Dekker the first Jamaican artist to have an UK No.1 single.
16 Apr 1964
The
Rolling Stones
first album was released in the UK, it went to No.1 two weeks later and stayed on the chart for 40 weeks, with 11 weeks at No.1. The American edition of the LP, with a slightly different track list, came out on London Records on 30 May 1964, subtitled England's Newest Hit Makers, which later became its official title.
16 Apr 1964
The Beatles
filmed the 'chase scenes' for A Hard Day's Night with actors dressed as policemen in the Notting Hill Gate area of London. In the evening they recorded the title track for the film, 'A Hard Day's Night' at Abbey Road. John and Paul had the title first, and had to write a song to order, completing the track in nine takes.
16 Apr 1956
Chuck Berry
recorded "Roll Over Beethoven" which was released by Chess Records the following month. It is said that Berry wrote the song in response to his sister Lucy always using the family piano to play classical music when Berry wanted to play pop music. The lyric "roll over Beethoven and tell Tchaikovsky the news" refers to how classical composers would roll over in their graves upon hearing that classical music had given way to rock and roll.
Born on this day in music
16 Apr 1993
American recording artist Chance the Rapper. His third mixtape Coloring Book earned him three Grammy awards, including Best Rap Album. He featured on the 2017 US No.1 hit single 'I'm The One' by DJ Khaled with Justin Bieber.
16 Apr 1973
Akon, (Aliaune Thiam), US singer, (2005 UK No.1 album 'Trouble', 2005 UK No.1 and US No.4 single 'Lonely', (which samples Bobby Vinton's 'Mr. Lonely'). Akon is the first solo artist to hold both the No.1 and No.2 spots simultaneously on the Billboard Hot 100 charts twice. He was listed by the Guinness Book of World Records as the No.1 selling artist for master ringtones in the world.
16 Apr 1971
Selena Quintanilla-P'rez, best known as Selena, Mexican American singer "the queen of Tejano music.' Her album Selena Live! won a Grammy Award for Best Mexican-American Album at the 36th Grammy Awards. Yolanda Sald'var the president of her fan club, murdered her on March 31, 1995. Warner Brothers made a film based on her life starring Jennifer Lopez in 1997.
16 Apr 1969
Sean Cook, bassist from English space rock band Spiritualized. They released the critically acclaimed 1997 Ladies and Gentlemen We Are Floating in Space, which NME magazine named as their Album of the Year.
16 Apr 1964
American songwriter, singer Dave Pirner with American alternative rock band Soul Asylum, who had the 1993 US No.5 and UK No.7 single 'Runaway Train' from their album Grave Dancers Union.
16 Apr 1963
American singer, actor, and businessman Little Jimmy Osmond, who is the youngest member of the sibling musical group the
Osmonds
. He scored the 1972 UK No.1 single 'Long Haired Lover From Liverpool'.
16 Apr 1963
Nick Berry, English singer, actor who had the 1986 UK No.1 single 'Every Loser Wins'.
16 Apr 1962
American bassist, singer, and songwriter Jason Scheff who from 1985 to 2016 was the bassist and singer with Chicago. His lead vocals were debuted on the 1986 single '25 or 6 to 4,' a remake of their 1970 hit, then followed up with 'Will You Still Love Me?'
16 Apr 1959
Stephen Singleton, saxophonist with English pop band ABC who as part of the New Romantic movement had the 1982 UK No.4 & 1983 US No.18 'The Look Of Love'. Their 1982 debut album, The Lexicon of Love, was a UK No.1 and they achieved ten UK and five US Top 40 hit singles between 1981 and 1990.
16 Apr 1956
Scottish musician Paul Buchanan from The Blue Nile who released the 1989 UK No.12 album, Hats. Buchanan's songs have been covered by Annie Lennox, Julian Lennon, Michael McDonald, Robbie Robertson and Rod Stewart.
16 Apr 1953
Peter Garrett Australian musician, environmentalist, activist. He became the singer with the Australian rock band Midnight Oil in 1973. In 2010, their album Diesel and Dust ranked No.1 in the book The 100 Best Australian Albums.
16 Apr 1951
John Bentley who is best known as the bassist for the band Squeeze from 1980 to 1982 appearing on the albums Argybargy, East Side Story and Sweets from a Stranger.
16 Apr 1950
Dave Peverett, (also known as Lonesome Dave) was an English singer and guitarist with Savoy Brown and a founder member of Foghat, who had the 1976 US No. 20 single 'Slow Ride'. He died of cancer on 7th February 2000.
16 Apr 1949
Bill 'Sputnick' Spooner, guitar, with American band The Tubes known for their 1977 hit single 'White Punks On Dope' and the 1983 US No.10 single 'She's A Beauty'.
16 Apr 1948
British-born arranger Robert Kirby. He was best known for his work on the
Nick Drake
albums, Five Leaves Left and Bryter Layter, but also worked with
Elton John
, Ralph McTell, Strawbs, Paul Weller and Elvis Costello. He died on 3 October 2009 age 61.
16 Apr 1947
Drummer, Lee Kerslake, best known for his performances on Ozzy Osbourne's critically-acclaimed debut album, Blizzard of Ozz, and was also the drummer in Uriah Heep appearing on their 1972 album Demons and Wizards and nine studio records before departing in 1978. He died from prostate cancer on 19 September 2020 aged 73.
16 Apr 1947
Scottish singer-songwriter Gerry Rafferty who with Stealers Wheel had the 1973 US No.3 & UK No.8 single 'Stuck In The Middle With You'. The song was used in Quentin Tarantino's 1992 movie Reservoir Dogs, during the famous 'ear' scene. He is best known for his 1978 solo hit the UK No.3 and US No.2 single 'Baker Street.' He was also a member of late 1960s group The Humblebums with Billy Connolly. Rafferty died on 4th Jan 2011 at the age of 63 after suffering a long illness.
16 Apr 1939
Dusty Springfield, UK singer who had her first UK hit single in 1963 with 'I Only Want To Be With You', which reached No.4, a 1966 UK No.1 & US No.4 single with 'You Don't Have To Say You Love Me' plus over 15 other UK Top 40 singles. She died on March 3rd 1999.
16 Apr 1935
American singer and songwriter Bobby Vinton who had the 1963 US No.1 single & 1990 UK No.2 single 'Blue Velvet', (a cover of Tony Bennett's 1951 hit) plus 29 other US Top 40 hits.
16 Apr 1929
American singer Roy Hamilton who had the 1955 US No.6 single 'Unchained Melody.' and recored 'You'll Never Walk Alone'. Hamilton died of a stroke on 29th July 1969.
16 Apr 1924
American composer, conductor and arranger, Henry Mancini. His best known works include the theme to The Pink Panther film series, 'Moon River' to Breakfast at Tiffany's, and the theme to the Peter Gunn television series. He died 14th June 1994.
16 Apr 1924
American musician Rudy Pompilli best known for playing tenor saxophone with
Bill Haley
and His Comets. They scored the 1955 UK & US No.1 single with 'Rock Around the Clock'. Pompilli died on February 5th 1976.