April 18th: The Biggest Music Headlines
Scroll down the page to see all the music headlines, stories and events for April 18 throughout music history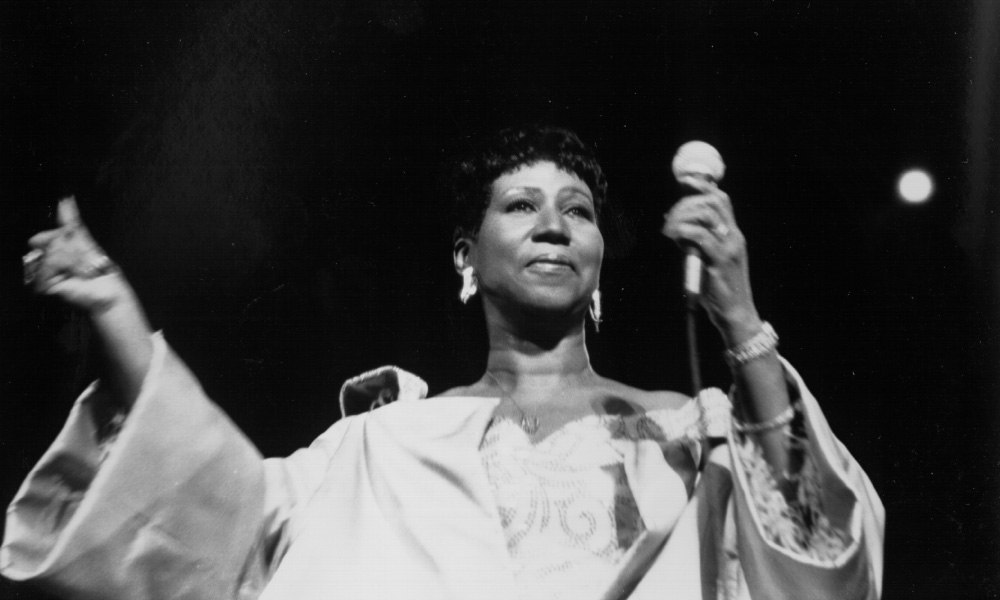 Aretha Franklin Sets Record For Longest Gap Between No.1 Hits
On this day in music, April 18, 1987, Aretha Franklin established a new record for the lengthiest interval between No.1 hits when "I Knew You Were Waiting (For Me)," her duet with ex-Wham! singer George Michael, reached the summit of the Hot 100. A testament to her enduring star power, the "Queen of Soul's" last No.1 had come 19 years and 10 months earlier, when "Respect" topped the chart back in June 1967. Franklin and Michael's duet went on to win the Grammy for Best R&B Performance By A Duo Or Group With Vocal.
In 1996, Bernard Edwards, the bassist, producer, and co-founder of Chic, died at the age of 43 while on tour in Japan. He formed the disco and funk group with Nile Rodgers in 1976 and together they became a formidable songwriting and production partnership, who wrote and produced for Sister Sledge and Diana Ross, among others. When Chic split, Edwards produced ABC, Robert Palmer, and Rod Stewart. He was also a member of the 80s supergroup, Power Station.
In 1992, Annie Lennox topped the UK album chart with Diva, her solo debut. The album, which spent 76 weeks on the chart, later scooped the British Album Of The Year award at the 1993 BRITs.
In 2006, Elton John raised more than $700,000 (£395,000) for his AIDS charity when he sold more than 10,000 pieces of clothing as part of a five-day sale at Elton's Closet, a pop-up shop at New York's Rockefeller Center.
In 2004, Staten Island R&B singer Eamon broke a Guinness World Record when his expletive-laden debut single, "F___ It, (I Don't Want You Back)," topped the UK charts for a month. With a curse count of 33, the song contained the most swearwords ever to appear in a UK No.1.
In 1991, British record producer Martin Hannett died aged 42. His rise to fame began via his work with the post-punk band Joy Division in the late 70s. He went on to produce U2 and The Psychedelic Furs as well as later Mancunian bands New Order, Happy Mondays, and The Smiths.
In 1985, Wham! Became the first-ever Western pop act to have an album released in China with their second LP, Make It Big. Its release followed in the wake of the British duo's groundbreaking ten-day visit to the country.
In 2012, a super-rare mono copy of The Beatles' 1963 debut, Please Please Me – autographed by all of the Fab Four – fetched almost $25,000 on eBay.
Looking for more things that happened on this day in music?
Keep scrolling for all of the headlines for April 18.
BORN ON APRIL 18:
1935: Paul A. Rothchild (Producer)
1943: Clyde Stubblefield (Drummer)
1944: Skip Spence (Moby Grape)
1958: Les Pattinson (Echo & the Bunnymen)
1962: Shirlie Holliman (Wham!)
1964: Mark 'Bez' Berry (Happy Mondays)
1970: Greg Eklund (Everclear)
1974: Mark Tremonti (Creed)
1993: Nathan Sykes (The Wanted)
Looking for more artists born on this day?
Keep scrolling for all of our April 18 birthdays.
---
What to find another day?
---
April 18th
18 Apr 2021
The Simpsons parodied
Morrissey
with the character Quillougby, a British misanthrope who sings 'Everyone Is Horrid Except Me (And Possibly You)' with Lisa. When the singer was qustioned about the sketch he stated: "I'm quite used to it, I've had enough horror thrown at me that would kill off a herd of bison."
18 Apr 2020
Paul McCartney
,
Elton John
,
Taylor Swift
,
The Rolling Stones
,
Stevie Wonder
and several other stars performed from their homes on the One World: Together At Home concert during the coronavirus pandemic. The event organized by Global Citizen of New York City and curated by singer Lady Gaga was in support of the World Health Organization.
18 Apr 2017
Court documents showed that numerous opioid painkillers were found at US singer
Prince
's home shortly after his death last year. Some of the pills discovered at Prince's Paisley Park estate in Minnesota had prescriptions in the name of his friend and bodyguard. But the documents did not offer evidence about the source of the fentanyl that killed the singer on 21 April 2016.
18 Apr 2015
Green Day
was inducted into the Rock and Roll Hall of Fame as a part of the 2015 class, in their first year of eligibility.
18 Apr 2013
Public Enemy became the fourth hip-hop act inducted into the Rock and Roll Hall of Fame (the others that preceded Public Enemy were Grandmaster Flash & the Furious Five, Run-DMC, and the Beastie Boys). Other 2013 inductees are Rush, Heart, Albert King, Donna Summer, and Randy Newman.
18 Apr 2013
Storm Thorgerson, whose album cover artwork includes
Pink Floyd
's
The Dark Side Of The Moon
died aged 69. A childhood friend of the founding members of the band, he became their designer-in-chief. His credits also include albums by
Led Zeppelin
, Peter Gabriel and Muse. In 2003, Thorgerson suffered a stroke, from which he recovered. He was later diagnosed with an undisclosed form of cancer, which he battled for several years.
18 Apr 2012
An original and extremely rare 1963 mono copy of
The Beatles
'Please Please Me' album, signed by the Fab Four, sold on an eBay auction for nearly $25,000.
Paul McCartney
and
John Lennon
both signed their names with "love" in royal blue ink whereas
George Harrison
and
Ringo Starr
signed their names in midnight blue ink. The autographs were signed in May of 1963.
18 Apr 2006
A sale of clothes belonging to Sir
Elton John
raised more than $700,000 (£395,000) for the singer's Aids charity. Over 10,000 pieces were sold during a five-day sale in New York City at the specially-created shop, Elton's Closet, at New York's Rockefeller Centre.
18 Apr 2006
A line from
U2
's 1992 hit 'One' was voted the UK's favourite song lyric after in a poll of 13,000 people by music channel VH1. The line "One life, with each other, sisters, brothers" came top.
The Smiths
lyric "So you go, and you stand on your own, and you leave on your own, and you go home, and you cry, and you want to die" from the song 'How Soon is Now' came second in the poll, followed by "I feel stupid and contagious, here we are now, entertain us", from
Nirvana
's '
Smells Like Teen Spirit
' which was voted into third place.
18 Apr 2005
Reebok pulled a UK TV ad featuring 50 Cent after a mother whose son was shot dead complained it glamorised gun crime. Lucy Cope, from London went to the Advertising Standards Authority about the campaign featuring the US rapper. The ASA had been investigating 54 other complaints from viewers over a reference to the rapper having been shot nine times.
18 Apr 2004
R&B singer from New York Eamon started a four week run at No.1 on the UK singles chart with 'Fuck It, (I Don't Want You Back)' his debut single. The song earned a listing on the Guinness World Record for "the most expletives in a No.1 song", with 33.
18 Apr 1996
Bernard Edwards bass guitarist and producer from Chic, died of pneumonia in a Tokyo Hotel room while touring Japan. Also worked with ABC, Power Station, Sister Sledge, Sheila and B. Devotion, Diana Ross, Johnny Mathis, Debbie Harry, Air Supply, and
Rod Stewart
.
18 Apr 1995
Oasis
drummer Tony McCarrol was told by phone that he was being sacked from the group. McCarrol sued the Manchester group for millions in unpaid royalties and in 1996
Oasis
agreed to pay him a one-off sum of £550,000 ($935,000).
18 Apr 1992
Def Leppard
started a five-week run at No.1 on the US album chart with their fifth studio album 'Adrenalize.' The album was the first by the band following the death of guitarist Steve Clark in 1991.
18 Apr 1992
Annie Lennox went to No.1 on the UK album chart with her debut solo release 'Diva.' The album won the Brit Award for British Album of the Year at the 1993 Brit Awards and received nominations for Album of the Year, Best Female Pop Vocal Performance and Best Long Form Music Video, winning the latter award at the Grammy Awards the same year.
18 Apr 1991
Record producer Martin Hannett died. He worked with many Manchester acts including
The Smiths
, New Order,
Joy Division
, Happy Mondays, Magazine as well as
U2
and The Psychedelic Furs.
18 Apr 1987
Aretha Franklin
and
George Michael
started a two week run at No.1 on the US singles chart with 'I Knew You Were Waiting' also a No.1 in the UK.
Aretha Franklin
set a record for the artist with the longest gap between US No.1 singles, it had been 19 years, 10 months from her last hit 'Respect' in June 1967.
18 Apr 1985
Wham! Became the first-ever Western pop act to have an album released in China.
18 Apr 1984
Michael Jackson
underwent surgery in a Los Angeles hospital to repair damage done after his hair caught fire during the filming of a Pepsi commercial.
18 Apr 1975
Four Bay City Rollers fans were taken to hospital and 35 others required on site treatment after they attempted to swim across a lake to meet their heroes. The group were making an appearance at a BBC
Radio 1
fun day at Mallory Park.
18 Apr 1973
The
Crosby, Stills Nash & Young
documentary Journey Through The Past, directed by Neil Young, debuted at the Dallas Film Festival. The experimental film featured concert footage from 1966 onward, backstage footage and art film-like sequences.
18 Apr 1970
Steel Mill, (featuring
Bruce Springsteen
) played in the Main Gym at Ocean County College in New Jersey. Tickets cost $2.00.
18 Apr 1970
Johnny Cash
was at No.1 on the Country album chart with Hello, I'm Johnny Cash, his 33rd album release. The album featured 'If I Were a Carpenter', the famous duet with his wife, June Carter Cash, which earned the couple a Grammy Award for Best Country Performance by a Duo or Group with Vocal in 1971.
18 Apr 1966
The Spencer Davis Group were at No.1 on the UK singles chart with their version of the Jackie Edwards song 'Somebody Help Me', (as with their previous hit 'Keep on Running' which was also composed by Edwards).
18 Apr 1964
The Beatles
appeared on the UK TV comedy program The Morecambe and Wise Show, playing 'This Boy', 'All My Loving', and 'I Want to Hold Your Hand' and also participate in comedy sketches with Eric Morecambe and Ernie Wise.
The Beatles
also held the UK and US No.1 position on this day with 'Can't Buy Me Love'.
18 Apr 1963
After a
Beatles
performance at the Royal Albert Hall in London for the radio show Swingin' Sound '63,
Paul McCartney
met the actress Jane Asher for the first time. They later became engaged, but never married and split up in 1968. The relationship inspired several Beatles songs, including 'All My Loving' and 'I'm Looking Through You.'
Born on this day in music
18 Apr 1993
English singer, songwriter and record producer Nathan Sykes. He is best known for being the youngest member of the British boy band The Wanted.
18 Apr 1974
Mark Tremonti, lead guitarist from American rock band Creed, who had the 2001 US No.1 & UK No.13 single 'With Arms Wide Open' and the 2002 US No.1 album, Weathered.
18 Apr 1970
Greg Eklund, drummer from American rock band Everclear. The band found success with their first three albums Sparkle and Fade, So Much for the Afterglow, and Songs from an American Movie Vol. One:
18 Apr 1964
Mark 'Bez' Berry, with English alternative rock band Happy Mondays who had the 1990 UK No.5 single 'Step On' and the 1990 hit Kinky Afro'. And with Black Grape had the 1995 UK No.8 single 'In The Name Of The Father'.
18 Apr 1962
Shirlie Holliman, English singer, who sang with Wham! on their 1982 UK No.3 single 'Young Guns, (Go For It') and was a member of Pepsi & Shirlie. She is married to Martin Kemp of Spandau Ballet.
18 Apr 1958
Andy Kyriacou, from British pop band Modern Romance who had the 1982 UK No.4 single 'Best Years Of Our Lives' and a string of UK hits.
18 Apr 1958
English musician Les Pattinson, best known for being a member of Echo & the Bunnymen who had the 1983 UK No.8 single 'The Cutter' and the single 'The Killing Moon'.
18 Apr 1944
Skip Spence, Canadian-born American musician and singer-songwriter. He was co-founder of Moby Grape, in an early line-up of Quicksilver Messenger Service, and was the drummer on Jefferson Airplane's debut album, Jefferson Airplane Takes Off. He died on 16th April 1999.
18 Apr 1943
American drummer Clyde Stubblefield best known for his work with James Brown. His rhythm pattern on James Brown's 'Funky Drummer' is among the world's most sampled musical segments and has been used by hip-hop groups and rappers such as Public Enemy, Run-DMC, N.W.A, Raekwon, LL Cool J, Beastie Boys and
Prince
. Stubblefield died on February 18, 2017, from kidney failure age 73.
18 Apr 1942
Mike Vickers, British musician who came to prominence as guitarist, flautist and saxophonist with Manfred Mann, who had the 1964 UK & US No.1 single 'Do Wah Diddy Diddy'.
18 Apr 1939
Glen D.Hardin, from American rock and roll band
The Crickets
, who had the 1957 US No.1 single 'That'll Be The Day', the 1959 UK No.1 single 'It Doesn't Matter Anymore' plus over 15 other UK Top 40 singles.
18 Apr 1935
Paul A. Rothchild, American record producer, worked with
The Doors
, 'Break on Through (To the Other Side)', 'Light My Fire', 'People Are Strange'),
Janis Joplin
, (No.1 album Pearl and her only No.1 single, 'Me and Bobby McGee'). Crosby, Stills, & Nash,
Joni Mitchell
,
Neil Young
and Love. Rothchild died March 30, 1995.