April 19th: The Biggest Music Headlines
Scroll down the page to see all the music headlines, stories and events for April 19 throughout music history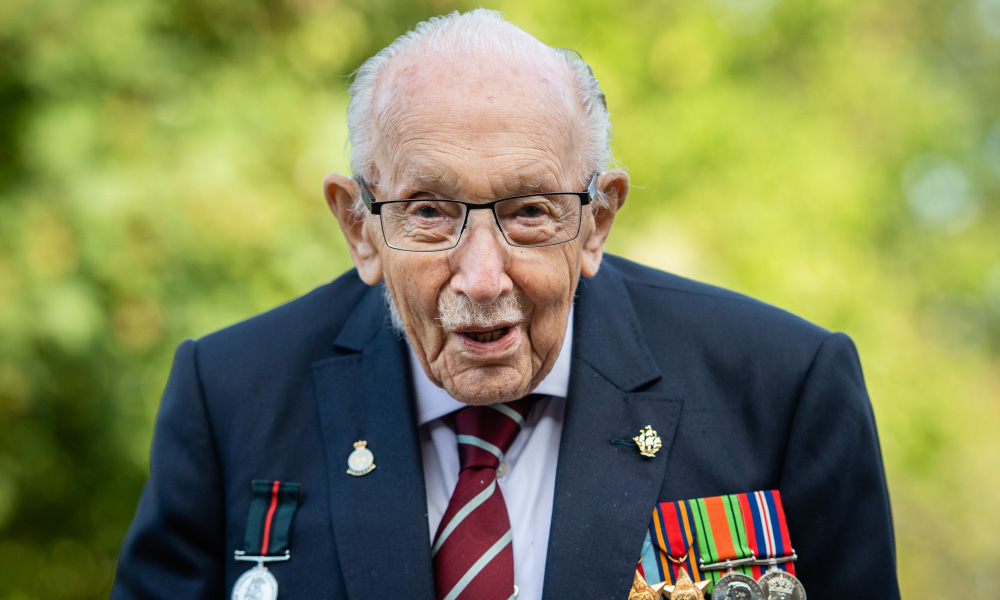 Captain Tom Becomes Oldest UK Chart-Topper, at 100
On this day in music, April 19, 2020, Captain Sir Tom Moore, a veteran of the British Army, became the oldest person to score a UK No.1 with "You'll Never Walk Alone," a collaboration with singer Michael Ball. Recorded amid Covid-19 to raise funds for the UK's NHS Charities Together, the single topped the charts on Moore's 100th birthday. Moore, who passed away in 2021, broke a record previously held by Tom Jones, who was 68 when "(Barry) Islands In The Stream" reached the top spot in 2009.
In 1956, Chuck Berry recorded his iconic rock'n'roll hit, "Roll Over Beethoven," for Chicago's Chess Records. The song, which contained the famous refrain "Roll over Beethoven and tell Tchaikovsky the news" was said to be inspired by Berry's rivalry with his classically trained piano-playing sister, Lucy.
In 2021, Jim Steinman, the celebrated songwriter, pianist, and producer, who rose to fame masterminding Meatloaf's iconic 1977 Bat Out Of Hell album, died at the age of 73. In addition to his longtime collaboration with Meatloaf -– which included six albums between 1977 and 2016 – Steinman produced hit records for Bonnie Tyler, Air Supply, and Sisters Of Mercy.
In 2012, 71-year-old singer, drummer, and multi-instrumentalist Levon Helm lost his battle with cancer. Best remembered for his work as a member of The Band, Helm fronted some of the legendary group's best-loved numbers, including "The Night They Drove Old Dixie Down" and "The Weight."
In 1998, former Take That singer Robbie Williams topped the UK albums chart with his first solo offering, Life Thru A Lens. It went on to sell 2.4 million copies and spend a whopping 218 weeks on the chart.
In 1980, Australian rockers AC/DC recruited singer Brian Johnson to replace their original frontman, Bon Scott, who died earlier that year. Johnson, who cut his teeth with the British group Geordie, successfully auditioned for the band after Slade's Noddy Holder declined to join the Antipodean rockers.
In 1986, George Michael became the first solo artist in UK chart history to reach No.1 with his first two records after his second single, "A Different Corner," reached the top spot. The track also had the distinction of being the second chart-topping single in Britain that was sung, played, composed, arranged, and produced by a single performer.
Looking for more things that happened on this day in music?
Keep scrolling for all of the headlines for April 19.
BORN ON APRIL 19:
1928: Alexis Korner
1942: Alan Price (The Animals)
1942: Eddie Kramer (Producer)
1943: Eve Graham (The New Seekers)
1944: Bernie Worrell (Parliament-Funkadelic)
1947: Mark Volman (The Turtles)
1956: Gary Langan (Art of Noise)
1966: Suge Knight
Looking for more artists born on this day?
Keep scrolling for all of our April 19 birthdays.
---
What to find another day?
---
April 19th
19 Apr 2021
Producer and songwriter Jim Steinman, most famous for his work on
Meat Loaf
's best-selling Bat Out Of Hell album, died at the age of 73. His most successful chart singles include Bonnie Tyler's 'Total Eclipse of the Heart', Air Supply's 'Making Love Out of Nothing at All', Meat Loaf's 'I'd Do Anything for Love (But I Won't Do That)', the Sisters of Mercy's 'This Corrosion'.
19 Apr 2020
Michael Ball and Captain Tom Moore went to No.1 on the UK singles chart with their version of "You'll Never Walk Alone". The charity single made Moore – six days short of his one hundredth birthday – the oldest person to achieve a No.1 (he was at the top of the charts on his 100th birthday), beating the previous record-holder Tom Jones.
19 Apr 2014
The White House refused to comment on a campaign to deport Justin Bieber from the US. Around 275,000 people had signed a petition on its website calling for the Canadian singer to be removed from the country. The campaign had been set up in January of this year when the 20-year-old was arrested on suspicion of drink and drug-driving and illegal drag racing.
19 Apr 2012
Levon Helm, died of throat cancer aged 71. A drummer, singer and multi-instrumentalist, Helm formed his own high school band, the Jungle Bush Beaters, at 17, he later joined The Hawks (who became
Bob Dylan
's backing group) who then became known as The Band. He sang on Band classics like 'The Night They Drove Old Dixie Down,' 'Up on Cripple Creek,' 'Rag Mama Rag,' and 'The Weight.'
19 Apr 2012
Leonard Cohen's former manager was jailed for 18 months for harassing the singer-songwriter. Kelley Lynch was found guilty by a Los Angeles court after a sending a torrent of expletive-strewn emails and letters to the star. She was also sentenced to five months probation and ordered to attend anger-management courses. Cohen thanked the court for the "even-handed and elegant manner in which these proceedings have unfolded".
19 Apr 2010
A week after Catholic Church officials published an article in the Vatican's L'Osservatore Romano newspaper that said they forgive
John Lennon
's remarks about
The Beatles
being "bigger than Jesus",
Ringo Starr
rejected their forgiveness. The newspaper's editors had written, "
The Beatles
said they were bigger than Jesus and put out mysterious messages, that were possibly even Satanic... (but) what would Pop music be like without the Beatles?" Ringo was unimpressed and replied "Didn't the Vatican say we were Satanic or possibly Satanic? And they've still forgiven us? I think the Vatican, they've got more to talk about than the Beatles."
19 Apr 2005
Richard Lewis American tenor with The Silhouettes died. The doo wop/R&B groups single 'Get A Job' was a No.1 hit on the Billboard R&B singles chart and pop singles chart in 1958. The doo-wop revival group Sha Na Na derived their name from the song's lyrics. 'Get A Job' is included in the soundtracks of the film American Graffiti, Trading Places and Stand By Me. The Silhouettes performed in the 1986 movie Joey.
19 Apr 2005
It was announced that two 30-second television commercials designed to attract vacationing families to Graceland to experience the "real"
Elvis Presley
would air nationally in the US starting in April 2006. It was the first time in the history of
Elvis Presley
Enterprises, Inc. that the company has used television advertising to promote Graceland tourism.
19 Apr 2003
The oldest working musician in Britain, Conrad Leonard died aged 104. Composer and pianist Leonard had worked with Cole Porter, Petula Clark and at the BBC during his career. Until the age of 103 years, he played the piano every Thursday at lunchtime in the Plantation Cafe at Squire's Garden Centre in Twickenham.
19 Apr 2002
Police were investigating how tracks from the forthcoming
Oasis
album 'Heathen Chemistry' had been illegally circulated on the Internet. They thought the person responsible had access to their private recording sessions.
19 Apr 2000
Phil Collins
won £250,000 in a high court case over royalties with two former members of his band. The judge ruled that they had been overpaid in error but because the two musicians had no other income they would not have to pay it back.
19 Apr 1998
Robbie Williams started a two-week run at No.1 on the UK album chart with his debut solo album Life Thru A Lens. The album spent a total of 218 weeks on the UK chart, with sales of 2.4 million copies.
19 Apr 1997
Michael Jackson
attended an unveiling of a wax statue of himself at the Grevin Museum of Wax in Paris, France. Jackson provided one of his own outfits to dress the figure.
19 Apr 1995
The Stone Roses played their first gig in five years when the appeared at The Rockefeller Club, Oslo, Norway.
19 Apr 1993
19 Apr 1986
George Michael
was at No.1 on the UK singles chart with 'A Different Corner', the singers second solo No.1. Michael became the first solo act in the history of the UK chart to reach No.1 with his first two releases. The song was also credited with being the second No.1 (after 'I Just Called To Say I Love You' by
Stevie Wonder
), which was written, sung, played, arranged and produced by the same person.
19 Apr 1986
Prince
started a two week run at No.1 on the US singles chart with 'Kiss.'
Prince
also had the No.2 song 'Manic Monday', by The Bangles, which he wrote under the pseudonym 'Christopher.'
19 Apr 1985
Bryan Adams
was on the UK album chart with Reckelss. His fourth studio album was the first Canadian album to sell more than one million units within Canada. Six singles were released from the album: 'Run to You,' 'Somebody,' 'Heaven,' 'Summer of '69,' 'One Night Love Affair,' and 'It's Only Love.' All six singles made the top 15 on the US Billboard Hot 100, a feat that at the time had been accomplished previously only by
Michael Jackson
's
Thriller
.
19 Apr 1980
R.E.M.
played their first gig as
R.E.M.
at the 11:11 Koffee Club, Athens, Georgia to 150 people. The show ended at 2am when police closed it down due to the venue being unlicensed.
19 Apr 1980
Blondie
went to No.1 on the US singles chart with 'Call Me', featured in the Richard Gere movie 'American Gigolo', the track was also a No.1 in the UK.
19 Apr 1980
32 year old English singer Brian Johnson joined Australian group
AC/DC
, replacing
Bon Scott
who had died after a drinks binge in February 1980. Johnson's first band was the Gobi Desert Canoe Club. He was also in a band called Fresh. From 1970, Johnson played with cabaret/club band The Jasper Hart Band, performing songs from the musical Hair. He and other members of the band went on to form Geordie.
19 Apr 1980
For the first time ever the Top five artists on the US country chart were all female, Crystal Gayle who was at No.1, with Dottie West, Debbie Boone, Emmylou Harris and
Tammy Wynette
making up the rest of the Top 5.
19 Apr 1974
Bruce Springsteen
and the E Street Band appeared at the State Theatre in New Brunswick, New Jersey. The gig was unadvertised by its promoter, who gambled that word-of-mouth would be enough to fill the 550-seat venue, only 250 people attended. Tickets cost $4.50 and $5.50 in advance.
19 Apr 1969
Smile (later to be known as
Queen
) appeared at the Revolution Club in London, England.
19 Apr 1969
Glen Campbell
was at No.1 on the Billboard country singles chart with the Jimmy Webb song 'Galveston', which also made No.4 on the Billboard Hot 100. The song describes a soldier waiting to go into battle who thinks of the woman he loves and his hometown of Galveston, Texas: "I still hear your sea waves crashing/as I watch the cannons flashing/ I clean my gun/And dream of Galveston." In 2003, this song ranked No.8 in CMT's 100 Greatest Songs in Country Music.
19 Apr 1968
John Lennon
,
George Harrison
and their wives left the Maharishi Mahesh Yogi's ashram in Rishikesh, India two weeks before their study was complete. Ringo and Paul had already left.
19 Apr 1965
19 Apr 1965
The Beatles
single 'Ticket to Ride' was released on Capitol records in the US. The single's label stated that the song was from the upcoming movie 'Eight Arms to Hold You' (the original name for the movie
Help!
).
Born on this day in music
19 Apr 1966
Marion Hugh "Suge" Knight Jr. American record producer, music executive. He is the co-founder and former CEO of Death Row Records. Death Row Records rose to dominate the rap charts after Dr. Dre's breakthrough album The Chronic in 1992. After several years of chart successes for artists including
Tupac Shakur
, Dr. Dre, Snoop Dogg, Outlawz and Tha Dogg Pound, Death Row Records stagnated after Knight's incarceration on probation violation charges in September 1996 and went bankrupt in 2006. In February 2015, Knight was charged with murder and attempted murder following a fatal hit-and-run in Compton, California.
19 Apr 1956
English singer Tony Martin, best known for his time fronting
Black Sabbath
, initially from 1987 to 1991 and again from 1993 to 1997. Martin was the band's second longest serving vocalist after
Ozzy Osbourne
.
19 Apr 1956
Gary Langan from English avant-garde synth-pop group Art of Noise who had the 1988 UK No.5 single 'Kiss' with Tom Jones.
19 Apr 1947
American guitarist Mark Volman, from the The Turtles who had the US 1967 No.1 single 'Happy Together' and the 1967 hit 'She'd Rather Be with Me'. He later worked with
Frank Zappa
, alongside his friend and partner Howard Kaylan who used the stage names of Flo & Eddie.
19 Apr 1946
Tim Curry, English actor and singer. He rose to prominence for his portrayal of Dr. Frank-N-Furter in the film The Rocky Horror Picture Show (1975). As a singer, Curry has released three rock-focused studio albums. Curry has used a wheelchair since suffering a major stroke in July 2012.
19 Apr 1944
Bernie Worrell, American keyboardist and composer best known as a founding member of Parliament-Funkadelic and for his work with Talking Heads. Worrell died on June 24, 2016, at the age of 72.
19 Apr 1943
Scottish singer Eve Graham from The New Seekers who had the 1972 UK No.1 and US No.7 single 'I'd Like To Teach The World To Sing' and hits with 'You Won't Find Another Fool Like Me' and 'Beg, Steal or Borrow'.
19 Apr 1942
Larry Ramos, guitarist, banjo player and vocalist. With the New Christy Minstrels he won a Grammy for the group's 1962 debut album, Presenting The New Christy Minstrels, and the album was on the Billboard charts for two years. He later joined 1960s American pop band the Association. Ramos contributed his voice to their 1967 No.1 US hit single 'Windy'. He died on 30 April 2014.
19 Apr 1942
19 Apr 1942
English musician Alan Price, keyboards with The Animals who had the 1964 UK & US No.1 single 'House Of The Rising Sun'). As a solo artsit he scored the 1967 UK No.4 single 'Simon Smith and his Amazing Dancing Bear'.
19 Apr 1928
Alexis Korner, blues singer, musician. He was a major force behind the UK R&B scene, and formed Blues Incorporated with Charlie Watts. Later he had hits with CCS, (1971 UK No.5 single 'Tap Turns On The Water'). He was also a writer and radio presenter. Korner died on January 1st 1984.