April 2nd: The Biggest Music Headlines
Scroll down the page to see all the music headlines, stories and events for April 2 throughout music history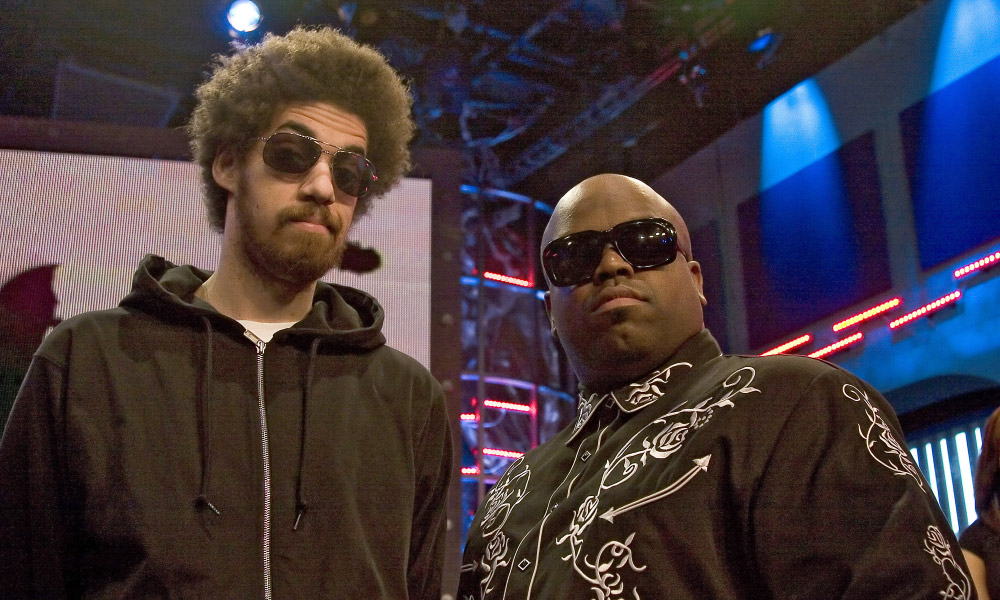 Gnarls Barkley Establish Digital Dominance with 'Crazy'
On this day in music, April 2, 2006, duo Gnarls Barkley – consisting of singer-songwriter CeeLo Green and producer Danger Mouse – saw their debut single, "Crazy," shoot to the summit of the UK singles chart and remain there for nine weeks (the longest stay at No.1 in over a decade). Initially released in digital form, the catchy tune became the first single to top the British charts solely from download sales and was later named the best-selling single of 2006 in the UK. The song was taken from the duo's Grammy-winning debut album, St. Elsewhere.
In 1977, Fleetwood Mac topped the Billboard 200 with their 11th studio album, Rumours. Featuring such enduring Top Ten hits as "Go Your Own Way," "Dreams," "Don't Stop," and "You Make Loving Fun," the Grammy-winning album would become the band's most successful release, eventually spending more than 20 non-consecutive years on the US chart and selling more than 40 million copies worldwide.
In 1964, The Beach Boys began recording "I Get Around," which would soon become their first No.1 hit on the Billboard charts. Released the following month, the autobiographical song found the band reacting to their newfound fame.
In 2006, Watts Branch Park in Washington D.C. was officially renamed Marvin Gaye Park on what would have been the late Motown star's 67th birthday. The park occupies a 1.6-mile-long area of Ward 7 in the northeast of the city near where Gaye was born and raised.
In 1964, The Beatles' sixth single "Can't Buy Me Love" broke the record for advanced single sales in the UK when 2.1 million people pre-ordered it. Unsurprisingly, the record shot straight to No.1.
In 1987, virtuoso jazz drummer Buddy Rich died at the age of 69. The Brooklyn-born musician was a flamboyant showman behind the drum kit, who was famed for his power, speed, technique, and ability to swing. He began performing as a two-year-old in his parents' vaudeville act and served his musical apprenticeship in the big bands of Artie Shaw, Tommy Dorsey, and Count Basie before leading his own group. Other artists he played with included Frank Sinatra, Ella Fitzgerald, Louis Armstrong, and Oscar Peterson.
In 2001, Mariah Carey signed what was then the most lucrative recording deal in pop music history when she agreed to join Virgin Records in a three-album deal reportedly worth $100 million.
Looking for more things that happened on this day in music?
Keep scrolling for all of the headlines for April 2.
BORN ON APRIL 2:
1928: Serge Gainsbourg
1939: Marvin Gaye
1941: Leon Russell
1947: Emmylou Harris
1963: Keren Woodward (Bananarama)
1967: Greg Camp (Smash Mouth)
1979: Jesse Carmichael (Maroon 5)
1983: Yung Joc
1991: Quavo (Migos)
Looking for more artists born on this day?
Keep scrolling for all of our April 2 birthdays.
---
What to find another day?
---
April 2nd
2 Apr 2021
American bassist Morris BB Dickerson died age 71. He was a founding member of the 70s funk-rock-soul band War who scored hits such as 'Low Rider', 'Why Can't We Be Friends?' and 'The Cisco Kid'.
2 Apr 2019
American electronica, soul, gospel, and house music singer, Kim English died age 48. She had been diagnosed with kidney failure for five years, and had been on dialysis, and awaiting a transplant. By 2007, English had earned her sixth, seventh and eighth US dance number ones with 'It Makes a Difference', 'C'est La Vie' and 'My Destiny'.
2 Apr 2014
Recordings by
U2
, (The
Joshua Tree
), the Everly Brothers, ('Cathy's Clown'),
Jeff Buckley
, ('Hallelujah'), Linda Ronstadt, (Heart Like a Wheel) and
Creedence Clearwater Revival
's('Fortunate Son') were among those newly selected for induction into the Library of Congress National Recording Registry.
2 Apr 2013
Coldplay
beat the likes of
Pink Floyd
and
The Beatles
to the top of a BBC Radio 2 poll to find listeners' favourite album of all time. A Rush Of Blood To The Head, came top of the list. Keane's Hopes And Fears took second place, with
Duran Duran
's Rio in third. Pink Floyd's
The Dark Side Of The Moon
came fourth, while The Beatles' 1967 classic
Sgt Pepper
's Lonely Hearts Club Band could only manage eighth place. The poll was held to tie in with the recent BBC season The Golden Age of the Album.
2 Apr 2013
A grand piano used in the
Motown
Records studios was fully restored and put on display at a museum dedicated to the legendary record label in Detroit. Sir
Paul McCartney
helped fund the restoration of the 1877 Steinway, which was originally in
Motown
's Studio B.and was used to create hits for names including
Marvin Gaye
,
Stevie Wonder
and Edwin Starr.
2 Apr 2006
Gnarls Barkley started an nine-week run at No.1 on the UK singles chart with 'Crazy.' The American duo made chart history by becoming the first act ever to reach No.1 through computer downloads only. The single was not available to buy in shops until the following week.
2 Apr 2006
A
John Lennon
schoolbook containing the 12-year-old's drawing of Lewis Carroll's poem The Walrus and the Carpenter was sold at auction for £126,500, ($239,733). The poem inspired Lennon to write
The Beatles
' 1967 song
'I Am The Walrus'
. Also sold for £12,000, ($22,741) was a ship's log book written by Lennon during a stormy trip to Bermuda in 1980, and a letter from
Paul McCartney
to his bandmates Lennon,
George Harrison
and
Ringo Starr
failed to reach its £50,000, ($94,742) reserve price.
2 Apr 2006
An area in Washington D.C. formally called Watts Branch Park, was officially rededicated as
Marvin Gaye
Park on what would have been the singer's 67th birthday. Gaye grew up in East Capitol Dwellings, at #12 60th Street, NE, near the east end of the park.
2 Apr 2004
Coldplay
singer Chris Martin was accused of attacking a photographer after leaving a London restaurant with his wife Gwyneth Paltrow. A
Coldplay
spokesman said photographer Alessandro Copetti had been running after Paltrow's taxi and tripped. Mr Copetti said he had been taking pictures of the singer and his wife outside a restaurant when Martin kicked him from behind.
2 Apr 2003
US soul singer Edwin Starr died at his British home in Nottingham aged 61. Formed The Future Tones in 1957, had the 1970 US No.1 and UK No.3 anti-Vietnam War protest song 'War', (which according to Starr was recorded in one take).
2 Apr 2001
Mariah Carey
signed the richest recording deal in history. The 31-year old singer signed a deal with Virgin for three albums worth £60m. The singer had sold over 120 million records worldwide, scoring 14 US No.1 singles.
2 Apr 1999
The Black Crowes played a concert in Knoxville, Tennessee. Joshua Harmon, a teenager sitting in the second row sued the band a year later for $5,000 claiming significant hearing loss.
2 Apr 1998
Rob Pilatus, one half of pop duo Milli Vanilli was found dead in a Frankfurt Hotel room after taking a lethal combination of drugs and alcohol. Milli Vanilli won the 1989 best new artist Grammy after hits like 'Blame it on the Rain' and 'Girl, You Know It's True,' selling 30 million singles and 14 million albums. But in late 1990, the performers were stripped of the award after it was revealed that neither actually sang on the Milli Vanilli album.
2 Apr 1990
Eric Clapton
was fined by Walton-on-Thames Magistrates court, after being booked for speeding at 105mph; Clapton was also banned from driving for three months.
2 Apr 1990
Nirvana
went into Smart Studios in Madison, Wisconsin and started work on demo versions of 'In Bloom', 'Dive', 'Lithium', 'Pay To Play', 'Imodium', 'Sappy' and 'Polly' with Butch Vig producing.
2 Apr 1987
One of the greatest jazz drummers of all time, Buddy Rich died aged 69 due to complications caused by a brain tumour. Rich worked with many acts including,
Frank Sinatra
, Ella Fitzgerald, Louis Armstrong, Tommy Dorsey's band, Dizzy Gillespie and Oscar Peterson. Rush's Neil Peart organized a pair of 90s tribute albums (titled Burning for Buddy), which also featured the work of Kenny Aronoff, Dave Weckl, Steve Gadd, Max Roach, Steve Smith and Matt Sorum.
2 Apr 1981
2 Apr 1977
ABBA
were at No.1 on the UK singles chart with their fifth No.1 'Knowing Me, Knowing You.' The song was also a Top 10 hit in over 15 countries.
2 Apr 1977
Fleetwood Mac
went to No.1 on the US album chart with
Rumours
. The album is Fleetwood Mac's most successful release; along with winning the Grammy Award for Album of the Year in 1978, the record has sold over 45 million copies worldwide.
2 Apr 1977
Frank Sinatra
scored his fourth UK No.1 album with Portrait Of Sinatra - Forty Songs from the Life of a Man, that consisted 40 songs that were recorded for Reprise Records.
2 Apr 1975
The Bay City Rollers were at No.1 on the UK singles chart with their version of The Four Seasons song 'Bye Bye Baby.' It gave the Scottish group the best selling single of 1975.
2 Apr 1971
Janis Joplin
was at No.1 on the US album charts with the posthumously released Pearl. The album features the No.1 hit 'Me and Bobby McGee', written by Kris Kristofferson and Fred Foster on which she played acoustic guitar.
2 Apr 1970
Phil Spector completed final editing and mixing for
The Beatles
Let It Be album, 16 months after the Get Back project had begun.
2 Apr 1969
Bruce Springsteen
's new group Child made their live debut at the Pandemonium Club in Wanamassa, New Jersey.
2 Apr 1967
154 Austrian
Rolling Stones
fans were arrested when a riot broke out at a 14,000-seated Town Hall gig; a smoke bomb was thrown on the stage.
2 Apr 1965
The first edition of new music show 'Ready Steady Goes Live!' was shown on UK TV, featuring presenters Cathy McGowan and Keith Fordyce.
2 Apr 1964
Beach Boys
recorded their next single 'I Get Around', which became their first US No.1 in the summer of this year. The song begins with a multi-part a cappella introduction that quickly shifts into rock-style verses sung by Mike Love and a pop chorus sung in falsetto by Brian Wilson.
2 Apr 1964
The Beatles
had their fourth UK No.1 single with 'Can't Buy Me Love.' With advanced sales of over 2.1 million, it holds the record for the greatest advanced orders for a single in the UK.
2 Apr 1955
Elvis Presley
(with Scotty Moore and Bill Black), Slim Whitman, Hoot and Curley, Johnny Horton, Tibby Edwards and Floyd Cramer all appeared at the Louisiana Hayride broadcast from Shreveport Auditorium in Shreveport, Louisiana, and shown on KWKH Television.
Born on this day in music
2 Apr 1991
American hip hop recording artist Quavo best known as a member of the southern hip hop group Migos. Their second album, Culture, released in January 2017 debuted atop the Billboard 200 chart.
2 Apr 1983
Jasiel A. Robinson, (Yung Joc), 2007 US No.1 with T-Pain, 'Buy U a Drank, Shawty Snappin'.
2 Apr 1981
Scott Cain, Australian singer and winner of the third Australian Popstars competition. (2002 Australian No.1 single 'I'm Moving On').
2 Apr 1979
Jesse Carmichael, keyboards, Maroon 5, who had the 2004 UK No.1 album Songs About Jane' the 2004 US No.1 & UK No.4 single 'She Will Be Loved' and the 2014 US No.1 album V.
2 Apr 1971
Chico, (Yousseph Slimani), singer, reached the semi-finals of the UK 2005 series of The
X Factor
, (2006 UK No.1 single, 'It's Chico Time').
2 Apr 1967
Songwriter, guitarist, and vocalist Greg Camp from American rock band Smash Mouth. Camp has written Smash Mouth's most memorable songs of the later 1990s and early 2000s, including 'Walkin' on the Sun,' 'All Star,' and 'Then the Morning Comes'.
2 Apr 1963
Keren Woodward, singer with British female pop group Bananarama who had the 1984 UK No.3 single 'Robert De Niro's Waiting', plus over 20 other UK Top 40 singles, and the 1986 US No.1 single 'Venus' a cover of the Dutch rock band Shocking Blue 1970 hit.
2 Apr 1956
American singer, Gregory Abbott who had the 1986 UK No.6 single 'Shake You Down'.
2 Apr 1953
David Robinson, The Cars, who had the 1978 UK No.3 single 'My Best Friend's Girl.' Their 1984 US No.3 & 1985 UK No.4 'Drive' was used as part of the soundtrack for the
Live Aid
concert.
2 Apr 1952
Leon Wilkeson, bassist with southern rock band Lynyrd Skynyrd who had the 1974 US No. 8 single 'Sweet Home Alabama' the 1977 US No. 5 album Street Survivors and the 1982 UK No.21 single 'Freebird'. Wilkeson was found dead on July 27, 2001, in a Ponte Vedra Beach, Florida, hotel room; he was 49 years old. He had apparently been suffering from chronic liver and lung disease.
2 Apr 1947
American singer, songwriter and musician Emmylou Harris who has won 14 Grammys, the Polar Music Prize, and numerous other honors, including induction into the Country Music Hall of Fame. She has worked with numerous leading artists, including
Gram Parsons
,
Bob Dylan
, John Denver, Linda Ronstadt,
Dolly Parton
,
Roy Orbison
, The Band, Mark Knopfler, Albert Lee, Delbert McClinton, Guy Clark, Willie Nelson,
Neil Young
, Steve Earle and Ryan Adams.
2 Apr 1946
Canadian guitarist and songwriter Kurt Winter from Canadian rock band Guess Who who had the 1970 US No.1 & UK No.19 single 'American Woman'. Winter penned the hit singles 'Bus Rider' and 'Hand Me Down World', both of which were hits for The Guess Who. Winter died of kidney failure at the age of 51 on 14 December 1997.
2 Apr 1943
Glen Dale, guitar, vocals, from English harmony beat group The Fortunes, who had the 1965 UK No.2 & US No.7 single 'You've Got Your Troubles' and the hits 'Here It Comes Again and 'Storm in a Teacup'.
2 Apr 1941
Leon Russell, singer songwriter, mult-instumentalist. Worked with Phil Spector,
Bob Dylan
, The
Rolling Stones
Glenn Campbell, wrote 'Delta Lady' a hit for Joe Cocker. Played on The Byrds hit 'Mr Tambourine Man.' Russell died on 13th Nov 2016 aged 74.
2 Apr 1939
Marvin Gaye
, singer, songwriter who had a 1968 US No.1 & 1969 UK No.1 single with 'I Heard It Through The Grapevine' and a 1982 US No.3 & UK No.4 single with 'Sexual Healing'. Gaye was a member of the doo-wop group The Moonglows in the late 1950s, and then signed with
Motown
Records subsidiary, Tamla. He started off as a session drummer, but later ranked as the label's top-selling solo artist during the 1960s. He was crowned "The Prince of
Motown
" and "The Prince of Soul". He was shot dead by his father on April 1st 1984.
2 Apr 1928
Serge Gainsbourg, French singer-songwriter, actor and director. Had the 1969 UK No.1 single with Jane Birkin 'Je t'aime... Moi non plus' the only French language chart topper in the UK. The track was originally written for and sung with Brigitte Bardot in 1967, but that version was not released until 1986. Gainsbourg died of a heart attack on March 2nd 1991.