April 27th: The Biggest Music Headlines
Scroll down the page to see all the music headlines, stories and events for April 27 throughout music history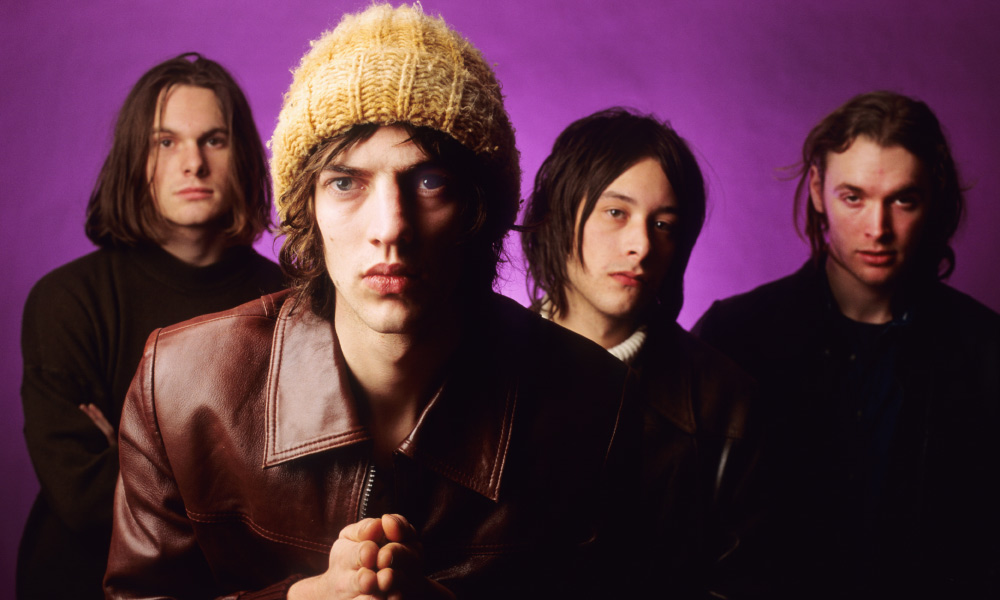 The Verve Split Up For The Second Time
On this day in music, April 27, 1999, The Verve announced their split. The neo-psychedelic Britpop band had gone their separate ways once before, after completing their second album, A Northern Soul, in 1996. After reconvening in 1997 to record arguably their greatest work – the chart-topping Urban Hymns, containing the singles "The Drugs Don't Work" and "Bitter Sweet Symphony" – they disbanded again. Frontman Richard Ashcroft, who went on to enjoy a successful solo career, stated to the press that the band would never reunite but in 2007, the group put aside their differences to record Forth.
In 1963, Little Peggy March became the youngest female singer to top the US singles chart when her second single, "I Will Follow Him," took the top slot on Billboard's Hot 100. March was just 15 years, one month, and 13 days old. Though she placed five singles in the Hot 100, all in 1963, she was a one-hit-wonder in the UK, where her single "Hello Heartache, Goodbye Love" went to No.29.
In 2008, British supergroup The Last Shadow Puppets scored their first of two UK No.1 albums with their Mercury Award-nominated debut platter, The Age Of The Understatement. A quartet comprised of Artic Monkeys' Alex Turner, The Rascals' Miles Kane, Simian Mobile Disco's James Ford, and Zach Dawes of Mini Mansions, the group reconvened in 2016 for a second album, Everything You've Come to Expect.
In 2021, Australian singer-songwriter Anita Lane died aged 61. She had a long association with Nick Cave, writing songs with him when he was in the early 80s post-punk group The Birthday Party and briefly joining his band The Bad Seeds during the same decade. She also recorded two solo albums (1993's Dirty Pearl and 201's Sex O'Clock) which highlighted her distinctive noirish style.
In 1996, Oasis headlined at a stadium for the first time when they played the first of two homecoming gigs at Manchester City football club's Maine Road ground in front of 80,000 fans. The concert marked the first time that Noel Gallagher played his iconic Union Jack-clad Epiphone guitar, which became synonymous with the Britpop movement.
In 1990, British movie The Krays opened. It starred Spandau Ballet's Gary Kemp and Martin Kemp as the notorious London gangster twins Ronnie and Reggie Kray.
Looking for more things that happened on this day in music?
Keep scrolling for all of the headlines for April 27.
BORN ON APRIL 27:
1944: Cuba Gooding (Main Ingredient)
1947: Peter Ham (Badfinger)
1947: Ann Peebles
1948: Kate Pierson (The B-52's)
1951: Ace Frehley (Kiss)
1959: Sheena Easton
1959: Marco Pirroni (Adam and the Ants)
1979: Will Boyd (Evanescence)
1984: Patrick Stump (Fall Out Boy)
1988: Lizzo
Looking for more artists born on this day?
Keep scrolling for all of our April 27 birthdays.
---
What to find another day?
---
April 27th
27 Apr 2021
Australian singer-songwriter Anita Lane died age 61. She was briefly a member of the Bad Seeds with Nick Cave and Mick Harvey. Lane released two solo albums, Dirty Pearl (1993) and Sex O'Clock (2001).
27 Apr 2020
Guitarist Scott Taylor died at the age of 58 from a brain tumour. He was a member of the English rock band Then Jerico. 'Big Area' achieved their greatest chart success, peaking at number 13 in the UK Singles Chart in 1988.
27 Apr 2020
American R&B, rock and roll and jazz singer and songwriter Young Jessie died age 83. He recorded as Young Jessie in the 1950s and 1960s, and was known for his solo career, work with The Flairs and a brief stint in The Coasters. He later performed and recorded jazz as Obie Jessie.
27 Apr 2013
A blue plaque was unveiled at Swansea railway station, Wales, honouring Peter Ham who co-wrote 'Without You', a hit for both Harry Nilsson and
Mariah Carey
. Ham who was a member of
Badfinger
were signed to
The Beatles
Apple Records label, (and enjoyed their biggest hit in 1970 with a
Paul McCartney
penned, 'Come And Get It'. Ham took his own life in 1975 at the age of 27.
27 Apr 2010
Music sales in the UK had grown for the first time in six years, according to music industry body the British Phonographic Institute (BPI). Revenue increased by 1.4%, bringing the total income for 2009 to £928.8m. Download sales provided the shot in the arm, rising by more than 50% to earn £154m, compared with £101.5m in 2008.
27 Apr 2009
Pearl Jam
bassist Jeff Ament was the victim of a robbery outside Southern Tracks Recording studios in Atlanta, where the band were recording. Ament and a band employee had arrived at the rear of the studio when three assailants brandishing knives emerged from the woods wearing black masks and smashed the windows of a rented Jeep. The robbers grabbed a BlackBerry and Ament's passport and stole $3,000 in cash and $4,320 worth of goods.
27 Apr 2009
Aerosmith
were to hold a free concert in Hawaii to placate angry fans who brought a legal case against them. Fans filed a class action case, which claimed the band had cancelled a sold-out show in Maui two years ago, leaving hundreds of fans out of pocket in favour of a bigger gig in Chicago. Lawyers for the would-be concert-goers said Aerosmith had now agreed to put on a new show, and would pay all expenses. Everyone who bought a ticket to the original concert would receive a free ticket.
27 Apr 2008
The Last Shadow Puppets went to No.1 on the UK album charts with 'The Age of the Understatement', a side project of Alex Turner of Sheffield band Arctic Monkeys and Miles Kane of Liverpool band The Rascals.
27 Apr 2003
Madonna
went to No.1 on the UK album chart with 'American Life', the singers eighth No.1 album. Also a US No.1 album.
27 Apr 1999
UK band The Verve announced that they had split. They scored the 1997 UK No.1 single 'The Drugs Don't Work' and their 1997 UK No.1 album 'Urban Hymns' spent over 100 weeks on the UK chart. Leader of the group Richard Ashcroft went solo scoring the 2000 UK No.3 single 'A Song For The Lovers' and the 2000 UK No.1 album 'Alone With Everybody.'
27 Apr 1996
Oasis
played the first of two nights at Manchester's Maine Road football ground as a 'thank you' to their fans, the 80,000 tickets sold out in hours.
27 Apr 1990
The British film drama The Krays opened. Based on the lives and crimes of the English gangster twins Ronald and Reginald Kray, the film starred Spandau Ballet's Gary Kemp as Ronnie Kray Martin Kemp as Reggie Kray.
27 Apr 1985
USA For Africa started a three-week run at No.1 on the US chart with 'We Are The World'. The US artists' answer to Band Aid had an all-star cast including
Stevie Wonder
, Tina Turner,
Bruce Springsteen
, Diana Ross,
Bob Dylan
,
Daryl Hall
, Huey Lewis, Cyndi Lauper, Kim Carnes, Ray Charles,
Billy Joel
and
Paul Simon
plus the composer's of the track,
Michael Jackson
and Lionel Richie.
27 Apr 1981
Ringo Starr
married actress and one time 'Bond girl' Barbara Bach. The pair met while filming the movie, Caveman, with Dennis Quaid and Shelley Long. In attendance at the wedding were
George Harrison
and
Paul McCartney
.
27 Apr 1976
Customs officers on a train at the Russian/Polish Border detained
David Bowie
, after Nazi books and mementoes were found in his luggage. Bowie claimed that the material was being used for research on a movie project about Nazi propaganda leader Joseph Paul Goebbels.
27 Apr 1974
A free afternoon event was held in the parking lot of the University of Connecticut, Ice Hockey Arena in Storrs. The four acts that appeared,
Aerosmith
Bruce Springsteen
, Fairport Convention and Fat Back. Springsteen then went on to play another gig that evening at the University of Hartford in Connecticut.
27 Apr 1971
The
Grateful Dead
appeared at the Fillmore East in New York City.
The Beach Boys
also appeared on stage with the Dead, who together performed a short set of Beach Boys songs.
27 Apr 1969
Pink Floyd
appeared at Mothers Club in Erdington, Birmingham, England.
Radio 1
DJ
John Peel
reviewed the gig as '...sounding like dying galaxies lost in sheer corridors of time and space'. Recordings from this show were included in the group's 1969 album Ummagumma.
27 Apr 1967
Sandie Shaw was at No.1 on the UK singles chart with 'Puppet On A String', her third UK No.1 and the Eurovision Song Contest winner of 1967.
27 Apr 1966
The Beatles
started recording the new
John Lennon
song 'I'm Only Sleeping' at Abbey Road studios London, England. The song features the then-unique sound of a reversed guitar duet played by
George Harrison
. It was released two months earlier in the United States on the album Yesterday And Today and did not feature on the original US version of
Revolver
.
27 Apr 1965
Bob Dylan
was interviewed by BBC journalist and radio presenter Jack DeManio in the Savoy Hotel, London, for the BBC's Home Service, which was broadcast on the Today programme the following day. Later on the 27th, Dylan and Joan Baez were filmed singing the traditional song Wild Mountain Thyme in the Savoy. Parts of the interview and the song were used in the film Dont Look Back.
27 Apr 1963
Little Peggy March started a three week run at No.1 on the US singles chart with 'I Will Follow Him'. At 15 years, 1 month and 13 days old, Little Peggy March became the youngest female singer to have a US No.1 record.
27 Apr 1957
In a rare appearance outside the United States,
Elvis Presley
performed at Maple Leaf Gardens in Toronto, Canada where he wore his full gold lame suit for the last time.
Born on this day in music
27 Apr 1988
American singer, rapper and songwriter Lizzo, (born Melissa Vivianne Jefferson). Her 2017 single 'Truth Hurts', became a viral sleeper hit, topping the Billboard Hot 100 in September 2019 two years after its initial release.
27 Apr 1984
Patrick Stump, lead singer, rhythm guitarist, with American rock band Fall Out Boy, who had the 2007 US No.1 album Infinity on High. The group's sixth studio album, American Beauty/American Psycho (2015) peaked at No.1, making it the band's third No.1 album and the group's fifth consecutive top 10 album.
27 Apr 1984
Yonah Higgins, singer from R&B/pop girl group Cleopatra who had the 1998 UK No.3 single 'Cleopatra's Theme'.
27 Apr 1979
Will Boyd, bass, with American rock band Evanescence who had the 2003 UK No.1 & US No.5 single 'Bring Me To Life', and the 2003 UK No.1 & US No.3 album Fallen.
27 Apr 1972
Bob Coombes, keyboards, from English rock band Supergrass who had the 1995 UK No.2 single 'Alright'. Their 1995 UK No.1 album I Should Coco spent 35 weeks on the UK chart.
27 Apr 1962
American recording drummer and songwriter Brian MacLeod. He was part of the "Tuesday Music Club" collective along with Sheryl Crow and has performed with many artists, including
Madonna
, Leonard Cohen, Tears For Fears, Seal, Chris Isaak,
Pink
, Christina Aguilera, Jewel,
Stevie Nicks
, Tina Turner and
Roger Waters
.
27 Apr 1959
Marco Pirroni, guitarist from English rock band Adam and the Ants who scored the 1981 UK No.1 single 'Stand And Deliver' and 15 other UK Top 40 singles.
27 Apr 1959
Scottish singer, recording artist and actress Sheena Easton, who had the 1980 UK No.3 & 1981 US No.1 single 'Morning Train, Nine To Five'. Easton's other hits include the James Bond theme 'For Your Eyes Only', 'U Got the Look' with
Prince
and 'We've Got Tonight' with Kenny Rogers.
27 Apr 1951
Paul 'Ace' Frehley, from American hard rock band
Kiss
. Their 1976 US No 11 album Rock and Roll Over spent 26 weeks on the chart and they had the 1987 UK No.4 single 'Crazy Crazy Nights'.
27 Apr 1949
Clive Taylor, from Welsh rock group Amen Corner who had the 1969 UK No.1 single 'If Paradise Is Half As Nice' plus five other UK Top 40 hits.
27 Apr 1949
Herb Murrell, singer with the Philadelphia soul group The Stylistics who had the 1974 US No.2 single 'You Make Me Feel Brand New', and the 1975 UK No.1 single 'Can't Give You Anything But My Love' and twelve consecutive US R&B top ten hits.
27 Apr 1948
Kate Pierson, vocals with the American new wave band The B-52's. Best known for their 1978 debut single 'Rock Lobster and the 1990 UK No.2 & US No.3 single 'Love Shack'.
27 Apr 1947
American singer and songwriter Ann Peebles, who had the 1973 hit single 'I Can't Stand The Rain'. She also recorded a version of 'I'm Gonna Tear Your Playhouse Down' which was later a hit for British singer Paul Young.
27 Apr 1947
English musician and songwriter Gordon Haskell who first gained recognition as bass player for the British band The Fleur de Lys, and subsequently spent a short period in King Crimson. As a solo artist he scored the 2001 UK No.2 single 'How Wonderful You Are', and the 2001 UK No.2 album, Harry's Bar. He died on 16 Oct 2020 from cancer age 74.
27 Apr 1947
Welsh singer, songwriter and guitarist, Peter Ham who was a member of The Iveys and then
Badfinger
, who had the 1970 UK No.4 single 'Come And Get It'. He also co-wrote the ballad 'Without You', a worldwide No.1 hit for Harry Nilsson that has become a standard song covered by hundreds of artists. Ham was granted two Ivor Novello Awards related to the song in 1973. Ham committed suicide on 24th April 1975.
27 Apr 1944
Cuba Gooding, singer with American soul and R&B group Main Ingredient, best known for their 1972 hit song 'Everybody Plays the Fool'.